Learning French only from grammar rules, sentence translation, and clicking on photos is not effective for every foreign language. Some students need to go the auditory way. With Pimsleur, you'll learn French like it is your mother tongue by listening to and repeating every audio lesson.
Mastering a nice and fine French accent is what many French learners adore, and that's what Pimsleur French does for you!
Pimsleur teaches you to speak French like a native and learn grammar naturally which gets you to impress your French friends every time! Each audio lesson in Pimsleur French is scientifically sequenced to ensure you'll learn French quickly and effectively.
Let's look at the Pimsleur review to learn about every core tool and feature of Pimsleur French, including flash cards, rapid sound, audio conversations, Spaced repetition system, offline mode, and the Pimsleur Method.
A French learning method that focuses heavily on audio lessons 
Pimsleur French course is well-structured, with interactive drills and exercises followed up after every audio lesson. It includes many useful words and phrases with Speak Easy Challenges and a spaced repetition system for effective memorization. With flexible offline/drive mode and mobile app, users can learn French on the go.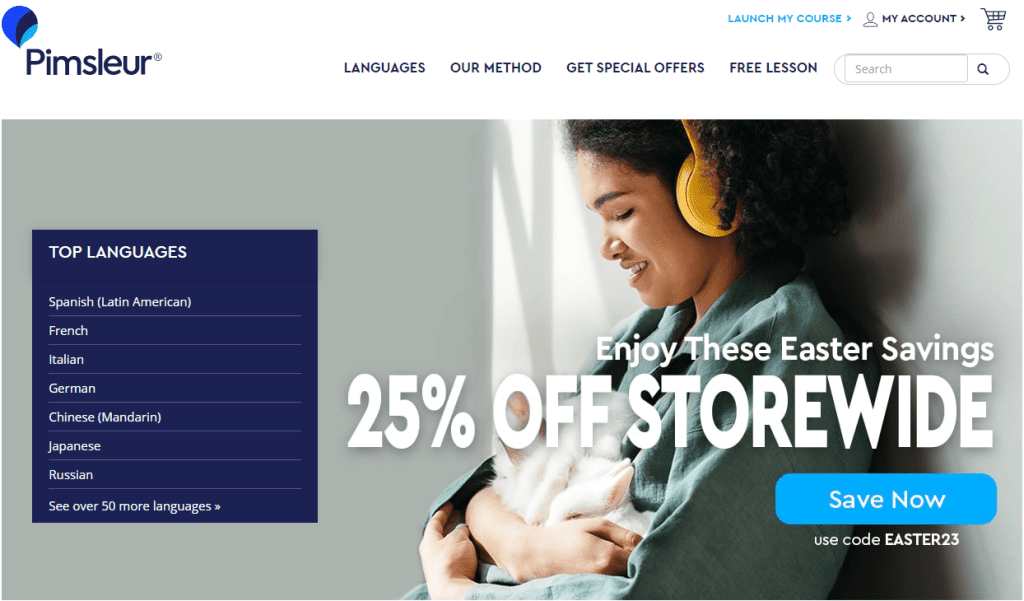 Pimsleur French Review Summary
⭐ Rating:
8.9

★★★★★

🥇 Available languages:
51 (see below)
📈 Suits best for:
Beginners, Intermediate & Advanced Learners
🛒 Payment options:
Monthly and lifetime
💵 Price:
$14.95 – $575
⌚ Hours of lesson time:
300+ Hours
🔄 Refund policy:
30-day money-back guarantee
🎁 Free Trial:
✔️
Here are some of the 51 foreign languages offered by the Pimsleur mobile app: Albanian, Arabic (Eastern, Egyptian, and Modern Standard), Armenian (Eastern and Western), Chinese (Cantonese and Mandarin), Croatian, Czech, Danish, Dutch, Finnish, French, German (German and Swiss), Greek, Haitian Creole, Hebrew, Hindi, Hungarian, Icelandic, Indonesian, Irish, Italian, Japanese, Korean, Lithuanian, Norwegian, Ojibwe, Pashto, Persian (Dari and Farsi), Polish, Portuguese (Brazilian and European), Punjabi, Romanian, Russian, Spanish (European and Latin American), Swahili, Swedish, Tagalog, Thai, Turkish, Twi, Ukrainian, Urdu, Vietnamese.
Disclaimer: Lingomee is an independent review site that may benefit from affiliate programs. Buying through our links makes our efforts possible without additional costs to you. Learn more here.
About Pimsleur French Language Learning App
Pimsleur courses push the learners out of their comfort zone and help them start a real-time French language journey via spaced repetition system. The core of the course is the Pimsleur method, which helps the long-term retention of new vocabulary words, French phonetics, and grammar through audio lessons. We think this is the best app to learn French language with audio lessons.
Pimsleur French Review: Key Features
Live Voice Coaching
Pimsleur courses have the latest "Voice Coach," which uses voice recognition tech to give the user quick and accurate real-time feedback. As you speak, the Voice Coach will listen to your voice and compare it to the audio recording of a native French speaker.
Pimsleur French's spellings and sound activities focus on pronouncing every alphabet, individual word, and phrase correctly.
The Voice Coach is a great way to improve your pronunciation and get feedback on your progress. It can be beneficial for French learners who don't have access to a native speaker. The Pimsleur French also does an excellent job of teaching French phonetics.
Audio Lessons with The Pimsleur Method
Paul Pimsleur structured courses based on the scientifically proven Pimsleur Method for learning foreign languages using spaced repetition. Pimsleur Courses help the learners recall new French individual words and phrases in their long-term memory.
The learner's brain adapts and responds faster by gradually increasing the time intervals between reviewing the new language vocab and phrases.
Anticipation:
It helps to activate the brain's language learning centers and makes it easier to remember previous lessons.
Organic learning: Learners are taught foreign language skills in real-world conversations with English phrases.
Graduated Interval Recall: Learners are exposed to new language information at gradually increasing intervals. This helps them to remember the information for the long term.
Core Vocabulary: Learners are taught basic new words and grammatical structures to build their foreign language skills.
Compatible with Alexa
The French course is Compatible with Alexa as it allows you to listen to your audio lessons hands-free on your Amazon Echo device.
To use the feature, say, "Alexa, open Pimsleur," then select "French" and the audio lesson you want to listen to. You can also use Alexa to control playback, such as pausing, rewinding, or fast-forwarding.
Alexa is a great way to learn a new language while on the go or doing other activities. It's also a great way to practice every French phrase with pronunciation, as Alexa will provide feedback on your speaking.
Speak Easy Challenges & Speed Round
Pimsleur offers Speak Easy Challenge, a great way to practice pronunciation and fluency with every French phrase and word. You listen to a conversation and then repeat each side of it. It helps you get used to the language's natural flow and improves your ability to understand and be understood.
Speed Round is a fun and challenging game to test your vocabulary knowledge. French Words fall from the top of the screen, and you must choose their English translation before they hit the bottom. These lessons help you improve your reflexes and ability to recall information quickly. Both are great ways to keep your skills sharp and ensure you are on track to language fluency.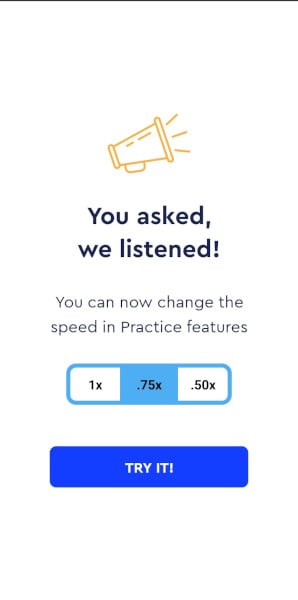 Quality of the Learning Material
The Pimsleur app is the most popular French course in helping beginner-level French learners. The core lessons help users study grammar and learn the most common words, phrases, and accurate pronunciation.
With Pimsleur Premium, you will get additional Review Tools, including Digital Flashcards, Quizzes, Reading lessons, Conversation practice, etc.
Levels: Pimsleur French has 5 Levels, each with 30 30-minute audio lessons. The course progresses from newcomer to advanced levels, with each level increasing in complexity and difficulty.
Audio lessons: Each Pimsleur lesson starts with a brief intro, followed by a native speaker initiating conversational French. The conversation is broken down & repeated, with you repeating the phrases. The lesson ends with a review of vocabulary & grammar.
Reading instruction: Every Pimsleur level includes a booklet with basic reading skills & some vocabulary/grammar from the audio lessons.
Grammar Instruction
The Pimsleur app teaches basic grammar concepts but goes into less detail than other apps. If you are serious about learning French grammar, consider reading books on French grammar or supplementing Pimsleur with a different app.
Verbal Practice
Pimsleur French is an audio-based course that focuses mainly on speaking practice. It encourages the user to repeat words and phrases continuously with the help of the Voice Coach feature that improves French pronunciations to a near-native accent and speaking level.
This voice recognition tech makes Pimsleur one of the best language courses for learning through speaking and listening. It is best suited for travelers who want to learn life-saving phrases in the local language in only a week of study. The closest app to this program would be FrenchPod101. You can learn more about it in this FrenchPod101 review.
Reading
Pimsleur French does not have practical reading lessons. The course does include a reading section, but it is relatively short and does not cover all aspects of French reading.
The entire structure of the Pimsleur French course is audio-based. It can be quite difficult for beginners to understand the sounds of French in the written language.
Writing
The Pimsleur French comes with a writing section that is relatively short and only covers some aspects of French writing. This French course includes a writing section that introduces learners to basic French writing skills.
Vocabulary
Pimsleur French uses a spaced repetition system to teach vocabulary in conversational scenarios with native speakers. This makes the vocabulary memorable and valuable for learners who want to improve their conversational fluency. It is also a good option for audio learners who do not want to spend a lot of time studying.
Repetitiveness
Pimsleur French teaches through repeating words and interactive games. Pimsleur courses might sound repetitive initially, but it becomes more entertaining and engaging as you progress. The app uses conversational lessons and focuses on everyday scenarios with native speakers to make learning engaging and fun.
Pimsleur French Review: Simplicity of Operation
Pimsleur lessons tend to be simple and easy to use. The user interface is modern and intuitive, and everything is laid out in a way that is easy to understand. The platform is also quick and responsive, making it a pleasure. It is one of the best digital interfaces in the language learning industry.
What Areas Could Be Improved?
Lengthy lessons. The full lesson, audio portion, and follow-up exercises take an hour to complete. It may be too long for some learners, especially those who need more time or prefer shorter lessons.
Slow-moving lessons. The lessons can be slow-moving, with the moderator asking questions and quizzing the learner. It can cause the learner's mind to wander.
Lack of voice recognition technology. Pimsleur must utilize voice recognition technology to analyze the learner's pronunciation. It means that the learner may be mispronouncing words without knowing them.
Focus on audio-based practice. The core Pimsleur lessons are rooted in audio-based practice, which may not be the best option for visual learners. There is limited opportunity to read the words or phrases that French learners might want to see.
Pimsleur French Prices
Pimsleur French includes a monthly classic subscription plan and a one-time Pimsleur French premium purchase.
| | | |
| --- | --- | --- |
| Subscription | Price | Payment |
| Monthly | $14.95 | Charged monthly |
| Pimsleur Premium Lifetime | $349.95 | One charge  |
Free Trial
Pimsleur French offers a 7-day free Pimsleur account that gives you access to the program's first level, which includes 30 lessons. The free trial is available on the Pimsleur website and app.
Pimsleur French Coupons and Discounts
Pimsleur French offers discounts during holidays or special events like Black Friday or Cyber Monday. You can find Pimsleur French discounts by signing up for the company's email list or following them on social media.
Refund Policy
Pimsleur offers a 30-day money-back guarantee on all purchases made from the Pimsleur website or via its customer service call center. You must not have downloaded or used any course materials to be eligible for a refund. To request a refund, you must contact Pimsleur customer support.
Pimsleur French Pricing Compared to the Competition
Pimsleur French is often compared to other tools for learning popular languages, like Rocket French, Rosetta Stone French, and Babbel. Pimsleur French has a few advantages over its competitors.
First, it is more immersive, using audio lessons to practice speaking and listening to French words and phrases, than Rocket French and other language courses. Second, the Pimsleur app is more structured, following a specific syllabus that takes you from beginner to advanced.
Third, it is more effective for auditory learners, as it has been shown to help some people learn French faster than other methods. However, the Pimsleur course also has a few disadvantages. It is just $5 to $10 more expensive than its competitors and does not offer as many features, such as interactive exercises or lengthy grammar explanations.
Pimsleur French Ratings from Other Users
Google Play Store – 4.6 (1M+ downloads)

Apple App store – 4.7 (10K+ ratings)

G2 – 4.3

Trustpilot – 2.7
Pimsleur French Review: Assistance to Clients
Pimsleur provides customer assistance through phone, email, and live chat 24/7. The customer service representatives are knowledgeable and helpful. They are willing to go the extra mile and will answer your questions about the Pimsleur French program and help you troubleshoot any problems.
Pimsleur French Review: What Sets it Apart?
Pimsleur French is an excellent resource for learning French. Its audio-based learning method, interactive games, and comprehensive language selection make it a great way to improve your French speaking skills. If you don't believe us, go see for yourself how Pimsleur can help you learn, speak, and understand the French language quickly.