Rosetta Stone is one of the biggest names in the field of language learning, and French is no exception. Whether you plan a vacation in Paris or want business fluency, it promises to help. The fact that it has been on the market for decades makes such promises seem plausible.
Rosetta Stone's distinctive feature is building a solid foundation of vocabulary and grammar through visual cues. The course unlocks the elegance and allure of French as the student immerses himself in 30-minute lessons.
This Rosetta Stone review will explore the strengths and limitations of this French course and will guide users toward an informed decision on whether Rosetta Stone French is for them.
A Visual French Language-Learning Experience
The French language course that Rosetta Stone offers is full of visual cues, native speaker audio, and opportunities for private lessons. With a strong reputation in the industry, Rosetta Stone is a reliable option to help you learn basic French or achieve advanced fluency.
Rosetta Stone French Review Summary
⭐ Rating:
8.6

★★★★★

🥇 Available languages:
25 (see below)
📈 Suits best for:
Novices and Intermediates
🛒 Payment options:
3 Months/12 Months/Lifetime
💵 Price:
$11.99 – $179
⌚ Hours of lesson time:
200+
🔄 Refund policy:
30-day money-back guarantee
🎁 Free Trial:
✔️
Arabic, Chinese (Mandarin), Dutch, English (American), English (British), Filipino (Tagalog), French, German, Greek, Hebrew, Hindi, Latin, Irish, Italian, Japanese, Korean, Persian (Farsi), Polish, Portuguese (Brazil), Russian, Spanish (Latin America), Spanish (Spain), Swedish, Turkish, Vietnamese.
Disclaimer: Lingomee is an independent review site that may benefit from affiliate programs. Buying through our links makes our efforts possible without additional costs to you. Learn more here.
A Quick Look at Rosetta Stone French
Rosetta Stone French has been a popular language course in the market for three decades. The program provides a user-friendly experience with its intuitive digital platform and mobile app. Rosetta Stone's method of teaching is immersion-based, making it easy for users to engage with the language.
Rosetta Stone French encourages users to manually select their proficiency level and goals of learning French in the very beginning. Its affordable subscription plans start at $8 monthly, making it accessible even to learners on a budget. You can also check our list of the best apps to learn French to make the right decision.
The program's learning framework incorporates lessons with engaging visuals and a downloadable audio companion. Rosetta Stone French features good speech recognition technology, allowing users to practice their speaking skills as if talking to native speakers.
In addition to the core lessons, Rosetta Stone French offers extended learning tools such as short stories, live classes, and on-demand videos, enriching the learning experience. These bonus resources provide variety and keep students engaged.
Overall, Rosetta Stone combines pictures and immersion to teach French effectively. Its visual learning approach, user-friendly interface, and auxiliary exercises make it a practical choice for beginners and those seeking an interactive language-learning program.
Rosetta Stone French Review: Key Functions
Rosetta Stone leverages visual aids to enhance memorization and create an immersive experience. The French course includes many images, on-demand videos, and other bonus resources to enhance the learning process visually.
At the same time, the advanced and fairly accurate speech recognition software helps Rosetta Stone users improve pronunciation.
Advanced Voice Recognition Technology
The standout feature of Rosetta Stone is its incredible speech recognition technology. Unlike some other language program, the Rosetta Stone French course provides valuable feedback on pronunciation with its TruAccent technology.
Learners receive instant and accurate articulation assessments while learning to pronounce new words and phrases. Although it does not replicate real-life conversations entirely, feedback helps users to imitate native speaker pronunciation. The state-of-the-art voice recognition software boosts confidence and improves French speaking skills.
Visual Learning Experience
Visual learning is a key feature of this French course. The program relies heavily on engaging visuals to motivate intuitive memorization. Grammar concepts are effectively emphasized through relevant visuals, aiding natural language comprehension. Rosetta Stone's emphasis on visual cues differentiates it from other French courses.
On-Demand Videos
Rosetta Stone French offers valuable bonus features like on-demand videos in the Extended Learning section. Recordings of native speakers in these videos encourage users to understand essential grammar rules and initiate a French conversation.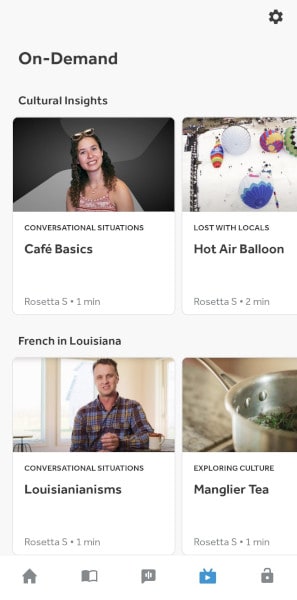 The Distinction in the Quality of Lessons
Rosetta Stone French method shines bright because of its high-quality lessons. The well-structured and comprehensive course material is organized into 20 learning units, covering various thematic topics.
To offer an authentic language experience, the videos that Rosetta Stone includes are of native speakers. The instructions are simple-to-follow, introducing vocabulary and grammar rules as the course advances.
However, beginners may desire more basic grammar principles and cultural context, while some advanced learners may find the lessons too easy. We recommend beginners supplement the Rosetta Stone course with other resources.
Completing daily lectures take at most half an hour of study, consisting of three bite-sized lessons of 10 minutes or less.
Overall, the French course material in Rosetta Stone is effective for different beginner and intermediate-level learners.
Grammar Instruction
Rosetta Stone provides a good foundation for beginners regarding fundamental vocabulary and grammar by focusing on image and sentence association. However, the program only partially meets the needs of advanced learners seeking in-depth grammar explanations.
Verbal Practice
Rosetta Stone's teaching method integrates speech recognition technology for verbal practice exercises. Merely repeating words and phrases may not be enough for effective learning. So the French course offers access to live classes for an additional cost to practice further speaking with native speakers.
Reading
Reading is a strong focus in the Rosetta Stone program. Like English, French has roots in the Latin alphabet, which makes learning and reading French easier. In addition to the main course, the Extended Learning includes a phrasebook and stories that provide ample opportunities to improve French reading skills and pronunciation.
Writing
In the Rosetta Stone French course, you will find 20 units, each comprising four lessons that focus adequately on speaking skills but need more writing exercises. To enhance the learning experience, the program should offer more comprehensive writing practice in the target language.
Vocabulary
While it's true that Rosetta Stone does a decent job teaching foundational French vocabulary and grammar, it may not be the best choice if you want to start communicating like a native speaker. New words and phrases taught at the very beginning of the course may need to be more practical in real-life situations.
Repetitiveness
Rosetta Stone's method of teaching a foreign language is consistent and structured. While some learners may find the content repetitive, the bite-sized lessons aid in effective memorization. The program offers fun features like on-demand videos, enhancing the user experience.
The Extended Learning section offers an engaging phrasebook in native-speaker voice. The downloadable stories and an audio companion also encourage users to learn French on the go. While not the most entertaining language course, Rosetta Stone French remains a helpful tool for new language acquisition.
User Friendliness
Rosetta Stone French offers a user-friendly interface catering even to the least tech-savvy learners. The program design is straightforward, without unnecessary features. The simple signup, without complex customization settings, offers a more focused learning experience.
Rosetta Stone language courses are easy to navigate, ensuring a simple learning path. The seamless integration of voice recognition technology and quick loading time enhances the user experience. Functional and relevant visuals are used throughout the program to keep the user engaged.
Overall, Rosetta Stone method of teaching a foreign language provides a clear and accessible user experience for learners of all backgrounds.
Rosetta Stone French Competitors and Alternatives
Rosetta Stone French vs Rocket French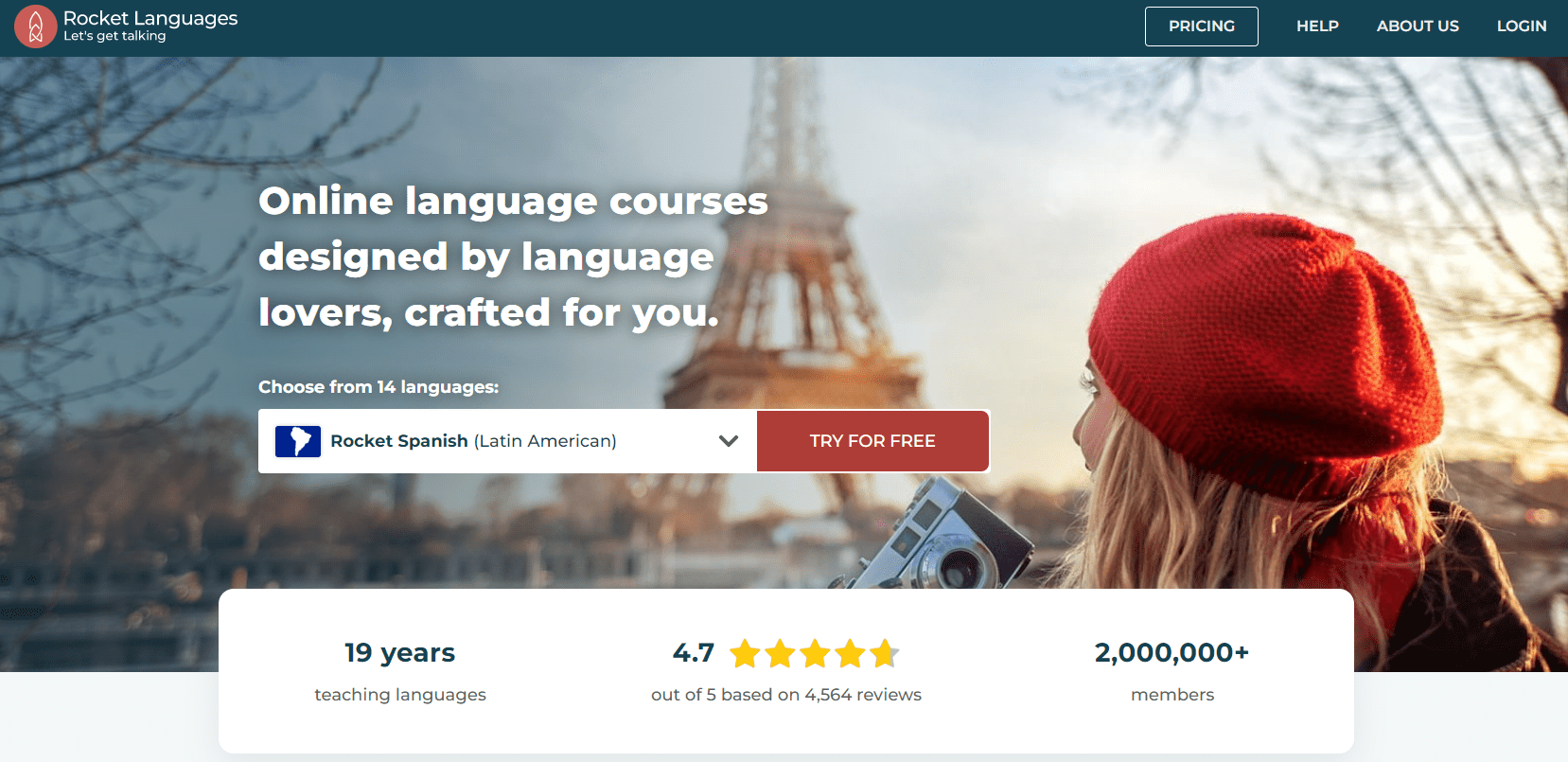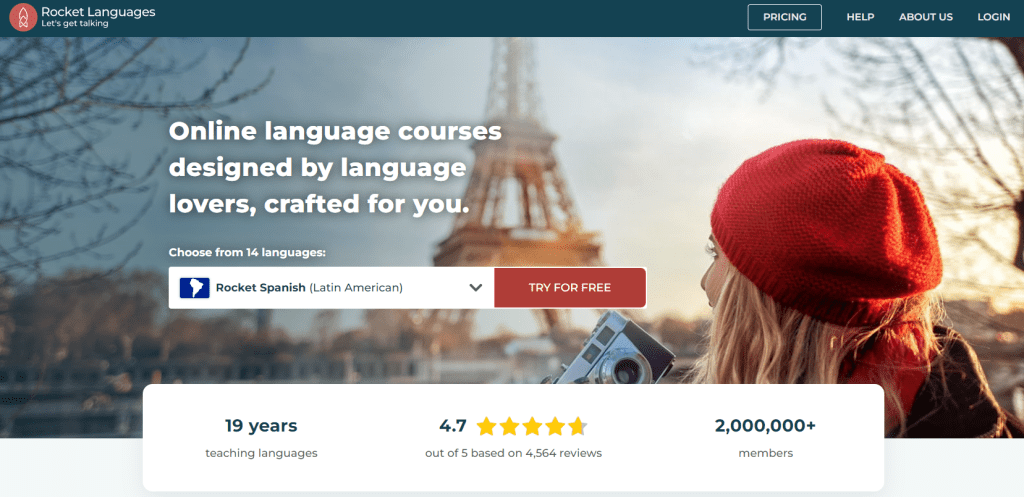 Rocket French focuses on interactive audio lessons with cultural insights and grammar resources. Comparatively, the major strength of Rosetta Stone is its appeal to visual learners and language immersion. Either app can work for most learners, but look for more information in our Rocket French review before deciding.
Rosetta Stone French vs Pimsleur French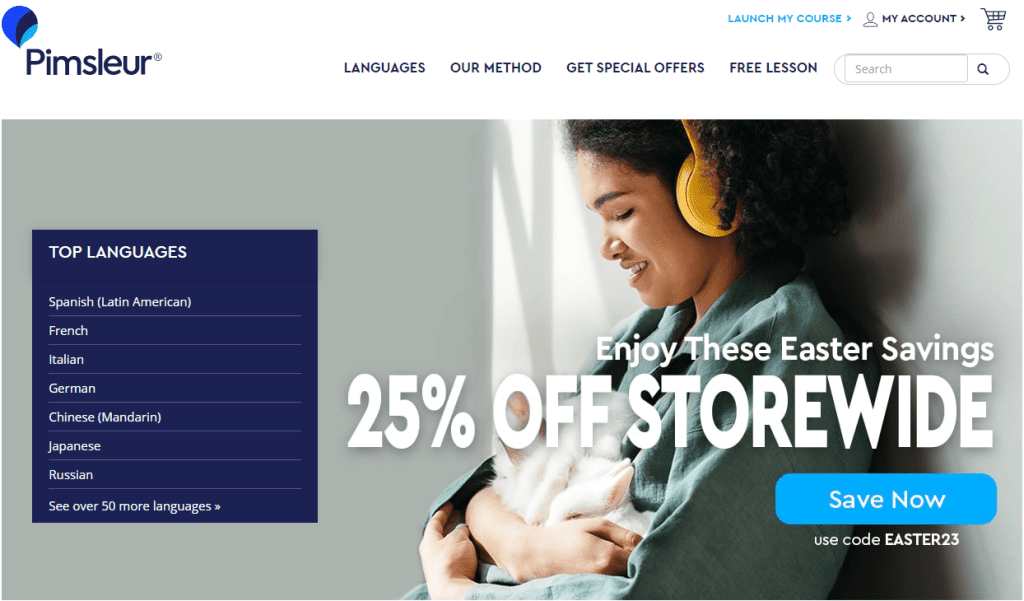 Pimsleur is an audio-based app tasking you with listening and repeating French words and phrases. Rosetta Stone, on the other hand, focuses on visual learning and immersion. Both methods are effective, but it depends on your preferences. If you're an auditory learner, check out our in-depth Pimsleur French review.
Rosetta Stone French vs FrenchPod101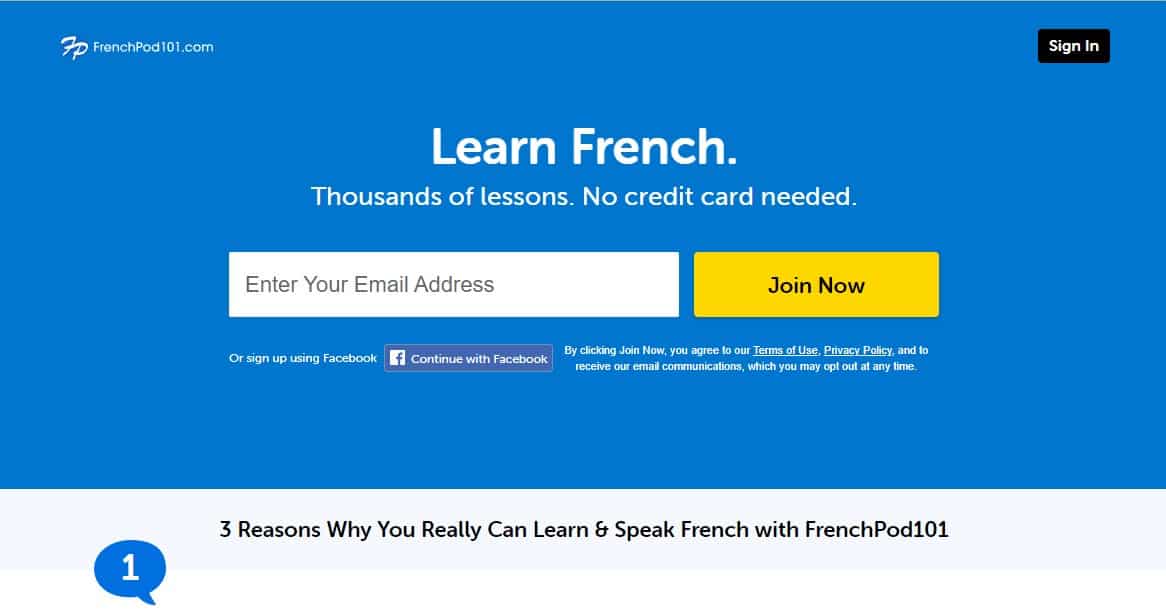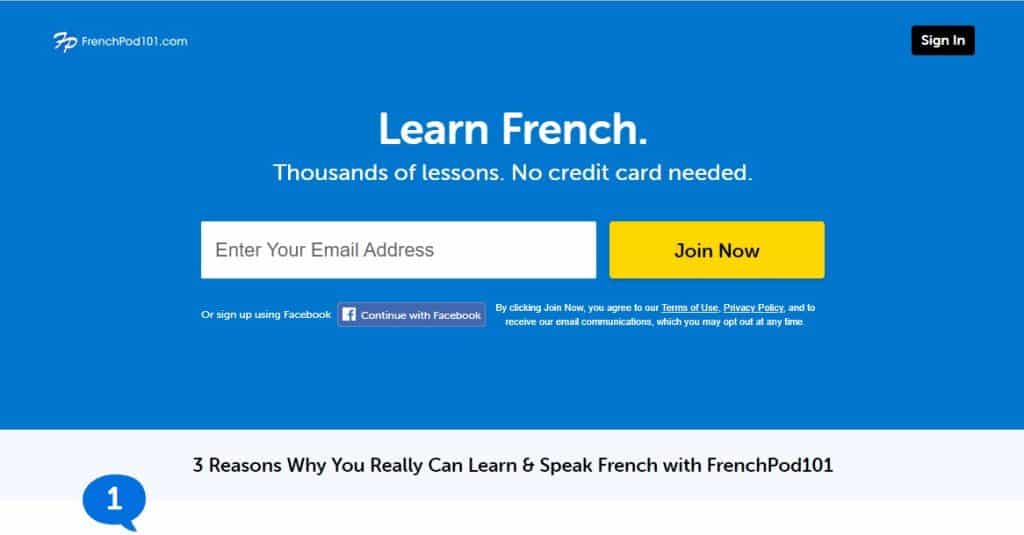 FrecnhPod101 provides an extensive collection of podcast-like French lessons. It has a low price tag while still packing some considerable features. However, Rosetta Stone French is better at language immersion and has a great voice recognition tool. Learn more about which one to choose in our FrenchPod101 review.
What Should Be Upgraded?
While Rosetta Stone's language program provides good value for money, some areas could be improved.
One drawback is the lack of direct instruction, as the program indirectly teaches basic grammar through picture-based drills. Some new language learners may prefer more explicit grammar practice in English upfront, followed by auxiliary exercises.
Another area where Rosetta Stone language courses could improve is by incorporating more gamification elements. They add an enjoyable yet competitive aspect to the learning process, further engaging and motivating learners.
While Rosetta Stone's teaching method is fully immersive, addressing these areas could enhance the learning experience.
Rosetta Stone French Costs
Rosetta Stone's French program comes in three pricing plans, including 3-month, 12-month, and lifetime subscriptions. The Lifetime subscription provides the best value, granting access to all 25 languages Rosetta Stone offers. It is slightly more expensive than other French language courses, but the well-structured course material justifies the cost.
| | | |
| --- | --- | --- |
| Subscription | Price | Payment |
| 3 Months | $11.99 | One charge of $35.97 |
| 12 Months | $7.99 | One charge of $95.88 |
| Lifetime | $179 | One charge of  $179 |
Free Trial
Rosetta Stone's French program offers a free 3-day trial. During the trial period, you cannot access the entire course plan. It's worth noting that the trial does not require a credit card submission, making the sign up more convenient.
Rosetta Stone Pricing Compared to Competition
Rosetta Stone offers good value for money, particularly for beginners. Compared to competitors like Duolingo, Speechling, or Busuu, Rosetta Stone stands out regarding lesson quality. However, its pricing could benefit from more flexibility.
While Rosetta Stone offers a lifetime subscription with the best value, other programs like Pimsleur French allow buying learning levels separately, providing more customization options. Nonetheless, the engaging, visual lessons justify the price, making the Rosetta Stone course a solid choice for language learners.
Rosetta Stone French Evaluations from Other Customers
Google Play Store – 4.6 (10M+ downloads)

Apple App Store – 4.8 (188.7K ratings)

G2 – 4.2 

Trustpilot – 3.9
Rosetta Stone French Review: Client Support
Rosetta Stone customer support is difficult to reach, with inconveniently placed contact options and slow email responses. We waited for more than a week to receive a reply, while no live chat was available to answer our inquiries.
However, their support for billing or refund queries is more responsive. Rosetta Stone's official website has a comprehensive blog and FAQ sections for helpful resources.
What Separates it from Others?
Rosetta Stone French is an intuitive and easy-to-use language learning software. It is a valuable tool for beginners, particularly for visual learners. Rosetta Stone's approach is based on immersion which helps in quick learning. We recommend Rosetta Stone French to anyone seeking an interactive learning experience.