The English language can be difficult to master for many reasons, including pesky and inconsistent grammar rules, an extensive vocabulary, idiomatic expressions, and many different dialects. Learning English with a professional English teacher might be the best approach, but it is costly.
Outside of having your own teacher, the next best thing is to learn English from a language learning software designed to improve your English language skills. EnglishClass101, created by Innovative Language, might be the best learning platform for this purpose. It promises to make learning English a breeze by immersing you in podcast-style audio and video lessons led by native English speakers.
But can this learning platform match a professional English teacher? In this EnglishClass101 review, we will look into its features and methodology to help you determine whether it is an efficient English course to help you speak English like it's your native language.
The Best App to Learn English Using Audio and Video Lessons
English Class 101 has a large lesson library with thousands of audio and video lessons. It provides learning pathways to focus on relevant vocabulary words. It also houses vocabulary flashcards, lesson notes, practice quizzes, and much more. The premium plus subscription also provides you with a personal English teacher.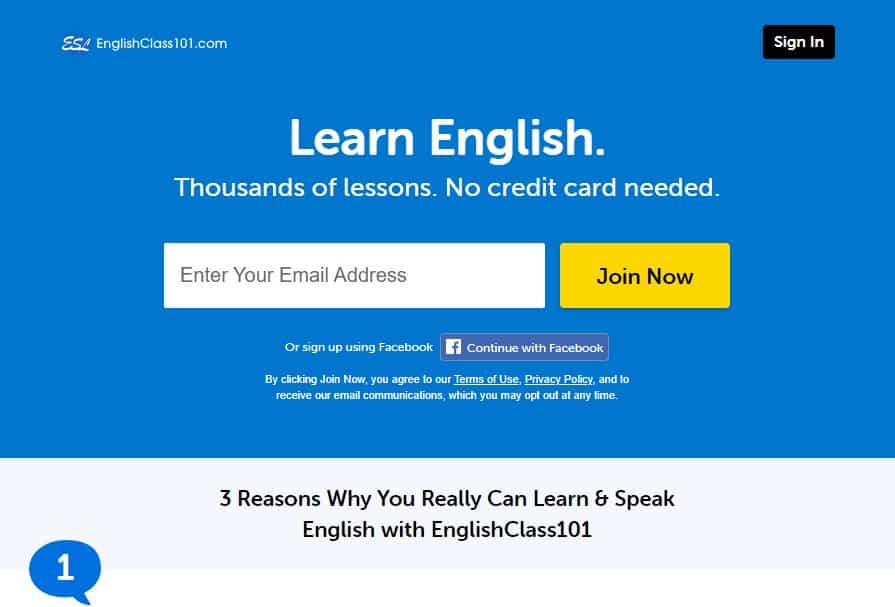 EnglishClass101 Review Summary
⭐ Rating:
8.5

★★★★★

🥇 Available languages:
1
📈 Suits best for:
Intermediates
🛒 Payment options:
Monthly
💵 Price:
$4 – $552
⌚ Hours of lesson time:
345+
🔄 Refund policy:
60-day money back guarantee
🎁 Free Trial:
✔️
Besides English, Language POD 101 includes: Afrikaans, Arabic, Bulgarian, Cantonese, Chinese, Cezch, Danish, Dutch, Filipino, Finnish, French, German, Greek, Hebrew, Hindi, Hungarian, Indonesian, Italian, Japanese, Korean, Norwegian, Persian, Polish, Portuguese, Romanian, Russian, Spanish, Swahili, Swedish, Thai, Turkish, Urdu, Vietnamese.
Disclaimer: Lingomee is an independent review site that may benefit from affiliate programs. Buying through our links makes our efforts possible without additional costs to you. Learn more here.
A Brief Overview of EnglishClass101
English Class 101 is an English course by the company called Innovative Languages. They have been in the language-learning market for nearly two decades and offer courses in over 30 other languages.
Like all other courses by Innovative Languages, English Class aims to help you learn English by improving listening comprehension. It's achieved by exposing you to numerous conversations with fluent English speakers.
The premise is simple: the more you listen to the English language spoken naturally, the easier it will be for you to understand native speakers. This approach also aims to help you absorb key phrases used in everyday conversations.
The innovative Language app offers a placement test to help you determine your language skills. This English course has content for everyone, from absolute beginners to advanced learners. Moreover, English Class offers different learning pathways for those who'd like to focus on specific topics, such as business, school, travel, and well-being.
Innovative Language is US based firm, so it's no wonder that the English class is a flagman of their learning platform. It teaches both American and British English at the same high quality. Therefore we can call this program as the best app to learn English with audio.
EnglishClass101: Primary Features
Pathways
Thanks to the comprehensiveness of English Class, it may take a while for you to work through its entire lesson library. That's why English Class offers different learning pathways to allow you to customize your experience and learn English at your own pace.
A pathway is essentially a learning plan. At the top, the learning pathways are categorized according to your proficiency level, enabling you to follow a curated learning plan. However, English Class also groups its short lessons into themes, allowing you to focus only on topics that suit your interests.
For example, you might want to work on your British English reading comprehension one day and then learn more about American superstitions and beliefs the next. The ability to customize your own learning plan makes you more likely to stick to your language learning goals since you are learning English in a fun and practical way.
Dialogues
The best way to learn English is by listening to a native English speaker using the language. It allows you to learn to speak English with correct pronunciation and a native accent. It also makes it easier to understand native speakers over time.
English Class offers dialogues in the form of video lessons or audio lessons. These dialogues feature fluent English speakers discussing topics from the learning pathways. The dialogues can be in either American or British English, depending on your needs.
The best part about these dialogues by native English speakers is that they focus solely on the most common words you are likely to use in day-to-day situations. It allows even an absolute beginner to start his language-learning journey with a solid foundation of key vocabulary. You can also repeat after the native speakers for speaking practice. Another way to improve your speaking skills is to use HelloTalk or Preply apps.
Vocabulary lists
English Class has several tools to help you learn and remember new vocabulary words.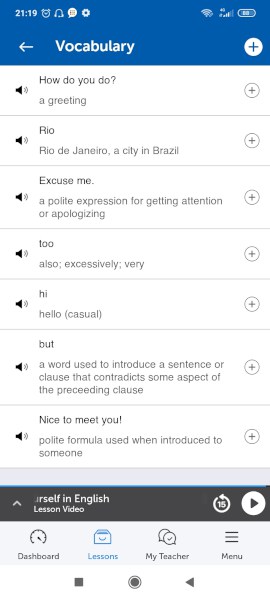 Word of the Day delivers a new word to your email every day. It is accompanied by its definition and examples of how to use it, which makes learning new vocabulary easy. Word of the Day is part of the free content English Class provides, meaning you don't need a basic subscription to receive it.
Key Phrases enable you to find commonly used phrases quickly. It is especially useful when you need to interact with native English speakers to access a service or product.
The vocabulary Lists section is where the bulk of the material is. The vocabulary lists are organized into distinct topics, allowing you to focus on learning new words in areas that interest you.
Additionally, there is a 2000-word list comprising the most common words in the English language. It helps you focus on key vocabulary. You also have the option to add all the new words to your word bank and vocabulary flashcards for future practice.
Lesson Notes
English Class concludes each session with lesson notes. As the name suggests, lesson notes serve as a recap of the session, providing explanations of the grammar related to the new words and key phrases you have just learned.
In addition, the lesson notes include cultural cues that assist you in comprehending the different contexts in which an English word can be used. These cues help broaden your understanding of the English language and its usage in various settings.
We found that it's one of the best parts of English Class 101, useful for every learner from absolute beginner to upper intermediate. They give a possibility to practice at your own pace and not necessarily with an audio or a video lesson.
The Excellence of The Learning Material
English Class is an exceptional English course. It offers the flexibility to learn English using either American or British English. This learning platform ensures that you learn the correct pronunciation in your chosen version of the English language by utilizing native speakers to teach both dialects.
The quality of the native speakers deserves praise. The audio and video lessons feature lively native English speakers making the learning experience enjoyable. Their clear articulation of each syllable is particularly beneficial for improving listening comprehension so you can understand native speakers more easily.
The inclusion of short lessons is a notable advantage as it facilitates the achievement of daily language-learning milestones. Moreover, the availability of different learning pathways allows you to focus on areas of personal interest and learn English at your own pace. It is especially advantageous for advanced learners who wish to enhance specific language skills.
The inclusion of lesson notes is also a valuable addition, as they effectively explain grammar and cultural nuances, enabling you to utilize the English language appropriately.
Grammar Instruction
Instead of learning grammar separately, this learning platform has you listen to audio and video lessons and then explain the grammar used in the conversations. This method enables you to learn English grammar in a practical way, avoiding the need to memorize verb conjugations and other technical aspects that are difficult to apply in real-life situations.
Additionally, English Class has a grammar bank which is like an English dictionary for looking up grammar rules, explanations, and examples of use. Moreover, you can sort the grammar bank based on your language skills. For example, if you are an absolute beginner, you can finetune your search so you only get grammar rules for absolute beginners.
Moreover, with the premium plus subscription, you gain access to an English teacher who provides in-depth explanations of English grammar. This additional resource allows you to delve deeper into the intricacies of English language grammar.
Reading
English Class provides a transcript for all its audio and video lessons for you to read before, during, or after the lesson. Considering there are thousands of lessons, that's a lot of material to practice your reading skills. Moreover, the lesson notes also contain lots of valuable reading material to help you understand the various concepts more intuitively.
Vocabulary
English Class has no shortage of vocabulary-building resources. From vocabulary lists to a word bank with flashcards, this language-learning platform has everything you need to learn and remember new words. If you want to test yourself in real life situations, than apps like italki or Tandem would be perfect choices as supplemental learning material.
Repetitiveness
Most language-learning platforms tend to feel repetitive after a while, and English Class is no exception. After all, the format remains the same for all its lessons. However, English Class 101 provides such a high level of control over your learning experience that it never feels monotonous.
For instance, you have the option to passively listen to audio lessons while engaging in other activities or actively participate in video lessons by repeating after the native speakers to practice your English pronunciation. This flexibility allows you to tailor your foreign language learning to your preferences.
Furthermore, English Class organizes its lessons into hundreds of themes, offering you the freedom to select and focus on topics that genuinely interest you. This customization ensures you remain motivated and invested in your language-learning journey.
EnglishClass101 Competitors and Alternatives
EnglishClass101 vs Lingoda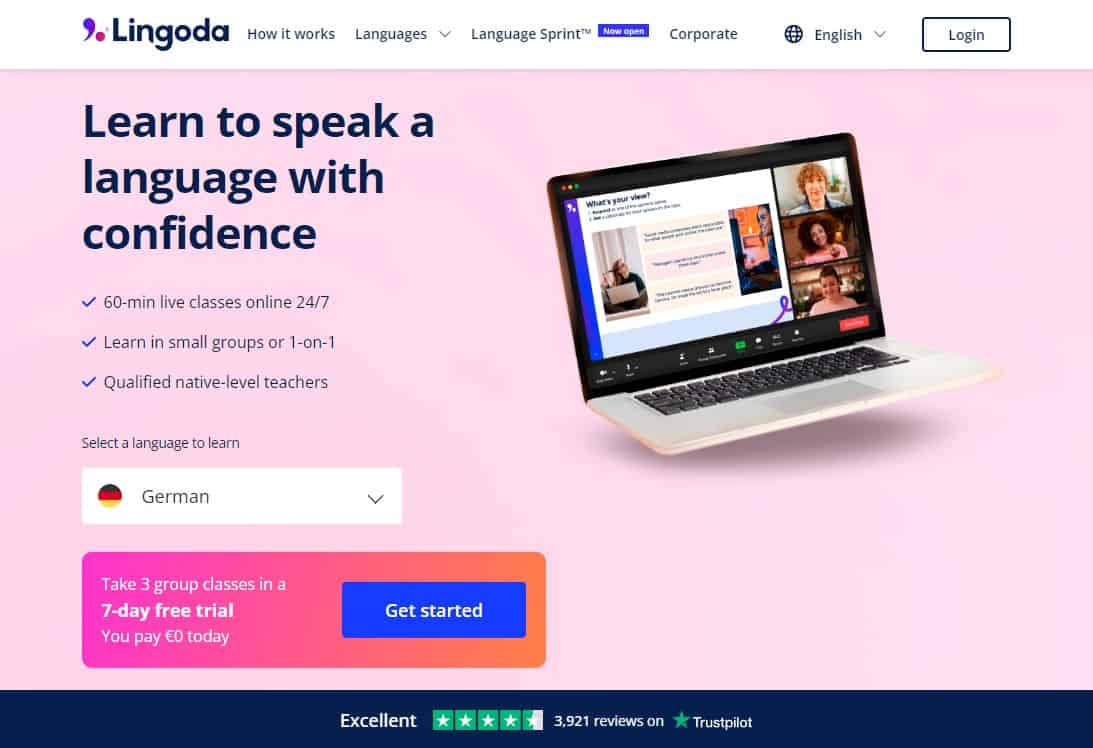 Lingoda provides affordable online group classes available 24/7. The aim is to kick-start your language-learning journey, but we still recommend starting with a self-paced language-learning app. EnglishClass101 complements Lingoda in this regard. Learn more in our Lingoda review.
EnglishClass101 vs ELSA Speak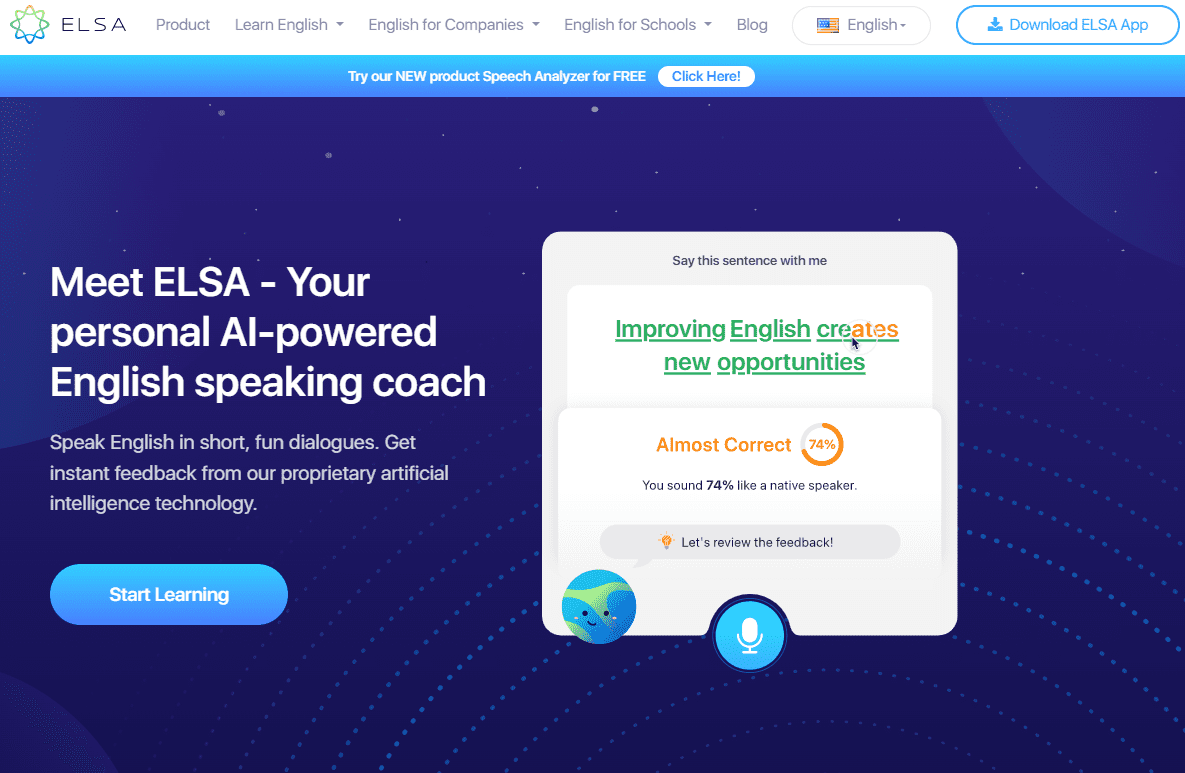 ELSA Speak is a pronunciation app that uses AI and speech recognition technology to improve your English. EnglishClass101 does not have such pronunciation features focusing on listening comprehension in podcast-like lessons. If your main aim is to speak fluent English, check out our ELSA Speak review for more information.
EnglishClass101 vs FluentU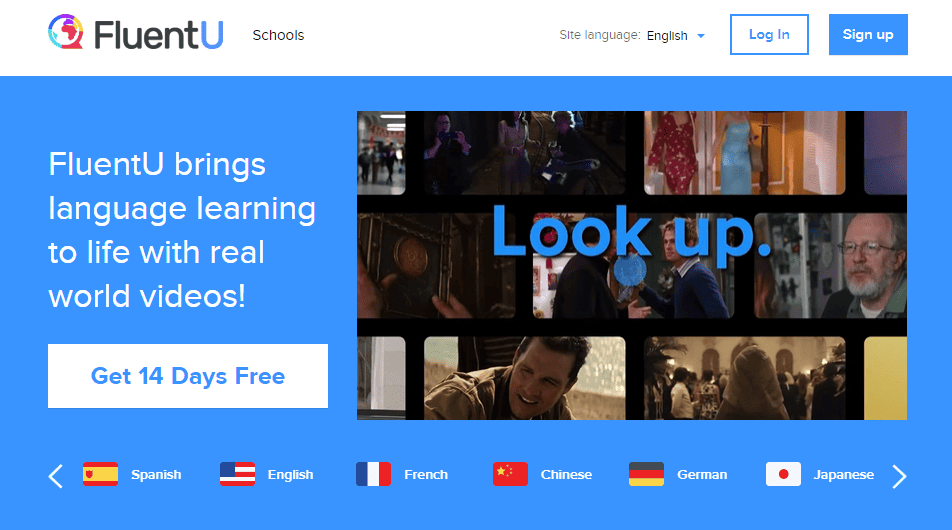 FluentU focuses on an immersive approach incorporating authentic video content from real-world sources. It provides interactive subtitles, vocabulary flashcards, quizzes, and more. It's a good alternative to EnglishClass101 if you think your learning style is more visual. You can read more about the program in our in-depth review of FluentU.
EnglishClass101 MosaLingua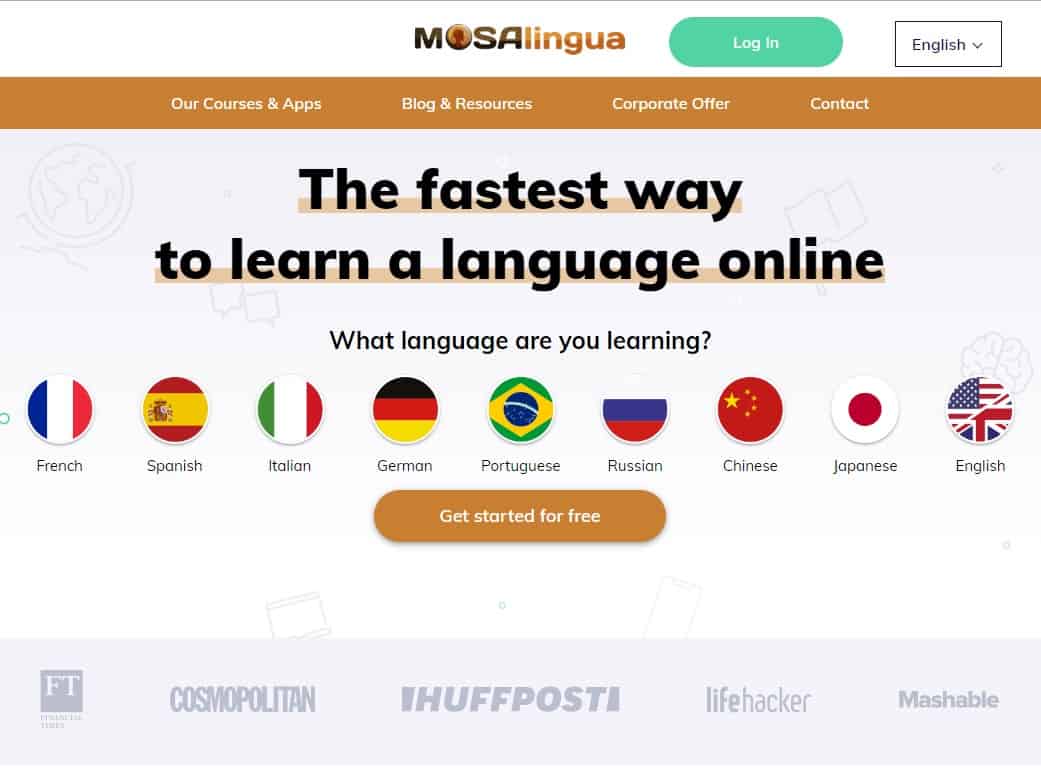 MosaLingua focuses on spaced repetition and uses a 20/80 approach when teaching vocabulary and grammar. It includes flashcard decks, a large vocabulary, review tools, and more. EnglishClass101 can help with these features too, but MosaLingua is a bit better for memorization. Learn more about it in this MosaLingua review.
EnglishClass101 Accessibility Review
English Class is incredibly user-friendly, and using it is intuitive. The dashboard provides a clear overview of the available features and navigation options, making it easy for users to access the desired content. Here, you can choose your expertise level, select your learning pathways, and check your progress. The dashboard is also where you check for the newest lessons added.
This language-learning platform utilizes a well-thought-out color scheme, which enhances visual appeal without compromising readability. Labels are clear and intuitive, guiding users to easily understand the purpose and functionality of each feature. Moreover, the loading times are fast, ensuring a smooth experience.
What Areas Require Enhancement?
While English Class is a valuable learning platform, there are areas that could benefit from improvement. One aspect is that the entire platform is in English, which can be challenging for Spanish speakers or individuals with no prior understanding of the English language. 
This limitation may require users to seek out another language app to gain basic English proficiency before fully utilizing English Class. Consequently, the course is better suited for upper-intermediate learners rather than absolute beginners.
Another area where English Class could enhance its offerings is by providing more resources for speaking practice. While the option to record and compare one's pronunciation with that of a native speaker exists, it may not be sufficient for accurately assessing English pronunciation.
The app could also integrate speech recognition technology to provide more reliable and real-time feedback on pronunciation.
EnglishClass101 Price
English Class has four tiers. The first is a free lifetime account. The free account is a great way to get a feel of the course material. That is because the free lifetime account has hundreds of videos, with new ones being added each week. However, it only has basic features.
Therefore, if you want access to all the features, you'll need to get a premium subscription. The basic subscription isn't worth it since it doesn't allow access to practice activities. Here's a breakdown of the Premium subscription plan:
| | | |
| --- | --- | --- |
| Subscription | Price | Payment |
| Free | Free | Free |
| Basic | $4 | Charged Monthly |
| Premium | $10 | Charged Monthly |
| Premium Plus | $23 | Charged Monthly |
|   |   |   |
The highest tier, Premium Plus, offers you all that the Premium subscription has in addition to one-on-one feedback from an English teacher. While that sounds great, it's worth noting that the Premium Plus subscription costs between $23.00 and $47.00 per month that place it on the pricier side like Babbel or Rocket Languages. On the other hand, the Basic subscription costs between $4 and $8 per month which is similar to Mondly or Rosetta Stone. 
Free Trial
English Class offers a 7-day trial. During this trial period, you'll have free access to all the features included in a Premium subscription. You don't have to provide your credit card details to receive the free trial which is similar to Duolingo.
EnglishClass101 Coupons and Discounts
This learning platform is almost always giving away discounts. You can check for these discounts on the web app.
Refund Policy & Customer Support
English Class has a 60-day money-back guarantee. In case you're unsatisfied with the product, send them an email and they'll refund you without any complications.
EnglishClass101 has a helpful customer service team that is responsive and quick to address any issues. They typically reply to emails within 24 hours, which is a reassuring sign of their dedication to customer support.
For instance, I once had trouble accessing my account and sent an email to their customer service team. To my surprise, they responded within a few hours with step-by-step instructions to fix the issue. They even followed up with me to ensure that everything was working correctly. This level of attention and care is impressive and demonstrates the commitment of English Class 101 to its customers.
EnglishClass101: Is it a Good Investment?
English Class provides excellent value for money. Additionally, its pricing tiers are carefully tailored to cater to the needs of various types of learners. If you are learning English in a casual manner, the free and basic plans would be ideal since they grant access to all the lesson material, excluding practice activities.
For advanced learners, the premium subscription is highly recommended as it offers a comprehensive language-learning experience at an affordable price. Although the Premium Plus subscription may appear slightly more expensive compared to other tiers, it still remains competitive with the pricing of similar language-learning apps.
EnglishClass101 Ratings From Customers
Google Play Store – 4.6 (1M+ downloads)

Apple App store – 4.7 (30.6K ratings)

G2 – N/A

Trustpilot – 3.2
Our Verdict
With its comprehensive content, easy-to-use interface, and numerous language-building resources, English Class is undoubtedly one of the best learning platforms for learning the English language. Whether you are an absolute beginner or an upper intermediate, English Class 101 is a reliable and effective tool that will empower you to achieve fluency in English.