Learning a language can take many forms, and everyone has their own learning style. If you prefer a traditionally structured approach, Fluenz may be the ideal language-learning software for you.
Fluenz is a language-learning program using video tutorials to teach foreign languages. The platform aims to replicate a personal tutoring session, using English to explain the nuances of the target language, allowing you to gain a thorough understanding of the new language.
But does this approach actually work? Our in-depth Fluenz review will break down the platform's methodology and features, helping you determine whether it's a good investment for your language learning journey.
Classroom-style language learning for English speakers
Fluenz leverages English to teach new languages in a structured way. The video tutorials break down the language in English, allowing learners to gain a deeper understanding of the new language without feeling overwhelmed. With Fluenz, learners get a classroom environment to use the target language in practical, real-world situations. 
⭐ Rating:
8.3

★★★★★

🥇 Available languages:
7 (see below)
📈 Suits best for:
Beginners and Intermediates
🛒 Payment options:
Lifetime
💵 Price:
$187 – $408
⌚ Hours of lesson time:
200+
🔄 Refund policy:
30-day money-back guarantee
🎁 Free Trial:
✔️
Italian, Portuguese (Brazilian), Chinese (Mandarin with Pinyin), German, French, European Spanish, and Latin American Spanish.
Disclaimer: Lingomee is an independent review site that may benefit from affiliate programs. Buying through our links makes our efforts possible without additional costs to you. Learn more here.
Quick Overview of Fluenz
Fluenz is a language-learning platform that has been around since 2007. It was founded by Sonia Gil to improve the methodologies used by other language learning programs. Gil believed that including tutor-led explanations in language learning programs could significantly increase their effectiveness.
Fluenz employs a unique "leverage" approach that uses English to explain the target language. This methodology emphasizes the logical connections between English and the foreign language, making it easier to internalize new vocabulary and grammar rules. 
Fluenz also stands out among language learning apps due to its unique approach to creating a classroom feel through video tutorials. The app's founder, Sonia Gil, recognized that many language learners struggle to stay motivated and engaged when studying alone, which leads to slower progress and a higher likelihood of giving up.
To combat this problem, Fluenz developed a series of video tutorials that simulate a classroom environment. Each video features a live tutor who teaches the language in a structured, step-by-step manner, providing explanations and feedback along the way.
The tutor speaks directly to the learner, encouraging them to practice speaking, listening, reading, and writing in the target language. This approach gives Fluenz several advantages over other language-learning apps. 
First, it provides the guidance of a skilled teacher while you learn a language. It is especially important for beginners who may need someone who explains grammar and vocabulary use. 
Second, the classroom environment helps learners stay focused and motivated, making it easier to stay on track with their studies. Finally, the video tutorials allow learners to work at their own pace, pausing and rewinding as needed while still feeling like they are part of a larger learning community.
Additionally, Fluenz prioritizes practical words and phrases that learners can use from day one instead of overwhelming them with irrelevant vocabulary like other language learning programs do.
It's worth noting that Fluenz doesn't offer a placement test but instead allows users to jump around the five levels to find the best fit for them.
Here is the list of languages on Fluenz (+ alternatives)
Main Features
Fluenz features an immersive interface that combines video tutorials, interactive exercises, and a recording tool that enables learners to compare their pronunciation with that of a native speaker. 
The platform even offers a language immersion program to allow Spanish learners to visit a city in Spain or South America to get the full benefits of personal tutoring combined with an immersive experience. Unfortunately, this program is only available for Spanish Learners. 
Let's look at these features in a little more detail.
Lessons
Fluenz offers five levels for all its language courses (except the Mandarin course, which has three), and each level has 30 sessions that focus on teaching and practicing grammar and vocabulary.
From the very first lesson, the material used is contextually relevant to scenarios that travelers might encounter, making it immediately usable in real life.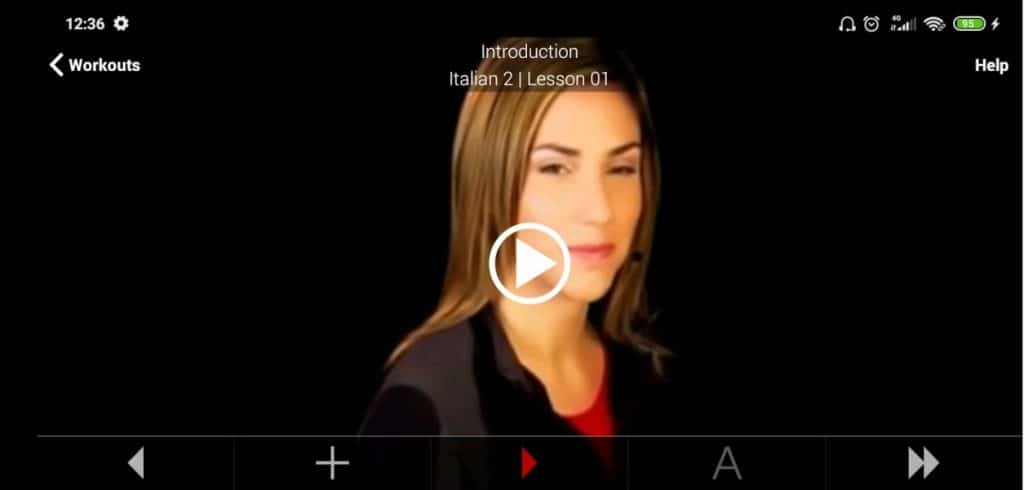 The sessions are well-structured and engaging, covering a range of topics such as greetings, introductions, ordering food, making reservations, and more. Each session begins with an introduction video that sets the tone for what that day's lesson will cover. 
The video tutorials are also expertly crafted and presented in a way that makes you feel like you're receiving one-on-one instruction. The explanations are comprehensive and presented conversationally, using English as a reference point with on-screen translations. 
You'll learn new vocabulary, grammar concepts, and pronunciation specifics, giving you a well-rounded understanding of the language. While the initial pace may seem sluggish, it's a deliberate choice that prioritizes thorough instruction. Fortunately, it will feel more appropriate as you advance and the material becomes more challenging.
Workouts
This section consists of a bunch of exercises that aim to help improve your overall communication skills.
Write the Words You Read
This feature helps learners become more comfortable with writing in a new language. You can up the difficulty by choosing the Challenge Mode that will penalize you for not using correct accent marks.
Nevertheless, a potential limitation of this exercise is its emphasis on precision, which may lead to frustration since it doesn't provide feedback on where the mistake occurred.
Write the Words You Hear
This exercise tests your listening and writing skills in the target language. You listen to what's being said and then write it down. You can adjust the difficulty level by choosing between slow and challenging modes. 
Write the Phrase You Read
By practicing writing full phrases, learners can solidify their understanding of grammar and sentence structure, as well as improve their ability to express themselves in the target language.
Write the Phrases You Hear
This exercise challenges learners to listen closely to spoken phrases and accurately transcribe them. It improves spelling, vocabulary, and overall listening skills. The option to use the slow sound mode and challenge mode makes the exercise more adaptable to learners of different skill levels.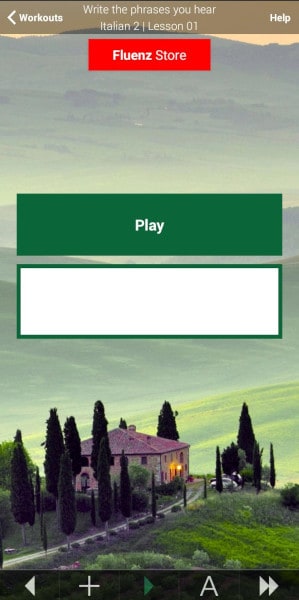 Repeat the Words
This exercise helps learners develop their ability to recognize and pronounce the sounds of the target language. By listening to and repeating the words and phrases, learners will improve their pronunciation, intonation, and rhythm more quickly.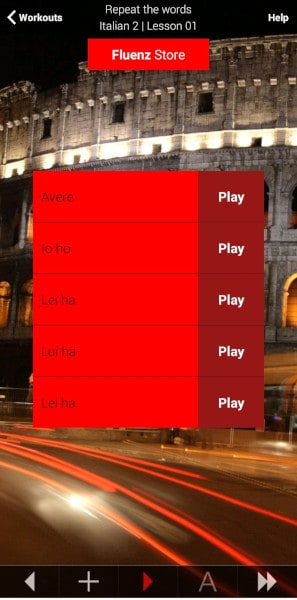 Match the Words
This exercise presents phrases or vocabulary words with their translations in the target language. You'll then need to use your understanding of the language to match the correct phrase or word with its translation.
Choose the Right Image
In this exercise, you'll be presented with a list of the words you have learned and will need to match them with the correct corresponding image. 
Conversation
This feature consists of pre-recorded dialogues allowing learners to participate in the conversation. Conversation provides learners with a low-pressure opportunity to apply the language they have learned in a practical context, helping them improve their speaking skills and gain confidence in real-life situations. Other apps like Baselang, Busuu, or Lingoda does a great job too.
While useful, it may not provide the same level of guidance as a speech recognition system since Fluenz doesn't utilize this technology for pronunciation assessment. Instead, users compare their recordings to those of native speakers, which makes it difficult to discern issues with intonation, stress, and other aspects of pronunciation.
Pick the Right Answer
This exercise presents you with a series of questions and multiple-choice answers. You must select the correct answer to proceed to the next question. This feature is useful for testing and reinforcing your understanding of grammar, vocabulary, and sentence structure.
Fluenz Spanish Immersion
This Fluenz Spanish program is a six-day luxury language learning experience designed to provide learners with an immersive and authentic experience of learning the Spanish language and culture. The language programs offers in-person travel experiences in Mexico City, Bogota, Medellin, Chiapas, Merida, Barcelona, and Oaxaca.
The program includes exclusive experiences such as upscale lodging, private chefs, yoga classes, and personalized language coaching to help learners improve their Spanish language skills. The program also includes cultural activities and excursions to help learners experience the language and culture firsthand.
While the immersion program can be an effective way to learn Spanish and gain firsthand experience with the language, it comes at a high cost. Prices start at more than $5,000 per person.
There is also a Fluenz Spanish online course that offers a similar degree of immersion via Zoom. It can take anywhere between 15 and 30 hours to complete.
Lessons Quality
Fluenz program is well-structured and suitable for most language learners.  Fluenz's methodology focuses on teaching the basics of the new language, ensuring learners develop an intuitive understanding of the language.
Therefore, it shouldn't come as a surprise that Fluenz places a huge emphasis on teaching grammar, which is often neglected by other language apps. Right from the first lesson, Fluenz tutors meticulously dissect sentences and phrases, revealing the underlying logic behind their construction. This approach enables learners to intuitively comprehend the rules of the new language. 
Fluenz's methodology is especially beneficial for learners who want a more formal language learning experience. The app's video tutorials provide explanations that are difficult to get across in a program where there is no English instruction. The program also offers various exercises to keep the learning process fresh and engaging. 
This in-depth approach helps learners to develop a deeper understanding of the language, which ultimately leads to better communication skills.
Grammar Instruction
Fluenz is highly effective in teaching grammar. The instructional videos are the best feature of the app, with tutors providing thorough explanations and examples to help users understand complex grammar concepts. 
The program's clear and concise approach to grammar is ideal for beginners, who may feel overwhelmed by the complexity of the language. Fluenz focuses on grammar from the very beginning, which sets it apart from other language apps that prioritize vocabulary over grammar.
Verbal Practice
Fluenz offers some speaking practice tasks, but it is not the main focus of the program. Users can record themselves and listen back to their own pronunciation, which can help improve speaking skills.
However, the app does not offer advanced speech recognition technology with its speaking exercises like some Fluenz alternatives.
Reading
Fluenz languages includes a variety of reading tasks. The program provides written passages and comprehension questions to help users practice reading and understanding the language. The reading tasks are well-structured and gradually increase in difficulty, which is helpful for beginners.
Writing
Fluenz places a strong emphasis on writing tasks, which are integrated throughout the language programs. Users are encouraged to write short paragraphs while writing flashcards with correct sentence structure and grammar.
As mentioned earlier, the app can be quite fastidious about proper spelling, emphasizing accuracy above all else. You can get an entire answer wrong for missing a single accent mark!
Vocabulary
Fluenz languages offers a good range of vocabulary-building exercises. Serious students can learn new words and phrases through written passages and practice exercises. The app also includes Fluenz flashcards for vocabulary review and teaches words in context to improve memorization. 
Repetitiveness
While some users may find the language courses repetitive over time, the ability to jump around within the online course and choose specific topics to focus on helps to keep things interesting. Moreover, the instructional videos are well-produced and engaging, making it easy to track progress and stay motivated. If you prefer visual learning, than you could also take a look at FluentU.
Ease of Use
Fluenz software stands out from other language-learning apps with its beautiful, well-organized, and intuitive interface. With clear labeling throughout the app, learners can easily navigate the program and access the content they need without any lag time.
The app's high-quality visuals and original images add to its unique feel and enhance the learning experience. The use of color and contrast is visually appealing, making important elements stand out and further aiding learners in their foreign language acquisition journey.
Fluenz offers an intuitive onboarding experience for first-time users, guiding them through the app's features and functions. The user-friendly design allows learners to focus on the language learning experience without being overwhelmed by a confusing or cluttered interface.
Fluenz Competitors and Alternatives
Fluenz vs Rocket Languages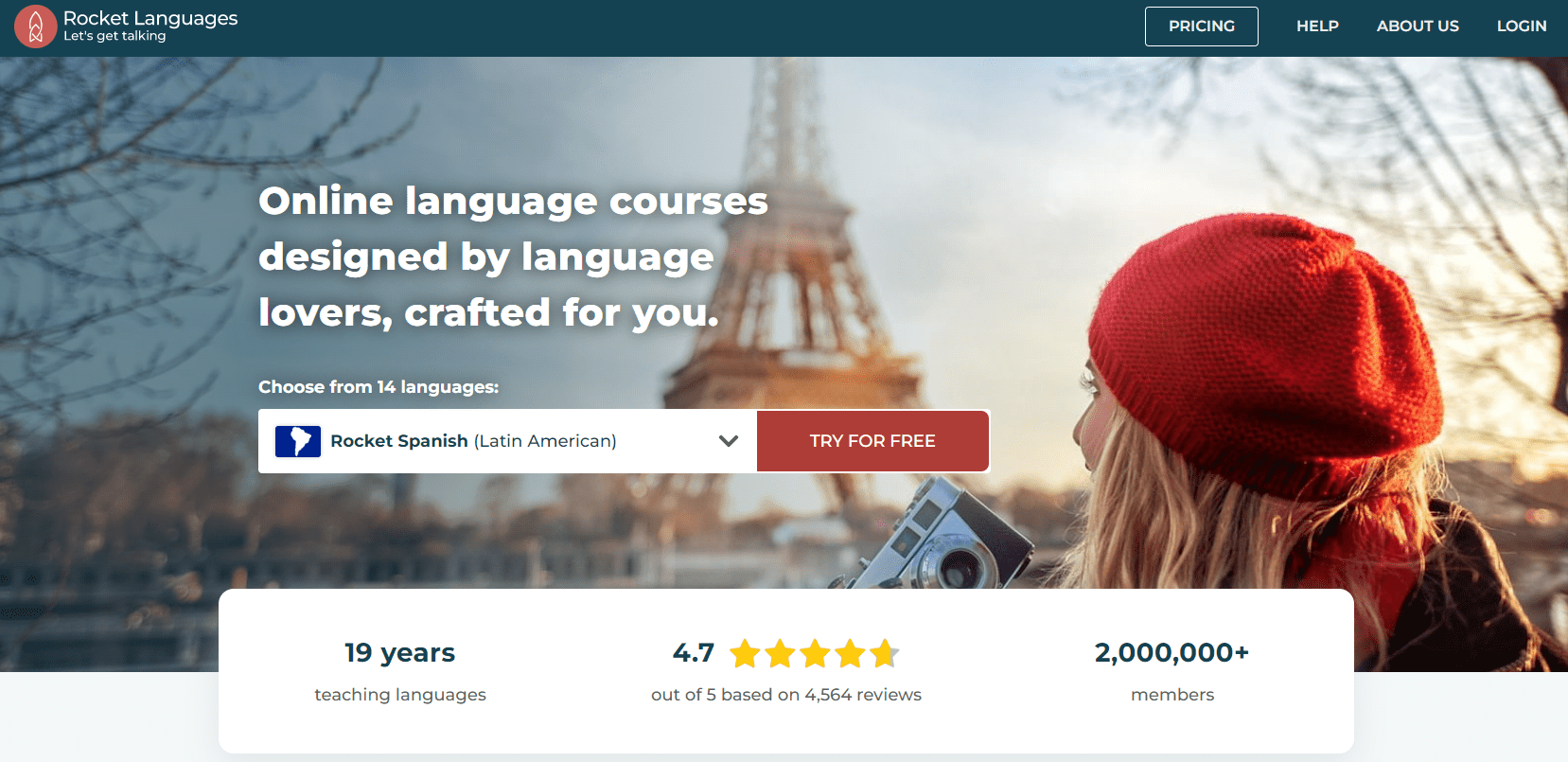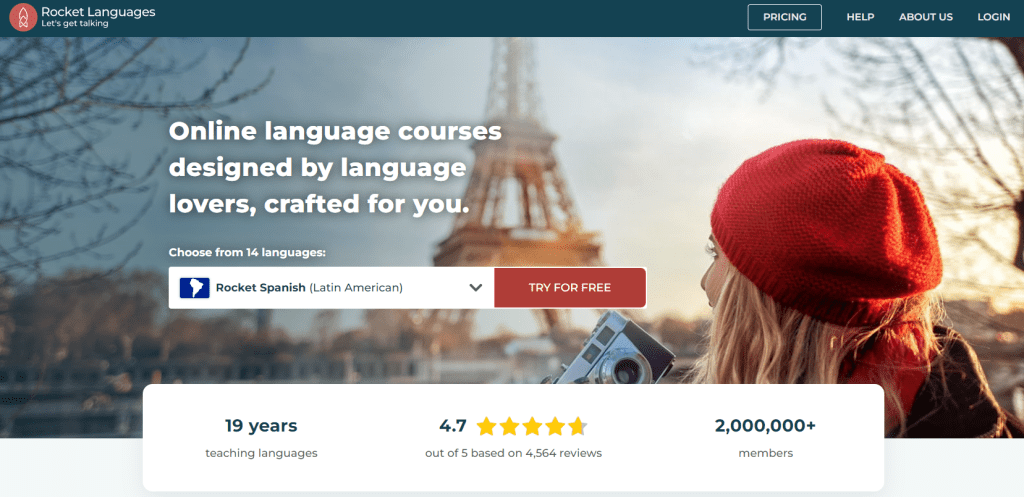 Rocket Languages focuses on self-paced interactive audio lessons with cultural insights and grammar instruction. As shown in this Fluenz review, the strength of Fluenz is video lessons with live tutors. However, Rocket Languages is better for auditory learners and on the go. Try it out if that's what you prefer. Learn more in this Rocket Languages review.
Fluenz vs Mondly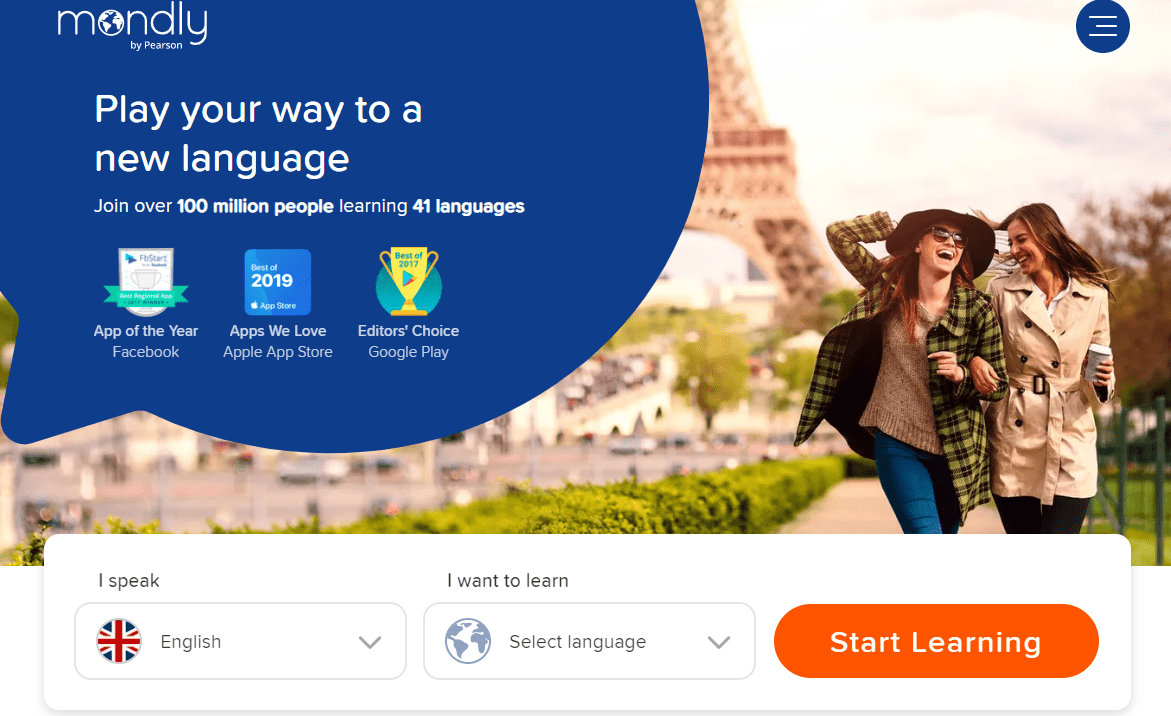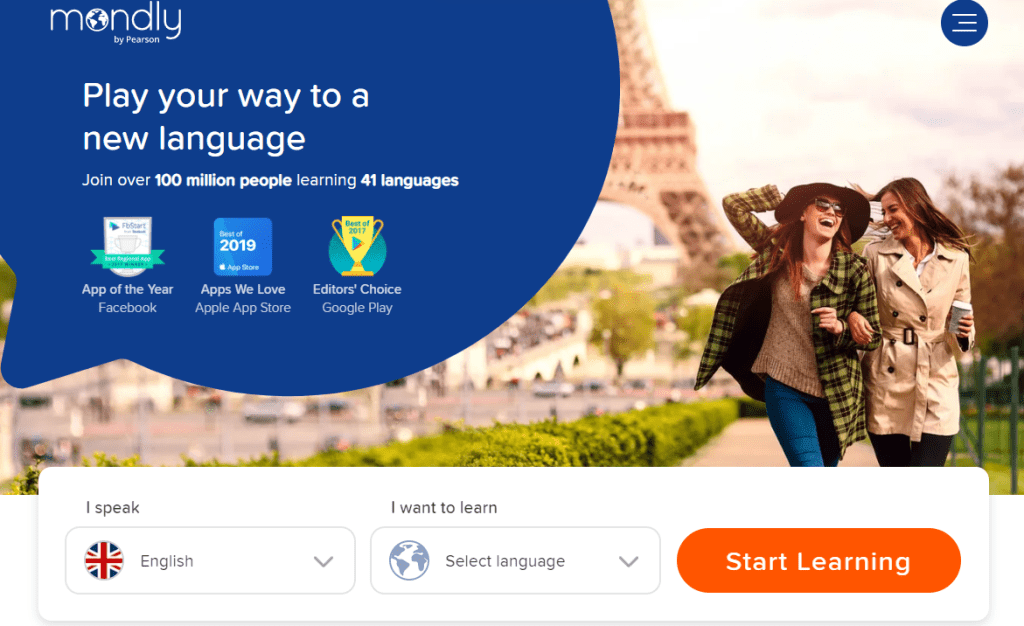 Mondly is perhaps the most innovative language app out there, with many interactive games, including virtual and augmented reality ones. Although it doesn't have such an extensive video library as Fluenz, it certainly is engaging and interactive. Find more information in this Mondly review.
Fluenz vs Pimsleur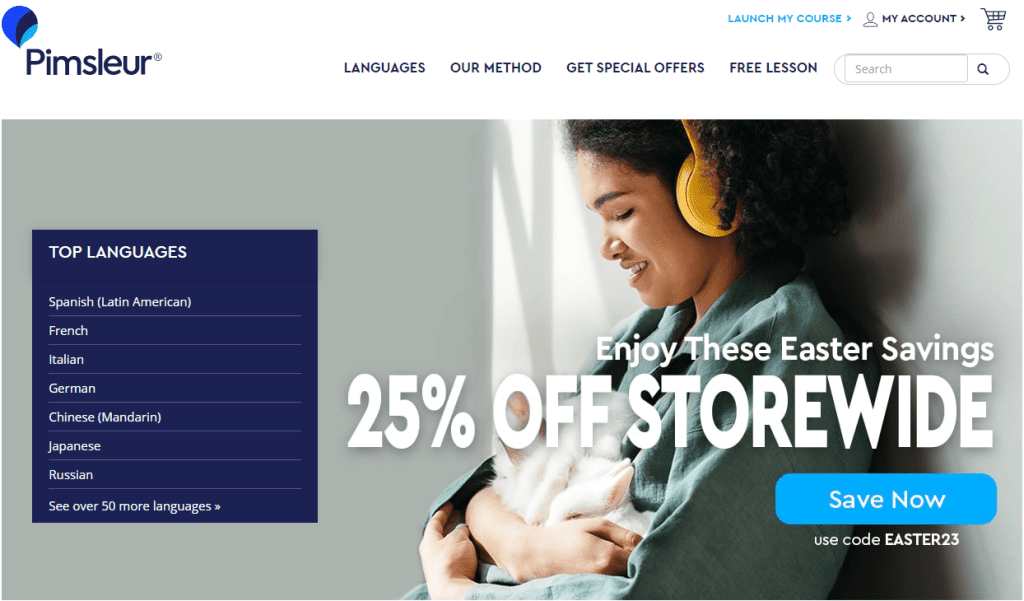 Pimsleur is an audio-based app tasking you with listening and repeating foreign language words and phrases. In comparison, Fluenz is less based on speaking and listening with strengths in the classroom-style environment. If you memorize languages better with auditory measures. Learn more about this program in our full Pimsleur review.
Fluenz vs Rosetta Stone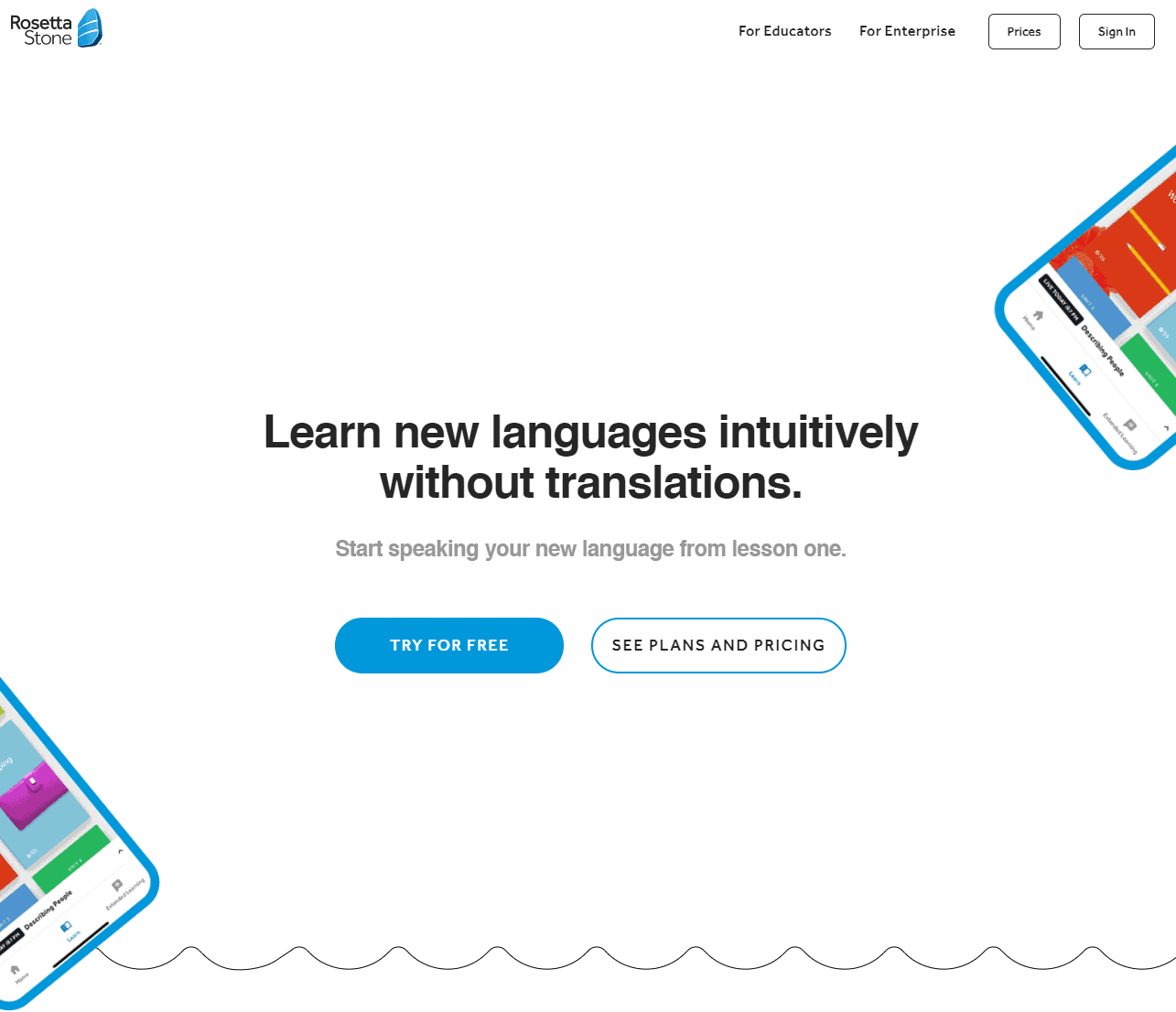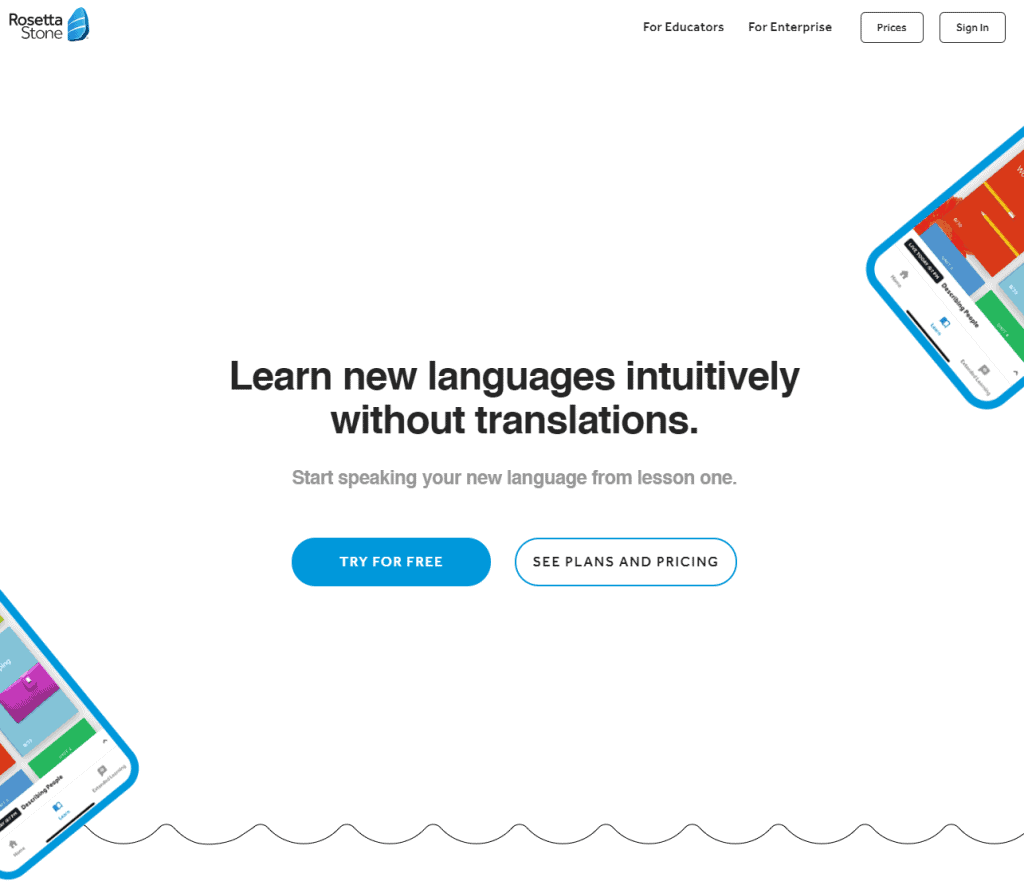 Rosetta Stone emphasizes language immersion through visual cues and native speaker audio recordings. Unlike Fluenz, Rosetta Stone doesn't use videos and instead focuses on exercises, quizzes, and repetition techniques. Many students find such a method more effective. Learn more in this Rosetta Stone review.
Fluenz vs Babbel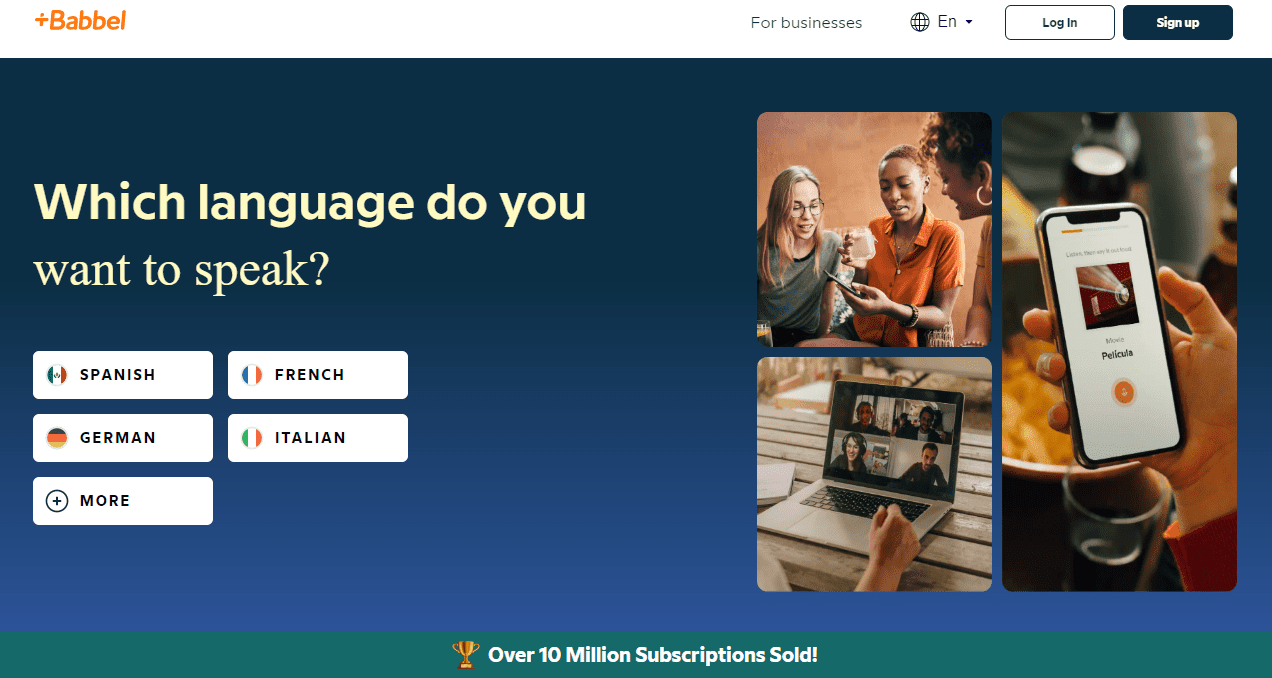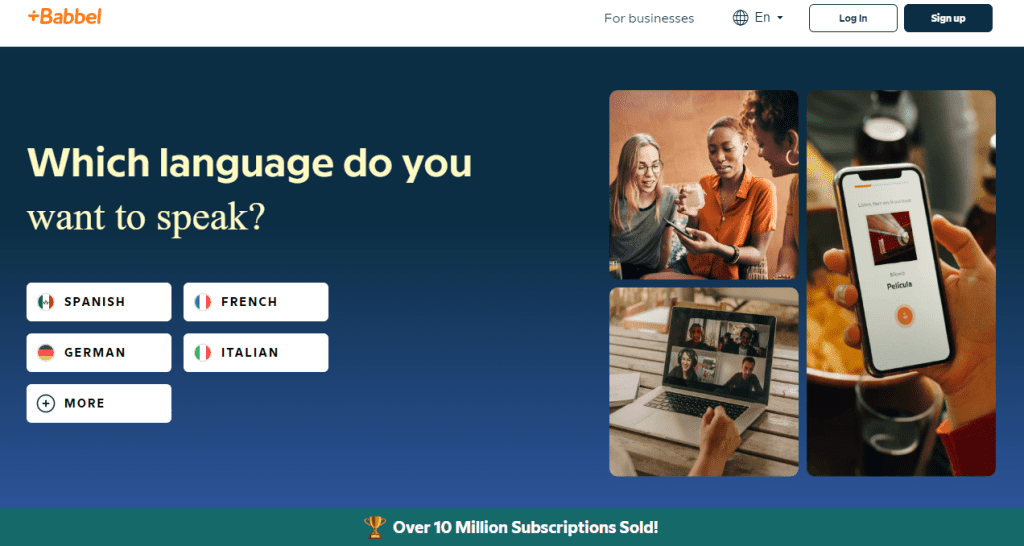 Babbel is a premium-feel language app with language courses, including interactive exercises, podcasts, voice recognition tools, games, and much more. It resembles an interactive textbook you can use at your own pace, while Fluenz aims for an interactive online classroom experience. Learn more in this Babbel review.
What Could be Improved?
Firstly, the app could benefit from incorporating speech recognition technology to provide better speaking exercises and receive feedback on their pronunciation. This feature would enhance the overall language learning experience and help learners to become more confident speakers.
Secondly, some users may find the pacing of the app to be slow, particularly in the first few weeks of learning when there is a vast amount of content to cover. Fortunately, Fluenz allows you to skip ahead the course, meaning you have control over your learning pace. However, doing that could compromise the quality of your learning.
Another area for improvement could be to incorporate more interactive features such as gamification or social learning aspects to keep learners engaged and motivated throughout while they learn a language. Apps like Duolingo and Drops are more polished options.
Finally, while Fluenz offers a great deal of content, there is always room for expansion and improvement. Regular updates and additions to the course could help to keep the material fresh and relevant to learners.
Fluenz Pricing
Fluenz offers a one-time payment rather than a subscription fee. The price ranges from $187 to $408, depending on the number of levels you choose.
There are different levels for each language. Fluenz French, Spanish (both Latin American and European), German, Italian, and Portuguese have five levels each, while the Mandarin course only has three levels.
Here's a breakdown:
| | |
| --- | --- |
| Subscription | Price |
| Level 1 | $187 |
| Level 2 | $187 |
| Level 1+2 | $258 |
| Level 1+2+3 | $308 |
| Level 3+4+5 | $320 |
| Levels 1+2+3+4+5 | $408 |
Customer Support
Fluenz provides customer support primarily via email, aiming to respond within 24 hours. The quality of their responses is helpful and informative. This is supported by our own experience and the numerous Fluenz reviews we checked out.
Fluenz does not currently have a live chat feature on its website. However, it has an extensive FAQ section on its website for technical support. Fluenz blog also offers language learning tips, stories, and cultural insights.
My Verdict
Fluenz's methodology and features make it great for a lot of learners. Beginners and intermediates seeking a more structured and formal language learning experience will benefit from this platform the most. But Fluenz is also great for travelers or those who study a language for academic purposes.