Ever fancied ordering your 'pastel de nata' or haggling over prices in a 'feira' like a native speaker in local Portuguese? Doing these things is all the more fun when you're good with the language.
But how can you learn Portuguese like native speakers while leading a busy life? That's when the Portuguese Pod101, with its refined audio and video lessons, comes in.
Whether you're a novice, a polyglot, or in between, Portuguese Pod101 can be your interactive guide through the winding trails of Portuguese dialects.
And to make your Portuguese learning journey hassle-free, we're here with an in-depth PortuguesePod101 review that'll dive deep into its teaching methods, learning material, and more.
A user-friendly language app with interactive audio lessons
PortuguesePod101 makes learning Portuguese fun and easy. It's not just a simple app full of Portuguese words, it's a Portuguese tutor that talks you through Brazil's native language and helps you better understand and remember individual words. It doesn't have a boring learning method, and it's good for beginner and intermediate learners.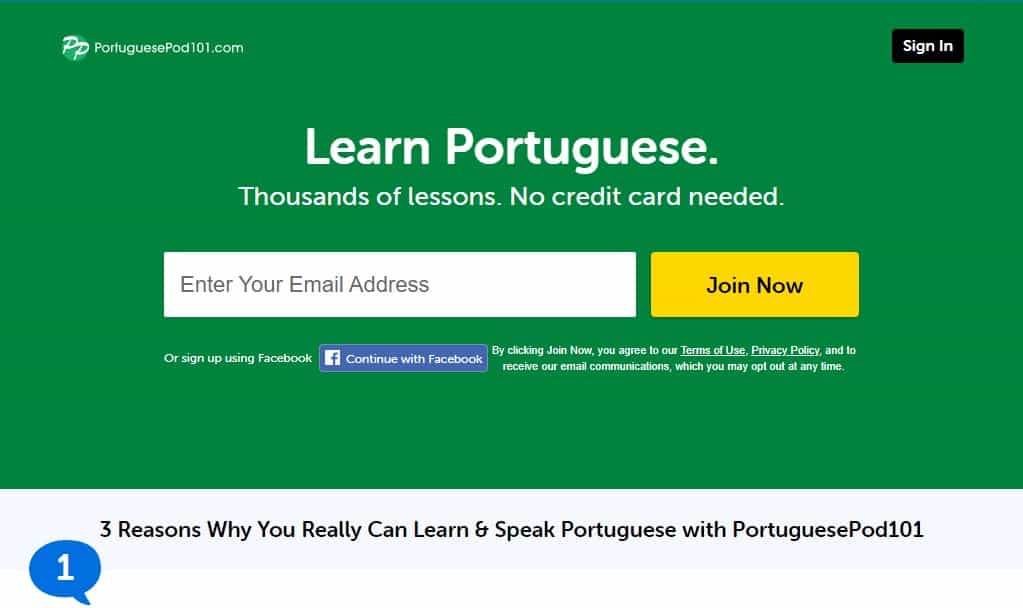 PortuguesePod101 Review Summary
⭐ Rating:
8.5

★★★★★

🥇 Available languages:
1
📈 Suits best for:
Intermediates
🛒 Payment options:
Monthly
💵 Price:
$4 – $552
⌚ Hours of lesson time:
345+
🔄 Refund policy:
60-day money back guarantee
🎁 Free Trial:
✔️
Besides Portuguese, Language POD 101 includes: Afrikaans, Arabic, Bulgarian, Cantonese, Chinese, Cezch, Danish, Dutch, English, French, Filipino, Finnish, German, Greek, Hebrew, Hindi, Hungarian, Indonesian, Italian, Japanese, Korean, Norwegian, Persian, Polish, Portuguese, Romanian, Russian, Spanish, Swahili, Swedish, Thai, Turkish, Urdu, Vietnamese.
Disclaimer: Lingomee is an independent review site that may benefit from affiliate programs. Buying through our links makes our efforts possible without additional costs to you. Learn more here.
About PortuguesePod101
Launching onto the digital scene in 2005, Innovative Language Learning has since made a name for itself by making people advanced speakers in their foreign language. Over nearly two decades, it has grown in popularity and functionality, developing a user-friendly platform that appeals to learners of all levels. 
Portuguese Pod101 is yet another impressive platform you can explore within the Innovative Language Learning app. Say you want to brush up your knowledge of different languages with the least digital clutter. In that case, this language learning program with 34+ languages, podcast lessons, and vocabulary lists will help.
You can switch between different languages, get bite-sized beginner lessons, and practice your listening skills on the go. With effective audio and video lessons, quizzes, and simplified Portuguese words, it's never a dull moment. Plus, it's not just about learning words – you get better with listening comprehension and can converse like native speakers over time.
On entering the app, you'll be greeted by a welcoming user interface, a choice of your level (although there is no placement test), and a free lifetime account that aims to make the language learning process enjoyable.
What really sets Portuguese Pod101 apart is its knack for immersion, as its learning method does not merely teach you words or phrases. Instead, it engulfs you in the beautiful conversational Portuguese and makes you feel as though you are surrounded by Portuguese or Brazilian culture. We should also mention that this is the best app to learn Portuguese fast!
PortuguesePod101 Review: Key Features
The key features we found in our PortuguesePod101 review are pretty impressive from the learning perspective. Since diving into the first lesson of a new language is overwhelming, here are some features in the Portuguese Pod101 app that can ease your journey.
Pathways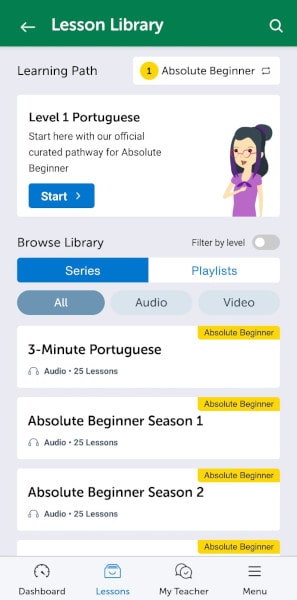 The learning paths of PortuguesePod101 create customized lesson transcripts based on your experience level. If you're an absolute beginner or have some know-how of the language, you can choose a pathway of audio courses and video lessons in the app accordingly.
These pathways help in improving the listening comprehension skills of intermediate students as they know the rules but have limited comprehension skills.
If you're having trouble and wish to speak Portuguese faster, there are English translations to help you. And if you're wondering about how you speak Portuguese, the app allows you to record your own voice when going through each video lesson and the review track.
Dialogues
The "Dialogues" feature in PortuguesePod101 lets you learn from real-life conversations and beginner lessons of native Portuguese speakers. In an audio lesson, you hear how common words and phrases are used in a real setting which tells you how to use them when you talk to people. 
You can also take notes while you listen to Portuguese lessons, which helps you remember what you've learned. Another great part of this feature is that you can record yourself. This lets you compare how you speak with the native speakers in the dialogues. You can see if you're saying words right and where to improve. You can also test yourself in real-life situations with apps like Tandem or italki.
Vocabulary
Portuguese Pod101 breaks the language into digestible chunks and free resources so your learning path flows smoothly. Its vocabulary lists help you understand the meaning of each word, how to say it, and how to use it.
All Portuguese words comes with a pronunciation guide and translation, so you don't have to look it elsewhere. You can study the words one by one and make sure you understand each word before you move on to the next one. 
So, the Vocabulary section is all about making sure you understand and can use each word properly. It's a simple but powerful tool for anyone learning Portuguese. It can help you build a strong foundation in the language.
Lesson Notes
The "Lesson Notes" feature in Portuguese Pod101 provides a clear summary of the most important ideas from each lesson. It's like having the main points from real-life situations of an entire language in one place. As you understand new grammar rules, these notes will provide in-depth lesson transcripts so you learn Portuguese faster.
These PDF lesson notes are short and include explanations about important language concepts. This might be things like grammar rules, how to use certain words or key Brazilian culture information.
You can read these advanced lessons to learn words during your lesson or review them later. This can help you understand the entire language better and remember what you've learned. It's like having your study guide for each lesson. 
Quality of The Learning Material
The learning material and study tools to help you speak Portuguese in Portuguese Pod101 are engaging and well-structured, making the learning process more enjoyable and effective. The new lessons are presented in a range of formats, including video and audio courses, as well as written content.
If we talk about lesson quality in this conversational Portuguese app, the lessons are generally clear and comprehensive. The instructions are straightforward for beginner and intermediate learners, and the instructors do a good job of explaining concepts in a way that's easy to understand. 
However, while the lesson materials in this language learning program are of high quality overall, there may be room for improvement in some areas. For instance, some users might find that the lessons could use more interactive elements to better engage learners and facilitate more immersive learning tools.
Portuguese Pod101 also has impressive lesson content to help you learn Portuguese. Depending on the subscription level, you can access hundreds of hours of lessons to speak Portuguese.
However, most users can expect to invest a considerable amount of time to progress through all the available lessons they need to learn Portuguese. The average lesson typically lasts between 10 and 15 minutes, which makes it convenient for users to fit a quick lesson into their busy schedules.
Grammar Instruction
Portuguese Pod101 does a solid job teaching grammar points as the lessons break down complex rules into simple explanations. The app uses examples and exercises to help you learn Portuguese and practice its grammar points. However, some users may feel that the explanations could be more detailed in some lessons.
Verbal Practice
The Portuguese Pod101 shines in terms of verbal practice as it helps you compare your pronunciation with that of native speakers. This can help you learn Portuguese without forgetting anything and practice your speaking skills as an intermediate learner. But like any app, it can't fully replace the feedback you'd get from a live conversation as you speak Portuguese. Mango Languages is another great choice for verbal practice.
Reading
There are a lot of reading exercises and audio lessons in Portuguese Pod101, and you can read along with recordings to help you speak Portuguese. But if you're at a higher level and want to read longer texts, you might want more than the language app offers.
Writing
For writing, Portuguese Pod101 is not as strong as some other areas. You can write out phrases and sentences, but there aren't much new lessons and focus on writing longer texts. If you want to write a lot in Portuguese, you might need to use additional resources. However, it can be a great companion to practice speaking Portuguese.
Vocabulary
The new vocabulary lists in Portuguese Pod101 is helpful as it teaches you words in context, which helps you remember them. There are also spaced repetition flashcards and audio lessons to help you practice your language skills and keep tabs on what you learn. If you like to build your vocabulary with flashcards, than Lingvist, Memrise and MosaLingua apps are also great choices.
Repetitiveness
The advanced lessons in this language learning program are short and diverse to keep things interesting. Plus, the app uses different activities, like videos, audio lessons, and quizzes.
However, if you use the language app a lot, you might find some types of dialogue track exercises repetitive. This is a common challenge with language learning apps, but Portuguese Pod101 does its best to keep things fresh for advanced learners.
PortuguesePod101 Review: Simplicity of Operation
As you launch this app, the main screen offers a clear overview of available features and where to find them. It uses a convenient layout to show advanced lessons that make it intuitive to use, even for first-time users. 
One noticeable aspect of the app's design is its clean contrast. It uses a white background paired with distinct, bold colors for various elements. This feature makes learning Portuguese fun for both advanced speakers and even absolute beginners.
Portuguese Pod101 also makes effective use of them to enhance the user experience as you scroll to the next lesson. Each section has a specific color scheme, which can make the interface visually appealing and aid in distinguishing between different sections. 
The Portuguese app's labels and feedback mechanisms are instructive and follow the same format for different categories of lesson content. Whether it's a command button, a navigation hint, or feedback on a quiz, the language used is easy to understand.
Although this language app uses original visuals, some sections use stock images. Sure, these images are high-quality and relevant, but more custom-made visuals could further enhance the personalized feel of the app.
PortuguesePod101 Competitors and Alternatives
PortuguesePod101 vs LingQ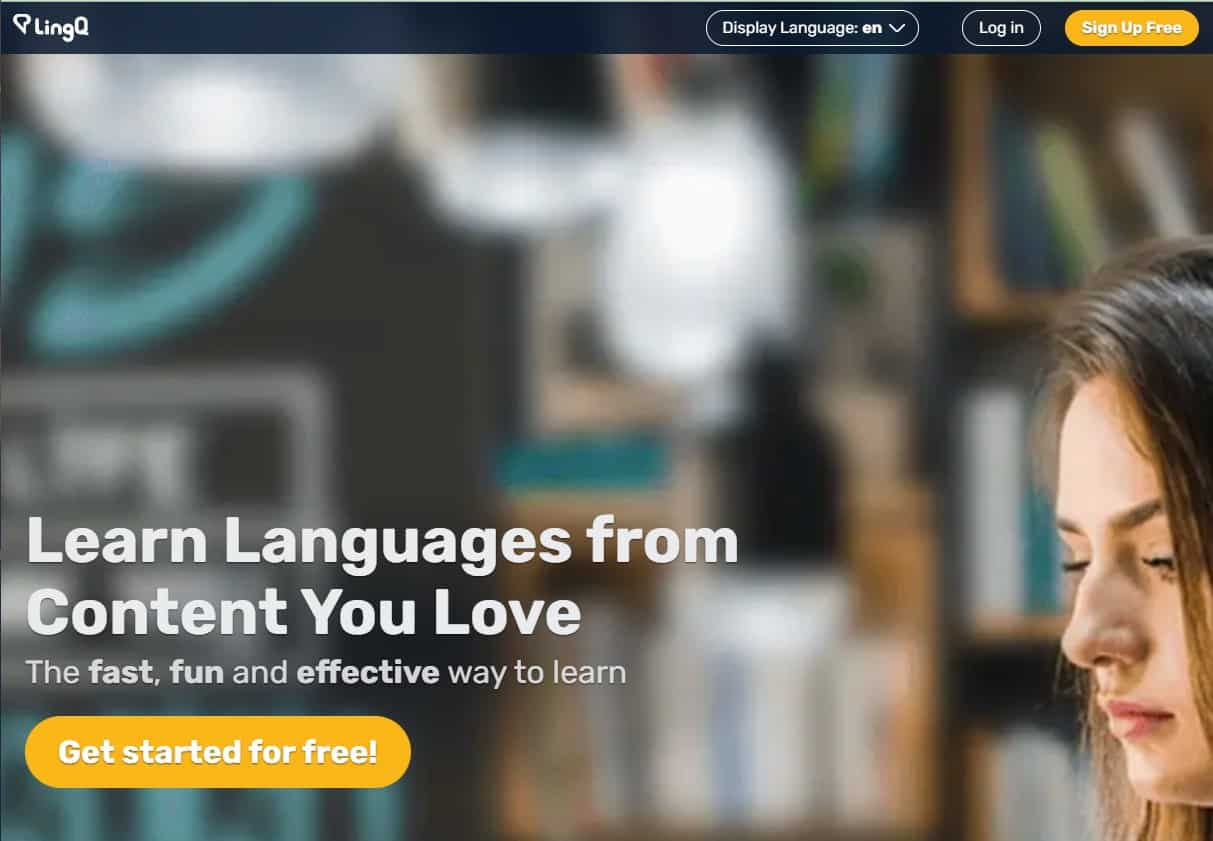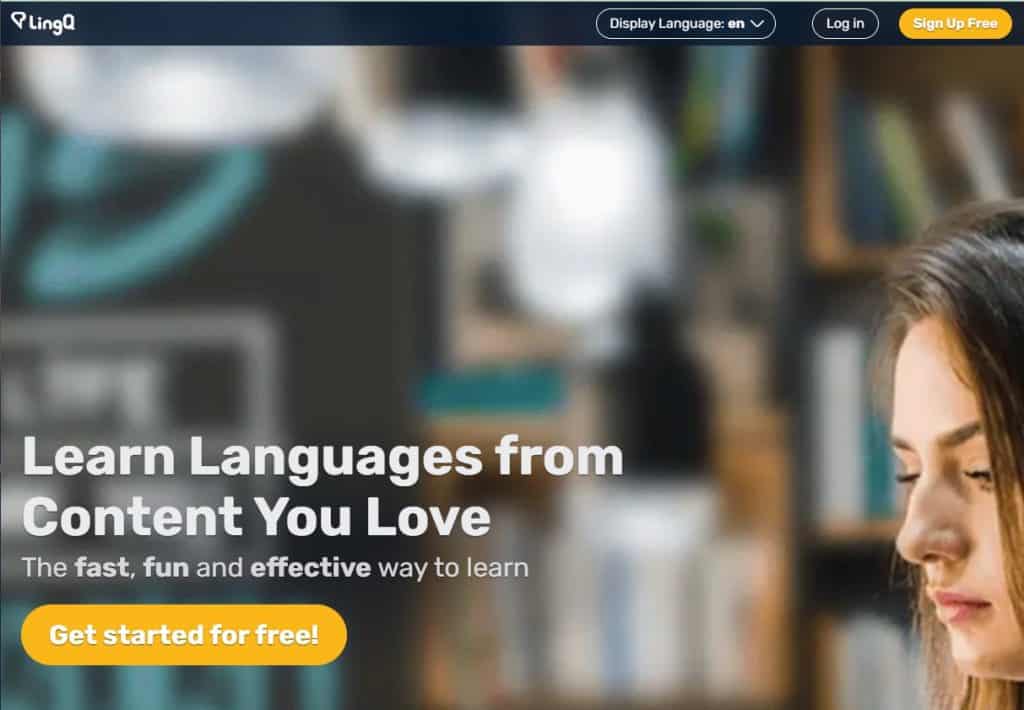 LingQ is based on full customization of your learning with plenty of video, audio, and textual materials. PortuguesePod101 provides a more streamlined and audio-based curriculum, although it still adapts to your needs. If you are looking for a customizable experience, consider LingQ. Learn more about it in our review of LingQ program.
PortuguesePod101 vs Live Lingua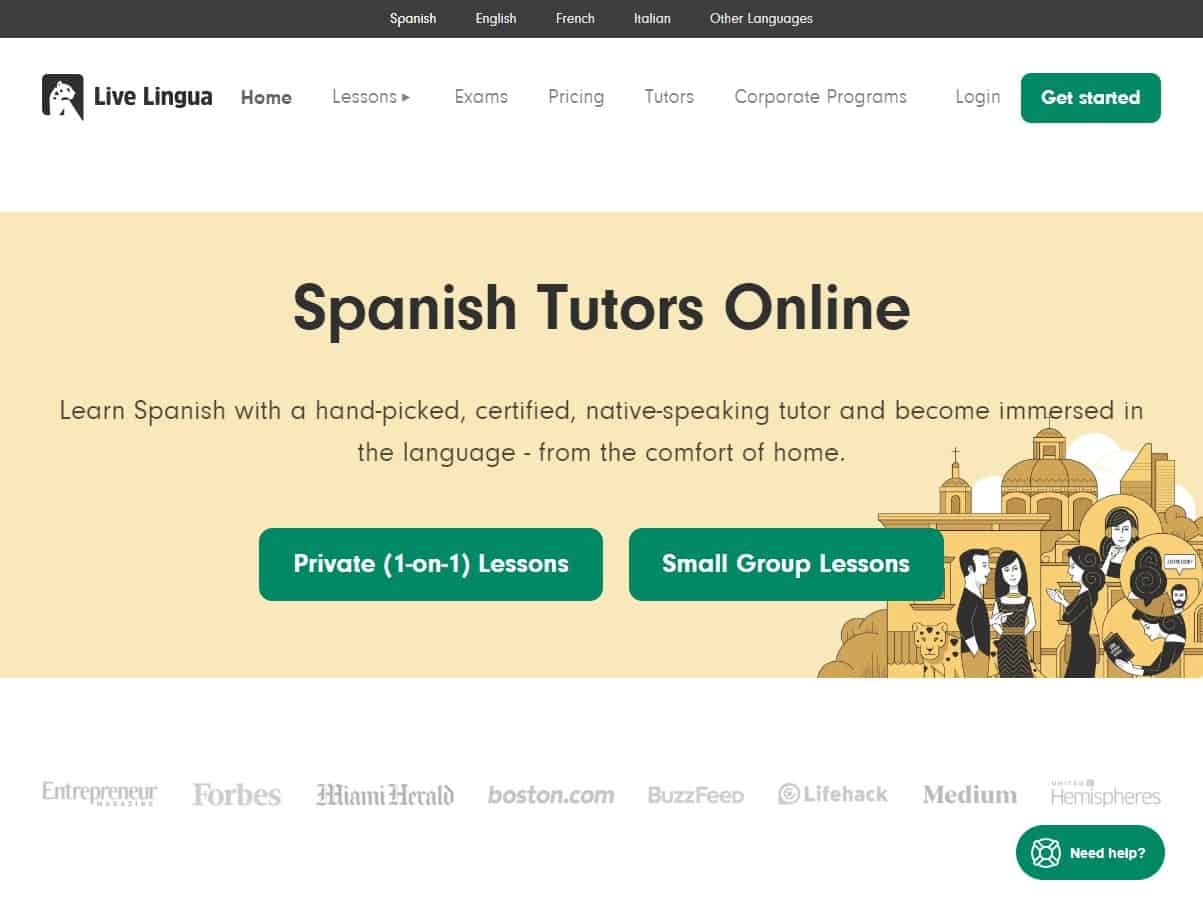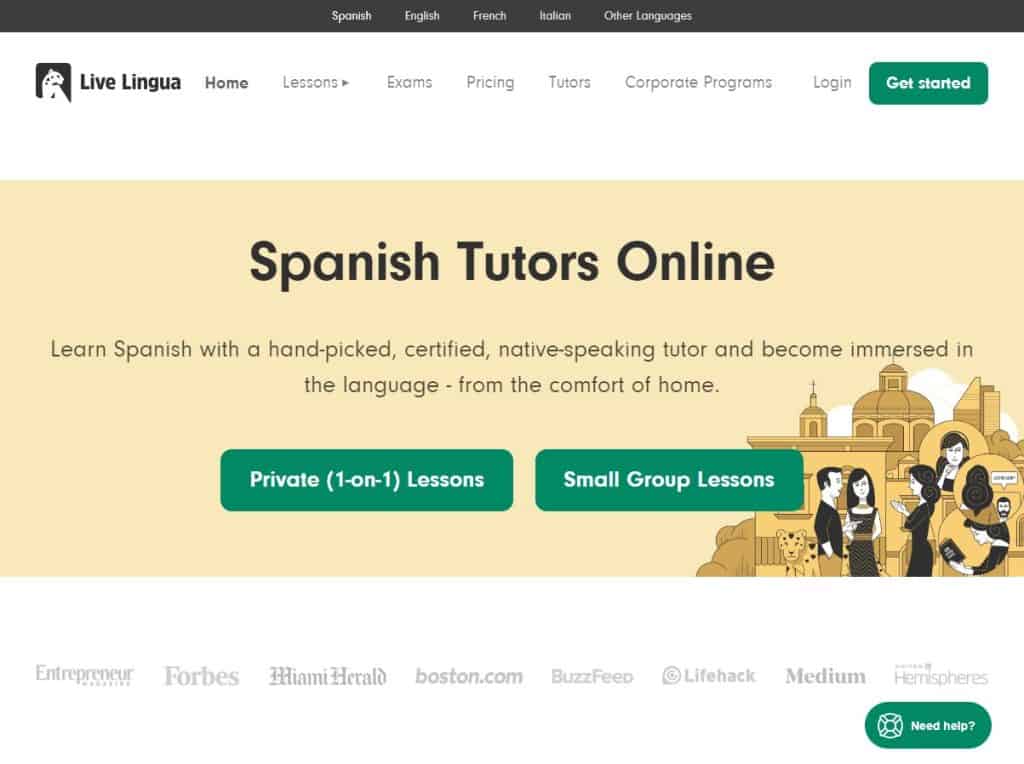 Live Lingua is an online platform that helps to find personal tutors and personalizes online classes. PortuguesePod101 can also provide you with online tutoring, but its main feature is podcast-like lessons. Consider Live Lingua if you are already advanced in your Portuguese. Find more information in this Live Lingua review.
PortuguesePod101 vs LingoDeer

With a large vocabulary and interactive drills, LingoDeer is a great alternative to PortuguesePod101. For a similar price, you get the possibility to access language learning that is not just audio-based. If you want a more interactive experience, learn more about it in this LingoDeer review.
What Areas Could Be Improved?
It's only fair to discuss both sides while reviewing the Portuguese Pod101 app. So, here are some areas we think could use some upgradation in the PortuguesePod101 app:
Although the app is already engaging, increased lesson interactivity could offer a more immersive experience that keeps users invested in their Portuguese learning journey.
A more detailed introduction to complex grammar rules and Portuguese pronunciation might benefit users. Although grammar explanations in podcast lessons are generally clear, a deeper dive into complex topics could enhance understanding and mastery for learners.
Also, the app's writing practice could be improved as it currently lacks sufficient focus on writing longer texts, a skill critical to Portuguese language proficiency. Implementing advanced writing exercises could significantly benefit learners aiming for fluency.
Another aspect that could be polished is the use of imagery. The current blend of original visuals and stock images works reasonably well in lessons. But a transition to entirely custom-made visuals could reinforce the app's personalized approach and further increase its appeal. It could be a great addition in their subscription plans as premium plus.
PortuguesePod101 Prices
PortuguesePod101 has flexible subscription plans that cater to different budgets and learning goals. It operates on a cost-per-language basis, meaning you pay specifically for access to materials to start speaking Portuguese.
Starting off, a lifetime free account gives you access to a limited set of lessons and resources, which can be a good starting point if you're dipping your toes into the Portuguese language.
Next up is the Basic Plan, costing $4 per month, which opens up more content and tools for learning Portuguese.
For a more enriched learning experience, the Premium Subscription plan at $10 per month is available. It gives you access to a wider range of lessons and advanced learning tools designed to expedite your progress.
Finally, there's the Premium Plus Plan for learning Portuguese at $23 per month. This PremiumPlus plan includes everything the Premium Plan offers, plus some extra perks, such as personalized learning programs and one-on-one lessons with a teacher.
All these plans are billed monthly, offering flexibility for learners to switch plans or cancel at any point. Here's a look at the pricing you'll have to pay for learning Portuguese.
| | | |
| --- | --- | --- |
| Subscription | Price | Payment |
| Free | Free | No charge  |
| Basic | $4.00 | Charged Monthly |
| Premium | $10.00 | Charged Monthly |
| Premium Plus | $23.00 | Charged Monthly |
Free Trial
PortuguesePod101 offers a 7-day free trial for learners to experience its full range of lessons. This includes unrestricted access to all levels of lessons, from beginner to advanced, and all the interactive learning tools needed to learn conversational Portuguese.
This free trial is a great opportunity for potential users to test-drive the platform and decide if it meets their language learning needs. At the end of the trial, you can continue with a paid plan or revert to the limited-access free account version (better than Duolingo).
PortuguesePod101 Coupons and Discounts
PortuguesePod101 occasionally offers special discounts during events like Christmas or Halloween, making its already affordable subscription plans even more enticing. The promotional offers provide access to customized podcast lessons and resources normally valued at hundreds of dollars.
Refund Policy
PortuguesePod101 has a fair and straightforward refund policy for those who may not be fully satisfied with their subscription plans. It offers a 60-day 100% money-back guarantee so you can test the service thoroughly before fully committing.
This process is quite smooth, which demonstrates the platform's confidence in its product and its commitment to customer satisfaction. Meaning, you don't have to worry even after subscribing to a premium plus plan.
PortuguesePod101 Pricing Compared to Competition
PortuguesePod101 offers subscription plans starting from $4 per month, reaching up to $23 per month for the most comprehensive premium subscription. This pricing structure is quite competitive, especially considering the breadth of resources and features offered at each level.
Compared to popular language apps like Rosetta Stone, Babbel, and Rocket Languages, PortuguesePod101 offers similar, if not more diverse lessons.
It provides an extensive lesson library, personalized lesson plans, native speaker dialogues, pronunciation, and new vocabulary tools to make the learning experience as effective and engaging as possible. The one-on-one access to a teacher at the Premium Plus level also sets it apart from many competitors.
However, the cost-per-language policy is where PortuguesePod101 might be considered less flexible than some competitors. While the pricing is reasonable, other platforms offer access to multiple languages for a single subscription cost. This option may make those platforms more appealing to polyglots or those still deciding which language to pursue.
PortuguesePod101 Ratings from Other Users
Google Play Store – 4.7 14M+ downloads)

Apple App Store – 4.7 (30.7k ratings)
Assistance to Clients
Customer support is important in any language learning platform, and PortuguesePod101 has put considerable effort into this area.  Instant support is primarily provided through email, with the team typically responding promptly. The support staff is knowledgeable and helpful. They answer inquiries effectively and provide valuable assistance. 
Also, PortuguesePod101 maintains an active blog that serves as one of the additional learning tools. The blog covers aspects like language tips, Brazilian culture insights, and usage guides, providing a well-rounded support system to learners.
However, since the PortuguesePod101 help center is available for only the premium learners, those with a free plan won't be getting any assistance. 
PortuguesePod101 Review: What Sets it Apart?
PortuguesePod101 provides a well-rounded, dynamic learning experience that brings the beauty and complexity of the Portuguese language within your reach. Its blend of interactive lessons, practical dialogues for listening skills, and easy lesson plans set it apart in the crowded language learning field.
While there's room for minor improvements, the platform's commitment to quality learning material and user-friendly interface make it an excellent choice for absolute beginners and advanced learners alike.