Learning a new language can open up a world of opportunities, both personally and professionally. Whether you're planning to travel or just looking to learn more about different cultures, speaking a new language should be an adventure. That's the aim of Mango languages.
It is a trendy online language-learning platform with an engaging user interface and unique teaching methods. Mango's approach to language learning is based on the idea that language is best learned through practical, real-life conversations. But with so many options available, is Mango Languages worth your time and money?
Building Practical Conversation Skills for Real-Life Situations
Mango Languages is a great app for learning a new language from scratch. The interactive lessons keep you engaged and you can even watch movies in your target language with translated subtitles. It's also fit for learning more about the culture and building practical language skills for real-life situations.
Mango Languages Review Summary
⭐ Rating:
7.6

★★★★★

🥇 Available languages:
70 (see bellow)
📈 Suits best for:
Novices
🛒 Payment options:
1 Month/3 Months/6 Months/12 Months
💵 Price:
$7.99 – $179.99
⌚ Hours of lesson time:
400+
🔄 Refund policy:
No refunds or credits for partial periods
🎁 Free Trial:
✔️
Armenian, Azerbaijani, Arabic (Egyptian), Arabic (Iraqi), Arabic (Levantine), Arabic ( Modern Standard Arabic), Bengali, Cantonese Chinese, Chaldean Aramaic, Cherokee, Croatian, Czech, Chinese (Mandarin), Danish, Dari, Dutch, Dzongkha, English, Shakespearean English, Farsi, Finnish, French, French Canadian, Greek (Ancient), German, Greek, Koine Greek, Hebrew (Biblical), Haitian Creole, Hawaiian, Hebrew, Hindi, Hungarian, Icelandic, Igbo, Indonesian, Italian, Irish, Japanese, Javanese, Kazakh, Korean, Latin, Malay, Malayalam, Norwegian, Brazilian Portuguese, Pashto, Pirate, Polish, Potawatomi, Punjabi (Pakistan), Romanian, Russian, Spanish (Castilian), Spanish (Latin American), Scottish Gaelic, Serbian, Shanghainese, Slovak, Swahili, Swedish, Tagalog, Tamil, Telugu, Thai, Turkish, Tuvan, Ukrainian, Urdu, Uzbek, Vietnamese, Yiddish.
Disclaimer: Lingomee is an independent review site that may benefit from affiliate programs. Buying through our links makes our efforts possible without additional costs to you. Learn more here.
About Mango Languages
Launched in 2007, Mango Languages has been around for over ten years and has helped millions of users improve their language skills. Mango Languages achieves it through interactive lessons and quizzes. All language courses are designed to be engaging.
New language learners can take a placement test to determine their proficiency level. It helps the Mango languages app to personalize the learning experience and create a customized lesson plan. Every lesson is made to help you learn all parts of the language, so you can speak, listen, and write better.
Mango languages app uses a conversation-based methodology with relevant learning materials like grammar tips and interactive lessons. This enhances your understanding of language structure and challenges you to practice what you're learning. With Mango Languages, learners can expect an experience that will meet their needs.
Mango Languages Review: Key Features
One of the reasons Mango Languages is popular is its range of features that make it easy to learn. The features even provide cultural and grammar notes that teach you about different countries and customs.
The focus on conversational skills makes Mango Languages different from other platforms. They teach you how to speak and write in a way that improves practical conversational skills, like ordering food or asking for directions.
Advanced Cultural Notes
Language is not just about words and grammar but also about culture. With Mango, you can learn about a new culture while learning the language. It doesn't matter if you're learning for travel, work, or just for fun.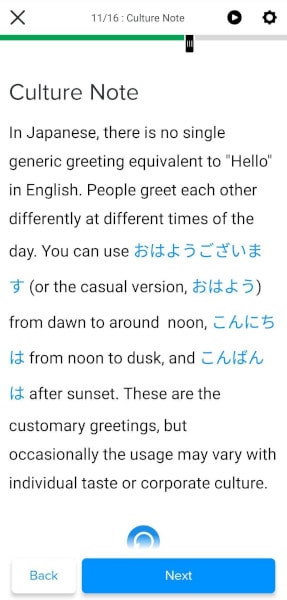 The app has advanced cultural notes to help you understand the customs and traditions of your target language. For example, if you're studying one of the popular languages, like Japanese, Mango will not only teach you the language. You'll also learn essential customs like Omotenashi, which is the Japanese way of showing hospitality. 
This is really important if you plan to travel or do business in Japan. Many other online language learning programs, such as Rosetta Stone, lack such cultural aspects.
Interactive Lessons
Interactive sessions are the core of Mango languages. These sessions are designed to be engaging, making it easier for learners to stay motivated. And with color coding, you can easily recognize patterns and learn grammar explanations.
There are also quizzes and games to help you memorize what you learned. The daily reviews can be scheduled via daily reminders, although the app could be more proactive in suggesting them to the user.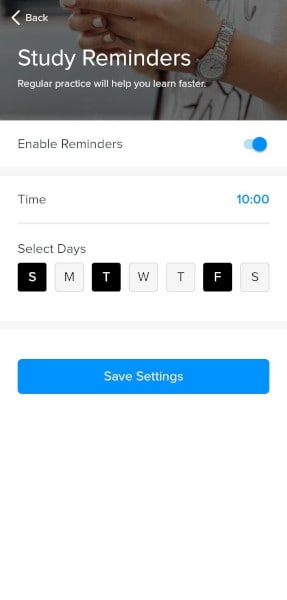 You learn languages while filling in the blanks, repeating words, and reading dialogues. Mango Languages aims to help all levels of learners, so it is easy to tinker with settings, such as turning off the quiz timer. You can also check competitors like LingoDeer if you want even more interactive program.
Google Translate Integration
Another valuable feature of Mango Languages is its Google Translate Integration. This feature provides literal translations, which is helpful for beginners. It's a great way to understand and remember new words and phrases in popular languages.
We found the instant translation most helpful if you are a school or university student using Mango languages during your foreign language classes. However, using this feature with the Mango languages app isn't convenient as it is only available on the website.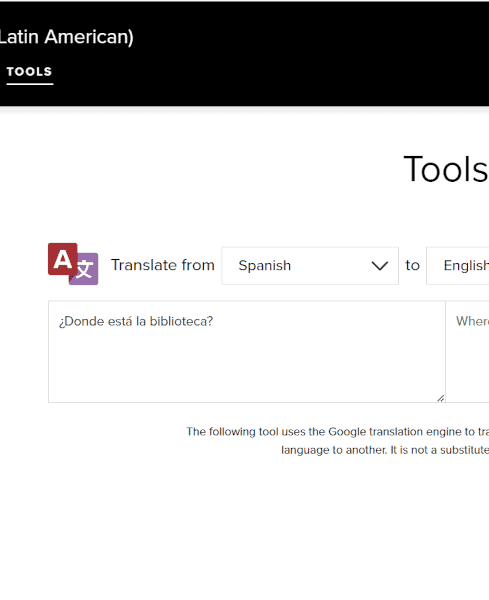 Although Google translate is a powerful tool, it is not well-suited for advanced learners. In more complex cases, you want definitions and grammar explanations. Only a literal translation is not enough. There are similar apps like LingQ or Lingopie that use this function
Mango Movies
While there are other language-learning apps that use movies and TV shows as a way to teach, Mango Languages goes beyond. It offers interactive features that allow learners to learn the language and get insights into the culture.
The quality of the movies is also great, with high-resolution video and clear audio. Even a native speaker would enjoy watching them. From drama films to comedies, there is a diverse selection of movies. Alghtou some target languages, such as Latin American Spanish, have way more content than others.
As with many other language apps with video content, you can pause, check words or phrases in the built-in dictionary and read your native language subtitles. This makes it easier to understand what's happening in the movie, especially when you're a beginner.
Quality of the Learning Material
Mango Languages offers high-quality teaching material. The lessons are super easy to understand and well-structured, which means you won't struggle to keep up. Depending on your pace, it can take a few weeks to several months to complete the course. Each lesson lasts around 10-15 minutes on average. It is a good duration to not get overwhelmed. 
Additionally, many of the instructors are native speakers, so you get to learn the language from someone who speaks it fluently. You can follow a structured approach by completing lessons in order or choose some specialty courses if you prefer a more self-directed approach.
Grammar Instruction
Mango Languages offers an excellent grammar instruction program that teaches you the most important parts of the language. Grammar notes can include using verbs correctly, structuring complex sentences, and other essential concepts.
Rather than just presenting the rules of the courses in a dry textbook format, Mango uses interactive exercises and games to help learners understand the grammar concepts. For example, users can learn how to form complex sentences through interactive exercises.
From simple sentences to more intricate grammar rules, Mango Languages aims to cover everything. However, the depth of the grammar rules covered depends on the target language you are studying. 
Verbal Practice
Practicing a new language isn't just about memorizing new words. It's also about learning to pronounce them correctly and communicate with confidence. Mango Languages understands this, so they have exercises for you to practice in their courses. 
For instance, the platform has a feature that allows learners to practice verbal skills by first hearing a native speaker and recording themselves. Mango Languages provides instant feedback on pronunciation.
Some exercises focus more on conversations to enhance users' communication skills. Others may use voice recognition technology to evaluate pronunciation accuracy.
Reading
With Mango Languages, you can practice reading skills using materials made specifically for your target language. The quality of the material may differ based on the language, but Mango generally offers a decent selection of reading materials.
These materials start with basic words and sentences and then move on to more advanced stuff like cultural insights. Native speakers may find the materials to be particularly helpful in understanding the language better. 
The platform also aims to use the correct alphabet for all languages. With Mango Languages, you can become a more confident reader in your target language.
Writing
Mango Languages cover lots of different parts of writing, like grammar and how to structure good sentences. This approach helps students see their progress and identify areas of weakness.
In addition, the writing exercises cover many topics, from everyday situations to more advanced content. These exercises may include sentence-building exercises or writing short paragraphs in your target language. As a result, learners get to practice writing in different contexts and expand their vocabulary. 
Vocabulary
Mango Languages offers many ways to learn new words and phrases in different languages. There are exercises for all levels of language learners with audio recordings and pictures to help you remember words.
For instance, you can engage in vocabulary drills that present you with a word and its definition. Or you can participate in matching exercises that help you learn how to match words to their corresponding translations.
These exercises are designed to make language learning more fun while helping learners to memorize new vocabulary effectively. You can learn how to have simple chats or talk about your hobbies and interests with native speakers. You can also check our full Drops review (competing app with focus on vocabulary)
Repetitiveness
When you learn a new language, you must practice it a lot to get better, and that's why Mango Languages uses a lot of repetition in its lessons. They repeat vital concepts and vocabulary in different ways throughout the sessions. 
These methods include interactive exercises, quizzes, and even audio recordings. For example, you may encounter a word in a reading exercise, then hear it pronounced again in a conversational language. 
As you progress, the language courses get more difficult, but the repetition ensures you remember what you've learned. This way, you'll have enough practice to become confident and achieve complete fluency.
Mango Languages Review: Simplicity of Operation
Mango Languages has a simple, easy-to-understand design, and everything is clearly labeled. The colors in the app are bright and make it easy to find what you want. You don't need to be a tech whiz to use this app.
The visuals in the app are also helpful and of high quality, making the language courses on Mango more engaging. For example, pictures usually accompany words to make them easier to understand. First-time users are guided through everything step-by-step. 
The app loads quickly. Whether you're using Mango Languages on your smartphone or through the web, you can expect the same fast and reliable performance. Even on slower internet connections, the videos and audio lessons will play smoothly. 
What Areas Could Be Improved?
Mango Languages provides courses for many languages, which is good. But some courses are very short and may not offer enough content. For instance, the Korean and Arabic (Egyptian) courses have only one unit with limited content. Learners may need extra resources to become proficient in these other languages. You can check our in-depth guides for these languages to find more suitable options:
While Mango Languages is an excellent tool for beginners, advanced learners may find it lacking in depth and challenge. It would be helpful to add more difficult exercises suited for advanced users.
There are also some inconsistencies between the website and the app. For instance, the Mango Languages app has some features that the website lacks, such as offline lesson downloads. Mango Languages could work to ensure consistency between the website and app.
In terms of visuals, the app mainly uses stock images. The images are engaging and high-quality, but it would be nice to see more original illustrations or graphics to make the course depth better.
Mango Languages Prices
If you want to learn just one language, you can subscribe for $7.99 monthly. But if you want to learn many languages, the all-languages subscription costs $17.99 monthly. Opting for the yearly subscription, you can save even more as you pay only $6.67 for one language or $14.99 per month for all languages. The price of Mango Languages is more affordable compared to other popular language learning apps such as Glossika, Pimsleur, or FluentU, and the content justifies its cost!
The table below highlights how much does Mango Languages cost for a single language subscription:
| | | |
| --- | --- | --- |
| Subscription | Price | Payment |
| 1 Month | $7.99 | Charged monthly |
| 3 Months | $23.97 | One charge of $23.97 |
| 6 Months | $47.94 | One charge of $47.94 |
| 12 Months | $79.99 | One charge of $79.99 |
The table below displays subscription options for all languages:
| | | |
| --- | --- | --- |
| Subscription | Price per Month | Payment |
| 1 Month | $17.99 | Charged monthly |
| 3 Months | $53.97 | One charge of $53.97 |
| 6 Months | $107.94 | One charge of $107.94 |
| 12 Months | $179.99 | One charge of $179.99 |
Learning a single language with Mango Languages program is one of the cheapest ways to get started. Other apps that offer similar pricing are Memrise, Ling App, Yabla, and Mondly.
Free Trial
Mango Languages free trial is longer and more inclusive than of other language-learning apps. A 14-day trial that gives users access to all languages and all features. We found that it is enough to test the features and decide if the app fits your language-learning needs.
Mango Languages Coupons and Discounts
Mango Languages offer a discount for yearly subscriptions, giving users two months for free. It's worth keeping an eye out for such promotions during holidays or special events, as they may offer temporary discounts.
Mango Languages also partners with libraries and schools to give free access to their members. So, check with your local library or school to see if you can use the app for free.
Refund Policy
You can cancel your Mango Languages subscription anytime you want and still use it until your monthly, or annual membership ends. Unfortunately, Mango Languages doesn't offer refunds for any partial memberships. 
Additionally, if you subscribed to Mango Languages through a third-party app store like Apple's App Store or Google Play Store, you'll need to contact their customer support. Mango Languages cannot directly manage refunds in those cases.
Mango Languages Pricing Compared to Competition
Many Mango Languages alternatives have a matching pricing strategy. For instance, Mango Languages offers an annual subscription for $79.99, which is similar to Lingodeer's annual membership fee.
However, Mango Languages has a unique approach to teaching new languages, such as mango movies and cultural texts, that justifies the price. You can learn multiple popular languages with just one subscription, and if you sign up for a whole year, the deal becomes even better.
Authorizations 
Mango Languages have been recommended by many educational institutions, such as Florida and Notre Dame Universities. They offer Mango courses to students and staff. If such prominent universities use Mango Languages, it's certainly a reliable tool for anyone looking for an online language learning program.
Mango Languages ratings from other users
Google Play Store – 4.8 (1M+ downloads)
Apple App store – 4.8 (31.9K ratings)
G2 – 4.1
Mango Languages Review: Assistance to Clients
The platform provides excellent customer support to its users. You can contact them through email, phone, or live chat. Most customers have reported positive experiences with Mango Language's customer support team. We also found that they are friendly and easy to talk to.
The live chat feature on their website is particularly beneficial as it allows you to get answers to your questions in real time. The chatbot is also available 24/7 and can provide immediate assistance for common issues. 
However, if you need more personalized support, you can reach out to a human customer service representative. They typically respond within 24 hours.
Final Thoughts
Mango Languages is a great choice for anyone who is just starting to learn a new language. Its interactive lessons, native speaker audio, and customer support make it fitting for complete beginners. So, if you're looking to learn a new language, Mango Languages is worth checking out.