The Greek language is one of the oldest languages in the world, with a rich history spanning two millennia. But the unique Greek pronunciation, alphabet, and grammar make advancement difficult. Greek Pod 101 is the ultimate solution for learning Greek, with content as rich as Greek history.
Greek Pod 101 features various teaching materials with its podcast-like audio lessons, video content, and diverse features. The app can help you learn Greek, improve listening skills, and prepare you to speak Greek with native speakers. But knowing if it's the best app to learn Greek requires careful consideration.
In this honest review, we'll cover GreekPod101 to determine if it's the right app for your learning goals.
A structured audio content plan for learning Greek
Greek Pod 101 offers audio and video lessons accompanied by helpful notes for valuable tips. Each lesson's dialogue is displayed, enabling learners to practice essential phrases and acquire key vocabulary. The app also enhances vocabulary, listening comprehension, and overall language skills. With its premium-level content, Greek Pod 101 is a top-tier app for learning Greek.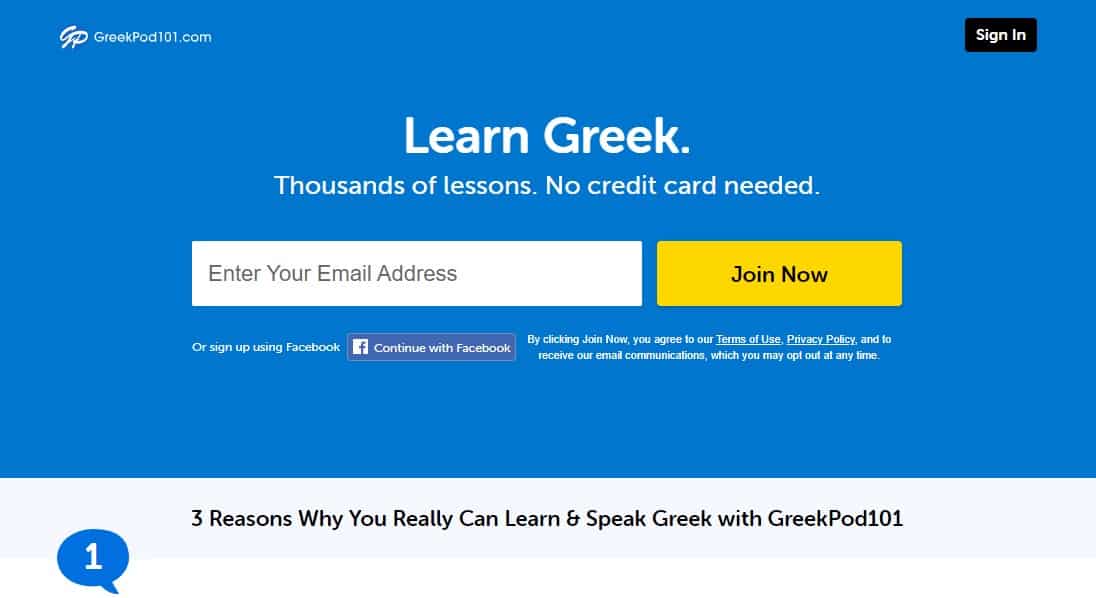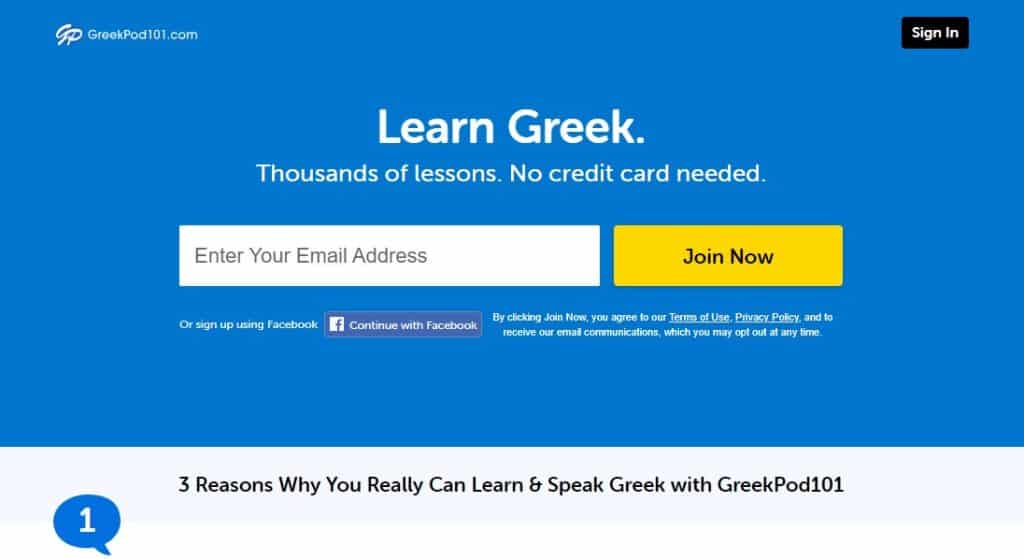 GreekPod101 Review Summary
⭐ Rating:
8.8

★★★★★

🥇 Available languages:
1
📈 Suits best for:
Intermediates
🛒 Payment options:
Monthly
💵 Price:
$8 – $599
⌚ Hours of lesson time:
345+
🔄 Refund policy:
60-day money back guarantee
🎁 Free Trial:
✔️
Besides Greek, Language POD 101 includes: Afrikaans, Arabic, Bulgarian, Cantonese, Chinese, Czech, Danish, Dutch, English, Filipino, Finnish, French, German, Hebrew, Hindi, Hungarian, Indonesian, Italian, Japanese, Korean, Norwegian, Persian, Polish, Portuguese, Romanian, Russian, Spanish, Swahili, Swedish, Thai, Turkish, Urdu, Vietnamese.
Disclaimer: Lingomee is an independent review site that may benefit from affiliate programs. Buying through our links makes our efforts possible without additional costs to you. Learn more here.
Quick Overview of GreekPod101
GreekPod101 is one of Innovative Language's courses. You might've heard it as LanguagePod101, which has been teaching languages for almost two decades. But as with all Innovative Language's courses, it must be mentioned that you must look for an Innovative Language learning app and then select Greek.
Once you sign up, you get a free lifetime account. The Language learning app starts you with a placement test to determine your level. There are five levels, from absolute beginner course to those suited for advanced learners.
Using the free account, you will have a limited number of audio lessons without access to extra features like My Teacher and assignments to improve writing, reading, and listening skills.
GreekPod101 uses a variety of content. It has spaced repetition flashcards, vocabulary lists, audio recordings, video content, downloadable notes, a Grammar bank, and much more. The audio content features dialogues, videos that visualize real-life scenarios, and lesson notes that provide in-depth explanations. With all these, GreekPod101 offers a comprehensive solution to learning Greek. This is also the best app to learn Greek language with audio lessons.
GreekPod101 Review: Main Features
Greek Pod 101 enhances the depth of the audio and video lessons with various features. Some help users learn new aspects of the Greek language, from grammar to speaking, while others provide new vocabulary words and other supplementary information.
While some features are only available to users with a premium plus and premium subscription, those with a free lifetime account can still benefit from what Greek Pod 101 offers. Here's a quick rundown of GreekPod101's primary features and how they help Greek learners.
Pathways
Lesson pathways offer customized yet structured language learning plans. This feature enables Greek learners at different levels to set learning preferences and focus on them. The pathways are categorized from native-speaker conversations to audio lessons that teach new Greek words. The lessons in each pathway take from five to ten-minute to complete.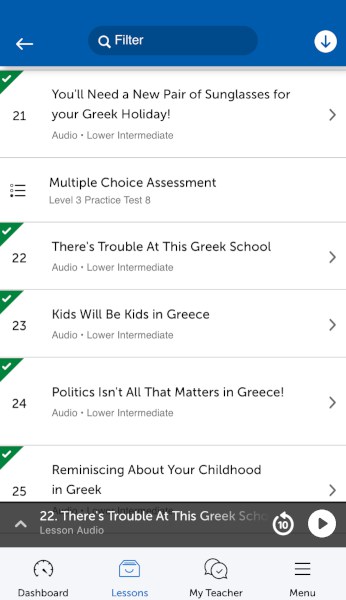 These lesson pathways include relevant and easy-to-follow lessons based on the user's goals and level. For example, the app teaches essential Greek phrases to beginners and must-know terms for social media to intermediate learners. This approach turns beginners into intermediate learners and intermediates into advanced learners while keeping everything relevant.
Dialogues
The audio recordings and video content in Greek Pod 101 have a dialogue for learners to follow. You can read the conversation in Greek, English, and Romanized Greek with a line-by-line playback option. The dialogue feature works effectively to improve listening, speaking, and reading. App like Preply is also great for real-life conversations.
You can read the lesson dialogue as the conversation continues, record yourself to compare Greek pronunciation and experience how native speakers use their language in everyday situations. The native speaker dialogues are in a podcast-like setting. You can continue learning Greek while busy doing something else that doesn't require focus.
Vocabulary
Greek Pod 101 has numerous ways to teach new Greek words. There's a vocabulary section for every lesson. You can save words from one lesson or study each separately. You can also add them to your word bank. As the number grows, you can create custom flashcards to practice vocabulary.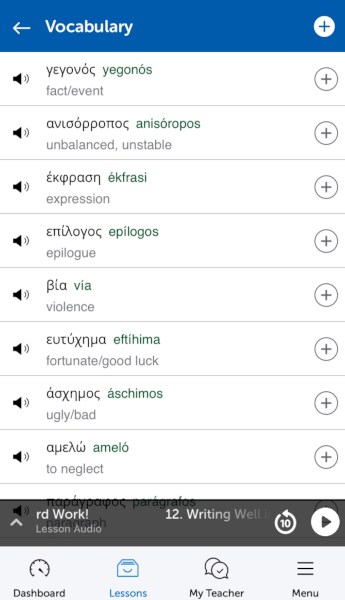 These vocabulary features enable Greek learners to target specific words and phrases. Using the word lists from the lesson library, you can add words to create custom exercises without finishing the audio or video lessons. If vocabulary building is your main goal and you want to put your knowledge into practice, than you should also take a look at italki and Tandem, where you could practice what you learned.
Lesson Notes
Every Greek Pod 101 audio and video lesson has lesson notes for students to get extra details. The notes dive deeper into the grammar used in the dialogues, detail each example sentence from the conversation, and give voice guides to improve Greek pronunciation.
The lesson notes are particularly useful for beginners and intermediate learners to grasp the challenging concepts of the Greek language. You can download all the lessons and their notes as PDFs to create a booklet or study later when you don't have an internet connection.
Lessons Quality
Greek Pod 101 has over a thousand audio and video lessons. With the various features that enhance the lessons, Greek Pod 101 features an abundance of teaching materials to advance users in the Greek language. Even if you study Greek for a few hours a day, finishing the entire video and audio content will take months.
Greek Pod 101 lessons are straightforward. The audio lesson plays the conversation while you make notes, record yourself, study the vocabulary featured, and look at the dialogue line-by-line or get detailed explanations from the lesson notes. Every lesson is about two to five minutes long, but with all these, it takes about ten minutes to finish each lesson.
These lessons make acquiring new vocabulary easy while providing important grammar explanations with plenty of example sentences. You can filter by audio or video and categories, such as culture, grammar, reading, and writing.
Grammatical explanations
The Greek language has a unique grammar, with word order often changing. Greek Pod 101 does an excellent job of giving grammar instructions. Almost every teaching material of Greek Pod 101 touches on some grammar point. The audio lessons, video content, lesson notes, dialogues – pretty much everything has grammatical explanations.
The grammar bank simplifies Greek grammar for beginners and intermediate learners. The grammar explanations are helpful for advanced learners too, but they might want to look for additional resources to get an advanced understanding of more difficult Greek grammar aspects.
Verbal Practice
Greek Pod 101 provides more opportunities to speak Greek than to improve your listening abilities. It doesn't use voice recognition technology to measure your Greek pronunciation. You record and compare yourself with the native speakers. While it gets the job done, beginners may have a hard time detecting their mistakes.
Still, GreekPod101 offers speaking practices throughout the lessons. You listen to the lesson dialogue and repeat, take speaking assignments, and get pronunciation tips from the lesson notes.
Reading and Writing
Greek Pod 101 has reading and writing lessons and assignments you can find in the lesson library. The lessons have short stories, transcripts of the conversations, and articles that improve reading and listening skills. Reading exercises range from fill-in-the-blanks to multiple-choice quizzes to measure reading and writing.
All lesson pathways also includes these assignments to ensure reading and writing skills are on par with your speaking and listening abilities.
Vocabulary
GreekPod101 can easily be called a vocabulary tool. The lessons feature word lists of the Greek words featured in the dialogues, where you can add them to a custom word bank. You can then create spaced repetition flashcards with the vocabulary added to the list from past lessons.
Besides the vocabulary features, Greek Pod101 lessons heavily focus on teaching new words. Every word features an example sentence, translation, pronunciation, and spelling. These make GreekPod101 an excellent resource for building and expanding Greek vocabulary words.
Repetitiveness
GreekPod101 has a wide variety of audio and video lessons. These lessons touch from ordering at a restaurant to animal names to everyday phrases. Each lesson has its own transcript, notes, line-by-line follow-ups on each word, and more.
Even if one lesson pathway gets monotonous, you can always switch and continue learning Greek with other lesson pathways. With its rich content and various other features, GreekPod101 never feels boring.
GreekPod101 Review: Ease of Use
GreekPod101 has the same design as any other Innovative Language course. It has a simple, accessible look where you can easily navigate the app. The Dashboard, Lessons, My Teacher, and the navigation menu are at the bottom. You can tap the menu to access the lesson library, word bank, downloads, assessments, and other features.
The app uses bright colors and has a minimalistic appearance. It highlights the dashboard and lessons and places everything else in the navigation menu. In the settings, you can adjust text sizing, enable and disable video subtitles, and change the length of skipping backward and forward. Greek learners also have the option to enable and disable Romanization for vocabulary words.
The browser version has a basic, almost outdated appearance. Nonetheless, it's just as easy to use as the mobile app. You can effortlessly filter the content you want to learn and find the relevant features. Overall, the Greek Pod101 app has a good design with short loading times and easy navigation.
GreekPod101 Competitors and Alternatives
GreekPod101 vs Drops app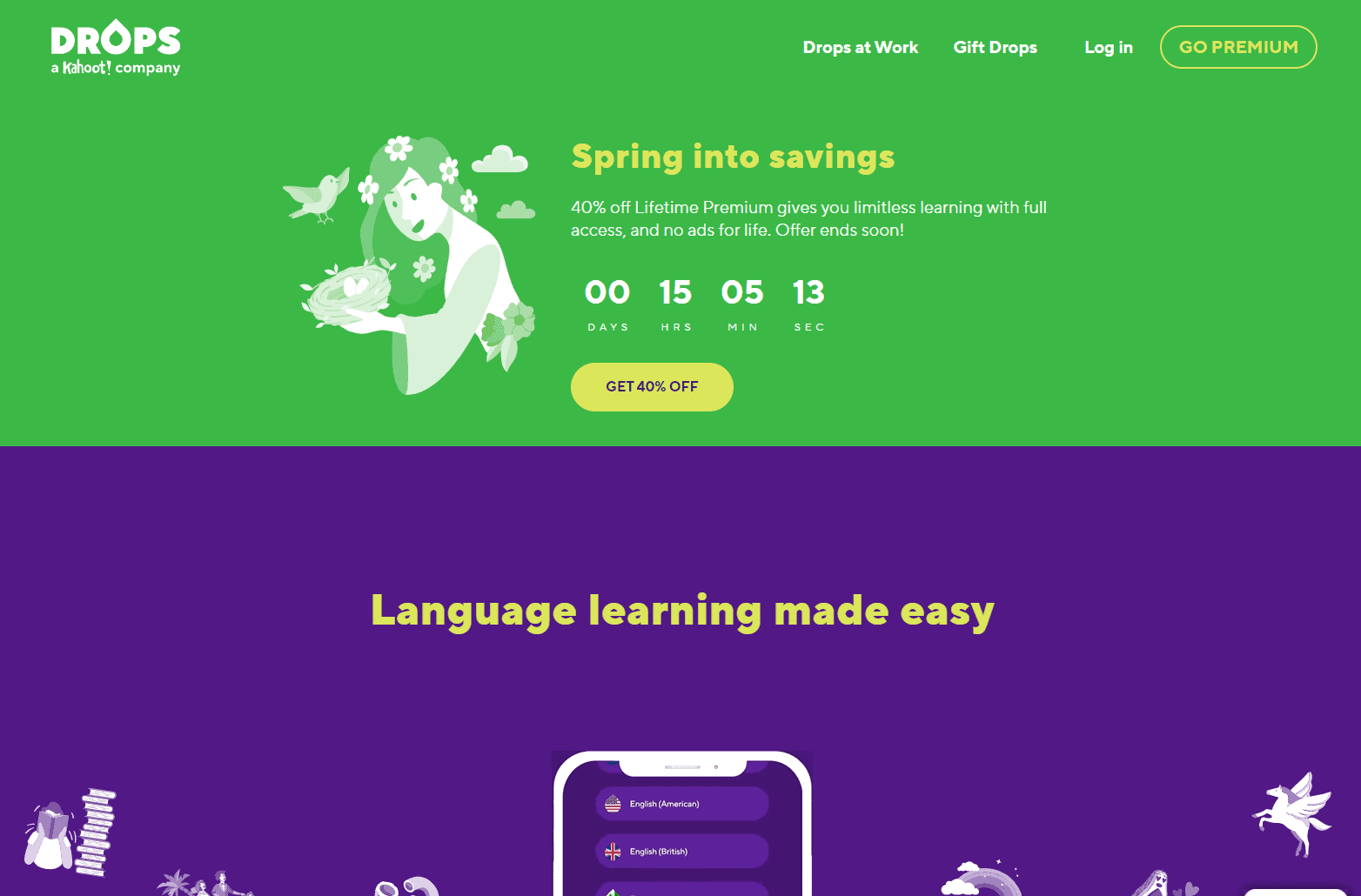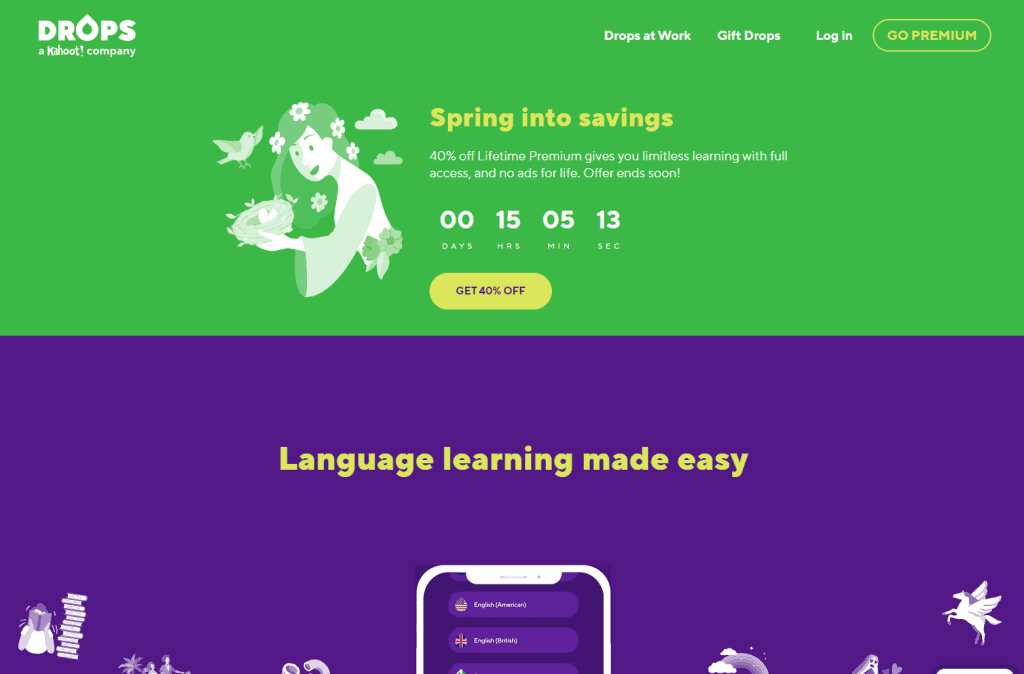 Drops is the best app to learn Greek vocabulary. It has great memorization tools powered by AI and spaced repetition system. While GreekPod101 doesn't fall a lot behind in vocabulary acquisition, if learning new Greek words is your main goal, consider the Drops app as an alternative. Learn more about it in this Drops app review.
GreekPod101 vs LingQ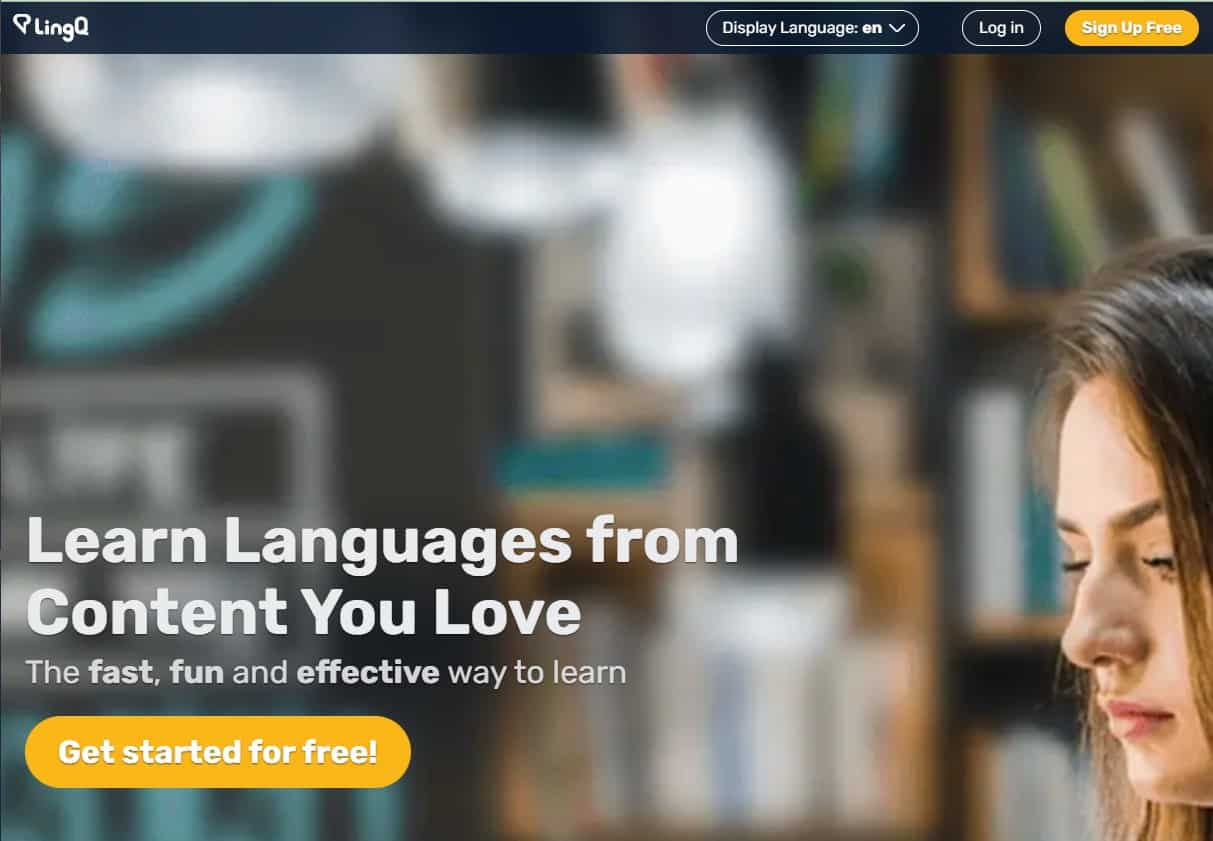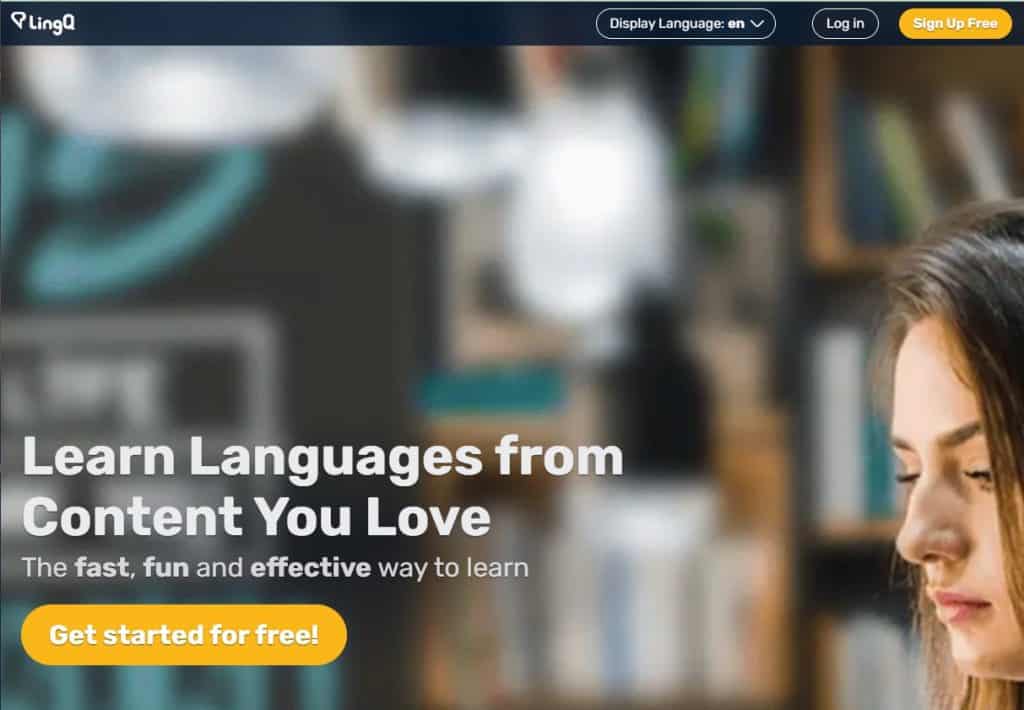 LingQ is based on full customization of your learning with plenty of video, audio, and textual materials. GreekPod101 provides a more streamlined and audio-based curriculum, although it still adapts to your needs. If you are looking for a customizable experience, consider LingQ. Read more about it in our review of LingQ.
GreekPod101 vs Rosetta Stone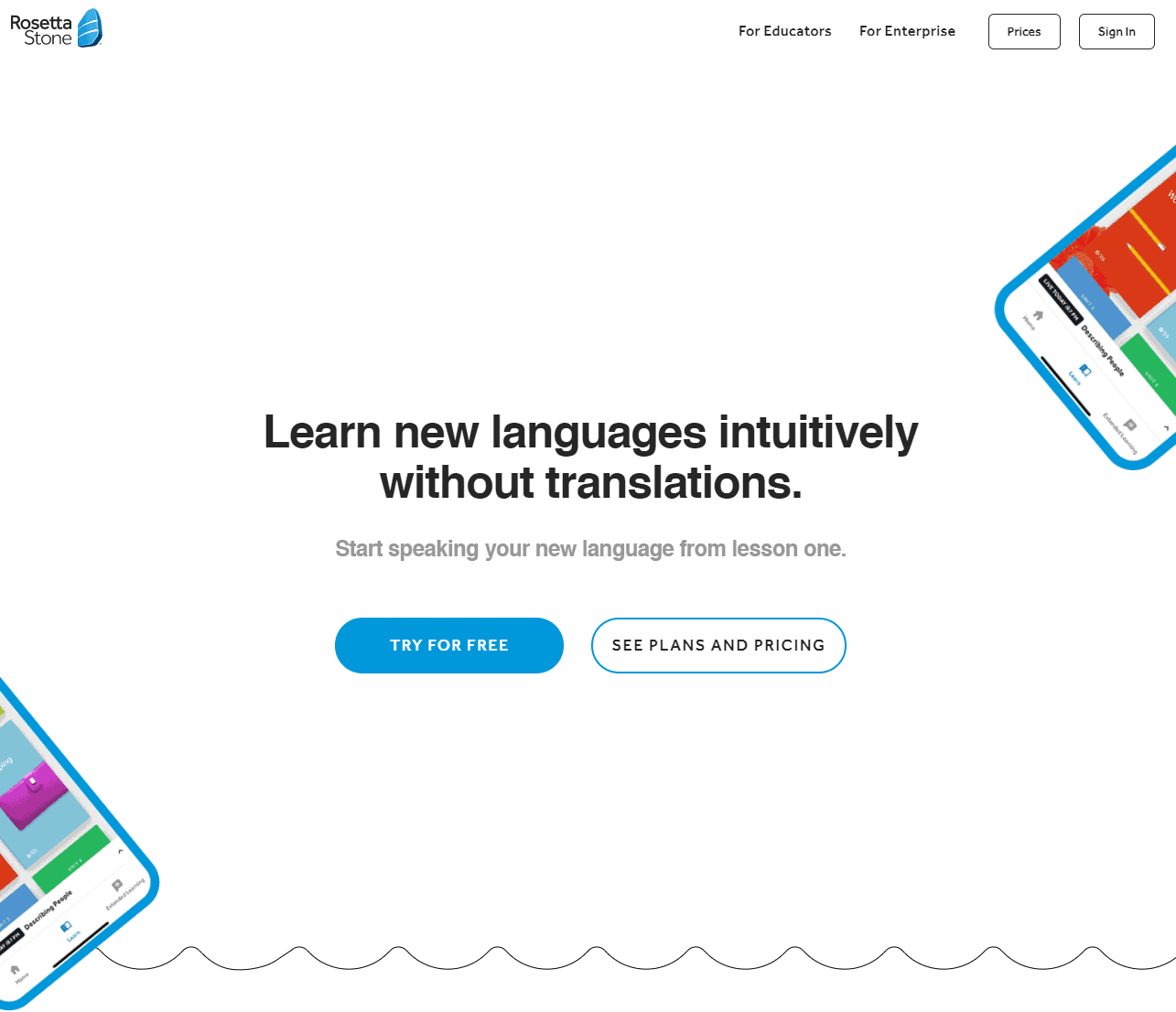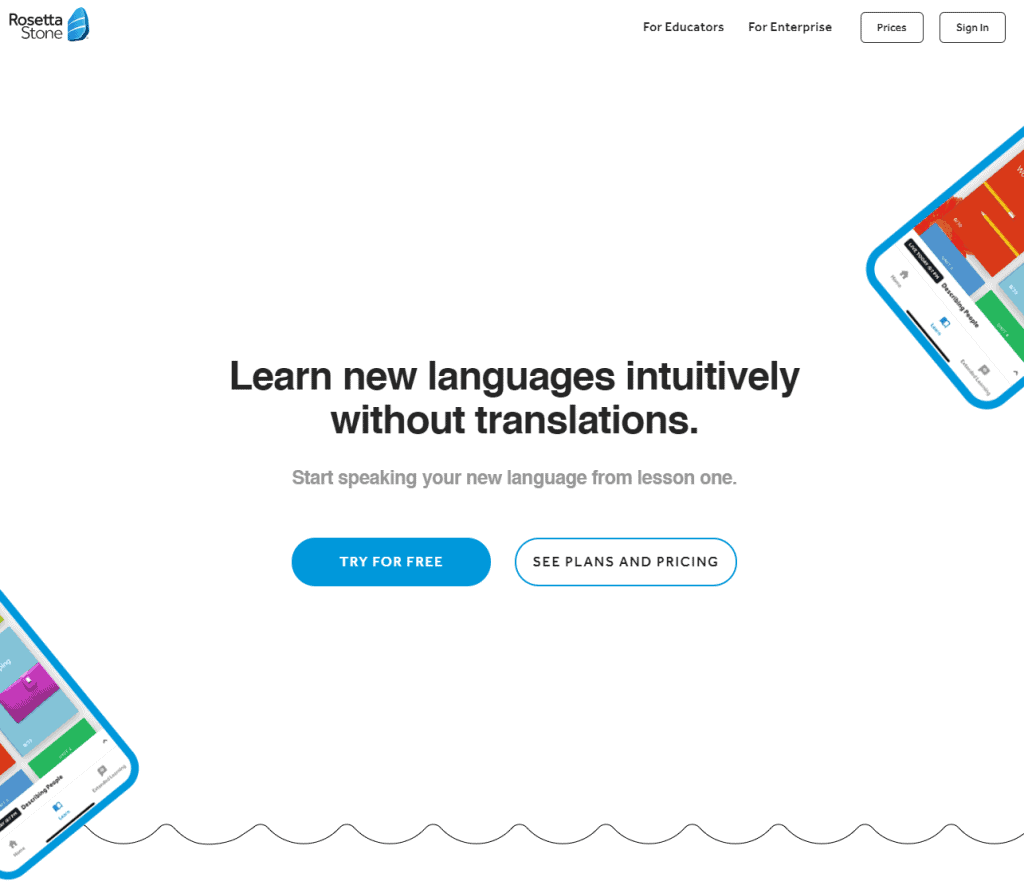 Rosetta Stone emphasizes language immersion through visual cues with little formal guidance. Although it also uses native speaker recordings, compared to GreekPod101, it's better suited for visual learners. Both programs are effective, and the choice relies on your learning style. Learn which one to choose by reading this review of Rosetta Stone program.
GreekPod101 vs HelloTalk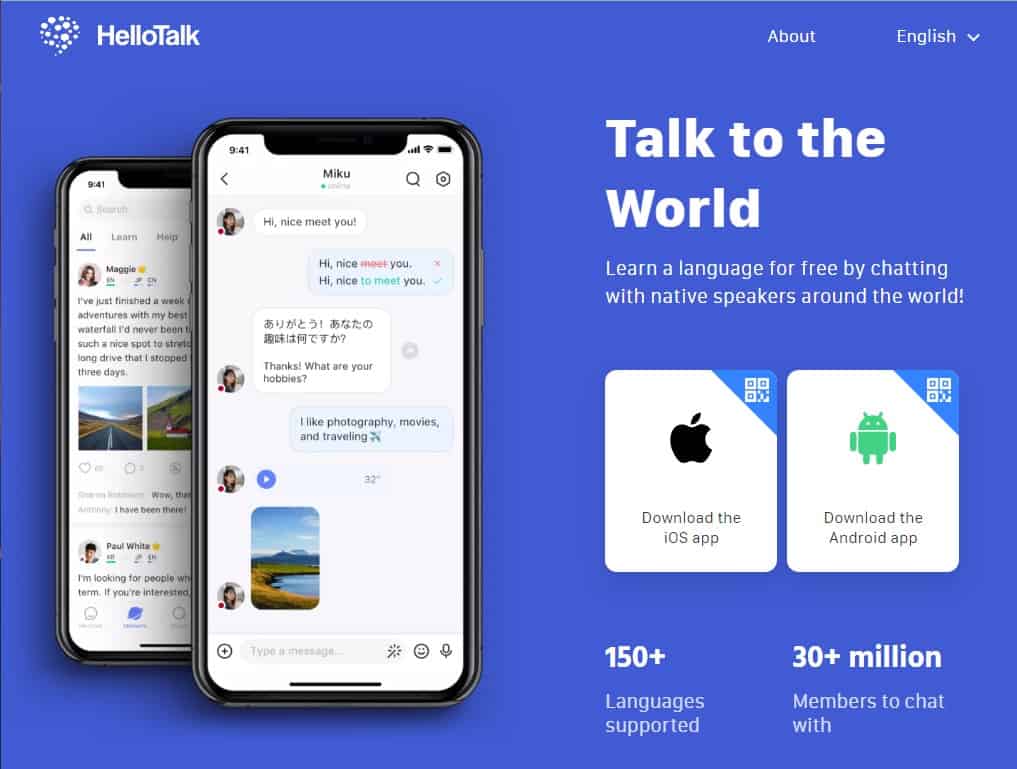 HelloTalk is a language exchange platform where you can learn with other students and also find online tutors for affordable prices. GreekPod101 provides tutoring options too, but the main feature is podcast-like lessons. Consider HelloTalk a bit later in your language journey. Learn more about it in our HelloTalk review.
What Could Be Improved?
The audio and video lessons, helpful features, and various assignments make GreekPod101 an incredible app, but finding what you need can get tricky. The app doesn't have the best categorization or placement. Finding certain dialogues or word flashcards is often problematic. There's a search bar, but it doesn't scan for individual words or phrases in the lessons.
Additionally, there aren't enough interactive exercises to sharpen up your Greek. Learners are forced to take the lessons they've already finished or study from their word banks. Greek Pod101 could benefit from a review feature where it brings up what the learner might be forgetting.
Lastly, the content for an absolute beginner is hard to keep track of. The lessons go in-depth, but it's often too fast or demanding for beginners to keep up with. GreekPod101 could improve if it had more manageable lessons for those just starting their Greek learning journey.
GreekPod101 Pricing
GreekPod101 has three subscription models. The Basic plan is the most affordable one at $8 a month. Premium subscription is $25, and Premium PLUS is $47 monthly. The content and features offered between these plans vary.
The Basic plan unlocks all the lessons but limits the features like lesson vocabulary lists and word bank.

The Premium plan has everything in the basic plan, plus a grammar bank, multiple-choice questionnaires, and HD video lessons.

Premium PLUS unlocks everything GreekPod101 offers, including one-on-one access to a teacher and hand-graded assessments.
GreekPod also has lifetime access to the premium plan and Basic subscription. There isn't a lifetime subscription for Premium PLUS.
| | | |
| --- | --- | --- |
| Subscription | Price | Payment |
| Basic 1-month | $8 | Charged monthly |
| Basic 3-month | $21 | Charged quarterly |
| Basic 12-month | $60 | Charged every year |
| Premium 1-month | $25 | Charged monthly |
| Premium 3-month | $66 | Charged quarterly |
| Premium 12-month | $180 | Charged every year |
| Premium PLUS 1-month | $47 | Charged monthly |
| Premium PLUS 3-month | $125 | Charged quarterly |
| Premium PLUS 12-month | $316 | Charged every year |
| Basic lifetime | $199 | One-time only |
| Premium lifetime | $599 | One-time only |
Free Trial
GreekPod101 offers a 7-day free trial for the Basic plan. When you sign up for a free account, you automatically get a 7-day Basic subscription. GreekPod101 doesn't require your credit card for this free version. Unfortunately, there isn't a free trial period for Premium or Premium PLUS subscriptions.
Refund Policy & Customer Support
Innovative Language has a 60-day money-back guarantee. For whatever reason you're not satisfied with your purchase, you can request a refund within 60 days of your purchase and get back to using the free account only.
GreekPod101 assists users through email and other online resources. You can email for a particular problem or browse the FAQ and blog sections. The response times are quick, but they can vary. As part of our honest review, we contacted GreekPod101 and got a reply in less than 18 hours. Other than email, there isn't a way to contact GreekPod101 for support.
GreekPod101 Pricing Compared to Competition
Pimsleur is the closest language-learning app to Greek Pod101. The Premium and Premium PLUS subscriptions cost more than Pimsleur. But the content and features of GreekPod101 cover more topics.
Another alternative is Speechling. Although it focuses heavily on speaking skills, it can be a helpful app to speak Greek with a focus on pronunciation and listening comprehension. It costs $29.99 a month, which is costlier than the Basic and Premium plan of GreekPod101. If your only goal is to speak Greek comfortably with room to neglect other skills, Speechling may provide better value. Mango Languages also fall into similar price range.
The flexible pricing and the free version are what lure Greek learners into trying GreekPod101 (better than Duolingo). You can spend as little as $8 or as much as $47 monthly. You can also sign up for a quarterly or yearly subscription to lower the monthly cost.
GreekPod101 Ratings from Around the Web
Google Play Store – 4.7 (1M+ downloads)

Apple App Store – 4.7 (30K ratings)
Our Verdict
GreekPod101 is a comprehensive app to learn Greek at your convenience. It covers each essential Greek word and grammar point. The flexible pricing appeals to every Greek learner with different budgets. Even if you don't sign up for a premium plan, GreekPod101 will work as one of the best free resources – highly recommended by Lingomee.