Learning Arabic presents a challenge for native English speakers. The irony is that Arabic, and other languages of the middle east, have influenced some English vocabulary, algebra and coffee are two good examples. This influence results from the existence of the Arabic alphabet for over 2,000 years, making it one of the world's most ancient languages.
Most of the 370 million people who speak Arabic learned it as their mother tongue or in a classroom. ArabicPod101 brings a new and easier way to learn Modern Standard Arabic. It incorporates podcast lessons with audio and videos that make it interesting to practice speaking.
In this ArabicPod101 review, we'll tell you about its features and the app's new methodology for teaching Arabic.
Audio and video lessons to help you speak Arabic
With ArabicPod101, you can learn Arabic even outside a regular classroom. Audio lessons make it possible to study on the move. With abundant free resources, a study plan to follow, instructions from native speakers, and other learning tools, you can learn Egyptian Arabic, Moroccan Arabic, and Modern Standard Arabic.
ArabicPod101 Review Summary
⭐ Rating:
8.3

★★★★★

🥇 Available languages:
1
📈 Suits best for:
Intermediates
🛒 Payment options:
Monthly
💵 Price:
$4 – $552
⌚ Hours of lesson time:
345+
🔄 Refund policy:
60-day money back guarantee
🎁 Free Trial:
✔️
With ArabicPod101, you can learn Arabic even outside a regular classroom. Audio lessons make it possible to study on the move. With abundant free resources, a study plan to follow, instructions from native speakers, and other learning tools, you can learn Egyptian Arabic, Moroccan Arabic, and Modern Standard Arabic.
Disclaimer: Lingomee is an independent review site that may benefit from affiliate programs. Buying through our links makes our efforts possible without additional costs to you. Learn more here.
A Brief Overview of ArabicPod101
ArabicPod101 is one of the podcast-style language learning apps developed by Innovative Languages. It stands out among competitors with 18 years' worth of lesson content. It teaches Arabic to any learner, but it's best for intermediate students to advanced learners.
To get the app, users must search for the parent app, Innovative Languages, from app stores instead of an app called ArabicPod101. While this is difficult for new users, the app makes up for it with an excellent user interface. Even an absolute beginner can easily navigate the app right from sign-up.
New ArabicPod101 app users must manually choose their Arabic language skills level without a placement test. Doing so adjusts the beginner lessons and sets you on a path in line with your overall language skills.
Beginners may easily select the absolute beginner and beginner options, but advanced learners have difficulty placing themselves without this test. The test would be ideal in helping to place them either in intermediate, upper intermediate, or advanced levels. We should also mention that this is the best app to learn Arabic language with audio lessons.
ArabicPod101: Primary Features
Before delving further into our ArabicPod101 review, let's see how the app combines different primary features to supplement how you learn Arabic.
A lesson pathway guides Arabic learners to the lessons they must follow. A dialogue feature composed of audio and videos by a native speaker gives learners a feel of conversational Arabic, especially in different cultural contexts.
The ArabicPod101 app provides a vocabulary feature to help learners grasp the Abjad writing system. Learners get core Arabic words and flashcards to help with practice. The lesson notes feature provides Arabic learners with downloadable study materials.
Below we cover all these features in-depth.
Lesson Pathways
The feature solves the problem that most language learning apps have – disorganized and confusing lesson types. The lesson Pathway feature contributes to the learners' experience by eliminating confusion on where to start.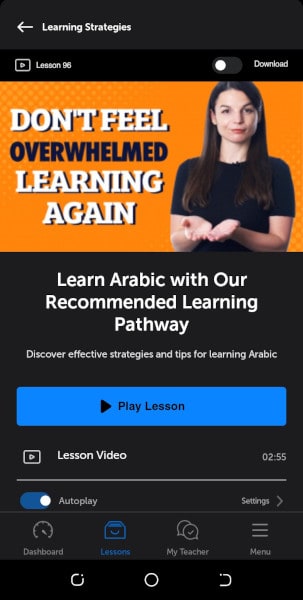 In ArabicPod101, learners get personalized lesson pathways that fit their expertise in the Arabic language. Another advantage is that it provides a systematic guide to learning Arabic.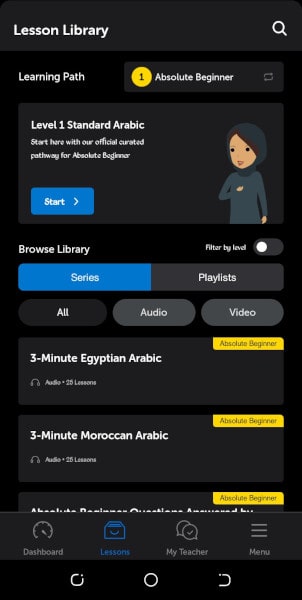 It's beneficial for beginners as they understand easy concepts before moving to more complex ones, and advanced-level learners can jump into what's important for them.
Dialogue
The dialogue feature of ArabicPod101 provides speech set in certain everyday life scenarios instead of limited classroom setting. For example, topics include Arabic dialogue conversations about family well-being, occupations, making complaints, numbers, and even how to make complaints.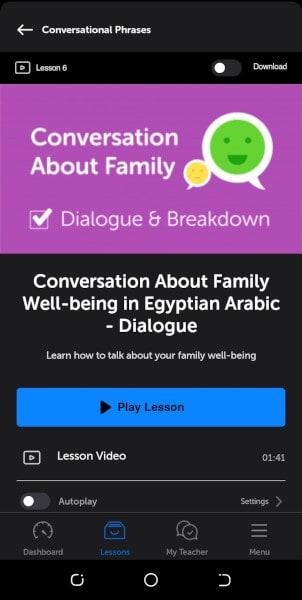 The feature also consists of short videos of less than two minutes. In the videos, native speakers provide a phrase and a response. Learners then get an English translation for the phrases and an explanation of how to use them in the given cultural context.
The ArabicPod101 dialogue feature is ideal for sharpening your listening comprehension skills and understanding the different Arabic dialects used in the app. It's a useful tool as Arabic has sounds that aren't in other languages. If you want to practice with real native speakers, than apps like Tandem or HelloTalk are excellent choices.
Vocabulary
The building block of Arabic is the Abjad alphabet. Every new vocabulary word is different as each letter represents a consonant, and vowels are marks. The vocabulary feature provides several resources to ensure learners comprehend most words in the Arabic dictionary.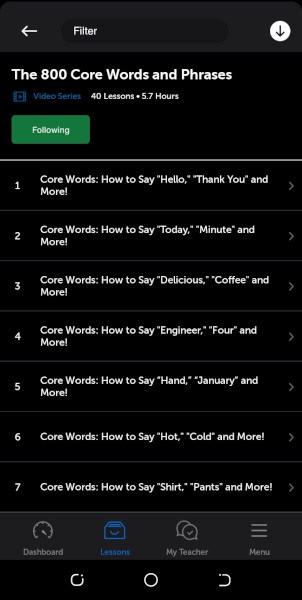 For example, learners can access 800 key vocabulary words and phrases on sign-up. With the PremiumPLUS subscription, the list goes up to 2,000. After each lesson, you can also review the new vocabulary learned in that lesson in your personal word bank.
Also, there are spaced repetition flashcards that you can use to quiz yourself on vocabulary lists. The feature serves the purpose of instruction for all levels of learners by familiarizing them with the Abjad alphabet.
Lesson Notes
The lesson notes feature is what the app uses as a store of knowledge and information which learners can access to revisit lesson transcripts. The feature is ideal for all learners, though intermediate learners, upper intermediate, and advanced learners benefit more from it. They can learn the grammar rules of Arabic by going through the material.
The lesson notes are also downloadable since they are in PDF format. It makes them suitable when learners are on the go and don't have data. Learning Arabic can continue uninterrupted, unlike traditional learning methods where a classroom is needed.
Excellence of The Learning Material
The podcast-style audio lessons set the ArabicPod101 app above competitors. It brings about a new approach to teaching Arabic based on audio and video lessons not found in any other Arabic learning apps.
The pathways feature does a good job of guiding learners step by step through the many lessons available. Native speakers take their time to explain different vocabulary, which is an advantage to beginners.
The lesson duration on the app depends on the mode of instruction. For example, whether it's a podcast, audio, or video. Video lessons can take between 30 seconds to five minutes, while audio lessons can take between one to fifteen minutes. On average, it takes learners around 40 minutes to complete lessons daily.  
While the app tries to cover the main Arabic dialects like Egyptian, Moroccan, and modern standard Arabic, it might lack depth. It's a disadvantage to intermediate students who may want to focus only on one specific dialect.
Grammar Instruction
The language learning app is efficient at grammar instruction, especially for the beginner lessons. Without paying for a basic subscription, beginners get a list of 100 core vocabulary words to kick-start their learning with a free account.
Native Arabic speakers also try to explain different grammar points in English, especially how the words connect to form a phrase or sentence in a conversation. Other important grammar features include a grammar bank and a new Arabic word available daily.
Verbal Practice
Like other apps of Innovative languages, ArabicPod101 lacks verbal practice. A useful tool in verbal practice is a speech recognition technology that is almost a must for giving instant feedback to learners as they practice speaking Arabic.
However, the app does try to make up for this deficiency in two ways that require Arabic learners to get a Premium Plus or Premium subscription.
The first is verbal practice through the My Teacher feature. Learners interact with a teacher and receive specialized guidance on Arabic pronunciation. The second is through a recording tool that allows you to record and compare your pronunciation to native speakers. Or you can always try Preply and italki apps to practice with real native speakers.
Reading
During our ArabicPod101 Review, we found that the app was sufficient for reading practice. The lesson library provides plenty of materials for learners to practice reading Arabic. In some instances, like audio and video lessons, native speakers slow down their speech to help you read along.
Learners can also improve their Arabic by reading the PDF lesson notes and audio and video lesson transcripts. They're effective in situations where learners miss out on important information in the lessons.
Writing
Whether it's Egyptian or Moroccan Arabic writing, it differs from conventional writing as words are written from right to left. The app lacks in teaching these concepts due to the limited ways learners practice writing standard Arabic.
For example, most assessments that would be ideal for writing practice are in a multiple-choice format that focuses on listening skills. The only writing practice you can get on the app is through interactions and assessments with a professional teacher, which costs additionally.
Vocabulary
ArabicPod101 is good at teaching Arabic vocabulary to beginner and intermediate learners, which makes it an ideal app for verbal practice. Learners have plenty of tools and large vocabulary lists to brush up on new words.
For example, a list of 2000 Arabic phrases and common words is available as an audio-visual learning slideshow. Flashcards help learners practice and commit to memory a lot of Arabic words and phrases.
Repetitiveness
The app does its best to try and keep the material unique and interesting. For example, most lessons at the beginner level differ from those at the intermediate-advanced level.
The podcast-style audios also bring a new aspect to learning Arabic, keeping the content engaging. Video lessons are complete with illustrations which is an advantage for visual learners.
ArabicPod101: Accessibility
ArabicPod101 does a great job of keeping the interface simple and easy to use. Sign-up presents no challenges and has a quick loading time. Before proceeding to the lesson library, the app lets you choose your level of Arabic.
Most LanguagePod apps follow the same format. They have a seemingly dull interface. However, contrasting white, yellow, and blue labels make the different labels stand out for easier clicking.
Generally, the user interface is friendly even to a complete beginner, but we found it lacking in one area. For example, the font used in the app is small, and some users may struggle to read it.
ArabicPod101 Competitors and Alternatives
ArabicPod101 vs Rocket Languages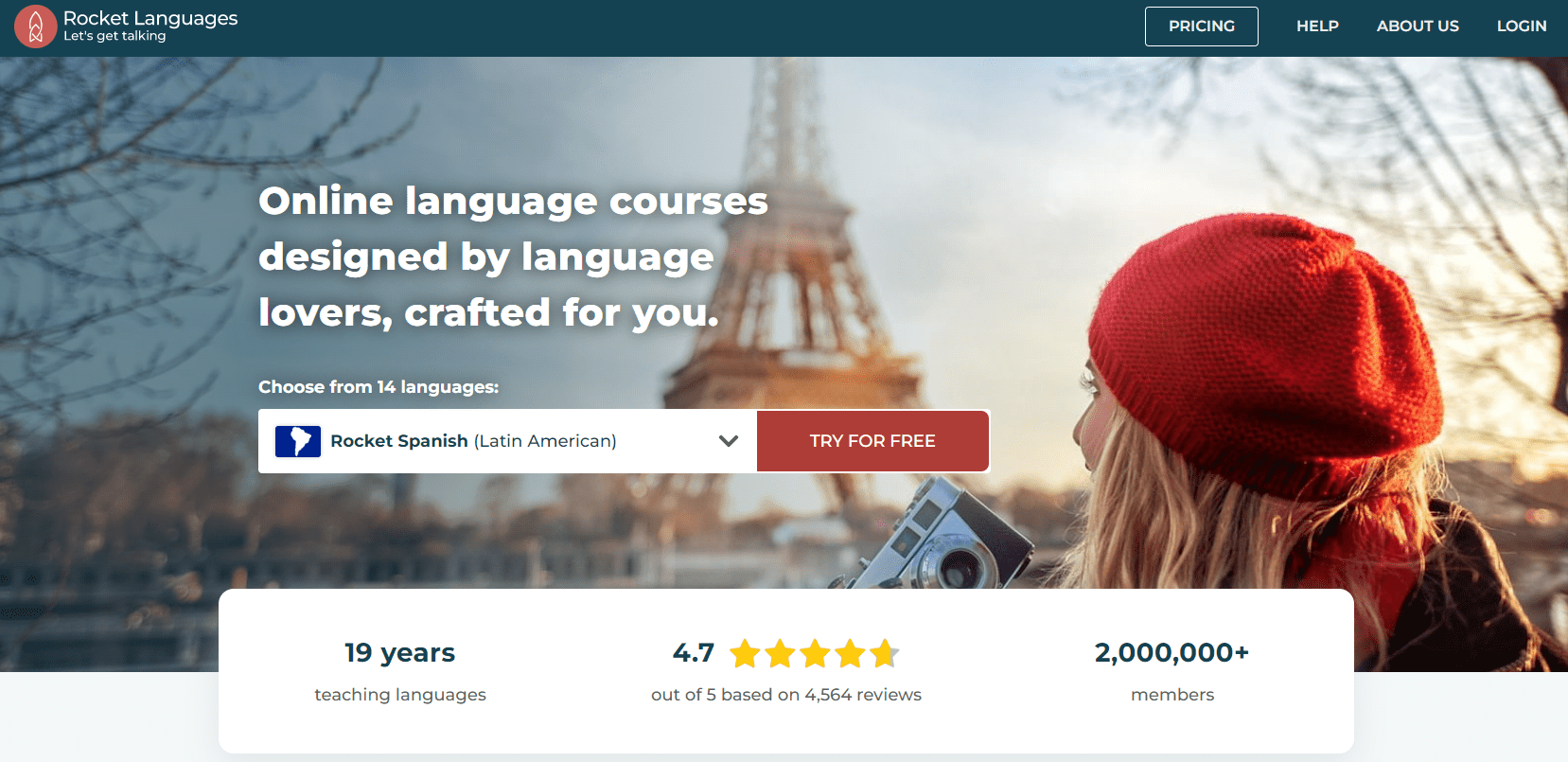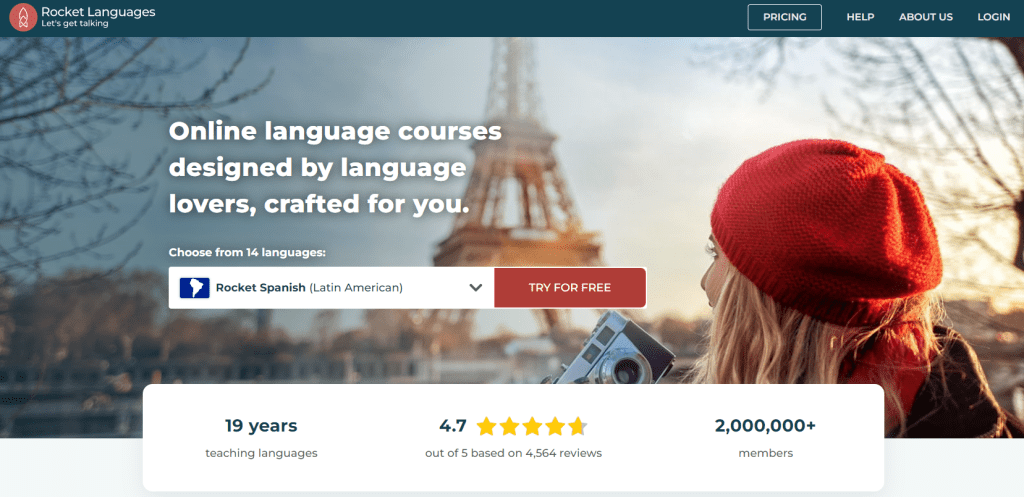 Rocket Languages focuses on interactive audio lessons with cultural insights and grammar resources. In comparison, ArabicPod101 resembles podcasts a bit more and has a different design. Although a bit more expensive, Rocket Languages might be a better option for you. Find more information in our review of Rocket Languages.
ArabicPod101 vs Mango Languages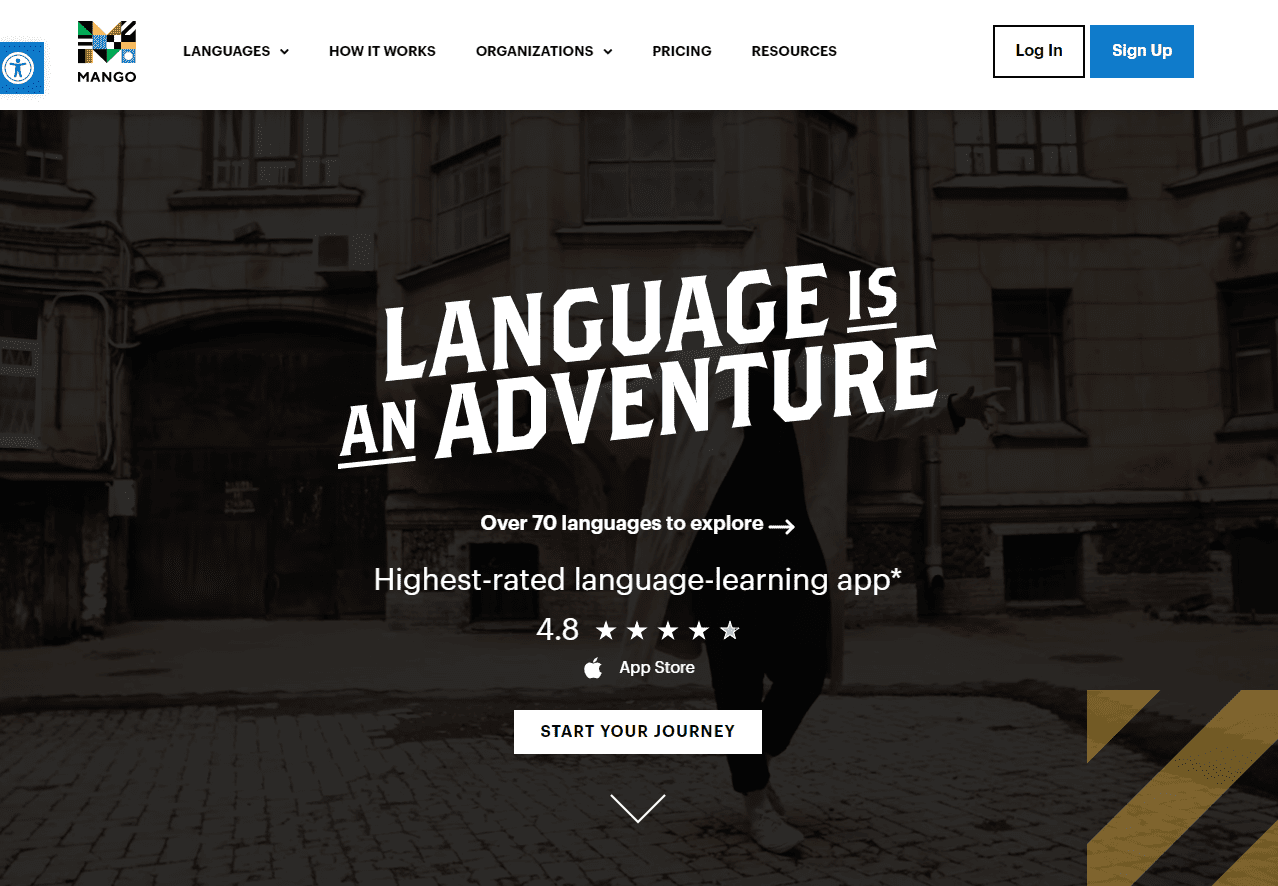 Mango Languages best fits beginners that struggle with motivation and want to learn about Hebrew culture. Unlike ArabicPod101, it isn't based on audio lessons but still focuses on conversations. It's worth checking it out as an alternative. Learn more about it in our Mango Languages review.
ArabicPod101 vs Drops app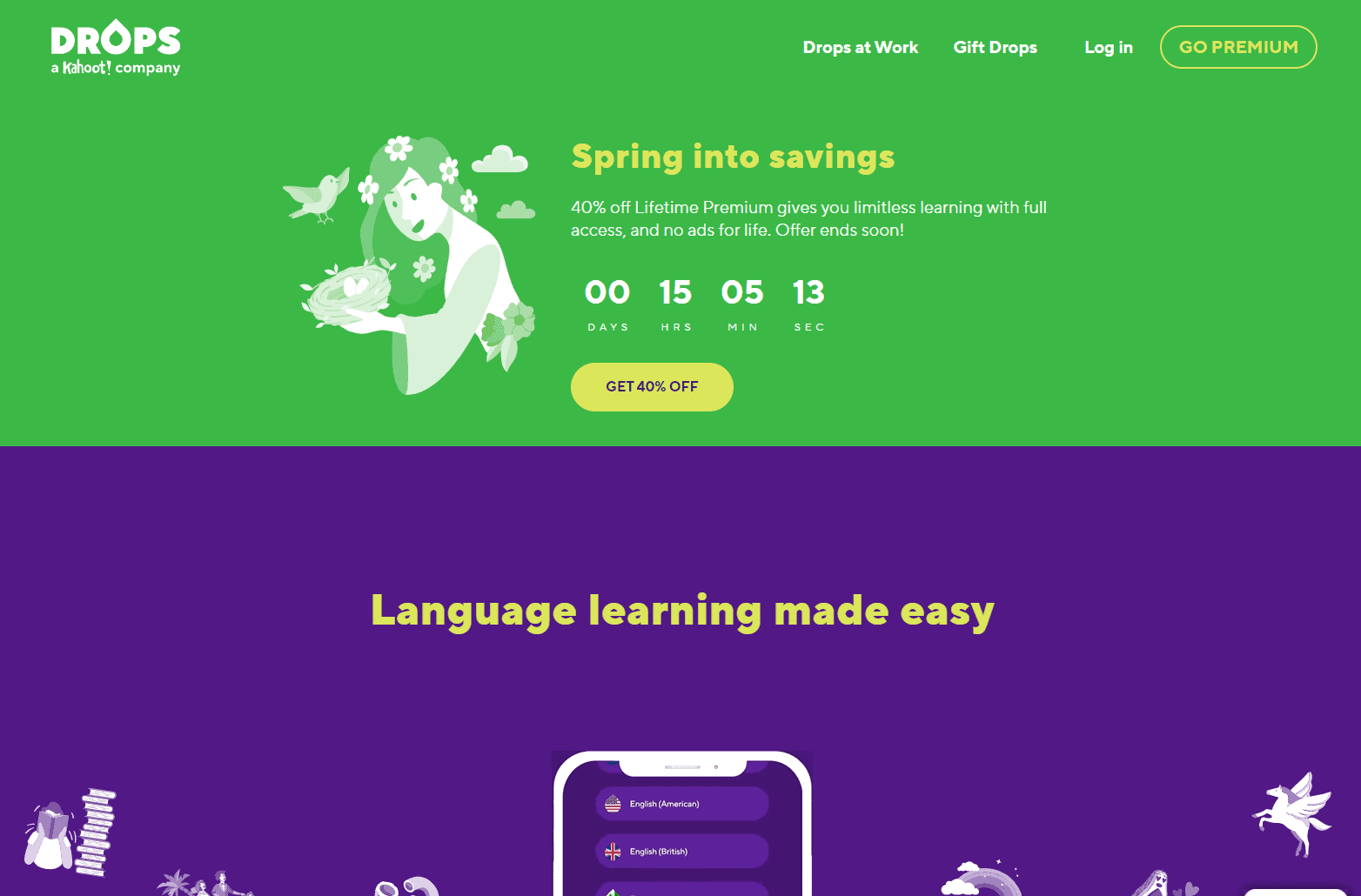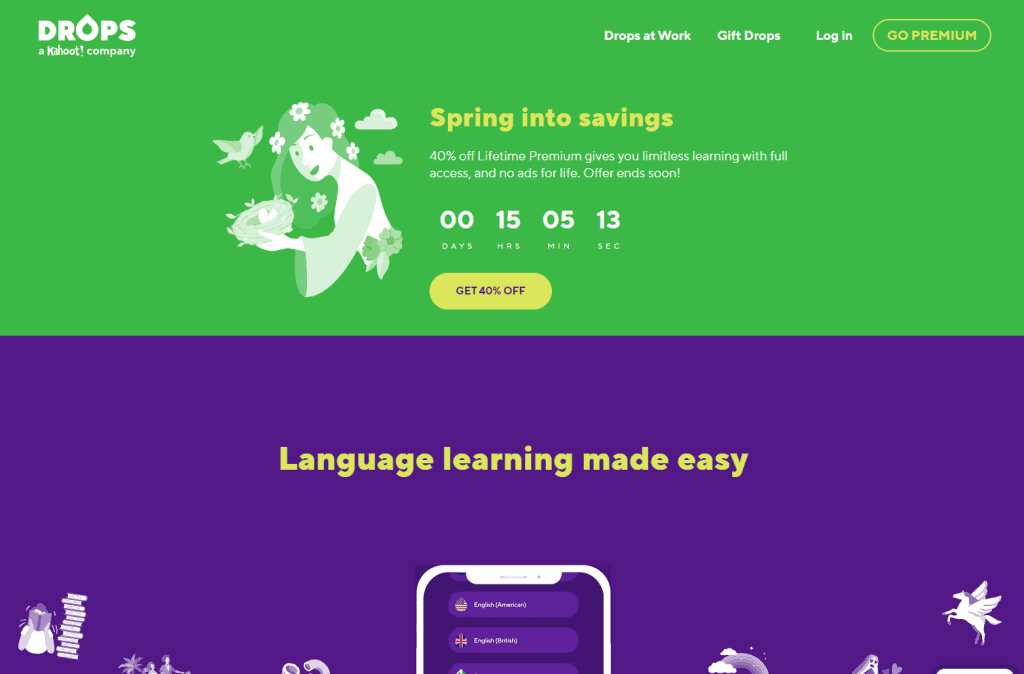 Drops is one of the best Arabic vocabulary apps. It has great tools powered by AI and spaced repetition. While ArabicPod101 doesn't fall much behind in vocabulary acquisition, if learning new Arabic words is your main goal, consider the Drops app as an alternative. Find more information in our in-depth Drops app review.
ArabicPod101 vs Verbling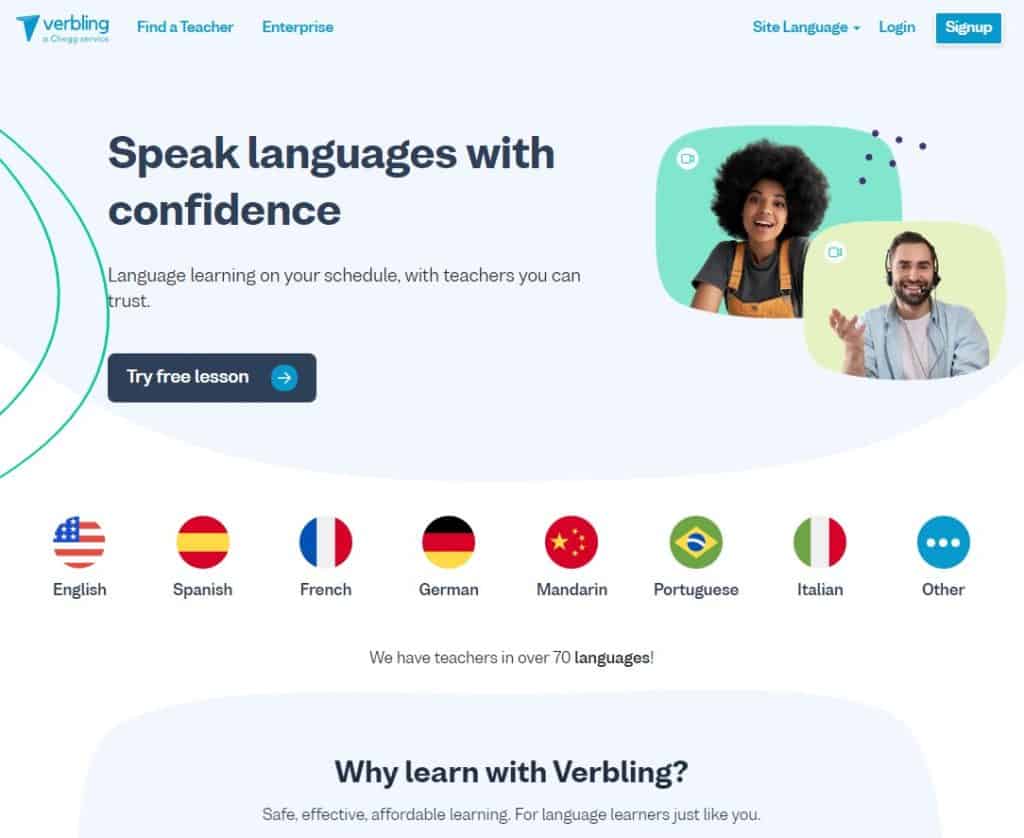 Verbling is a platform for finding one-on-one online tutors. It tests its teachers but leaves them room to build a personalized curriculum. It's a good idea to build your proficiency with ArabicPod101 and then jump into platforms like Verbling. Learn more about this app in this Verbling review.
What Areas Require Enhancement?
The lack of a speech recognition tool forces learners to pay extra for the Premium Plus package to practice speaking more effectively than with only a self-recording tool.
In ArabicPod101, learners record themselves and compare their spoken Arabic with that of native speakers. We don't find this method effective, as the learners rely on their subjective analysis to grade their own performance.
Another downside is that ArabicPod101 doesn't explore all the dialects in the language and focuses on a mix of Modern Standard Arabic, Moroccan and Egyptian Arabic. It's a disadvantage for learners looking to explore a certain dialect, but quite understandable as there are over 25 spoken Arabic dialects.
ArabicPod101 Price
With a free subscription, learners can access ArabicPod101 long and short lessons no matter the level. However, if you want to enjoy the app's full functionality, you'll have to pay extra to get new lessons.
Since only one language is available for ArabicPod101, Innovative Language sets the price as a one-language cost based on a monthly fee.
| | | |
| --- | --- | --- |
| Subscription | Price | Payment |
| Free | Free | Charged Monthly |
| Basic | $4 | Charged Monthly |
| Premium | $10 | Charged Monthly |
| Premium Plus | $23 | Charged Monthly |
The free lifetime account only opens up three early lessons in every pathway. Upgrading to a basic subscription ensures access to all lessons and in-depth lesson notes.
The premium subscription has multiple choice assessments, a personal word bank, line-by-line audio dialogue, and spaced repetition flashcards. The Premium PLUS subscription opens up access to a teacher who gives specialized guidance and assessments to write and speak Arabic.
Free Trial
The free trial allows learners to access the popular Premium subscription for 7 days without paying anything. In this period, you can test out audio and video lessons of ArabicPod 101 and decide if you'll pay for a premium subscription afterwards.
ArabicPod101 Coupons and Discounts
Occasionally, the app offers discounts on its Premium subscription but not its basic subscription. It's a welcome relief as some language learners may find the PremiumPLUS subscription too expensive to get full functionality from the app.
Refund Policy & Customer Support
The refund policy for ArabicPod101 is 60 days. It means that within 60 days, you can get a full refund on any subscription you made to learn Arabic. It's applicable if you no longer want to continue using the language learning app or want to start learning a new language.
To get the refund, email support at Innovative Language, who will get back to you within one business day. After approval, the company debits your account with the appropriate amount within a few hours.
ArabicPod101 has customer support on standby, waiting to handle all issues within the app. The easiest way to reach the Innovative Languages customer care team is through email. We found that the response is from a human, and wait time varies between one to two business days.
ArabicPod101: Is it a Good Investment?
If you're considering using ArabicPod101 to supplement another learning style, then the app is ideal. Its price compares favorably in relation to competitors. For example, its monthly subscription is $4.00, whereas Memrise is $8.49, Busuu is $13.99, Glossika is $16.99, and Mondly is $9.99.
If you're considering using ArabicPod101 from the absolute beginner level to the advanced level, the price may not make sense. It is because other apps like Rosetta Stone and Pimsleur, though expensive, offer more resources to practice writing, speaking, and listening skills. You can always try Duolingo first, but we don't recommend this program if you want become fluent fast.
ArabicPod101 Ratings From Customers
Google Play Store – 4.6 (1M+ downloads)

Apple App Store – 4.7 (30.6k Ratings)
Our Verdict
ArabicPod101 podcast lessons set the language learning app apart from other Arabic learning tools. The podcasts keep the lessons interesting and engaging across all levels of beginner and intermediate learners. With ArabicPod101, it's possible to mix classroom learning with digital learning for easier learning of Arabic.