Rosetta Stone Japanese is a comprehensive language course that uses a unique method called Dynamic Immersion. It immerses you in the Japanese language by surrounding you with audio and visuals. You'll learn Japanese vocabulary and basic grammar through real-world conversations and activities right from the start.
Rosetta Stone's method of immersive learning will help you speak Japanese quickly and easily. Read on to learn more about Rosetta Stone Japanese and how it can help you achieve your language learning goals.
Japanese Language fluency with the proven Immersion method
Rosetta Stone Japanese offers an immersive learning technique that lets users experience everyday Japanese. The language app explores the Japanese culture and aids learners to speak properly through audio and visual exercises. All levels of learners can take up this course and learn Japanese at their own pace.
Rosetta Stone Japanese Review Summary
⭐ Rating:
8.1

★★★★★

🥇 Available languages:
25 (see below)
📈 Suits best for:
Novices and Intermediates
🛒 Payment options:
3 Months/12 Months/Lifetime
💵 Price:
$11.99 – $179
⌚ Hours of lesson time:
200+
🔄 Refund policy:
30-day money-back guarantee
🎁 Free Trial:
✔️
Arabic, Chinese (Mandarin), Dutch, English (American), English (British), Filipino (Tagalog), French, German, Greek, Hebrew, Hindi, Latin, Irish, Italian, Japanese, Korean, Persian (Farsi), Polish, Portuguese (Brazil), Russian, Spanish (Latin America), Spanish (Spain), Swedish, Turkish, Vietnamese.
Disclaimer: Lingomee is an independent review site that may benefit from affiliate programs. Buying through our links makes our efforts possible without additional costs to you. Learn more here.
A Brief Overview of Rosetta Stone Japanese
Rosetta Stone Japanese has been in the language learning industry for over 20 years, offering an immersive and user-friendly experience. It's based on the idea that learners are more likely to remember new vocabulary and grammar if they are exposed frequently.
The course is designed to be cumulative, progressively exposing users to new concepts as they advance. With its multiple-choice question format, the program introduces new language vocabulary and word order while testing learners through audio and visual exercises.
Rosetta Stone's language courses also allow you to set your learning goals. Users can set whether they are learning Japanese for travel, work, family, or to learn the basics.
Rosetta Stone Japanese does not provide a language-level placement test. However, to ensure you study Japanese successfully, the app prompts the user to rate their language skills as beginner, intermediate, or proficient. You should also see our list of the best apps to learn Japanese.
Rosetta Stone Japanese Review: Primary Features
Rosetta Stone Japanese app offers a range of impressive features for language learners. One of its most notable features is its voice recognition software, which provides instant feedback on pronunciation. Most courses begin with engaging photos, allowing learners to select the correct answers based on what they hear or read.
Core Lessons
The core lessons in Rosetta Stone are a series of interactive lessons that introduce essential vocabulary and basic phrases in Japanese. For each lesson, the app will present you with a series of images and audio recordings. You'll need to match the images to the recordings. Once you've completed a core lesson, you'll unlock more vocabulary, grammar, and pronunciation exercises.
For example, in the core lesson below, the word "a woman" in Japanese is spoken by a native speaker. The language learner must choose the correct picture, which here is a picture of a woman.
Users can press the button at the bottom-left corner to get an English translation of the instructions and the bottom-right button (あA) to translate the pictures on the screen.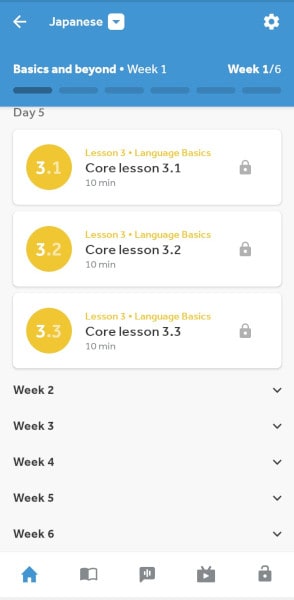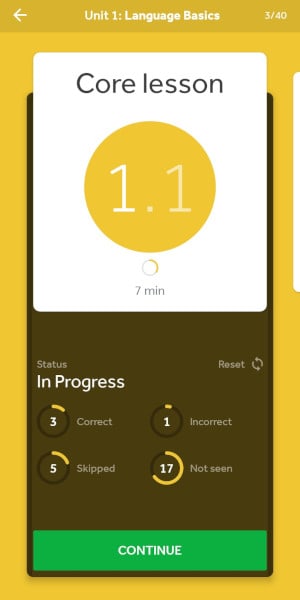 Stories
Rosetta Stone's Stories, a sub-section of the Extended Learning module, is a great way to improve your reading and listening skills in the Japanese language. The stories are narrated by native speakers. You can follow along and pronounce the words yourself. 
Rosetta Stone offers a variety of topics, although the number of stories for each topic varies. While you can skim through the reading material at your own pace, the voice recognition software ensures you take time to practice pronunciation while learning Japanese words and grammar.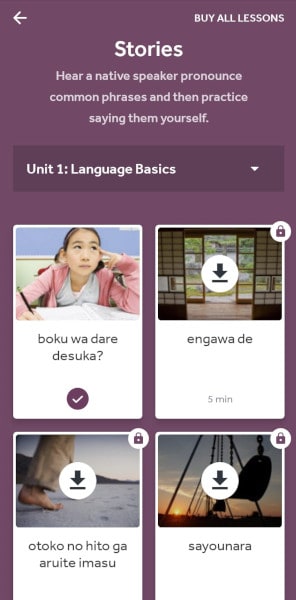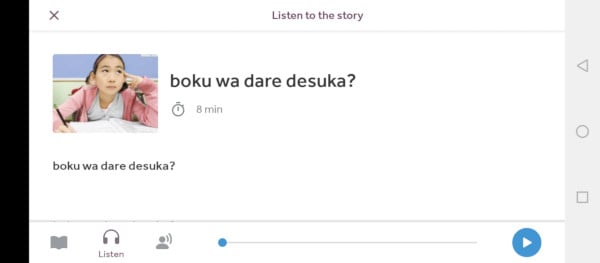 Audio Companion
Another section of the Extended Learning feature is the audio companion. Users can download these audio lessons on their phones and listen to them at their convenience. This offline feature of Rosetta Stone's language lesson is valuable for complete beginners.
The audio companion in Rosetta Stone offers an extensive compilation of words and phrases for almost every occasion, such as greetings, work, school, shopping, travel, health, and many others. For example, the Language Basics Unit contains audio of everyday phrases, colors, sizes, etc.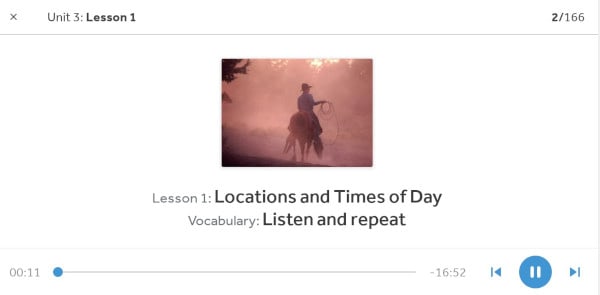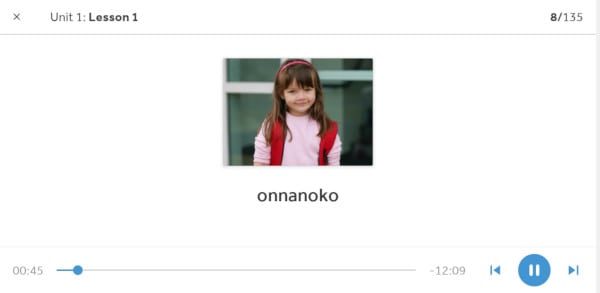 Speech Recognition Software
One of the strengths of Rosetta Stone Japanese is its focus on pronunciation. The language course uses TruAccent, Rosetta Stone's patented voice recognition technology, to help learners improve their pronunciation.
Since the Japanese course is based on voice recordings, TruAccent helps to compare your pronunciation to recordings of native speakers.
The Excellence of The Learning Material
The lessons of Rosetta Stone Japanese are clear and well-structured, and they gradually introduce new concepts, grammar, and vocabulary. There are a total of 12 units in the Japanese classes, which encompass almost every aspect of the language and culture. Each unit has 6 weeks of lessons, and every core lesson is 10 minutes long.
Language learners take three classes daily, which will take approximately 30 minutes daily. The complete Japanese program can be finished in about a year.  
The Japanese lessons are mainly based on matching images with recordings by native speakers. It can be difficult for some learners to just listen to a new language with no translation to guide them.
Grammar Instruction
Rosetta Stone Japanese takes a unique approach to Japanese grammar by avoiding traditional methods. The grammar exercises focus on demonstrating concepts and practice, such as matching images with audio descriptions. It's a great start, but you will need textbook grammar resources eventually.
Verbal Practice
The Rosetta Stone app offers extensive pronunciation lessons which help in mastering conversational Japanese. Additional features are available in the Extended Learning section, such as the Stories, where users can hear a native speaker pronounce common phrases and then practice saying them themselves.
Reading
Rosetta Stone Japanese primarily teaches basic words and phrases, so there is limited opportunity to practice reading. However, the Stories section provides some reading practice, but it is not a comprehensive solution. Learners who want to focus only on reading skills will need other resources.
Vocabulary
Vocabulary lessons in Rosetta Stone Japanese follow the same format as the core lessons. The syllabus covers an extended Japanese language vocabulary related to popular topics. Vocabulary and word order acquisition is one of the strongest points of Rosetta Stone Japanese, but this applies to other languages too.
Repetitiveness
Rosetta Stone uses the same technique throughout the lessons, where images are matched with its audio recording. Mostly, these images are repetitive and thus can get boring. However, these recurring images also help solidify the understanding of Japanese words and phrases.
Rosetta Stone Japanese Review: Accessibility
Rosetta Stone Japanese's interface is straightforward, with no unnecessary features. The dashboard takes users straight to lessons, and first-time users won't be bothered with customization settings.
The app and the desktop version are well-integrated, and there's no need to install any plug-in or additional software. The only technical step is to test your microphone, as most lessons concentrate on speaking and pronunciation.
Rosetta Stone Japanese Competitors and Alternatives
Rosetta Stone Japanese vs Pimsleur Japanese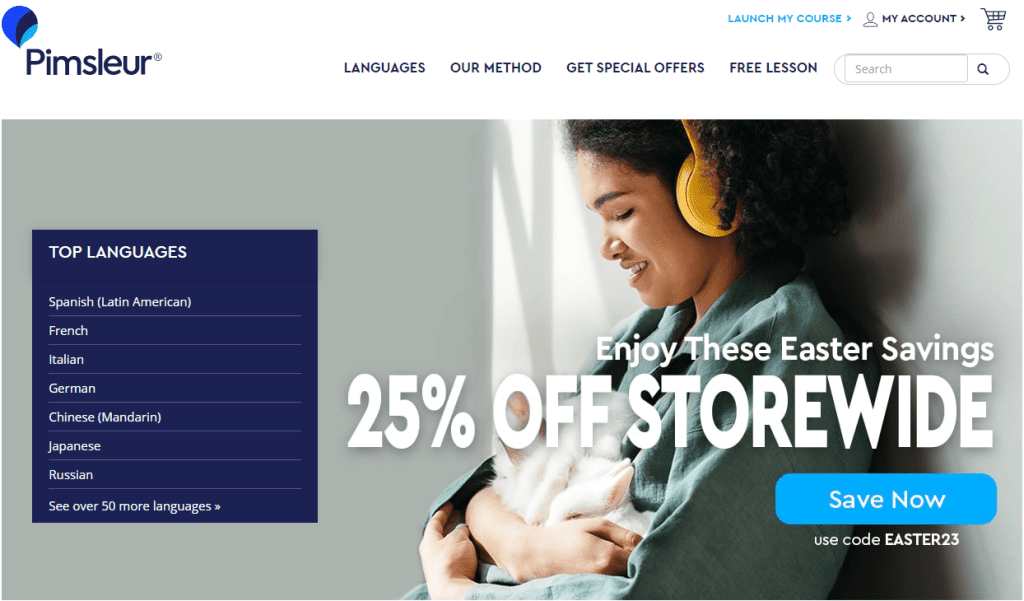 Pimsleur is an audio-based app tasking you with listening and repeating Japanese words and phrases. Rosetta Stone, on the other hand, focuses on visual learning and immersion. Both methods are effective, but it depends on your preferences. If you're an auditory learner, check out our in-depth Pimsleur Japanese review.
Rosetta Stone Japanese vs Rocket Japanese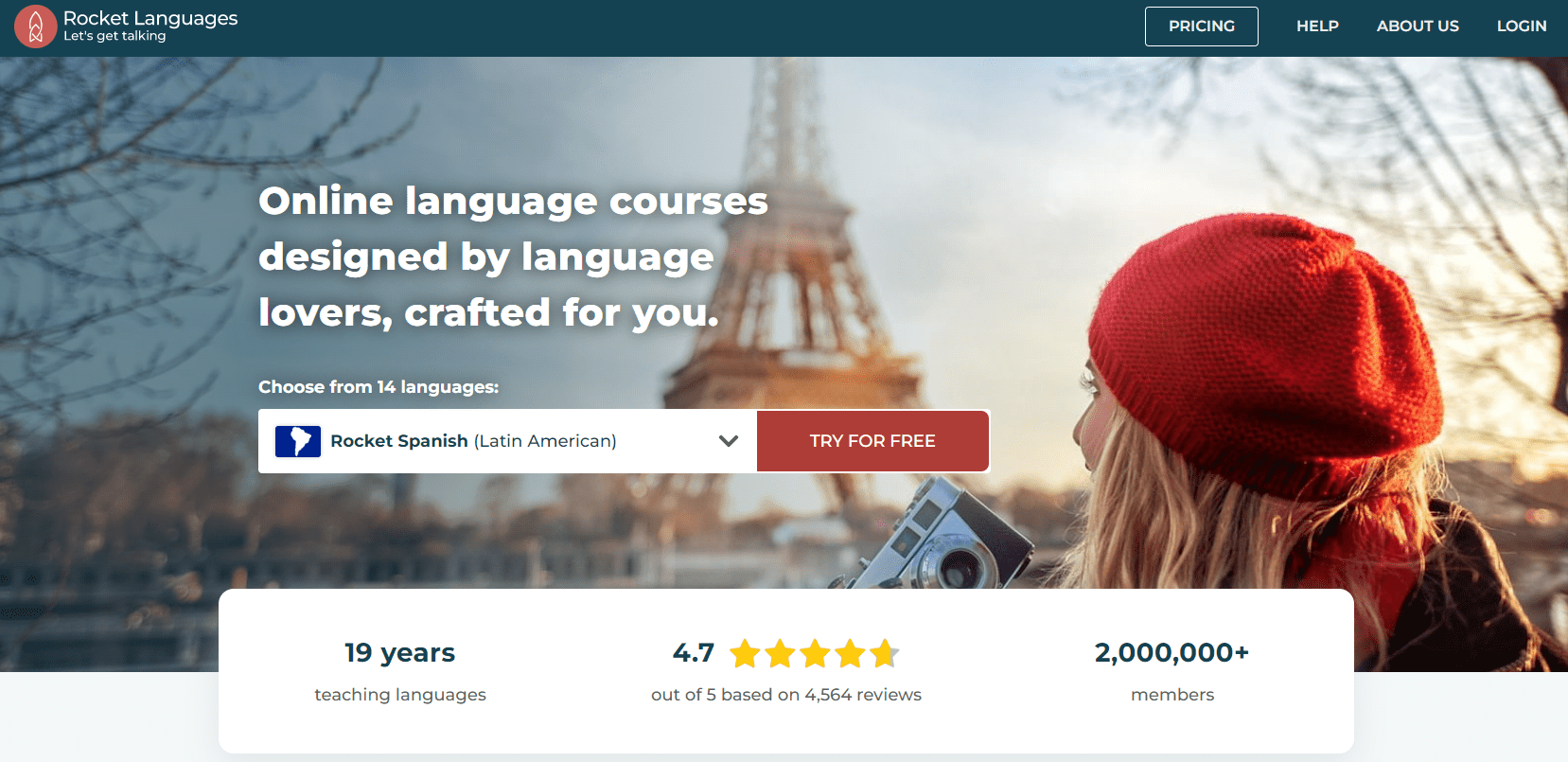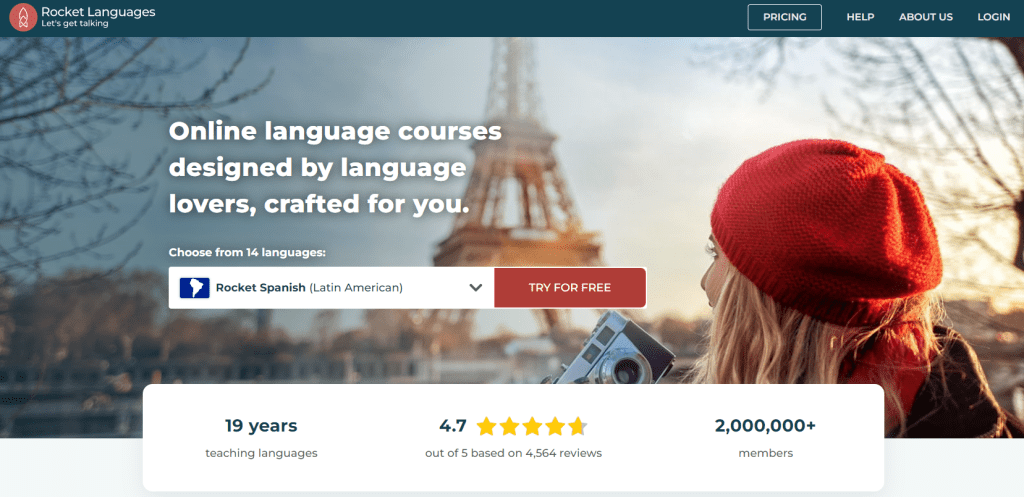 Rocket Japanese focuses on interactive audio lessons with cultural insights and grammar resources. Comparatively, the major strength of Rosetta Stone is its appeal to visual learners and language immersion. Either app can work for most learners, but look for more information in our Rocket Japanese review before deciding.
Rosetta Stone Japanese vs JapanesePod101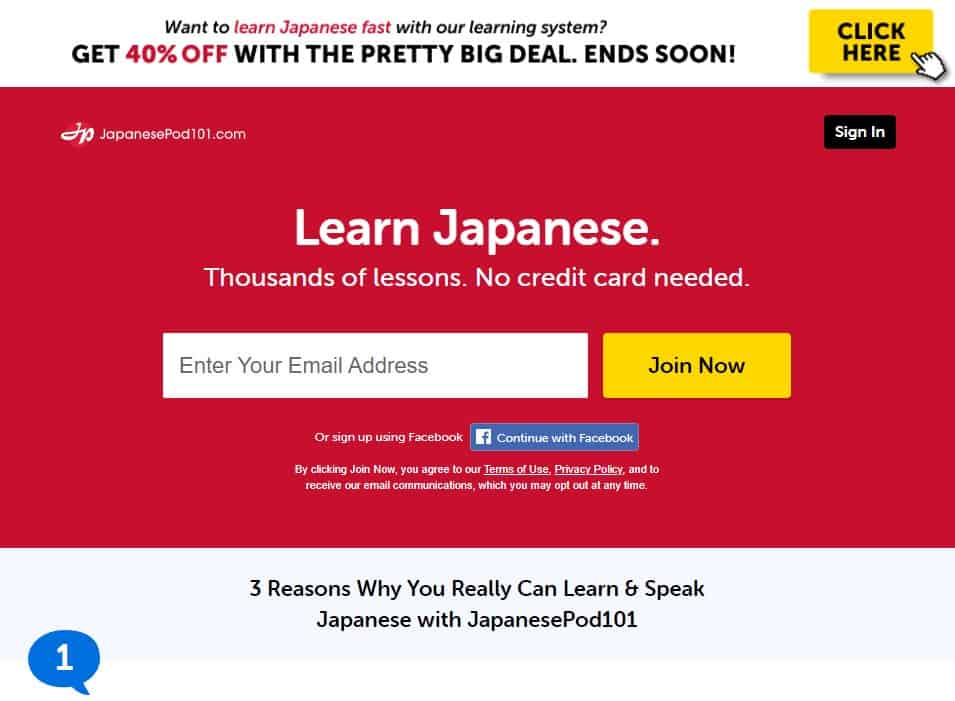 JapanesePod101 provides an extensive collection of podcast-like Japanese lessons. It has a low price tag while still packing some considerable features. However, Rosetta Stone Japanese is better at language immersion and has a great voice recognition tool. Learn more about which one to choose in our JapanesePod101 review.
What Areas Require Enhancement?
The Rosetta Stone Japanese app lacks proper instruction on writing systems. Since learning Japanese is complex, with multiple writing scripts such as Kanji, Hiragana, and Katakana, a major part of the language learning must be reserved for writing practices.
Another area that requires improvement is the absence of explicit grammar explanations. Language learners can identify common words and phrases with ease. However, they cannot form sentence structures by themselves.
Rosetta Stone Japanese Price
All Rosetta Stone languages are based on a similar price structure. Users are charged with as low as $8 per month. Users can buy Rosetta Stone Japanese for a 3-month and yearly package. However, if you opt for a lifetime subscription then you will get access to all available 25 languages in Rosetta stone
| | | |
| --- | --- | --- |
| Subscription | Price | Payment |
| 3 Months | $11.99 | One charge of $35.97 |
| 12 Months | $7.99 | One charge of $95.88 |
| Lifetime | $179 | One charge of  $179 |
Free Trial
Rosetta Stone Japanese offers a 3-day trial with access to multiple languages on the app.
Rosetta Stone Japanese Coupons and Discounts
Rosetta Stone offers regular discounts on its products, including up to 50% off during holidays like Christmas and Black Friday.
Refund Policy
Rosetta Stone offers a 30-day money-back guarantee, but it is not the same as the free trial for a target language. You will need to purchase the program and then request a refund within 30 days. The refund process can take up to 6 weeks.
If you purchased Rosetta Stone through the Google Play or Apple app stores, you will need to follow their specific refund policies.
Rosetta Stone Japanese: Is it a Good Investment?
The price of Rosetta Stone can be high, but the quality of the language lessons is great. Some alternatives to Rosetta Stone include Duolingo, which is a free app that offers a basic introduction to Japanese. However, the quality of its courses is generally lower.
Although the Rosetta Stone Lifetime subscription is the best value overall, it may not be the best option for everyone. If you need more audio-based learning, you may want to consider Pimsleur. It also allows you to purchase language learning levels separately.
Rosetta Stone Japanese Ratings From Customers:
·         Google Play Store – 3+ (100K+ downloads)
·         Apple App Store – 4.3 (637 ratings)
·         G2 – 4.0
·         Trustpilot – 3.5
Rosetta Stone Japanese Review: Customer Service
Rosetta Stone Japanese's customer support can be difficult to reach. The contact information and chat function are hidden in the website on the desktop version, and you have to use the search bar to find them.
However, there are not many issues that you need to contact customer support for, and they have a more responsive channel for billing or refund questions. Rosetta Stone's customer support communicates in most of the languages they teach.
What Makes it Unique?
Rosetta Stone's Japanese course is a popular language learning program and for a reason. All of Rosetta Stone's courses pack more than 200 hours of content and can get you to an intermediate level. It's a great way to get started and experience some language immersion.