Learning Mandarin Chinese is considered one of the top nine most difficult languages for a native English speaker to learn. But it is manageable if you have a good learning tool. Rosetta Stone Mandarin is one of the best tools to master this language.
With a gradual progression of knowledge, language immersion, and frequent testing, Rosetta Stone works by building a solid foundation. In this Rosetta Stone Mandarin Chinese review, we will explore its strengths and limitations.
An Interactive and Visual Language-Learning Experience
Rosetta Stone Mandarin is a comprehensive language-learning software that enhances spoken and conversational Mandarin. Through repetition, visual cues, and intuitive exercises, it helps users develop a strong foundation in Mandarin Chinese. Unlike traditional memorization-based approaches, Rosetta Stone employs an immersive curriculum created by linguistics experts making learning Mandarin Chinese convenient.
Rosetta Stone Mandarin Review Summary
⭐ Rating:
8.6

★★★★★

🥇 Available languages:
25 (see below)
📈 Suits best for:
Novices and Intermediates
🛒 Payment options:
3 Months/12 Months/Lifetime
💵 Price:
$11.99 – $179
⌚ Hours of lesson time:
200+
🔄 Refund policy:
30-day money-back guarantee
🎁 Free Trial:
✔️
Arabic, Chinese (Mandarin), Dutch, English (American), English (British), Filipino (Tagalog), French, German, Greek, Hebrew, Hindi, Latin, Irish, Italian, Japanese, Korean, Persian (Farsi), Polish, Portuguese (Brazil), Russian, Spanish (Latin America), Spanish (Spain), Swedish, Turkish, Vietnamese.
Disclaimer: Lingomee is an independent review site that may benefit from affiliate programs. Buying through our links makes our efforts possible without additional costs to you. Learn more here.
About The Rosetta Stone Mandarin
Rosetta Stone has been a trusted name in the language-learning industry for over three decades. With its intuitive digital platform and mobile app, Rosetta Stone Mandarin offers an immersive Chinese Mandarin learning experience with bite-sized lessons.
The Rosetta Stone program helps users learn Chinese by constantly revisiting and reinforcing concepts. While there is no language-level placement test, users can manually select their proficiency level and learning goals.
Rosetta Stone method of teaching a new language involves visual associations of basic words with images. Instant feedback through voice recognition software keeps learners motivated.
Rosetta Stone Mandarin Chinese course helps users learn Chinese through visually stimulating and highly interactive lessons. In addition to the core lessons, Rosetta Stone Mandarin provides extended learning tools such as short stories, an audio companion, and on-demand videos, offering a well-rounded experience.
Overall, Rosetta Stone provides beginners with an engaging and user-friendly experience through interactive visuals and an immersive curriculum. You can find our list of the best Chinese learning apps here.
Key Features
Rosetta Stone provides an immersive Mandarin learning experience. Visual aids enhance memorization, and TrueAccent technology ensures accurate pronunciation improvement.
At the same time, the course leverages offline audio lessons and on-demand videos to maximize your learning experience.
Speech Recognition Software
The TruAccent voice recognition technology differentiates Rosetta Stone Mandarin from other language programs. Unparalleled speech recognition software goes beyond just recognizing speech; it assesses and enhances learners' pronunciation skills.
Voice recognition technology offers valuable pronunciation feedback, helping learners accurately articulate new words and phrases. Building a great foundation of conversational skills helps users in academics, emergency situations, family interactions, and many more real-life dealings.
While it may not fully replicate rural China town style conversations, the feedback aids in imitating native speaker pronunciation.
On-Demand Videos
Rosetta Stone offers an optional feature of on-demand videos showcasing recordings by native speakers. These videos encompass conversations using basic sentences. Learning Chinese language basics, greetings, and sentence structure helps users to converse fluently in school, shopping, travel, past and future tense, and with friends.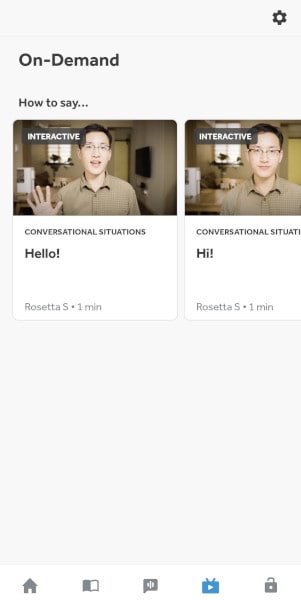 A diverse selection of videos is available for learners interested in learning Mandarin spoken in urban and rural China.
Downloadable Audio Lessons
Rosetta Stone's Mandarin course offers bonus resources beyond the core lessons. The audio companion helps improve conversational Mandarin by listening to downloadable audio lessons at your own pace.
Quality of The Learning Material
Rosetta Stone features high-quality, well-structured lessons across 20 learning units. Each unit comprises 4 core lessons covering various thematic topics like past and future, friends and social life, dining, and everyday life. It also teaches pronunciation, reading, writing, Chinese grammar, and vocabulary.
Authentic videos with native speakers enhance the language experience while progressively introducing vocabulary and Chinese grammar rules. Supplementing the course with live tutoring speaking practice sessions helps in enhancing spoken Chinese.
Grammar Instruction
Rosetta Stone offers beginners a solid foundation in Chinese grammar through image and sentence association. However, advanced learners seeking extensive grammar explanations may find the Rosetta Stone courses only partially meets their needs.
Verbal Practice
Integrating TrueAccent in Rosetta Stone Mandarin Chinese enables learners to practice their verbal skills. While repeating common words and basic phrases is beneficial, additional practice material is available through live classes at an additional cost.
Reading
Unlike other languages, Chinese is a character base language. Reading and writing Mandarin Chinese requires memorizing at least a couple of thousand characters. Rosetta Stone starts with teaching basic words of 2 Chinese characters, gradually working its way up to basic phrases. This Rosetta Stone Method encourages users to read Chinese like their own language.
Writing
While this program excels in teaching spoken Mandarin, it needs to improve in teaching the intricate art of writing Chinese characters. Chinese characters are complex, consisting of over 20,000 characters. The program's focus on spoken language makes it challenging for learners to master writing Chinese characters accurately.
Vocabulary
Rosetta Stone emphasizes building vocabulary effectively. Practicing to pronounce basic phrases used in health, life, world, everyday things, places and events, personal wellness, business, industry, arts, and academics makes conversing in the Chinese language possible for English language speakers. This is definitely better app than Chineasy.
Repetitiveness
Rosetta Stone work in a consistent and structured manner to teach Mandarin Chinese. While some learners may find the content repetitive, we believe it advantageous to revisit and reinforce challenging concepts of Chinese Mandarin to build a great foundation.
Moreover, the program offers fun features like on-demand videos, enhancing the user experience. Listening to a native speaker narrating stories encourages users to learn Mandarin in a fun way. While not the most entertaining language course, Rosetta Stone Chinese is an engaging tool for new language acquisition.
Simplicity of Operation
Rosetta Stone courses are known for their user-friendliness. The program caters to learners of all tech levels, offering a practical and straightforward learning experience.
Rosetta Stone works by avoiding unnecessary complexities and customization settings. Even integrating voice recognition technology is a seamless experience.
Moreover, Rosetta Stone mobile app and desktop versions have quick loading times to enhance usability. With relevant visuals and engaging content throughout, the program keeps users engaged.
Overall, Rosetta Stone provides a clear and accessible user experience, welcoming learners from diverse backgrounds.
Rosetta Stone Mandarin Chinese Competitors and Alternatives
Rosetta Stone Mandarin vs Rocket Chinese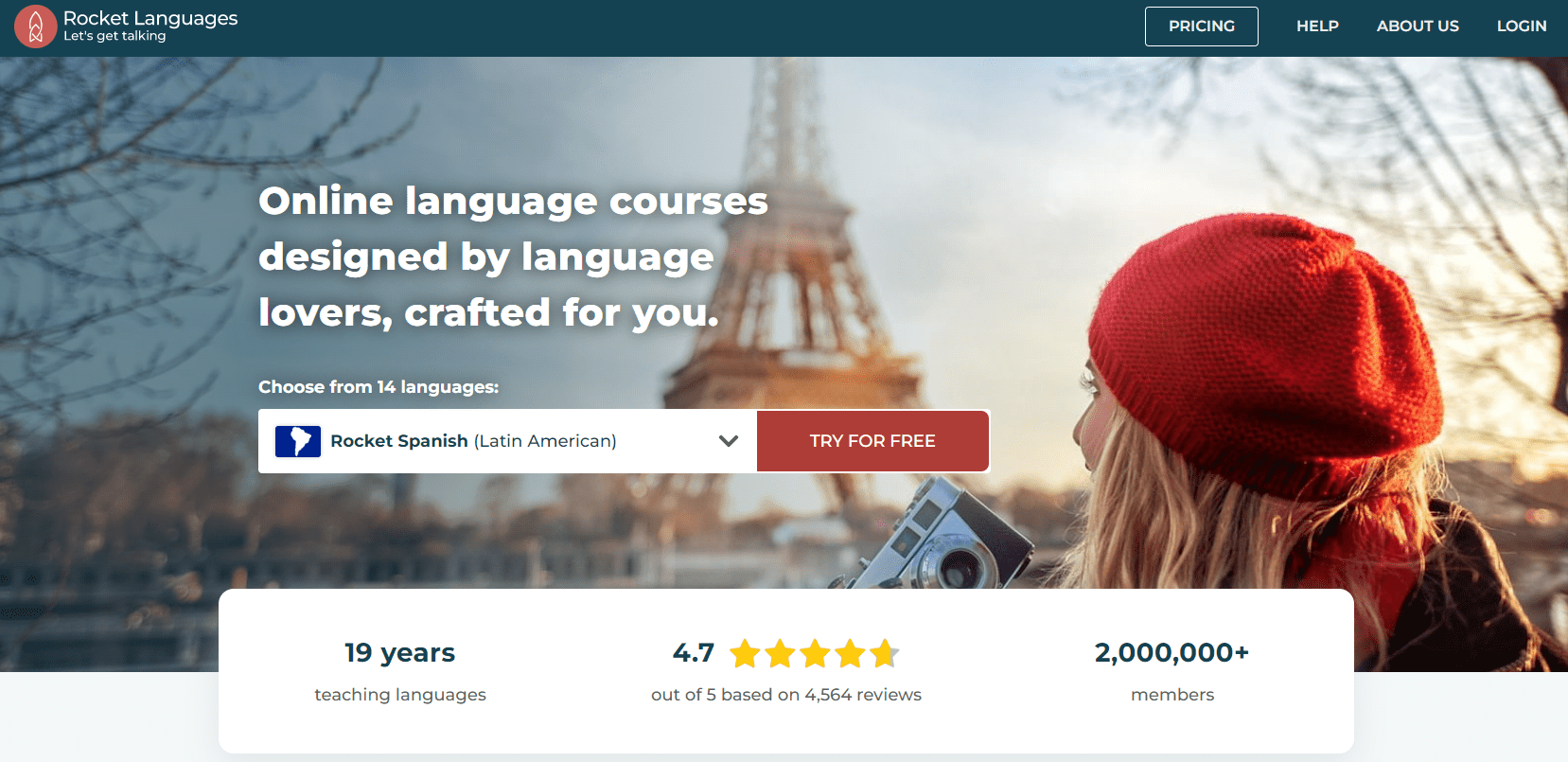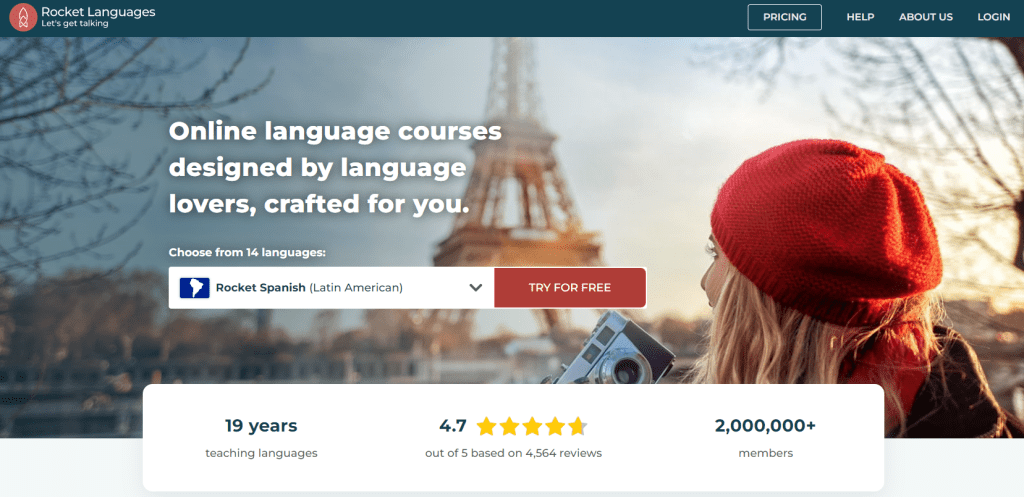 Rocket Chinese focuses on interactive audio lessons with cultural insights and grammar resources. Comparatively, the major strength of Rosetta Stone is its appeal to visual learners and language immersion. Either app can work for most learners, but look for more information in our Rocket Chinese review before deciding.
Rosetta Stone Mandarin vs ChineseClass101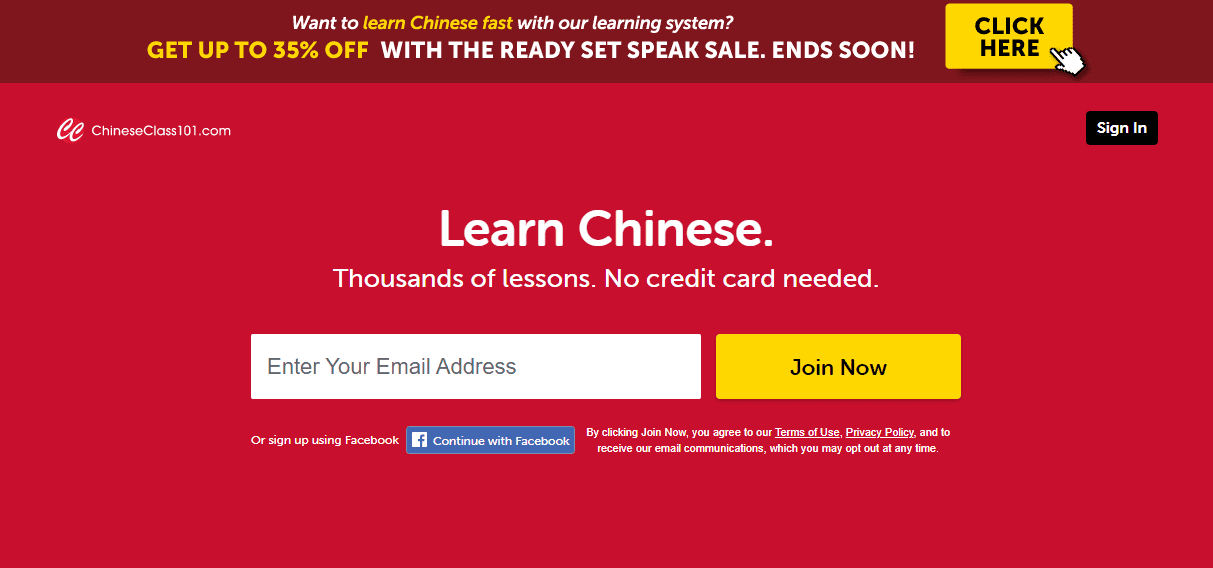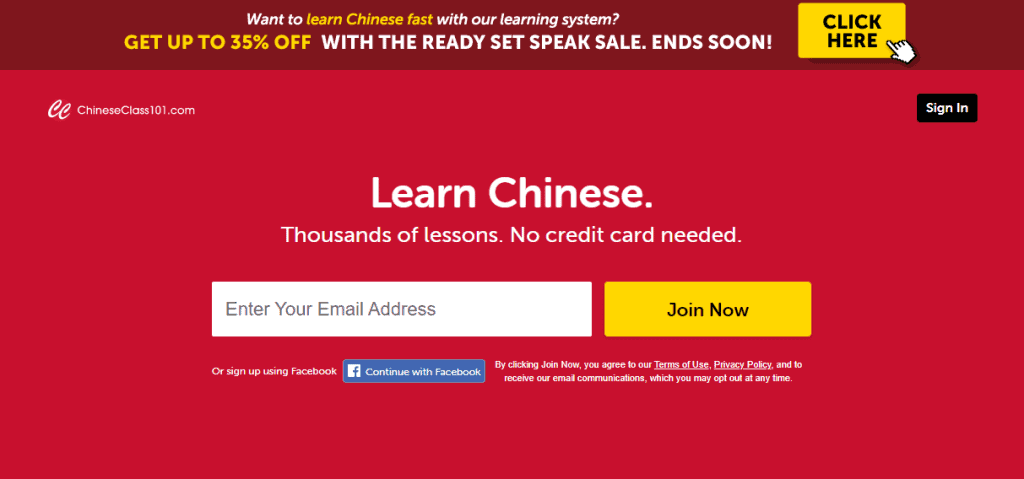 ChineseClass101 provides an extensive collection of podcast-like Japanese lessons. It has a low price tag while still packing some considerable features. However, Rosetta is better at language immersion and has a great voice recognition tool. Learn more about which one to choose in this ChineseClass101 review.
What Areas Could Be Improved?
One limitation of Rosetta Stone Mandarin Chinese is the lack of emphasis on writing skills and the complexity of Chinese characters. Learners may need other resources for character recognition and stroke order.
Additionally, incorporating more gamification elements could enhance the overall learning experience. The program could encourage progress with a better-developed point system. This is especially needed when learning Chinese, as it is a very difficult language.
Rosetta Stone Prices
Rosetta Stone Mandarin lifetime subscription provides the highest value, granting access to all 25 languages Rosetta Stone offers. You can avail of attractive Rosetta Stone discount offers around the year, especially on holidays.
| | | |
| --- | --- | --- |
| Subscription | Price | Payment |
| 3 Months | $11.99 | One charge of $35.97 |
| 12 Months | $7.99 | One charge of $95.88 |
| Lifetime | $179 | One charge of  $179 |
Free Trial
Rosetta Stone courses come with a free 3-day trial. During the trial period, you can only access a limited course plan. It's worth noting that the trial does not demand credit card details, making the sign-up more convenient.
Rosetta Stone Pricing Compared to Competition
Rosetta Stone Mandarin provides excellent value for money, especially for beginners. Compared to competitors, Rosetta Stone works wonders offering high-quality lessons and visual immersion. However, the pricing structure could benefit from greater flexibility.
While Rosetta Stone Chinese provides a lifetime subscription with the best value, other programs, like Pimsleur, allow learners to purchase levels separately. Engaging and visually stimulating lessons justify the course price well.
Although slightly pricier than other Mandarin language courses, the well-structured course material justifies the Rosetta Stone cost, ensuring a comprehensive learning experience.
Rosetta Stone Chinese Ratings from Other Users:
Google Play Store – 4.6 (10M+ downloads)

Apple App store – 4.8 (188.7K ratings)

G2 – 4.2 

Trustpilot – 3.9
What Sets it Apart?
Rosetta Stone Mandarin is a user-friendly and intuitive Chinese learning software. It proves to be a valuable tool, especially for beginners. Following the immersion-based approach, Rosetta Stone facilitates quick language acquisition. We highly recommend Rosetta Stone Chinese Mandarin to anyone seeking an engaging and interactive learning experience.