Ciao! Italian is, without a doubt, a beautiful language. Since it's one of the main languages for music, art, and literature, it is no wonder that many people are eager to learn it. But language learning can be daunting due to difficult Italian pronunciation and confusing cultural aspects. Luckily, platforms such as ItalianPod101 simplify the process of learning Italian. 
With a vast collection of learning materials, features, and resources, this platform has what you need to improve your Italian language skills. We wrote this comprehensive ItalianPod101 review to help you decide if this platform fits.
Great Italian Language Courses for Intermediates
ItalianPod101 makes language learning fun and practical with its wide range of podcast lessons narrated by Italian native speakers. What also sets ItalianPod101 apart from other language-learning platforms is its in-depth lesson notes, practice exercises, and key vocabulary lists. You are sure to improve your listening comprehension, practice pronunciation, and much more with ItalianPod101.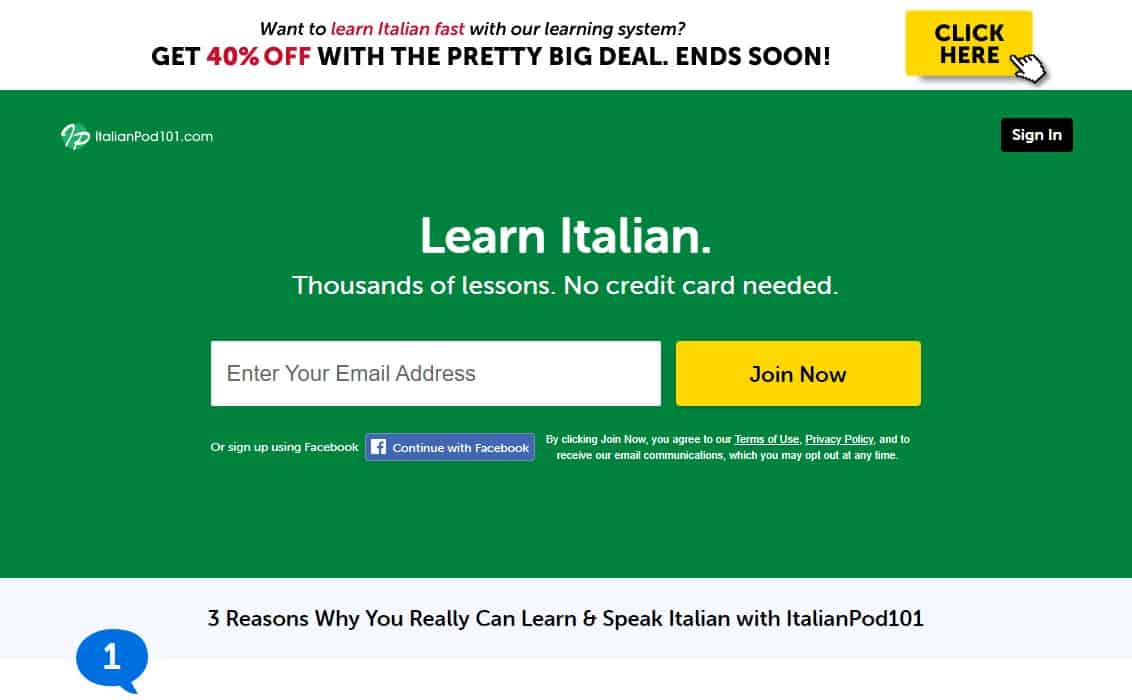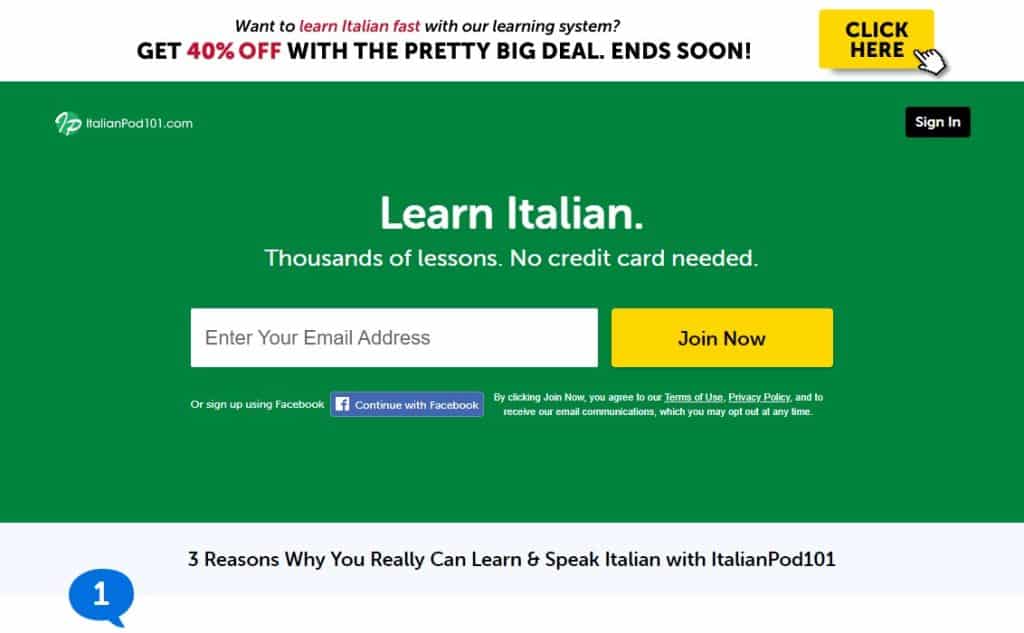 ItalianPod101 Review Summary
⭐ Rating:
9.0

★★★★★

🥇 Available languages:
1
📈 Suits best for:
Intermediates
🛒 Payment options:
Monthly
💵 Price:
$4 – $552
⌚ Hours of lesson time:
345+
🔄 Refund policy:
60-day money back guarantee
🎁 Free Trial:
✔️
Besides Italian, ItalianPOD101 offers other languages, including Afrikaans, Arabic, Bulgarian, Cantonese, Chinese, Czech, Danish, Dutch, English, Filipino, Finnish, French, German, Greek, Hebrew, Hindi, Hungarian, Indonesian, Japanese, Korean, Norwegian, Persian, Polish, Portuguese, Romanian, Russian, Spanish, Swahili, Swedish, Thai, Turkish, Urdu, and Vietnamese.
Disclaimer: Lingomee is an independent review site that may benefit from affiliate programs. Buying through our links makes our efforts possible without additional costs to you. Learn more here.
A Brief Overview of ItalianPod101 
ItalianPod101 is one of the many resources from Innovative Languages. It is an online platform designed to help learners improve their Italian language skills with audio lessons. The platform has been on the market for over 17 years and built a solid reputation as a comprehensive and engaging resource for Italian learners.
It offers a practical learning methodology through content, resources, and features designed to build language skills gradually. In addition, when you start with the platform, you're offered a language-level placement test to determine whether you are beginner, advanced, or intermediate level. 
Once your level is determined, the platform will provide personalized Italian course and lesson content with recommendations tailored to your level and specific learning needs.
ItalianPod101 has multiple features, such as video and audio lessons, a key vocabulary builder, and interactive vocabulary practice exercises. It also offers additional features such as grammar and word bank, flashcards, speaking practice, and pronunciation guides to help you develop a well-rounded understanding of the Italian language.
ItalinPod101 maintains a high level of trustworthiness as it is part of the large, Innovative Language company known for its extensive experience in language education. Hence you can rely on the authenticity and accuracy of the lesson content. We should also mention that this is the best app to learn Italian language with audio lessons.
ItalianPod101 Review: Primary Features
ItalianPod101 has various features, from Pathways to Dialogues, that allow you to follow native speakers' conversations and learn the nuances of the native language. 
Combining these features helps you achieve your language learning goals. For instance, the app integrates audio lessons, videos, real-life scenarios, interactive quizzes, and more for a well-rounded learning approach. The interactive quizzes and exercises reinforce learning through active engagement and ongoing professional assessment.
Pathways
Pathways combine online courses with personalized video and audio lessons tailored to your level and learning goals. The pathways are central to most features, including dialogues, video and audio lessons, transcripts, vocabulary, and more. 
With this feature, you can learn Italian by setting your learning goals and preferences, including the topics you want to focus on. For example, if your interest is understanding Italian culture, the app will customize a lesson plan to fit that interest.
This feature is great if you want a course structure focusing on specific topics or vocabulary relevant to your interests. The personalized nature of Pathways ensures you are engaged and motivated while you learn Italian with the Innovative language app. 
Dialogues
As you learn Italian, you will need to practice your speaking, listening, and comprehension skills, and the Italian dialogue feature allows you to do that. You can listen to native speakers as they converse, record yourself speaking the Italian words used in the conversation, and compare your pronunciation to theirs.
These dialogues cover different topics, such as Italian culture and the everyday situations of Italian people. It allows you to improve your language proficiency and learn Italian well in various contexts. With thorough practice, you will gain confidence in your speaking abilities, learn to speak Italian as a native speaker, and develop your listening skills. If you want to practice with native speakers, than apps like italki, Preply, Tandem or HelloTalk.
Vocabulary lists
There are various common phrases and words used in the Italian language. These phrases may be cultural, traditional, or even season vocabulary. ItalianPod101 ensures you are familiar with them by providing a vast library of words and phrases in the vocabulary feature.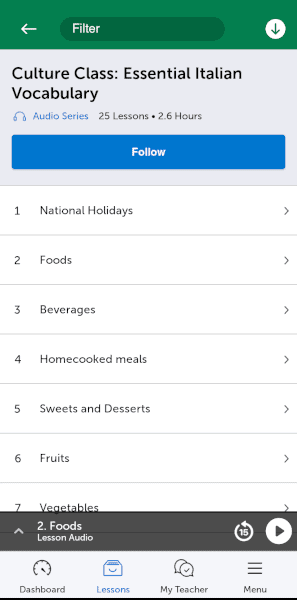 It further provides pronunciations and translations of each Italian word and phrase. These are accompanied by pronunciation guides and flashcards, which allow you to learn Italian speaking and get feedback on your pronunciation. This way, you can easily understand and memorize the new words.
Lesson Notes
ItalianPod101 features short video lessons and audio, supplemented by lesson notes. They are a series of written tips from the lessons that provide more information on grammar, word bank, cultural insights, and advice on verb usage. They cover the essential aspects of the Italian language.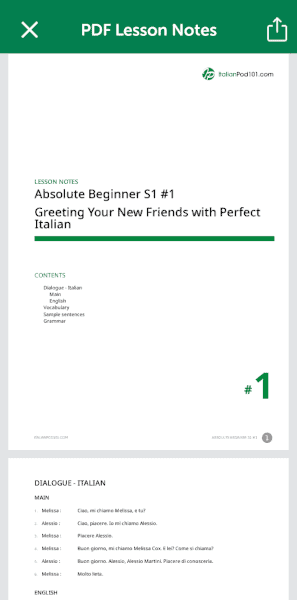 At first, it seems lesson notes are only a reference point to crosscheck and consolidate your language learning. But that's not entirely true. The notes often delve deeper into different areas of Italian grammar, vocabulary, and pronunciation to make the Italian course easier for those who are not satisfied with just the Italian audio.
Excellence of The Learning Material
ItalianPod101 offers a lesson library of over 1,300 lessons, which amounts to thousands of hours of quality language learning. The lesson library of material is designed for learners of all levels, from beginners and intermediates to advanced learners.
Each lesson ranges from 3-25 minutes, allowing you to learn Italian at your own pace and convenience. The lessons include short video lessons, Italian audio recordings, interactive quizzes, multiple-choice assessments, and detailed lesson notes.
There are additional resources such as flashcards, Italian pronunciation guides, line-by-line audio lessons, key vocabulary builder, survival phrases, word bank, and transcripts that back up the short lessons. A user-friendly mobile app, ' Innovative Language Learning,' houses all these resources for easy accessibility. 
However, the lesson material and a wealth of information can overwhelm an absolute beginner and hinder the program's effectiveness. Even though there are customizable pathways and beginner lessons, the data needs more simplification to fit the beginner and intermediate categories.
Grammar Instruction
ItalianPod101 provides a full course structure with solid foundation lesson content in Italian grammar, a course structure suitable for beginners and intermediate learners.
The Italian grammar instruction is well structured and presented clearly through audio and video lessons, transcripts, and frequent quizzes. In addition, self-assessment tools allow you to embrace self-directed learning.
However, the grammar bank instructions can be oversimplified for advanced learners who want a deeper understanding of authentic Italian. This is because the instructions are often concise and may not provide sufficient examples or in-depth explanations to allow you to grasp complex grammatical concepts fully.
Verbal Practice
ItalianPod101 offers a good mix of speaking practice exercises through dialogues, pronunciation exercises, and Italian audio recordings. The program lets you record and compare your pronunciation to a native speaker. It does not have a voice recognition feature to help you practice your pronunciation effectively. 
The verbal practice opportunities feature everyday life scenarios with native speakers, enabling you to practice your Italian conversational skills. However, you can only get feedback on your pronunciation with the Premium PLUS package. 
Reading
There are tons of reading materials on ItalianPod101, including short stories, articles, transcripts, a vocabulary slideshow, cultural insights, and an audio dictionary.
The reading materials cover various topics, such as Italian culture and history, which help you improve your comprehension and reading skills. However, you might need to use other online resources since some of those provided in ItalianPod101 are outdated. 
Writing
You will have a supply of practice exercises when practicing your writing skills. They include writing prompts and hand-graded assignments, which take only five to ten minutes to finish. You can write sentences, paragraphs, or even short essays in Italian through these activities.
In addition, you can submit your written assignments to your Italian teachers, receive feedback on your writing, and quickly identify the areas you need to improve in your language skill.
Vocabulary
ItalianPod101 provides an extensive season vocabulary list based on different themes such as food and Italian culture. You can learn Italian words and phrases in the proper context by practicing these. Flashcards, quizzes, and audio recordings also help you practice vocabulary and understand how to use vocabulary in sentences. If you like memorizing new words with flashcards, than apps like Memrise, Lingvist, or MosaLingua are great choices.
Repetitiveness
ItalianPod101 has a knack for keeping you interested and motivated as you learn Italian. The program offers engaging and entertaining lesson content in various multimedia resources such as videos, cultural insights, and podcasts with an Italian host. 
These resources are mixed with exercises, examples, real-life scenarios, and quizzes to make learning Italian interactive and enjoyable. Even though the program doesn't have gamification, it uses spaced repetition, a technique where Italian words are presented at intervals to make it easy to consolidate your learning.
However, it is best to change your learning style and pathway after some time to reduce the repetitiveness of the lesson material, which can be boring after a while.
Accessibility
The ItalianPod101 app and browser versions are user-friendly and accessible. They feature an intuitive interface with minimal loading time and easy navigation. The design is visually appealing, with a clean and modern look for Italian learners. Though the color is subtle, it provides visual cues that guide you through.
The background and text contrast nicely, preventing eyestrain and making reading lesson notes easy. As for the features, the app and browser versions provide clear labels for each feature, such as podcast lessons with feedback mechanisms to keep you informed of your progress.
The app uses engaging and informative visuals with high-quality images and graphics that enhance your learning experience. This is evident in the use of flashcards for vocabulary practice. For a first-timer, you'll have a smooth onboarding process with clear instructions that will guide your Italian language learning journey.
ItalianPod101 Competitors and Alternatives
ItalianPod101 vs Speakly
As the name suggests, Speakly prioritizes pronunciation practice. It includes spaced repetition system and the possibility for real-time feedback from a native speaker. ItalianPod101 leans more on listening comprehension but does provide tutoring sessions too. If getting conversational is your top priority, learn more in this Speakly review.
ItalianPod101 vs Fluenz
Fluenz employs video lessons to create a classroom environment and introduce the Italian language step by step. ItalianPod101 uses native speaker instructors too, but its approach resembles a podcast more than a classroom. We recommend checking out Fluenz if you are a visual learner. Learn more about it in Fluenz review.
ItalianPod101 vs Lingopie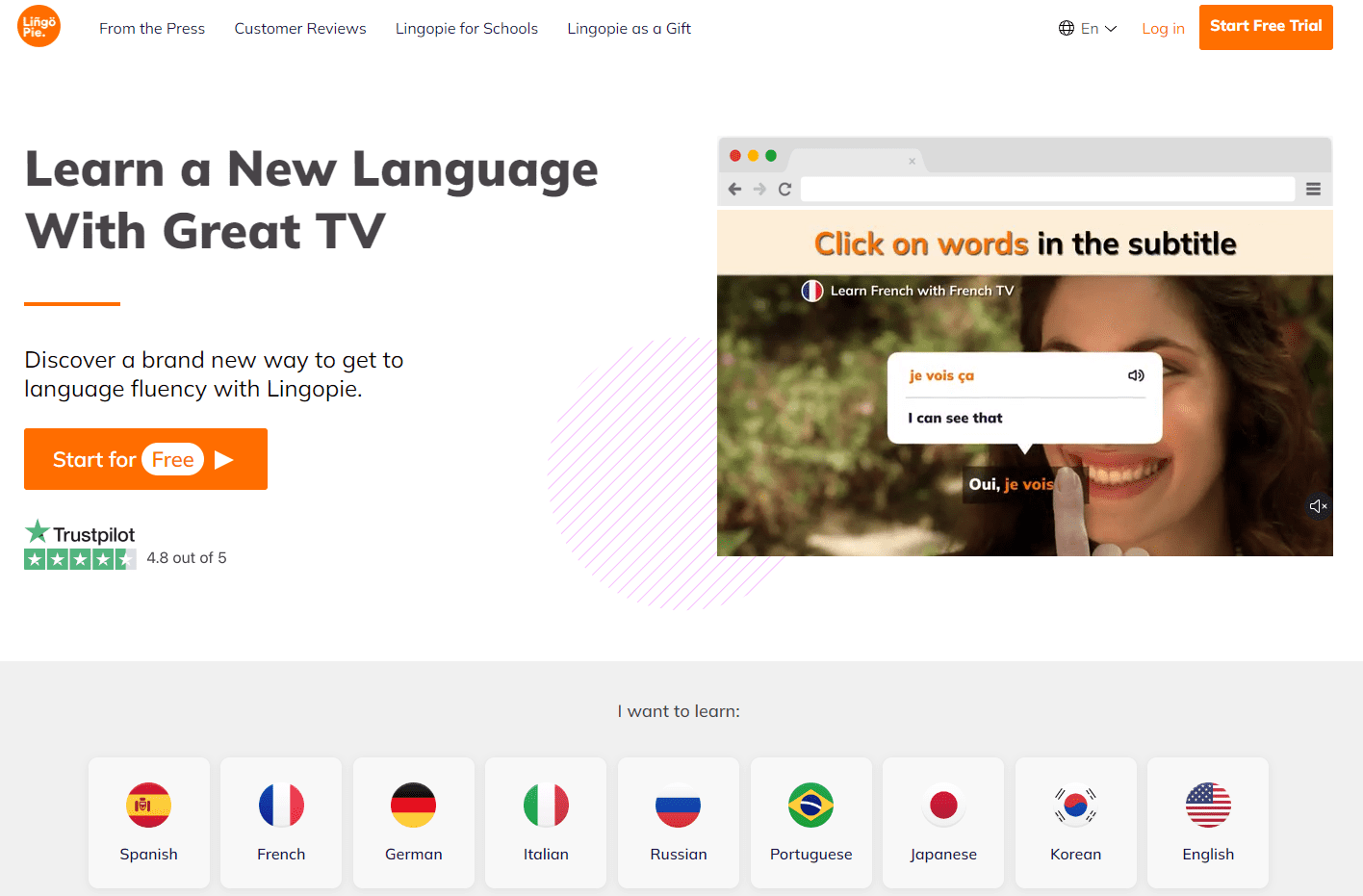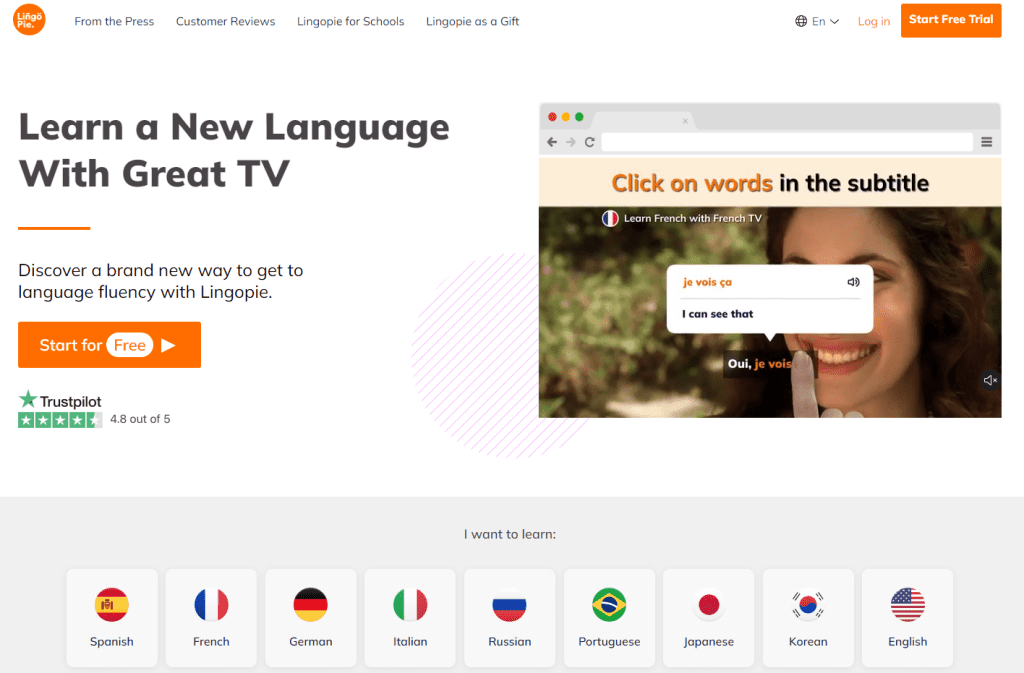 Lingopie gives you a chance to effortlessly learn a language by binge-watching TV. It's nothing like podcasts of ItalianPod101 or traditional language classes. If you are more engaged by visual cues and reading subtitles, find more information in this Lingopie review.
ItalianPod101 vs Rocket Languages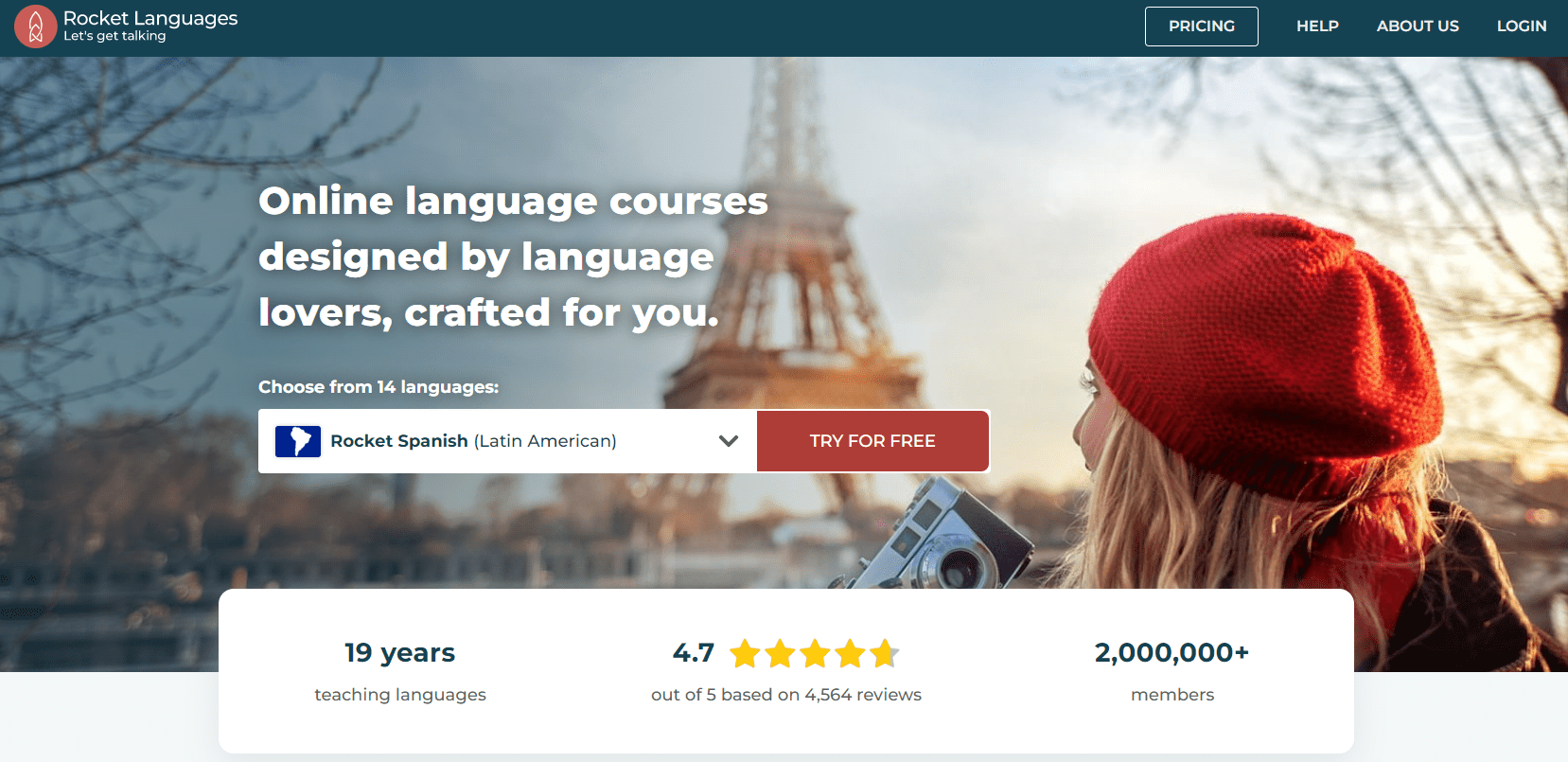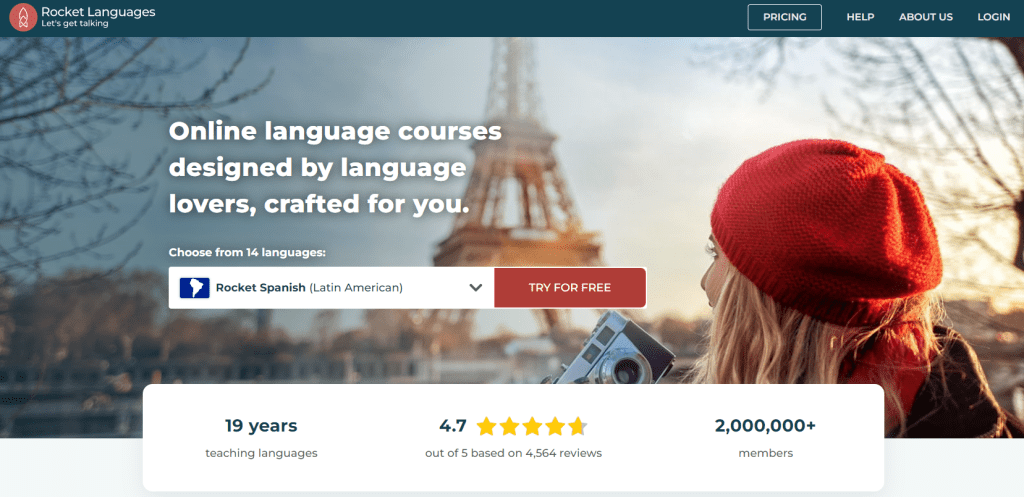 ItalianPod101 resembles podcasts a bit more while still packing a range of features for a lower price tag. But Rocket Languages has its strengths in a self-paced, audio-based learning style. Consider it if you prefer starting with listening and speaking. Find more information in our in-depth Rocket Languages review.
What Areas Require Enhancement?
While there are many positive aspects of the ItalianPod101 review, some areas need to be improved.
Even though the app has clear labeling, some features, such as Dialogues, take a lot of work to find. This is because they are mixed up in the lesson content. The app can simplify this by providing a central point for all features.
 ItalianPod101 needs more customer support options. While there is a blog, FAQs sections, community forums, and email support to help you troubleshoot issues with the online courses, the support team needs to be more responsive.
 The email response time is about 24-48 hours which can be too long for Italian learners who want instant support. This can be improved through live chat or on-call support.
ItalianPod101 Price
ItalianPod101 offers a range of pricing plans to suit your needs and budget. The pricing is as follows.
| | | |
| --- | --- | --- |
| Subscription | Price | Payment |
| Basic 1-Month | $8 | Charged monthly |
| Premium 1-Month | $26 | Charged Monthly |
| Premium 12-Month | $180 | Charged Yearly |
| 12 Months | $180 | One charge of  $180 |
| Premium PLUS 1-Month | $49 | Charged Monthly |
| Premium PLUS 12-Month | $310 | Charged Yearly |
| Basic Lifetime | $260 | One-time Charge |
The app does offer a free lifetime account but with limited features. The Basic package provides access to all audio and video lessons and PDF lesson notes and best suits beginners.
The Premium Plan is best suited for intermediate-level learners. It includes everything from the Basic package and access to additional lesson materials such as vocabulary lists.
The Premium PLUS plan is designed for advanced learners. The plan offers all the features of the Premium plan, plus personalized coaching, assignments, and a personal teacher.
Free Trial
ItalianPod101 offers a 7-day free trial to test their Innovative language program before committing to a paid plan for learning Italian. With this, you only need to sign up with a working email and password. You'll have access to selected lesson notes, audio and video lessons, and other resources on the platform.
ItalianPod101 Coupons and Discounts
ItalianPod101 offers discounts and promotions throughout the year, such as seasonal sales or discounts for their Italian course. Currently, it is offering 40% off its Basic, Premium, and Premium PLUS yearly plans. Such discounts enable you to enjoy your language-learning journey while keeping your expenses in check. 
Refund Policy
ItalianPod101 offers a 60-day money-back guarantee for their paid plans. If, for any reason, you are unsatisfied with the Italian language program, you have 60 days from the day of purchase to request a refund which will be processed in 5-7 business days.
ItalianPod101: Is it a Good Investment?
ItalianPod101 is a good investment for learning Italian. While the pricing can be higher than other language-learning apps, the program's quality and content justify the cost.
Compared to other online courses such as Babbel, Mondly and Rosetta Stone, ItalianPod101 stands out with its affordable subscription plans that provide access to more lesson material, features, and resources. Rosetta Stone and Babbel are known for their immersive and interactive learning style, but ItalinPod101 offers similar features at a more affordable rate.
ItalianPod101 Ratings From Customers
Google Play Store -4.7 (1M+ downloads)

Apple App Store – 4.7(30.6K ratings)
Customer Service
ItalianPod101 review offers various customer support options, including email support, a FAQ section, a blog, ongoing professional assessment, and a community forum for Italian learners. The response time for email support is typically within 24-48 hours, which is reasonable.
The website has no live chat or on-call support. However, the community forum is a great place to get answers from other users and improve your language skill.
Conclusion
ItalianPod101 stands out for its comprehensive and structured approach to learning Italian. It offers a range of lesson materials, including audio and video lessons, dialogues, and grammar explanations. Overall, ItalianPod101 is an excellent choice for anyone learning Italian at their own pace.