Scholars and linguists consider Hebrew a revived language. The language experienced a period of dormancy for over 1500 years and came back in the 19th century. Today, the language is widely spoken by over 9 million people, mainly in Israel and USA.
With its association with Holy texts like the Bible, learning Hebrew is becoming increasingly popular. Fortunately, Hebrew Pod101 makes learning the language as easy as learning your mother tongue. Its podcast-style lessons and plenty of study tools teach language learners Hebrew in cultural content for better comprehension.
In this detailed HebrewPod101 review, we take you through the app's modern language learning methodology.
Quality Podcast Lessons With an Emphasis on Hebrew Culture
HebrewPod101 offers podcast-style audio lessons. With a vast collection of learning material, language learners have sufficient information to sharpen their Hebrew listening, reading, writing, and speaking skills. The use of video format and audio lessons in Hebrew culture provides a new and interesting way to keep learners engaged.
HebrewPod101 Review Summary
⭐ Rating:
8.4

★★★★★

🥇 Available languages:
1
📈 Suits best for:
Intermediates
🛒 Payment options:
Monthly
💵 Price:
$4 – $552
⌚ Hours of lesson time:
345+
🔄 Refund policy:
60-day money back guarantee
🎁 Free Trial:
✔️
Besides Hebrew, Language POD 101 includes: Afrikaans, Arabic, Bulgarian, Cantonese, Chinese, Cezch, Danish, Dutch, English, French, Filipino, Finnish, German, Greek, Hindi, Hungarian, Indonesian, Italian, Japanese, Korean, Norwegian, Persian, Polish, Portuguese, Romanian, Russian, Spanish, Swahili, Swedish, Thai, Turkish, Urdu, Vietnamese.
Disclaimer: Lingomee is an independent review site that may benefit from affiliate programs. Buying through our links makes our efforts possible without additional costs to you. Learn more here.
About The HebrewPod101
HebrewPod101 is a language learning app provided by Innovative Language Learning. It's a learning tool that language learners use to learn the Semitic Hebrew language. Since its addition to the Pod series languages in July 2011, HebrewPod101 has undergone extensive improvements to provide quality Hebrew teaching for the last 12 years.
To start with, its interface is clean and easy to use right from sign-up. New users to the platform have an easy time which extends to the lessons and other features. Unlike many other language learning apps, HebrewPod101 doesn't have a language-level placement test. Users have to select any of the five available levels.
While this is a plus side for beginners who don't have to sit through tests from the start, it's a disadvantage to advanced learners. Such learners need the test to accurately identify whether they are the best fit in intermediate, upper intermediate, or advanced levels. To be fair, though, the app does try to provide learners with short descriptions of what to expect at each level. Therefore you can learn extremely fast and we can call this program as the best app to learn Hebrew language.
Once learners select their level, they start learning Hebrew through a structured lesson plan consisting of podcast audio, video lessons, flashcards, vocabulary lists, and lesson notes. Hebrew Pod101 app provides this content in an interface that is clutter free, making it easy to locate different features and tools.
HebrewPod101 Review: Key Features
HebrewPod101 has features that stand out as more proficient across all levels and all subscriptions. The lessons feature native feature dialogue that guides learners in pronouncing Hebrew words and phrases, while vocabulary features a word bank, lists, and flashcards to improve users Hebrew dictionary.
For guidance through the coursework, lesson pathways direct learners on what to follow. HebrewPod101 provides in-depth information using audio and video lessons with the lesson notes feature. HebrewPod101 app features are all about enhancing the app's methodology in teaching Hebrew.
Lesson Pathways
There is a lot of lesson content in HebrewPod101, and it can overwhelm first-time users. However, the lesson pathways feature structures the lesson content in small bits and guides learners on starting the first lesson.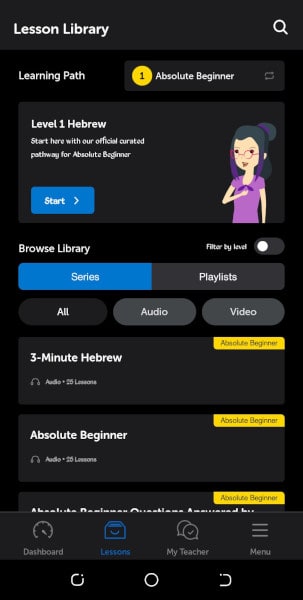 The lesson pathway is different for every learner level. It aligns with the Common European Framework of Reference for Languages (CEFR) that groups proficiencies of different languages. As a result, it provides a systematic way for serious learners to get more comprehensive Hebrew.
Dialogue
In HebrewPod101, the dialogue feature mainly comprises of conversational phrases set in different Hebrew cultural contexts or everyday life scenarios. Learners must listen to audio or video lessons consisting of native speakers saying Hebrew phrases. An English phrase translation is also available to make learners understand the conversation even more.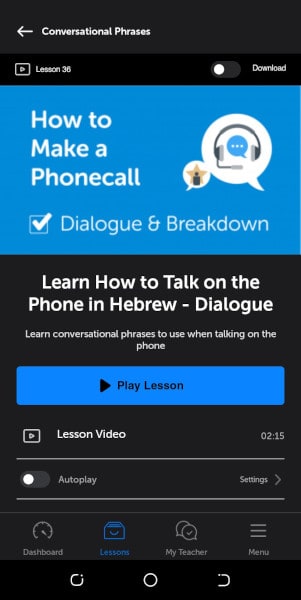 The speakers do a good job of explaining a particular use of a word or phrase. It enables learners to practice their listening skills and comprehension of the Hebrew language in certain settings. 
Vocabulary
With the vocabulary feature at their disposal, learners have a wide variety of Hebrew words to familiarize themselves with. The feature provides most vocabulary learning tools even with a free account. For example, vocabulary lists of 800 commonly used words and key phrases, a word bank,  and a Hebrew word of the day.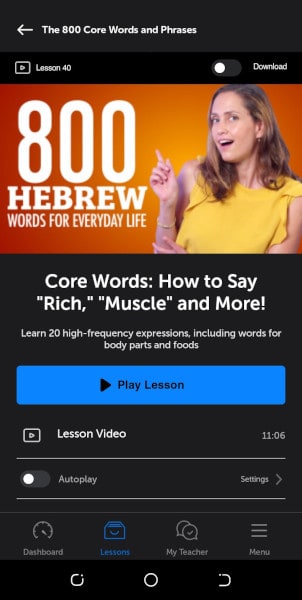 Other tools like the 2000 vocabulary word bank and spaced flashcards are available with Premium subscriptions. With the vocabulary feature, language learners can build up a database of words in Hebrew alphabet to help them form Hebrew phrases and sentences in speech and writing.
Lesson Notes
The lesson notes feature found with each lesson provides a reference point for learners in case they need to review audio and video lessons. They also serve as guidelines for what to expect in each lesson. The feature also provides transcripts in case learners need to review something they missed. Unfortunately, the lesson transcripts are lacking if the lesson is in podcast audio format.
Lesson notes are in PDF format, and learners can even download them for offline use. It's a great feature that ensures Hebrew learners learn the language at their own convenient time. Intermediate, upper intermediate, and advanced level learners benefit the most from the feature as it provides in-depth content into the grammatical rules of the Hebrew alphabet. 
Quality of The Learning Material
In our HebrewPod101 review, we found that the material was sufficient in some areas and lacking in others.
For example, while the language Pod app had plenty of vocabulary material, it lacked in providing opportunities to practice speaking or writing Hebrew with basic subscriptions. However, the app tries to compensate for this with the possibility to purchase native speaker lessons form the My Teacher option available with the PremiumPLUS option.
Using native speakers to teach Hebrew is a welcome feature to provide an authentic lesson experience. The language instructors do an excellent job explaining different concepts and grammar points relating to the Hebrew language. They explain abjad, the Hebrew alphabet, and how to write it from right to left, except the numbers written from left to right.
Video and audio Lessons take between one to three minutes for videos and some audio, while podcast audio can take 5 to 20 minutes. To effectively learn Hebrew, we found that learners should spend at least 40 minutes on the platform daily, regardless of their level.
Grammar Instruction
The app teaches Hebrew grammar effectively at all levels. We found that the multiple-choice assignments are great in giving intermediate learners more practice in Hebrew grammar.
However, beginners may find the audio and video lessons more conducive to learning grammar. The Hebrew teachers take their time in explaining key grammar concepts. On the other hand, advanced learners benefit the most from the lesson notes that give detailed pointers on grammar.
Verbal Practice
HebrewPod101 lacks opportunities to speak Hebrew, at least for learners who chose the lower subscriptions. Unlike some language learning apps with speech recognition tools to help you start speaking Hebrew, the app relies on self-analysis to gauge the correctness of speech. It's a downside as such a tool easily gives feedback in real time.
The app tries to make up for lacking a speech recognition tool through the My Teacher feature. Learners interact one-on-one with a teacher who helps them speak Hebrew.
Reading
There's plenty of short and long-form reading material in HebrewPod101. For example, there're notes for short video lessons. For the podcast audios, long-form transcripts are available to guide you as you follow what the native speaker discusses or as a reference when you finish hearing the audio.
The app promotes reading Hebrew by allowing PDF lesson downloads for convenience and ease of access. It's an ideal way for learners to continue reading PDF lesson notes offline or on the go.
Writing
There is some writing practice on HebrewPod101, but it isn't sufficient. It's still available for learners who subscribe to the Premium Plus or Premium subscription. Learners get writing practice through personalized lesson material and assessments from native-speaker teachers. Learners can even chat with their teacher in Hebrew and receive feedback on their writing.
Vocabulary
HebrewPod101 has a wide range of vocabulary lists. It makes it an excellent tool for all levels of learners to learn Hebrew words, which are the building blocks of forming Hebrew phrases and sentences.
With a collection of 2,000 words from different topics and applications in the daily life of native Hebrew speakers, learners have a lot of key vocabulary to work with. Even free account holders can access vocabulary lists or new vocabulary words daily.
Repetitiveness
On reviewing content from absolute beginner level to intermediate level and advanced level we found that the content doesn't repeat itself, which is a welcome relief. The Hebrew app does this by providing a lot of new and unique information for all video and audio lessons, which keeps things fresh.
By doing this, the app ensures that learners remain engaged throughout their course and learn as much information as possible about the Hebrew language.
HebrewPod101: Simplicity of Operation
Navigating HebrewPod101 doesn't present any challenges. The app offers a straightforward and structured approach to the interface. Sign-up is smooth, and the app even shows you what to expect in all the levels available for easier selection.
In the app itself, learners interact with a black background interface that highlights the yellow, white, and blue labels very well. It makes clicking and navigating the lesson library and different features easier.
However, there were several things we didn't like. The first is the HebrewPod101 app's small font, which may present some reading challenges to some users. The other was the slow loading times, especially when opening resources in some long-form audio and video lesson for the first time.
HebrewPod101 Competitors and Alternatives
HebrewPod101 vs Tandem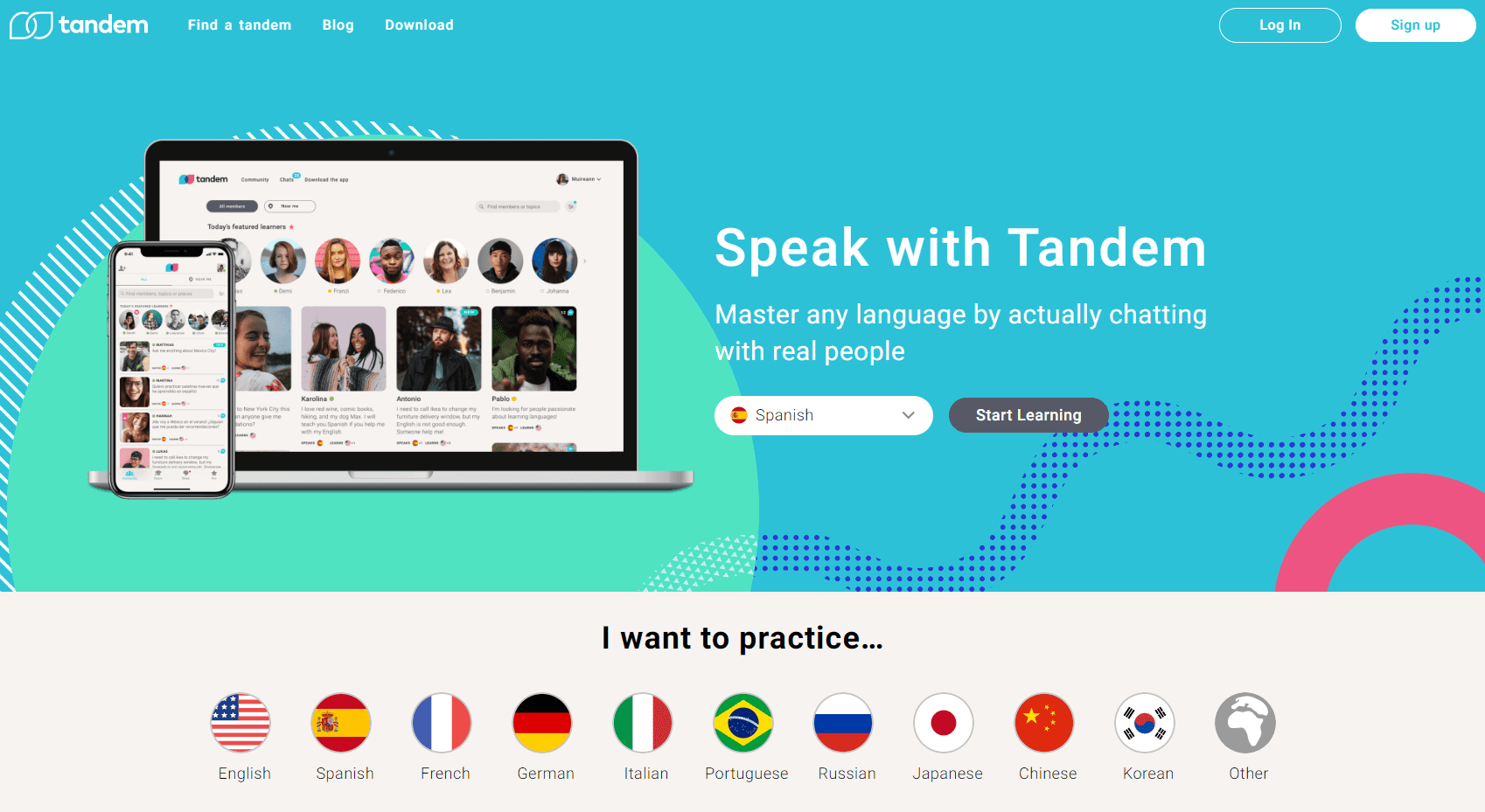 Tandem helps you find language exchange partners. It means that you already need to know some Hebrew basics before starting. We think that HebrewPod101 is a great start if you are thinking of diving into language exchange on Tandem later. Learn more about it in our Tandem review.
HebrewPod101 vs Lingualift
LinguaLift aims to use what's best in all other apps to provide a comprehensive and culturally rich curriculum. Compared to HebrewPod101, it's based more on visual and textual explanations of grammar and vocabulary. If you don't consider yourself an auditory learner, consider LinguaLift as an alternative. Find more information in our Lingualift review.
HebrewPod101 vs Mango Languages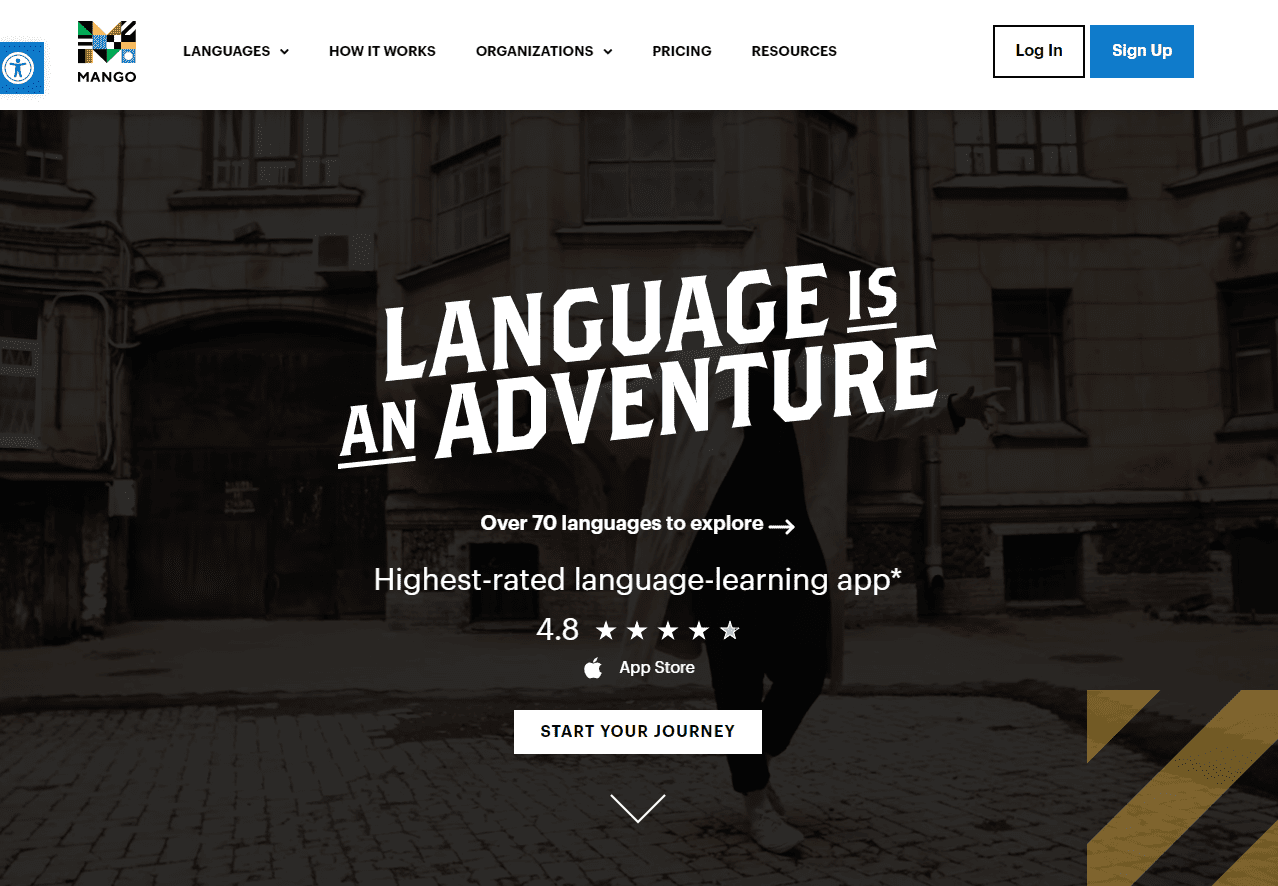 Mango Languages best fits beginners that struggle with motivation and want to learn about Hebrew culture. Unlike HebrewPod101, it isn't based on audio lessons but still focuses on conversations. It's worth checking it out as an alternative. Learn more about it in this Mango Languages review.
HebrewPod101 vs LingQ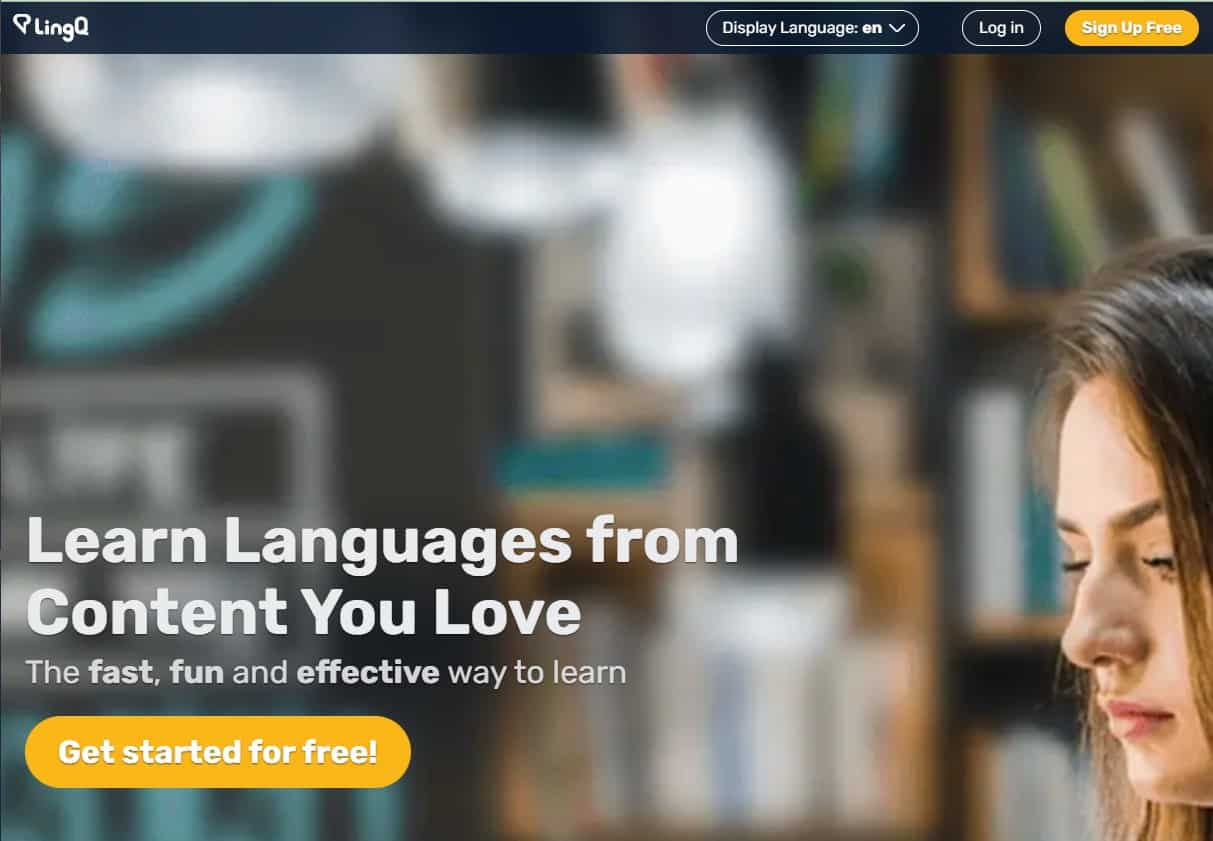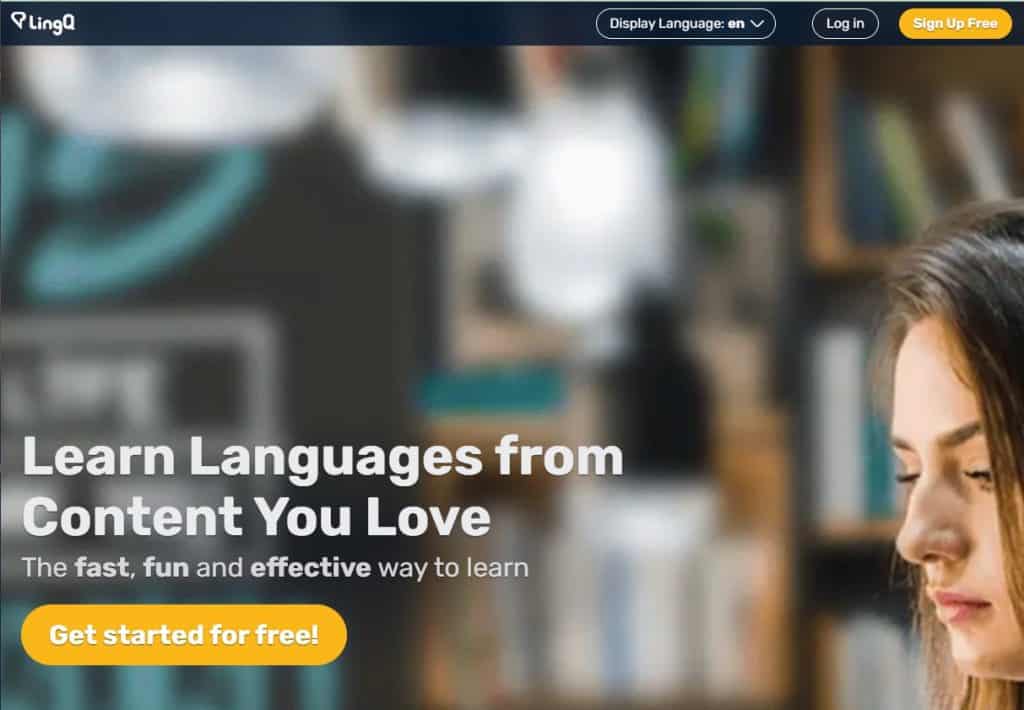 LingQ is based on full customization of your learning with plenty of video, audio, and textual materials. HebrewPod101 provides a more streamlined and audio-based curriculum, although it still adapts to your needs. If you are looking for a customizable experience, consider LingQ. Find more information in this LingQ review.
What Areas Could Be Improved?
HebrewPod101 has efficient resources to teach common words, listening, writing, reading, and understanding Hebrew but lacks when it comes to speech practice. The lack of a speech recognition tool significantly limits the experience that learners should have in the app.
The app does try to compensate for this in two ways. It provides speech recording tools that allow learners to record themselves and compare their audio with that of native speakers. It also provides a My Teacher feature that allows you to practice speaking with a teacher. However, to get these features, learners have to get a pricey Premium subscription.
Another downside is the overuse of English as the main instruction language. We feel it disadvantages upper-intermediate learners who wish to learn Hebrew in their native language. Too much use of English also limits the learners' full immersion in learning Hebrew.
HebrewPod101 Prices
Innovative Language sets the price for HebrewPod101 basic and premium subscription based on a monthly fee. Learners can get a range of features depending on the four types of subscriptions that they choose. Language learners can spend between $4 to $23 monthly or between $48 and $276 yearly.
| | | |
| --- | --- | --- |
| Subscription | Price | Payment |
| Free | Free | No charge  |
| Basic | $4.00 | Charged Monthly |
| Premium | $10.00 | Charged Monthly |
| Premium Plus | $23.00 | Charged Monthly |
The price in HebrewPod101 depends on the subscription package and not the level of the learner. It means that across all levels, learners get the same features across all levels in a particular package. For example, free account holders get only three lessons in every pathway, while a basic subscription opens up all the lessons.
To get more from the app, consider getting the Premium subscription which gives extra features like line-by-line audio dialogue and spaced repetition flashcards. The PremiumPLUS opens up even more cool features, like access to a teacher who can provide personalized assistance on your language learning journey.
Free Trial
HebrewPod101 lets you try out its basic subscription features for seven days. Features like Premium lesson tracks, vocabulary slideshows and High Definition Hebrew lessons become available during this period. If satisfied with the app, you can make a paid subscription (better than Duolingo).
HebrewPod101 Coupons and Discounts
As an incentive to its loyal customers and to get more people to learn Hebrew, the app occasionally gives discounts. The discounts normally apply even to other language apps in the Innovative language series.
Refund Policy & Customer Support
If you buy a subscription you don't like, the app gives a 60-day money-back guarantee. Hebrew learners can get their money back without hassle and questions.
A dedicated customer support is ready to handle such requests within one business day after mailing them. However, if you email the support team during weekends, it may take longer.
Innovative Languages has a customer service dedicated to solving issues with your HebrewPod101 account. The best way to reach the customer care support team is by emailing them. Response time can take a few hours or extend to 2 business days, especially if you send an email over the weekend.
HebrewPod101 Pricing Compared to Competition
The app's monthly price is favorable compared to other Hebrew language learning apps, as it ranges from $4 to $23. Other apps like Memrise, Mondly, Busuu and Glossika have more pricey monthly subscriptions but offer more flexibility in their payment and learning plan. Most of them offer 3, 6 and 12-month subscriptions.
HebrewPod101 may have favorable pricing across its packages, but even the $23 PremiumPLUS or premium subscription doesn't compare favorably with other apps. Rosetta Stone is $11.99, and Pimsleur is $19.95, but both offer more writing, reading, listening and speech practice tools even for an absolute beginner.
HebrewPod101 Ratings from Other Users
Google Play Store – 4.6 (1M+ downloads)

Apple App Store – 4.7 (30.6k Ratings)
Final Verdict
Hebrew may be an ancient language, but the podcast learning style provides a fresh, unique way of learning the almost-forgotten language. HebrewPods101 uses native Hebrew Speakers in audio and video lessons to keep learners interested and engaged in the coursework.