The Korean language is among the top 20 most-used languages in the world. Learning Korean connects you to over 75 million people worldwide. It allows you to explore Korean culture for business or travel purposes. Surely, it is worth it to learn Korean?
KoreanClass101 is one of the best options for learning Korean. It has straightforward lessons that explain different vocabulary and grammar points. Their dictionary has a diverse word bank that connects you with Korean culture. And the innovative language app even offers free access to some of the content.
We'll explain all you need to know in this detailed Koreanclass101 review.
Outstanding Audio and Video Lessons for Korean Language Learners
KoreanClass101 efficiently delivers audio and video lessons through a structured lesson plan. Native speakers from South Korea explain various grammar points, the Korean alphabet, the Korean writing system, pronunciation, and much more. Although it's best for intermediate-level students, all Korean learners will find lessons to improve with.
KoreanClass101 Review Summary
⭐ Rating:
8.5

★★★★★

🥇 Available languages:
1
📈 Suits best for:
Intermediates
🛒 Payment options:
Monthly
💵 Price:
$4 – $559
⌚ Hours of lesson time:
345+
🔄 Refund policy:
60-day money back guarantee
🎁 Free Trial:
✔️
Besides Korean, Language POD 101 includes Afrikaans, Arabic, Bulgarian, Cantonese, Chinese, Czech, Danish, Dutch, English, Filipino, Finnish, French, German, Greek, Hebrew, Hindi, Hungarian, Indonesian, Italian, Japanese, Norwegian, Persian, Polish, Portuguese, Romanian, Russian, Spanish, Swahili, Swedish, Thai, Turkish, Urdu, Vietnamese.
Disclaimer: Lingomee is an independent review site that may benefit from affiliate programs. Buying through our links makes our efforts possible without additional costs to you. Learn more here.
A Brief Overview of KoreanClass101
The apps of Innovative language have been in the language-learning market for over 12 years. No wonder they cover many languages with numerous video and audio lessons in each. KoreanClass101 is no exception. The app has proven to help thousands of learners speak Korean.
Unlike other Korean language programs, KoreanClass101 is structured into skill levels. Although it best fits intermediate-level learners, such variety makes it easy to learn for most language learners. Some bonus levels add more insight into the Korean language.
With thousands of audio lessons available, KoreanClass101 helps you listen to the Korean accent of native speakers while practicing. You can also test your language skills with free assessment tests. They help you understand your mistakes as you progress from the absolute beginner level to the advanced level. Therefore this app is one of the best apps to learn Korean language with audio lessons.
You can get all your lessons, notes, progress tracking, and premium tools from your smartphone or mobile device. Since the system is fully integrated, you can switch from your mobile app to your computer.
KoreanClass101 Review: Primary Features
The innovative KoreanClass101 App has several features to help you learn the Korean language effectively:
Learning Pathways
It might feel overwhelming knowing where to start when you learn languages. With all the grammar, speaking, reading, writing, and listening comprehension. It's so much, especially if you need clear personalized lesson plans that suit your interests.
However, with KoreanClass101, you have clear lesson pathways that take you from the absolute beginner to the advanced level. All you have to do is follow the pathway.
Lesson pathways provide a clear starting point with audio and video lessons. It also includes assessment questions to follow up on already completed lessons. After you sign up, the pathway gives you appropriate lessons from the lowest level to the most advanced one. Hence giving you a clear learning progression and leveling up your language skills evenly.
Dialogues
The best way to immerse in Korean is to improve your listening and speaking skills with Korean audio. The easy way to do so is by listening practice, whereby you can use the KoreanClass101 Dialogue Track. It consists of audio and video lessons that help you follow a 10-30 second long conversation with native speakers. Apps like Speechling, Verbling, italki or HelloTalk are decent choices to practice with native speakers.
A typical lesson in the Dialogue track contains a conversation about a particular skill. For example, making orders in a restaurant, social interactions, and more.
You can read the lesson transcripts in both Hangul and their romanizations. First, you listen to a conversation, and then the teachers explain and translate every word.
Vocabulary lists
The vocabulary section helps you to study each word separately with its pronunciation and English translation.
The KoreanClass101 selection of word themes covers vocabulary lists of various topics, from simple to more advanced ones. For example, you can get a variety of vocabulary ranging from Korean greeting words to medical health words.
The app also gives several options to assist you in memorizing Korean vocabulary. For example, flashcards, Vocabulary lists, WordBank, Word of the day, 2000 most common words, and key phrases. Another great choice for vocabulary building is Glossika.
Lesson Notes
Koreanclass101 lets you learn Korean using lesson notes. Each lesson allows learners to read comprehensive yet concise lesson notes. All lessons have in-depth instructor notes, including example sentences, explanations of key vocabulary, Korean grammar points, the Korean alphabet, and translations with more information.
The advantage of these lesson notes is that they give a preview of what each lesson entails. They also summarize the audio and video lessons so that you have a reference for the content you learn.
The app provides the lesson notes in PDF format, meaning it's easy to download and study them offline. It's a great way to supplement the online course and add your own pace while you learn Korean. It's also great for intermediate-level learners keen on learning every inner grammar point of the Korean language.
Lesson quality
During our KoreanClass101 review, we found that the lessons can increase your basic language knowledge. The video and audio lessons help you practice listening to a native speaker's conversations and improve your own accent. The Korean lessons are easy to understand through available vocabulary lists and grammar points.
We find the KoreanClass101 to be one of the most complete curriculums. The app has many lessons, meaning hundreds of hours of learning content. Each lesson can take between 10 and 20 hours, and it will take you a month or two to complete all the lessons up to an advanced level.
Of course, your success depends on your study schedule and other factors like your native language, motivation, and current language skills. Still, the language learning app provides valuable language exposure to the Korean culture context.
Although the app is a good option for learning Korean, it's more appropriate to learn listening skills than speaking skills. To practice listening and better speaking skills, learners have to purchase a more pricey Premium PLUS or Premium subscription. With this plan, they can practice speaking Korean with a personal tutor.
Grammar Instruction
When it comes to Grammar instruction, we find KoreanClass101 suitable for absolute beginners. The Absolute Beginner Pathway introduces learners to Korean with simple, easy-to-learn Korean grammar points. We find their learning experience to be better than in conventional classrooms.
We also find that PDF lesson notes offer better reading comprehension. Also, they thoroughly explain phrases and grammar points, which is ideal for intermediate and advanced learners.
Verbal Practice
KoreanClass101 has various ways to practice speaking Korean on your own. Most lessons use shadowing. All you have to do is repeat what you hear in the lesson material. Using the dialogue tool, you can read the lesson transcripts aloud as you speed up your reading to improve your speech quality.
The better part of their verbal practice is that you can get Premium PLUS assignments. The weekly lessons cover reading, writing, speaking, and listening skills with your teacher. The conversation teachings are great since you can visit their Lesson Library for more lessons on verbal conversations. Another great choice for verbal practice would be Tandem app or Preply.
Reading
The KoreanClass101 read-along lessons help you to practice reading with material for vocabulary improvement and Korean grammar explanations. It has plenty of lesson content in long and short forms.
However, we find the reading practice still wanting. You can only practice reading content with the dialogue or lesson notes feature on your own. Some learners may need to re-read many times while listening to videos to start speaking Korean.
However, at an added fee, you can utilize the My Teacher feature to interact with a live native speaker who can help you practice reading Korean.
Writing
In the vocabulary section, you can take writing quizzes to review and master what you have learned. With any of the audio and video lessons, you can write what you hear to test your writing and your listening comprehension skills. However, the use of the Korean writing system is quite limited.
The innovative language app also allows you to write short messages to your Premium PLUS personal tutor, who reviews them for you.
Vocabulary
The app's Korean dictionary is extensive, providing learning material and tools even with a free account. Available study tools, like flashcards, help you learn words by helping you to memorize their spelling, translation, and pronunciation. There's a large word bank from which you can add words for later study.
KoreanClass101 is effective in offering a good key vocabulary foundation. You can begin by studying Korean words and turning them into phrases. The app also offers real lessons from teachers. If you like memorizing new words with flashcards, than Memrise or Mango Languages are great choices.
Repetitiveness
Although KoreanClass101 is a language app, it's more varied than most of what is available for Korean learners. It has a lot of study tools that keep you informed. It provides audio and video lessons you can watch and listen to.
In addition, the app allows you 3-5 new audio and video lessons every week. The first three lessons of every single series have 100+ lessons.
Its lessons and tools make learning fast, fun, and accessible. You can follow the lesson pathways, get lessons from tutors, or explore their lesson library for content and tools. With KoreanClass101, you can do all you need to reach your language learning goals.
KoreanClass10: Accessibility
KoreanClass101 is available as a web service, but if you want to learn Korean on the go, consider downloading the app. However, you won't get the app listed as KoreanClass101. Instead, you have to download the Innovative Language Learning app and select Korean from the list of other languages available.
KoreanClass101 has everything you need to learn Korean. As with all innovative language products, you can access everything from the dashboard of their mobile app.
You can always keep your KoreanClass101 lesson progress since it has iCloud Syncing for backup. The browser and app versions have good contrast with bright colors. You can instantly load written lessons on the app. However, video lessons may take a while to start. The app is user-friendly since you can adjust text size, enable video subtitles, and change other settings.
KoreanClass101 Competitors and Alternatives
KoreanClass101 vs LingoDeer

With a large vocabulary and interactive drills, LingoDeer is a great alternative to KoreanClass101. For a similar price, you get the possibility to access language learning that is not just audio-based. If you want a more interactive experience, learn more about it in our LingoDeer review.
KoreanClass101 vs Mondly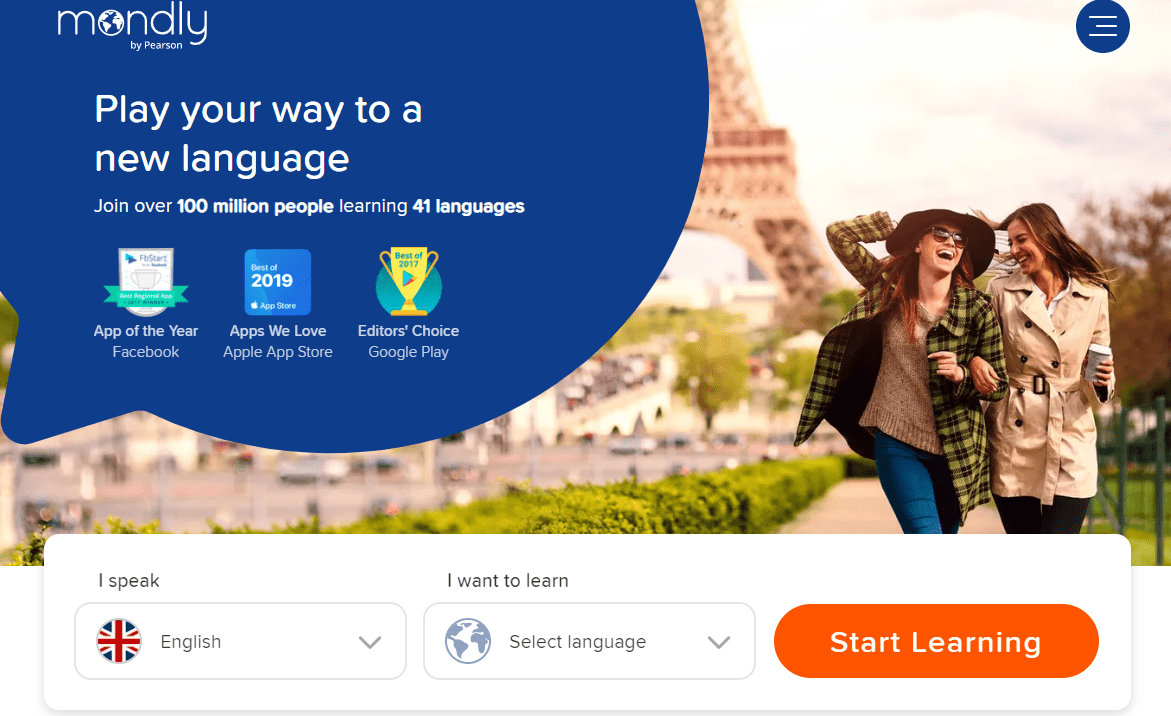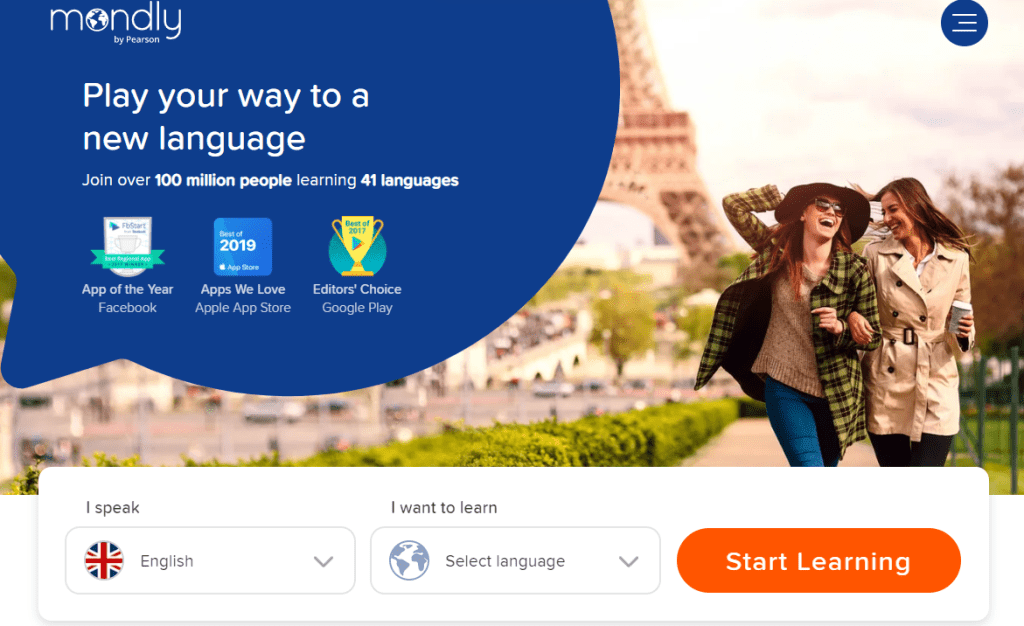 Mondly is perhaps the most innovative language app out there with its virtual and augmented reality games. Not to say that the audio lessons of KoreanClass101 aren't engaging, but Mondly is on another level when motivating students to learn. Find more information in our review of Mondly.
KoreanClass101 vs Lingopie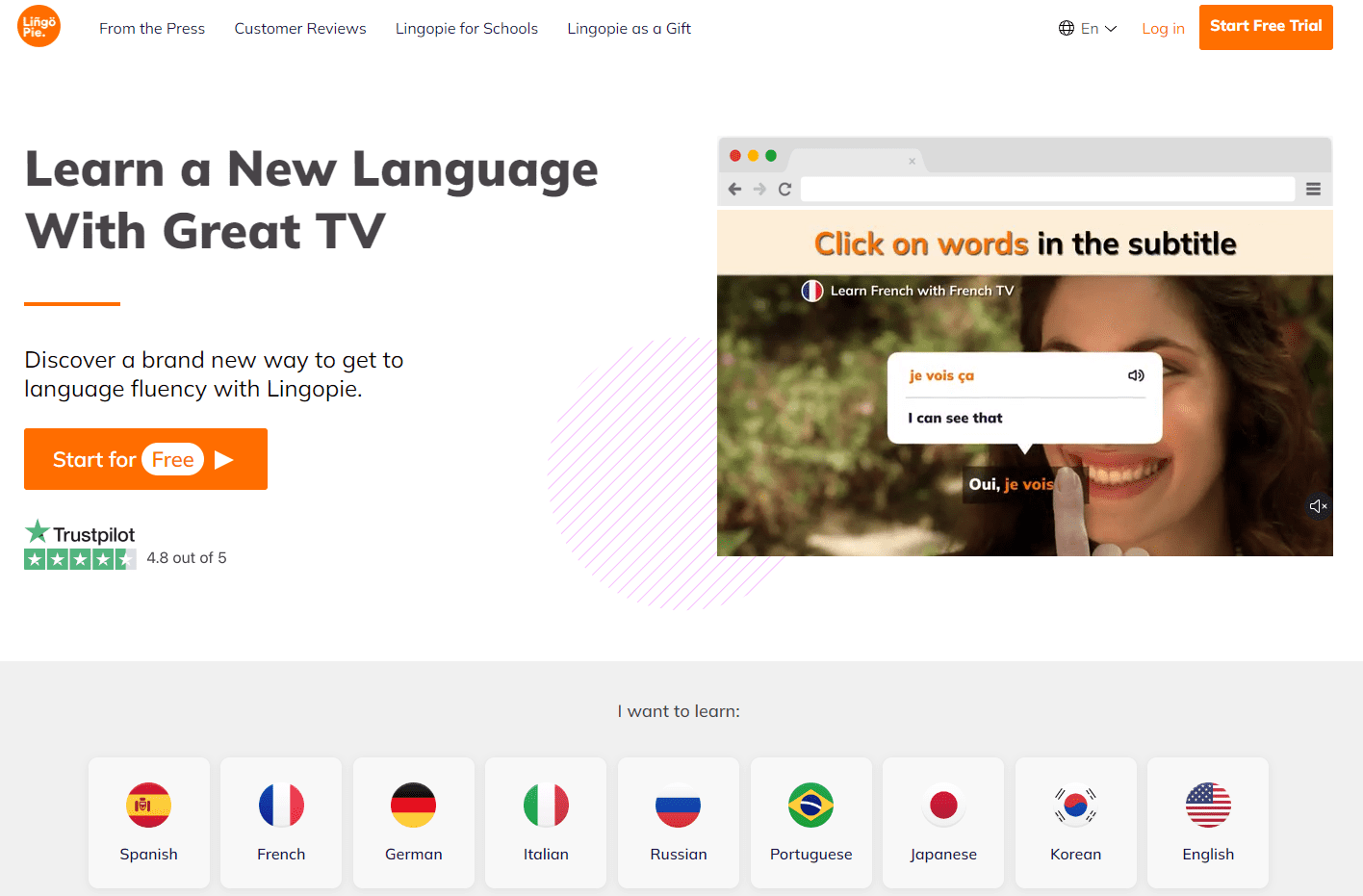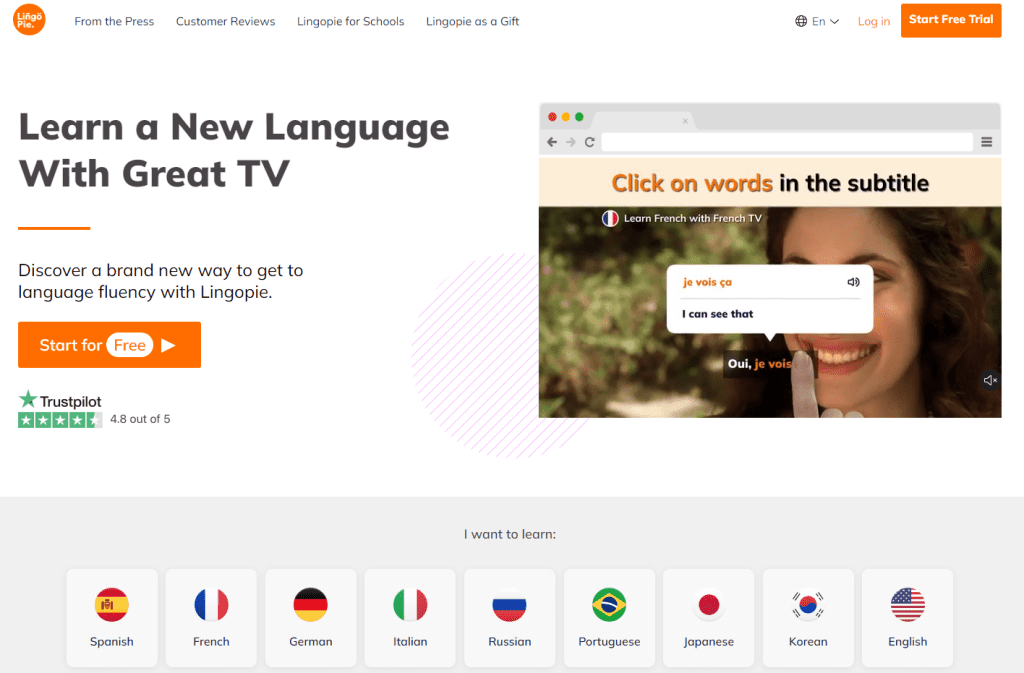 Lingopie gives you a chance to effortlessly learn a language by binge-watching TV. It's nothing like podcasts of KoreanClass101 or traditional language classes. If you are more engaged by visual cues and reading subtitles, learn more about it in our Lingopie review.
What Areas Require Enhancement?
KoreanClass101 is an excellent learning option, but some areas require improvement to make it the best Korean language learning app.
Lack of verbal practice resources, like a speech recognition system. It would be an excellent addition to the platform so that learners don't rely on their own subjective analysis to grade their progress in learning new words in Korean.
Another downside is that learners have to use the English language as the only method of instruction. It's a great inconvenience for Korean learners who may wish to learn Korean using their native language. Also, using the Korean language more would help with immersion and expand the Korean dictionary of learners faster.
KoreanClass101 Price
You can access KoreanClass 101 with a free account. However, to access more resources, you can purchase a premium subscription. Depending on the level of paid subscriptions you need, the price can range between $4.00 and $14.00 per month.
KoreanClass101 offers the following prices for the four types of subscriptions it has.
| | | |
| --- | --- | --- |
| Subscription | Price | Payment |
| Free | Free | Free |
| Basic | $4 | Charged Monthly |
| Premium | $10 | Charged Monthly |
| Premium Plus | $23 | Charged Monthly |
Free Trial
KoreanClass101 offers a 7-day free trial. Here you can access the premium subscription features and content during the free trial. Other features in the free trial include new lessons every week, more than 50 lessons on survival phrases course, free first three lessons in every pathway, and more than 100 lists of common Korean grammar and vocabulary words.
KoreanClass101 Coupons and Discounts
Email newsletter subscribers get coupons and discounts if they opt for premium subscriptions and premium plus subscriptions. Also, You can get a discount code to activate your KoreanClass101 lifetime account. Currently, there is a 40% discount offer on premium and premium plus subscriptions.
Refund Policy & Customer Support
If you're not content with your lessons, you can get a refund on all your KoreanClass101 plans. You can email customer service within 60 days to request a refund.
Customer support will get back to you within one business day so you can begin your money refund process promptly.
The KoreanClass101 app has a friendly and helpful support team for users. They assist you with any concerns, comments, or questions. However, before doing that, Innovative Language Company urges users to seek help from resources in the help center, which includes a list of FAQs.
KoreanClass101 Is it a Good Investment?
KoreanClass101 focuses more on teaching new words and helping with listening skills. However, other apps like Pimsleur, Drops, and Memrise emphasize speaking more, making it quicker to learn Korean vocabulary.
KoreanClass101 may be full of video and audio lessons but it lacks that fun and exciting vibe we get from gamified apps like Babbel or Duolingo. Also, the free access has limited lessons, while other apps provide more free content.
Generally, compared with other language learning courses, KoreanClass101 is a good option for a complete beginner that is an auditory learner or an intermediary that wants to start. Its levels have consistent topics at the beginner levels and progress gradually with the level of the learner. It's all thanks to the lesson pathways feature that improves and structures the whole lesson content and quality.
KoreanClass101 Ratings From Customers
Google Play Store – 4.5 (1M+ Downloads)

Apple App Store – 4.7 (30.6K ratings)
Our Verdict
KoreanClass101 teaches all the basics, from absolute beginner lessons to an advanced level. It's unique because of the thousands of video and audio lessons that give you new lesson material every week. You also enjoy new free Korean lessons daily, including a free Korean word of the day.