Learning Hindi as a foreign language can yield many benefits. Be it for fun or professional purposes, Hindi can open many opportunities. The language has one of the biggest native speaker counts, with over 500 million people who speak Hindi since childhood. The number of foreigners who learn Hindi is also growing.
However, like any other new language, learning Hindi can also be demanding. It is without forgetting the numerous lessons available online, which make it harder to know which Hindi course is worth the money.
The best platforms to learn Hindi are based on video lesson style. For this reason, we have written this comprehensive HindiPod101 review with everything you need to know about the number one Hindi course based on audio and video lessons.
An Immersive Language Learning Platform for Hindi
HindiPod101 is a Language Learning platform that focuses on listening comprehension and a learn-at-your-own-pace motor. Through its unique approach, HindiPod101 simplified the spoken language learning process by leveraging the phonetic nature of Hindi. Through audio and video lessons, HindiPod101 allows you to develop a connection between written and spoken language.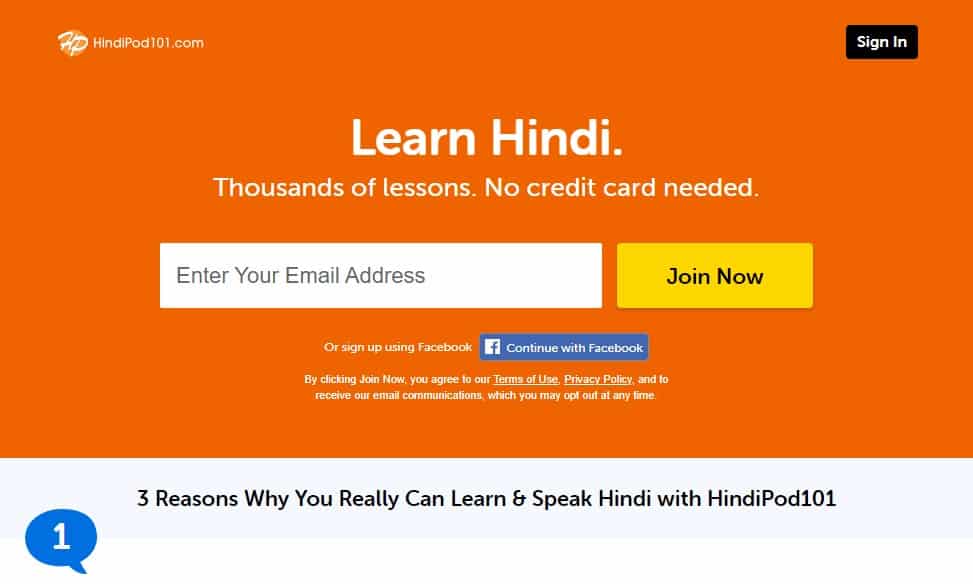 HindiPod101 Review Summary
⭐ Rating:
8.7

★★★★★

🥇 Available languages:
34
📈 Suits best for:
Intermediates
🛒 Payment options:
Monthly
💵 Price:
$4 – $552
⌚ Hours of lesson time:
345+
🔄 Refund policy:
60-day money back guarantee
🎁 Free Trial:
✔️
Besides Hindi language, Hindi POD 101 offers other languages, including Afrikaans, Arabic, Bulgarian, Cantonese, Chinese, Cezch, Danish, Dutch, English, Filipino, Finnish, French, German, Greek, Hebrew, Hungarian, Indonesian, Italian, Japanese, Korean, Norwegian, Persian, Polish, Portuguese, Romanian, Russian, Spanish, Swahili, Swedish, Thai, Turkish, Urdu, Vietnamese.
Disclaimer: Lingomee is an independent review site that may benefit from affiliate programs. Buying through our links makes our efforts possible without additional costs to you. Learn more here.
A Brief Overview of HindiPod101
You will use the 7-day free trial version when you start the audio course. This version provides access to most features and does not require credit card details. The platform offers both video lessons and audio lessons for all learners, from the absolute beginner to the advanced learners. 
HindiPod101 ensures personalized learning by assessing your Hindi language proficiency level through a Placement Test. Once this is done, you will get lessons designed for your proficiency level. These audio and video lessons are taught by native speaker of Hindi, immersing you in the language and culture through Immersive Learning.
With this approach, you learn directly from the Hindi native speakers, enabling you to experience the most authentic and engaging way of language acquisition.  Additionally, Hindi Pod101 also houses extensive grammar bank, an example sentence for each lesson, and multiple phrase lists.
The only limitation is that more content materials exist for an absolute beginner and intermediate. Advanced learners require additional resources or a different language learning platform. In addition, compared to other languages on the Innovative Learning platform, Hindi has fewer content materials, and a long-term premium subscription would not provide value for money. But if you are only starting our, than this program is the best app to learn Hindi language fast.
HindiPod101: Primary Features
HindiPod101 has many features, from the word bank, and Pathways to pdf lesson notes, dialogues, vocabulary lists, and grammar bank. These features provide a comprehensive learning experience, allowing you to learn Hindi in different formats.
You can listen to an audio lesson as you follow through with a transcript, listen to a native speaker's dialogue, do more in-depth learning with the lesson notes, and use the vocabulary words to learn common Hindi words and phrases.
Lesson Pathways
HindiPod101 review offers personalized learning through Pathways. These lesson Pathways are designed to suit your learning level. You will get a learning Pathway specific to your level if you are an intermediate learner.
Hindi Pod101 has an extensive library comprising more than 1370 audio and video lessons across over 100 pathways, providing various resources. You can customize your learning by changing lesson pathways to suit your needs. With the ability to easily change your proficiency level and filter the lessons library by level, media type, and category, you can focus on what interests you the most. 
Native Speaker Dialogues
With the Hindi Dialogue feature, you can listen to Hindi native speakers converse. This feature provides a  line-by-line audio function that allows you to listen to native speaker audio and read each line of the audio dialogue simultaneously. The dialogues are offered in Hindi and English to give you a good grasp of what is being said. If you want to have real dialogue with native speakers, than you should take a look at Preply app.
Furthermore, you can record yourself speak Hindi words used in the lessons and compare your pronunciation to that of the native speakers and improve your Hindi speaking skills. However, no voice recognition feature somewhat undermines the effectiveness of the learning process. There is no instant feedback on your Hindi pronunciation found on other language learning apps.
Vocabulary Lists
Hindi Pod101 reinforces learning through helpful features such as vocabulary lists. The vocabulary lists provide a focused study aid, enabling you to review the essential words and phrases used in the lessons.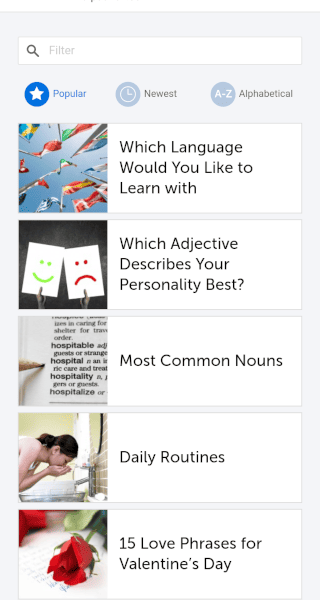 To enhance your understanding and comprehension of Hindi, you can repeatedly listen to the audio lesson while referring to the vocabulary words. Through this repetition, you can familiarize yourself with the words used in the lesson and improve your Hindi listening skills. 
Lesson Notes
Once you have listened to the audio lessons and dialogues and read the vocabulary, you can enhance your learning by referring to the comprehensive lesson notes available on Hindi Pod101. These notes are an in-depth review of the audio and video lessons and provide information.  
These notes contain a full Hindi, English, and Romanization dialogue transcript. They also provide the key vocabulary, sample sentences, grammatical explanations, and cultural insights for a well-rounded understanding of the lesson content.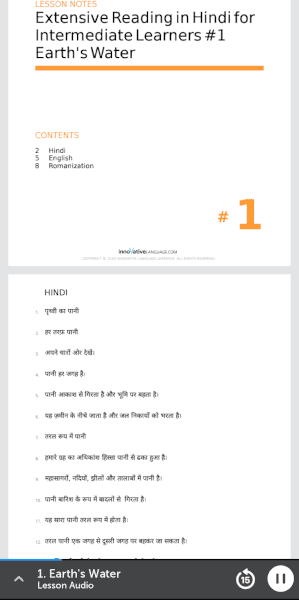 The Hindi notes are presented clearly and concisely with proper labeling to facilitate easy reading and navigation. In addition to the notes, Hindi Pod101 offers other features, including flashcards, a grammar bank, and a dictionary—all these work together to thoroughly understand the Hindi language and culture.
Excellence of The Learning Material
HindiPod101 offers hundreds of podcast-style lessons covering various topics such as culture, social situations, and business. The learning material also has thematic vocabulary, grammatical explanations, key vocabulary guides and tips, cultural insights, and dialogues. The cultural insights combined with other audio and video lessons focusing on the Hindi culture ensure immersive learning of the Hindi-speaking people.
With HindiPod101, you are not stuck at one level. You can efficiently utilize resources designated for other language-level learners. For example, suppose you are a beginner in writing but intermediate in speaking Hindi. In that case, you can always use intermediate-level resources to improve your speaking skills and beginner materials for your Hindi writing skills.
There's also the option for one-on-one learning with a Hindi teacher who can create a customized learning path for you and provide personalized feedback. However, this option is only available on the Premium PLUS paid subscription; a clear disadvantage is you are using other subscriptions.
Grammar Instruction
The HindiPod101 review offers solid grammar instructions. These are presented through clear explanations, grammar rules, and an example sentence to help you grasp Hindi grammar concepts effectively. However, the limited supply of interactive activities for practicing grammatical explanations can be a significant limitation.  
Verbal Practice
With HindiPod101, you will have a fair amount of practice speaking tasks to help improve your Hindi speaking skills. The dialogues, flashcard decks, and audio lessons allow you to listen to native speakers pronounce Hindi words and phrases.
You can then record yourself saying the words and compare your Hindi pronunciation to the natives. However, this exercise would be more effective if you could practice speaking with a voice recognition feature unavailable on HindiPod101. 
Reading
HindiPod101 offers various reading tasks and materials through text, grammar point, the latest news, and lesson notes accompanied by translations to help you understand written Hindi. However, for advanced learners, there's a need for additional resources that offer more diverse and engaging reading practice to help them stay motivated.  
Writing
HindPod101 new lessons provide writing prompts and examples that guide you in practicing sentence formation, structure, and key vocabulary use. You are provided with a set of new words and phrases from which you can form complete sentences. If you are using the Premium Plus subscription, you can work with a Hindi teacher who will provide feedback on your hand-graded assessments. 
Vocabulary
There's an extensive vocabulary list on HindiPod101. The vast list covers various topics, such as making small talk. There are also audio recordings for each lesson, enabling you to listen to and repeat the words used for easier memorization. In addition, the flashcard decks' vocabulary review features reinforce and expand vocabulary knowledge. If you prefer building vocabulary with flashcards, than Mango Languages is another great app for that.
Repetitiveness
Finally, the platform uses space repetition throughout the learning course. In areas such as language flashcard decks, this technique ensures words are displayed at a fixed interval for easier comprehension.
However, the innovative languages platform may become repetitive and predictable, making the learning process monotonous. Introducing more interactive activities or gamification can help keep users motivated and make the learning experience more sustained.
HindiPod101 Accessibility
HindiPod101 user interface (UI) is highly responsive in delivering a seamless and engaging language learning experience. This responsiveness is seamless across different devices, so whether you are accessing it on a smartphone, desktop, or tablet, the UI adapts seamlessly to different screen sizes, ensuring a consistent user experience.
The mobile and browser versions have an intuitive layout allowing you to navigate the learning tools quickly. The menu is well organized and provides quick access to essential sections such as the vocabulary lists, lessons, and progress tracking.
The platform also boosts a visually appealing and consistent visual design that aligns with the Innovative languages brand's theme. It uses vibrant colors that offer good contrast making it easy to read new words without straining.
The mobile apps and browser versions host interactive elements where you can engage with interactive quizzes, flashcards, and exercises in lessons. These promote active learning and reinforce your newly acquired language skills. In addition, you can easily transition between online and offline learning by downloading the same language lessons, learning tools, and study materials for offline access.
HindiPod101 Competitors and Alternatives
HindiPod101 vs Tandem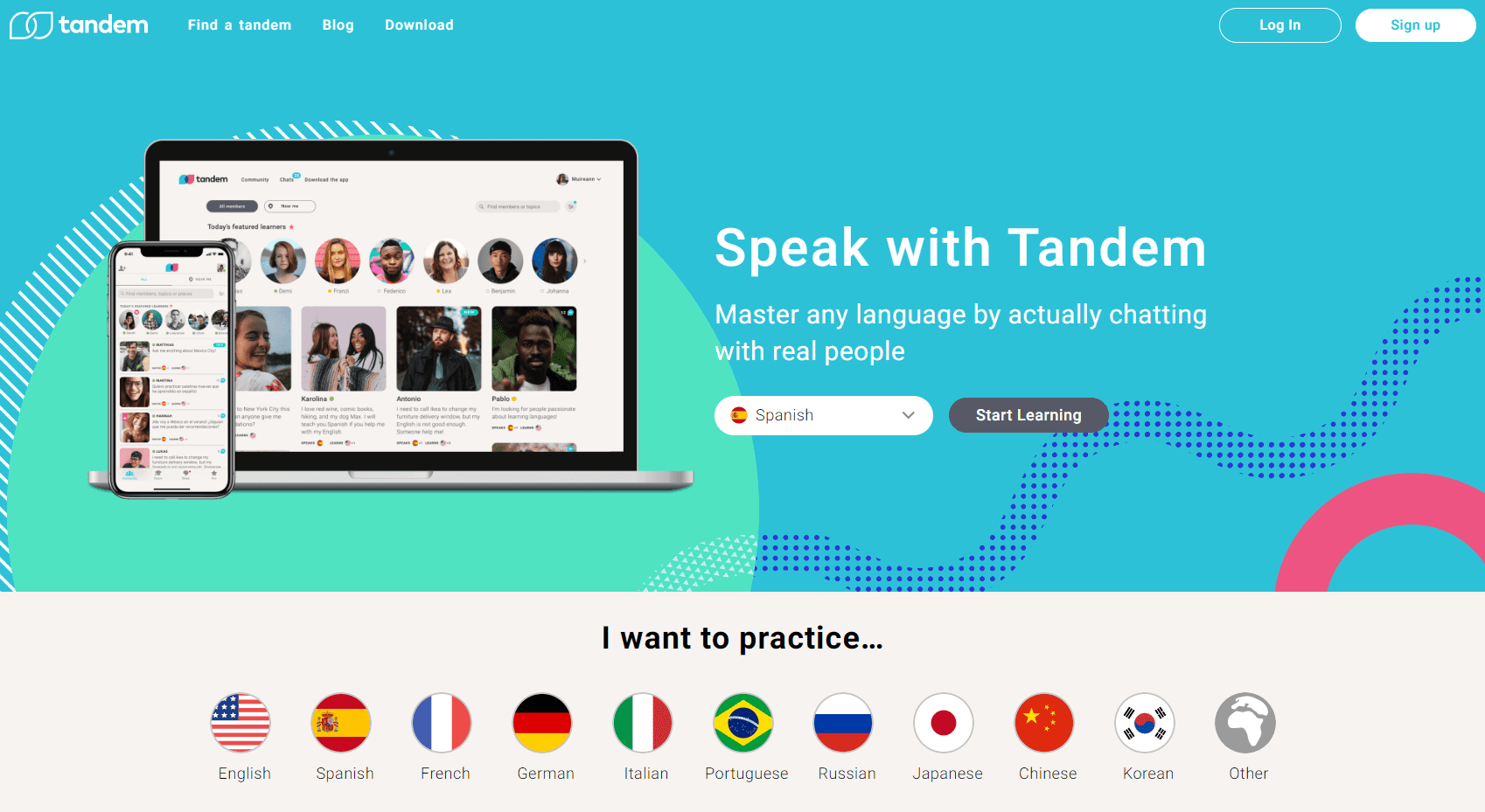 Tandem resembles a dating app, but instead of finding a lover, you find a language exchange partner. It means that you already need to know some language basics. HindiPod101 is a great audio-based start to build such foundations. Learn more about it in this in-depth review of Tandem app.
HindiPod101 vs italki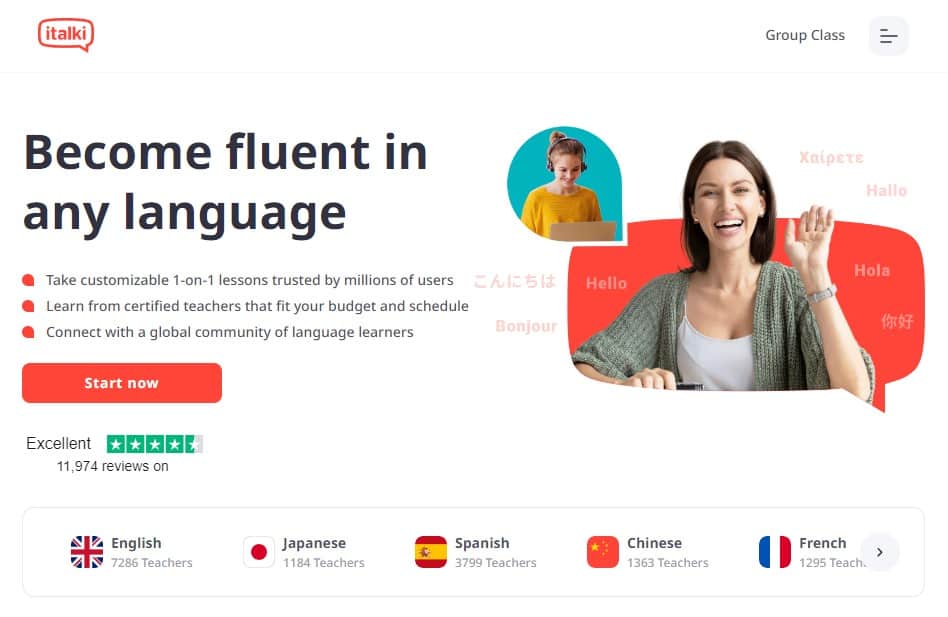 italki is perhaps the most popular platform for finding an online language tutor. It has thousands of teachers and a convenient user interface for this purpose. HindiPod101 also provides an option for getting personalized tutoring, but it's just an extra feature. Find more information in our review of italki.
HindiPod101 vs Verbling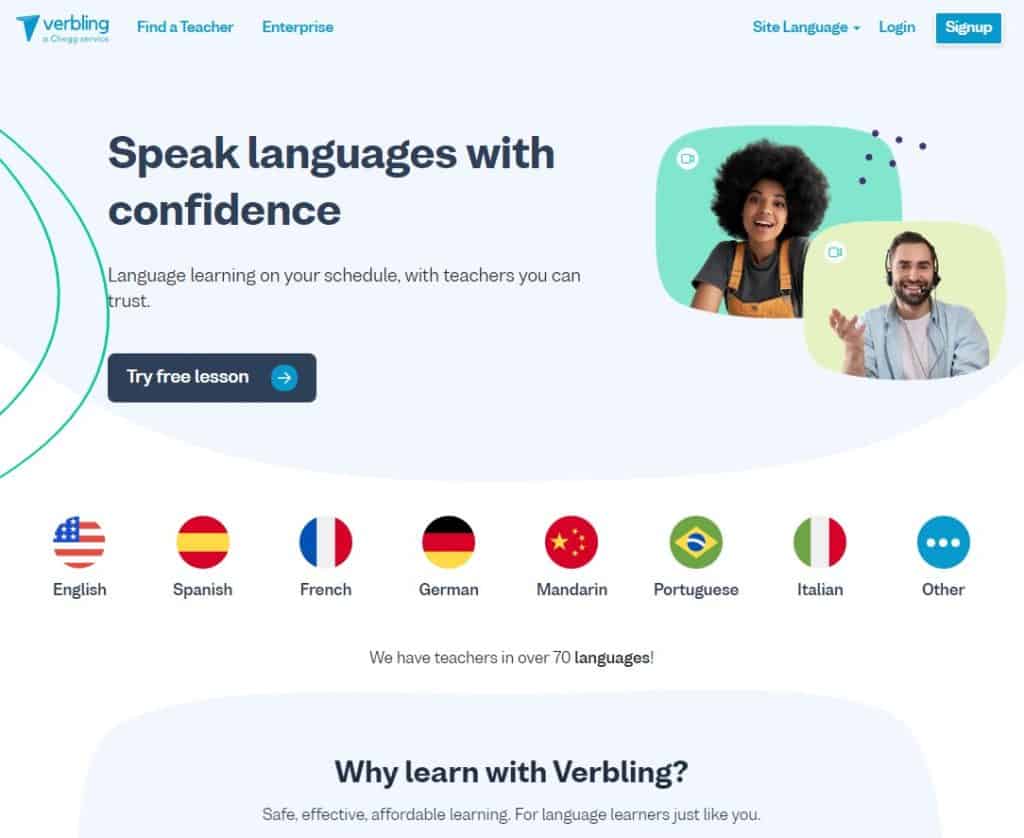 Verbling is another platform for finding online tutors. It tests its teachers but leaves them room to build a personalized curriculum. It's a good idea to build your proficiency with HindiPod101 and then jump into platforms like Verbling. Learn more about it in this Verbling review.
HindiPod101 vs Rocket Hindi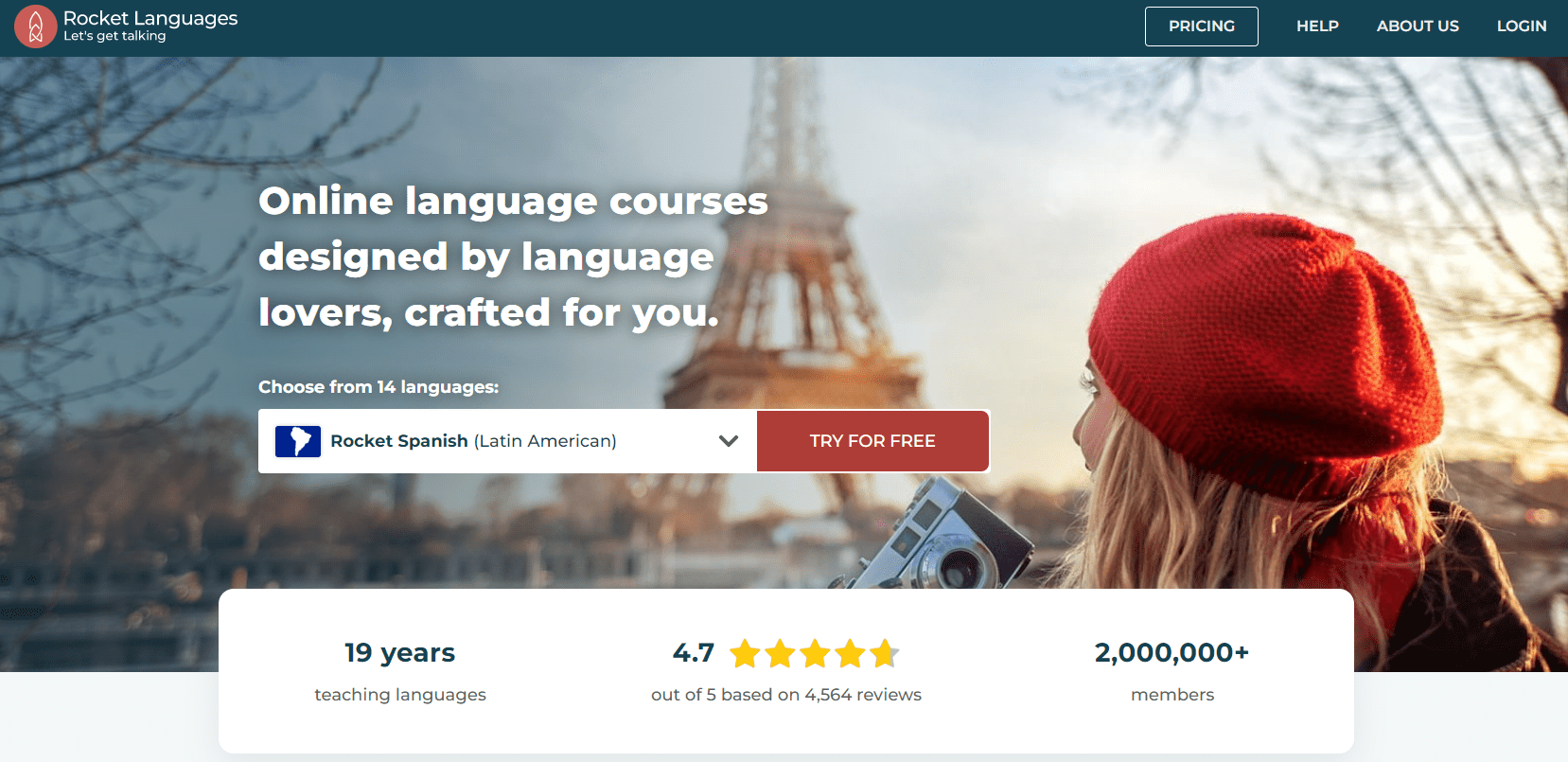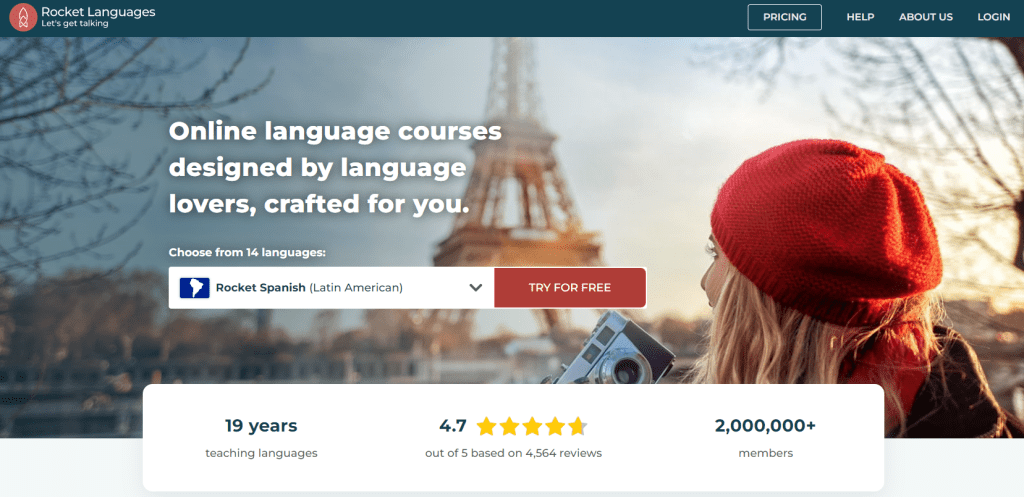 Rocket Hindi focuses on interactive audio lessons with cultural insights and grammar resources. In comparison, HindiPod101 resembles podcasts a bit more and has a simpler design. Although a bit more expensive, Rocket Hindi might be a better option for you. Find more information in this Rocket Hindi review.
What Areas Require Enhancement?
While Hindi Pod101 has several strengths, its fair amount of weak points could benefit from improvement.
For one, the overall feel of the app can be 'old school.' This can be improved by updating the app's visual elements, including the color schemes and extra features, reassessing the interface elements of lessons, such as the design of menus, and introducing subtle animations and transitions throughout the mobile apps. 
Secondly, the app could benefit from decluttering specific sections, such as the lessons pages, by removing unnecessary elements distracting language learners from the core content. By grouping related elements, such as vocabulary words for related Hindi words and phrases, learners can quickly find the specific items they want to study without feeling overwhelmed by an extensive list.
Thirdly, the mobile app's discoverability is highly difficult. The app is not called Hindi Pod101 but Innovative Learning on Play Store and App Store. Enhancing the app's discoverability through improved search engine optimization can ensure that interested language learners can quickly locate and access the app.
HindiPod101 Price
HindiPod101 review offers different plans and subscription options. The plans include a free lifetime account and Basic, Premium, and Premium PLUS accounts. The pricing for each plan differs based on subscription duration with options such as monthly subscriptions, yearly, and lifetime access. Currently, lifetime access is only available on the Basic subscription plan. 
In addition, it is worth noting that the HindiPod101 review offers distinct pricing options for its browser version and mobile app. While both versions provide access to the same features and resources, the browser version often offers a better deal in terms of pricing.  
That said, the pricing for each plan and duration is as follows:
| | | |
| --- | --- | --- |
| Subscription | Price | Payment |
| Basic 1-month | $8 | Charged monthly |
| Basic 3-months | $21 | Charged quarterly |
| Basic 6-months | $36 | Charge every six months |
| Basic 12-months | $60 | Charged annually |
| Basic 24-months | $84 | Charged every two years |
| Premium 1-month | $25 | Charged monthly |
| Premium 3-months | $66 | Charged quarterly |
| Premium 6-months | $120 | Charge every six months |
| Premium 12-months | $180 | Charged annually |
| Premium 24-months | $209 | Charged every two year |
| Premium PLUS 1-month | $47 | Charged Monthly |
| Premium PLUS 3-months | $125 | Charged quarterly |
| Premium PLUS 6-months | $220 | Charge every six months |
| Premium PLUS 12-months | $316 | Charged annually |
| Premium PLUS 24-months | $399 | Charged every two years |
| Basic lifetime | $260 | One Charge of $260 |
The Basic paid subscription offers limited access to lessons and learning tools, while the full Premium plan paid subscription provides access to more features and content materials, including lessons, vocabulary, and exercises. The Premium PLUS plan includes additional features such as one-on-one tutoring, personalized learning tools, guidance, and feedback.
Free Trial
HindiPod101 review offers a 7-day free trial when you first sign up. Here, you only need to enter a working email address and password. This trial allows you to access most features and Hindi learning material to test the app. Afterward, you can use the free lifetime account with limited but free resources or upgrade to a paid plan (better than Duolingo). 
HindiPod101 Coupons and Discounts
Innovative Language Learning occasionally offers discounts and coupons. These can range from 10%-50% off the regular pricing. Currently, a coupon code offer on the browser version of Hindi Pod101 allows language learners to save 65%. An extra 13% discount is available for the 24-month Basic and Premium plan subscriptions and a 27% discount for the 24-month Premium Plus subscription. 
Refund Policy & Customer Service
HindiPod101 review offers a 60-day money-back guarantee. Here, you can email the support team and provide your account details and reasons for the refund request. Once done, your request will proceed within 5-7 business days.
HindiPod101 review offers limited support through email only. There is no live chat or phone support. Email response time is 24-48 hours, which can be long for language learners with urgent cases. Nevertheless, the platform has a blog, FAQ section, and a Hindi community forum, which offer additional support for troubleshooting common issues.
Is it a Good Investment?
Some of the top competitors of Hindi Pod101 are Rosetta Stone and Babbel. While all are valuable resources that focus on listening comprehension, Hindi Pod101 has an extensive library lesson, dialogues, cultural insights, and vocabulary.
However, some competitors, such as Babbel, have an advantage regarding pricing flexibility. This is because Babbel offers more flexible pricing plans that cater to different budgets and learning goals. Similarly, Rosetta Stone provides various subscription options with competitive pricing. 
HindiPod101 Ratings From Customers
Google Play Store – 4.7 (1M+ downloads)

Apple App Store – 4.7 (30.6K ratings)
Final Words
Overall, Hindipod101 is an excellent language-learning tool. Focusing on immersive learning and listening comprehension through podcast-style lessons allows you to improve your Hindi language skills. The platform also boasts a good user experience with the mobile and browser versions, allowing you to learn what interests you at your own pace.