With 1.3 billion native speakers, Chinese is the world's most widely used mother tongue. Learning to speak Chinese is one of the most important language skills that can open you up to more social and economic opportunities.
But Chinese grammar, writing system, and pronunciation styles make it challenging for non-natives to learn. The ChineseClass101 language app eliminates this obstacle by being beginner friendly.
It has a well-structured lesson plan covering reading, listening comprehension, and writing Chinese step by step. The native Chinese speakers in the app also spend time explaining the grammar and complexities of the Chinese language to learners.
In this ChineseClass101 review, we'll cover everything you need to know about this tool, and it is friendly to new learners.
Podcast lessons to make it easier to learn Chinese basics
The ChineseClass101 delivers podcast-style audio lessons in 30 minutes through a specific easy-to-follow structure for learning Chinese. It starts with a lesson dialogue, key vocabulary and phrases, grammar points, and insights into Chinese culture. You can rely on ChineseClass101 to learn Chinese.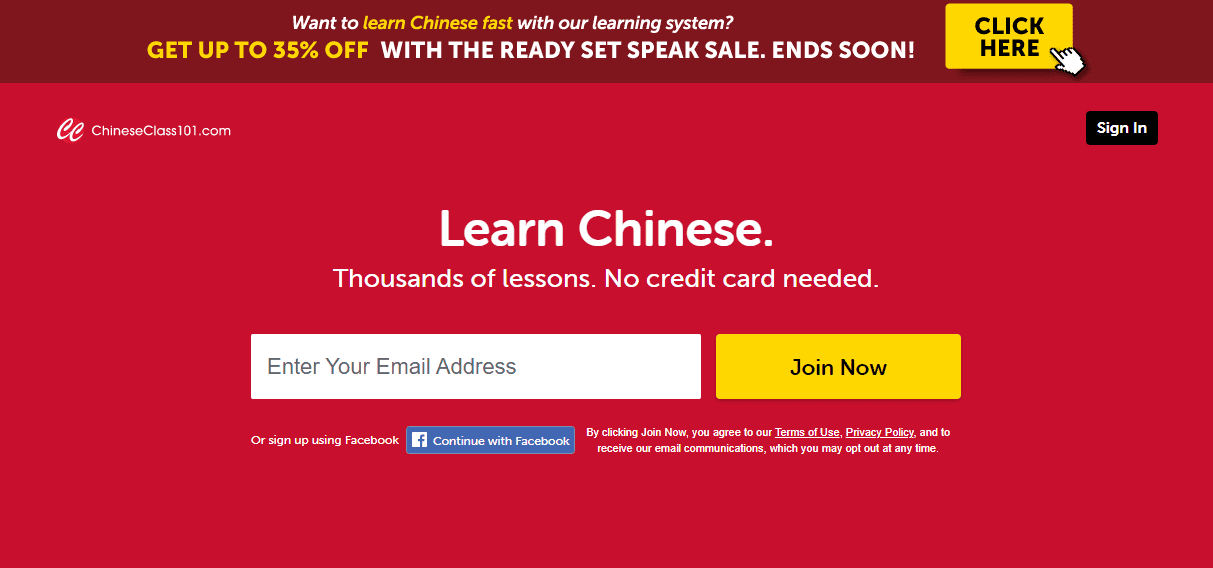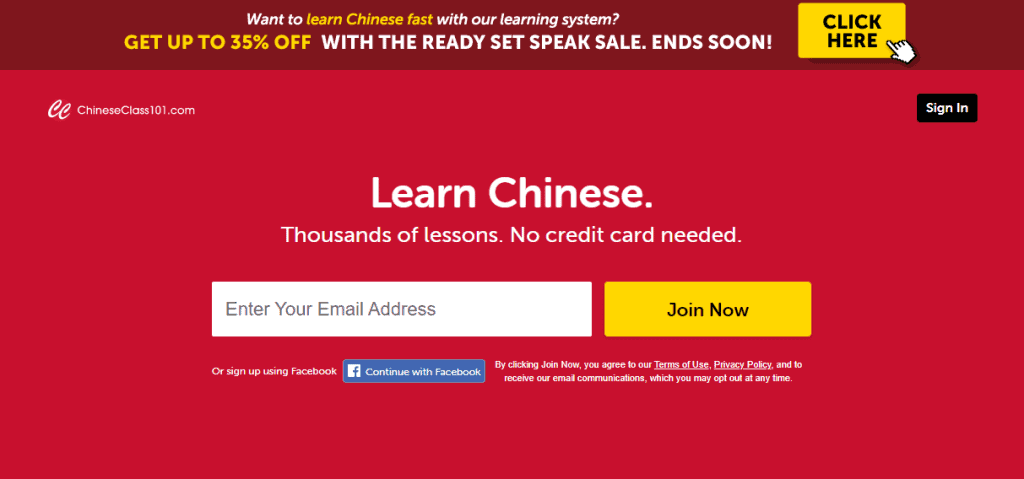 ChineseClass101 Review Summary
⭐ Rating:
8.7

★★★★★

🥇 Available languages:
1
📈 Suits best for:
Intermediates
🛒 Payment options:
Monthly
💵 Price:
$4 – $552
⌚ Hours of lesson time:
345+
🔄 Refund policy:
60-day money back guarantee
🎁 Free Trial:
✔️
Besides Chinese, Language POD 101 includes Afrikaans, Arabic, Bulgarian, Cantonese, Cezch, Danish, Dutch, English, Filipino, Finnish, French, German, Greek, Hebrew, Hindi, Hungarian, Indonesian, Italian, Japanese, Korean, Norwegian, Persian, Polish, Portuguese, Romanian, Russian, Spanish, Swahili, Swedish, Thai, Turkish, Urdu, Vietnamese.
Disclaimer: Lingomee is an independent review site that may benefit from affiliate programs. Buying through our links makes our efforts possible without additional costs to you. Learn more here.
Quick Overview of ChineseClass101
ChineseClass101 is one of the language learning programs in the Innovative Language series. Due to Chinese prevalence in the world, Innovative Languages classifies it as one of the most important apps they created. Learners have been using it for almost 18 years, so you can be sure that the Mandarin Chinese language course is well-developed. Therefore we can call this program as the best app to learn Chinese (Mandarin) with audio lessons.
Generally, the app is user-friendly and first-time users don't struggle to kickstart their language learning journey. There's one challenge, though, intermediate students and advanced learners may struggle to set up for the first time. ChineseClass101 doesn't have a language placement test, so learners have to make speculation on their levels to receive level-appropriate lessons.
It's beneficial to an absolute beginner as he doesn't have to sit through lengthy tests at sign-up. However, advanced learners may benefit more from knowing at which level they should be learning Chinese.
Intermediate, upper intermediate, and advanced levels are usually the choice. But to be fair, the app briefly describes what each level entails to help with selection.
ChineseClass101 Main Features
ChineseClass101 has several features that aid in explaining hard-to-learn Chinese concepts in its language course.
For example, the Pathways feature breakdowns the coursework into audio and video lessons that follow a set plan for your level. The Lesson Notes feature provides material in a written format you can easily read and revise at your own pace and time.
The Dialogues feature helps better understand the meaning and use of Chinese words and phrases in a sentence. The Vocabulary feature helps learners understand Hanzi, the Mandarin Chinese alphabet.
Lesson Pathways
The Lesson Pathways feature adds objectivity to learning Chinese. Depending on the level that you set, you get a basic plan suited for you. The pathway also offers step-by-step audio and video lessons that break down language learning material into short easy-to-learn audio lessons.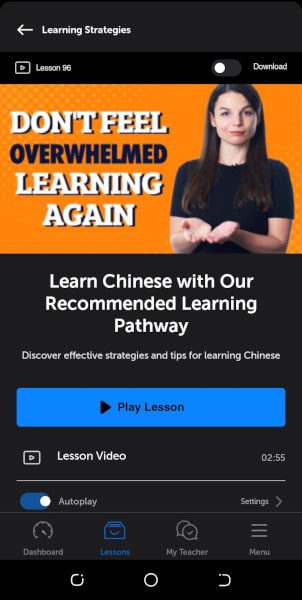 The feature eliminates the feeling of being overwhelmed that students often experience in beginner lessons with other language learning apps. The Lesson Pathways feature also makes it possible to progress from the absolute beginner to the upper intermediate or advanced level at your own pace.
Dialogues
Speech is an important aspect of language learning. Conversations happen in many scenarios, and the ChineseClass101 app captures a lot of key vocabulary for learning Mandarin Chinese. Sample sentences include ordering food, family, well-being, making complaints, talking on the phone, national holidays, etc.
The Dialogues feature helps in learning Chinese by providing short conversational phrases and explaining them. It also helps that the native speaker explains them slowly and takes time to describe the vocabulary word used to form a particular sentence.
We found that the Dialogues are important for improving listening skills and understanding of Chinese culture. Another great app to practice conversational dialogues is Mango Languages. If you prefer practicing with real native speakers, than italki, HelloTalk, or Preply are also great choices.
Vocabulary
New vocabulary is the first thing non-native speakers learn about a language. The Vocabulary feature in ChineseClass101 provides a list of 800 common words for learners to familiarize themselves with. You'll find the Chinese dictionary of new words in a series containing 40 lessons.
Learners get to listen to videos of Chinese instructors explaining how to use the new words and also giving the English equivalent. Spaced repetition flashcards are also available to help with remembering the lesson vocabulary. 
There's also a word bank that stores Chinese words from your completed audio lessons. The Word Bank vocabulary tool is ideal for practicing and remembering words you have forgotten.
Generally, we find the Vocabulary feature sufficient to meet the needs of an absolute beginner as they get plenty of new words to improve their vocabulary. You can also get a new traditional Chinese word daily with your free account.
Lesson Notes
ChineseClass101 provides Lesson Notes feature with every video and audio lesson. It includes a lesson transcript so you could review the materials you already went over with. The PDF Lesson Notes summarize the lesson content in a well-structured format.
It helps all kinds of Chinese learners to read and internalize the content at their own pace. Before engaging in audio or video lessons, you can view the notes to get an overview of what's to come.
We found that while the Lesson notes Feature is helpful for beginners, it's most advantageous to advanced learners who wish to know the grammar points of the Chinese language in more depth.
Lessons Quality
Even those that are not familiar with Chinese characters yet will find the ChineseClass101 course structure easy to follow. The structured lessons, notes and way of instruction by native speakers intorudce everything at a convenient pace.
The lessons are also very short, taking about 2 to 5 minutes. However, there are many of them, so it can take up to 345 hours to reach mastery of the Chinese Language.
The only place where we found the lesson content lacking was in speech practice. There is no speech recognition tool and the app focuses more on listening skills instead.
However, the app tries to compensate for this deficiency with a recording tool and the word bank. Learners have to compare and rate themselves with native speaker pronunciation.
Grammar Instruction
All levels of learners receive quality Chinese grammar instruction. For example, beginners get a series of lessons explaining the use of a majority of Chinese characters, sentence structure, word order and other parts of the Chinese language. Advanced learners can sharpen their grammar by removing articles like the, a and an, and plurals as they're non-existent in Chinese. Fore more grammar focused apps you could also try Babbel or Mondly.
Verbal Practice
The ChineseClass101 lacks a speech recognition tool which worsens the quality of how it teaches you to speak Chinese. However, it tries to compensate for this by offering a way to engage with native-speaker teachers in one-on-one sessions. The downside is that you must be subscribed to ChineseClass101's PremiumPLUS package, which is pricey.
Reading
Chinese learners have plenty of material to read, including sample sentences, lesson notes, and transcriptions. The convenience of reading PDF material while offline also adds to the efficiency of reading practice in ChineseClass101.
In some audio and video lessons, the instructors encourage you to read along and practice pronunciation of certain common words and must-know slang phrases. Subscribing to the PremiumPLUS package also allows you to practice reading with a native-speaking teacher who grades you on how well you read Chinese words in real-time.
Writing
The writing practice also scores low for this language-learning app. However, it may be due to the different Chinese writing system that don't follow the rules of other languages like English. In fact, Chinese is the only pictorial language still in use.
The ChineseClass101 tries to solve the lack of Chinese language skills for writing this downside with hand-graded writing assignments available through the My Teacher tool. Learners can also chat with their teacher using Hanzi, whereby their teacher grades them.
Vocabulary
We found that ChineseClass101 excels in providing plenty of new vocabulary for learners. From the common words that include a list of basic phrases to the word bank storage, vocabulary practice is plenty. If you wish, a new word is available daily for you to keep things interesting.
It also helps that the native Chinese speakers take their time explaining the meaning and use of vocabulary in certain settings.
Repetitiveness
Repetitiveness may cause a loss of motivation to continue learning, so the app incorporates podcast-style Chinese audio and video clips to keep lessons lively.
But even with a personalized learning program, ChineseClass101 has some repetition when learning words and vocabulary. However, ChineseClass101 tries to keep this to a minimum by constantly updating and refining its lesson content.
ChineseClass101 Review: Ease of Use
We found the sign-up easy and presented no major challenges. New users can sign up and set up their free account within minutes. On successful login, the ChineseClass101 redirects you to a dashboard, where you interact with it on a deeper scale.
The first impression is that the tabs are well positioned at the bottom of the screen to access different app features. The interface is a bit dull, but Innovative Language has managed to put some decent learner-friendly color contrast.
For example, the labels have blue, white and yellow labels. Text in the app is also easier to see, appearing in white color. However, the font size may not be ideal for some users.
Generally, the app offers an interface that isn't too colorful to draw away the learner's attention and not ore them.
Loading times are decent enough for podcast lessons, but the video lessons need more time to open up, slightly reducing the user experience.
ChineseClass101 Competitors and Alternatives
ChineseClass101 vs LingQ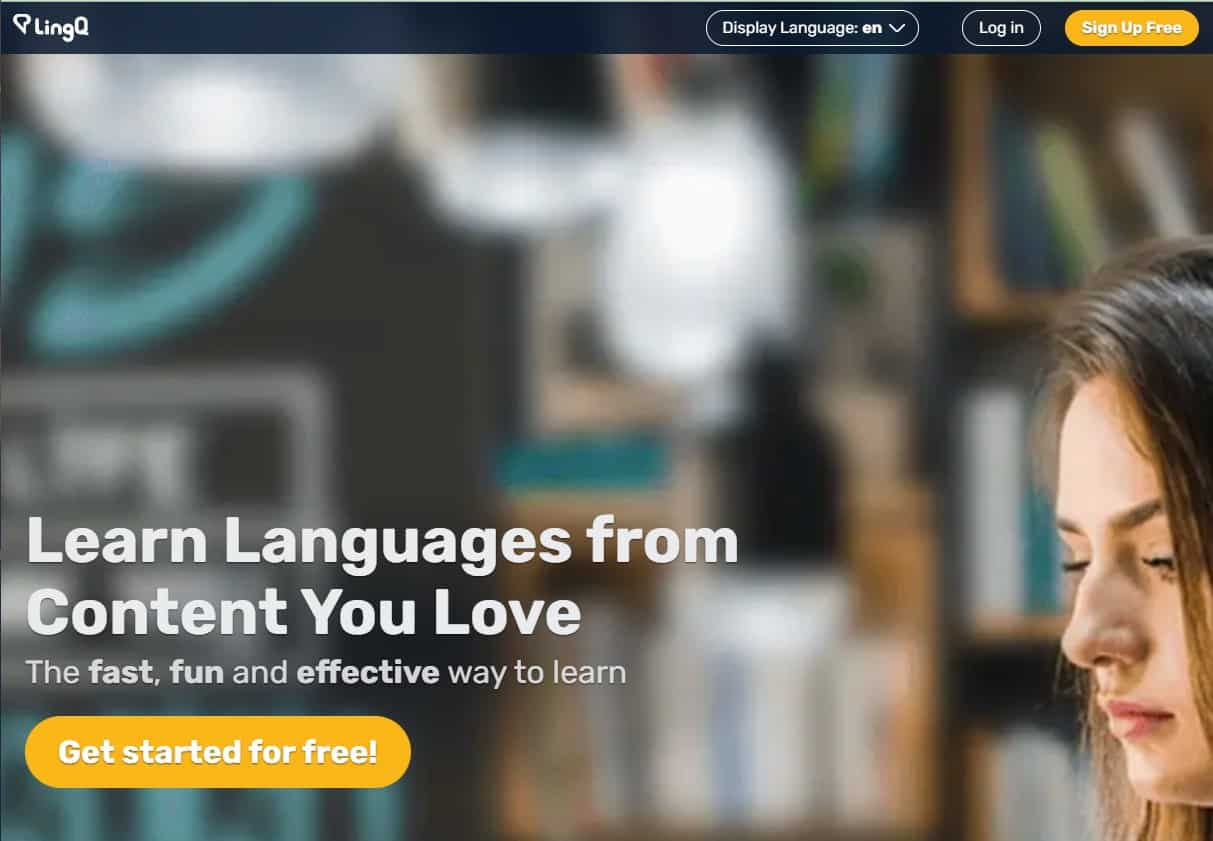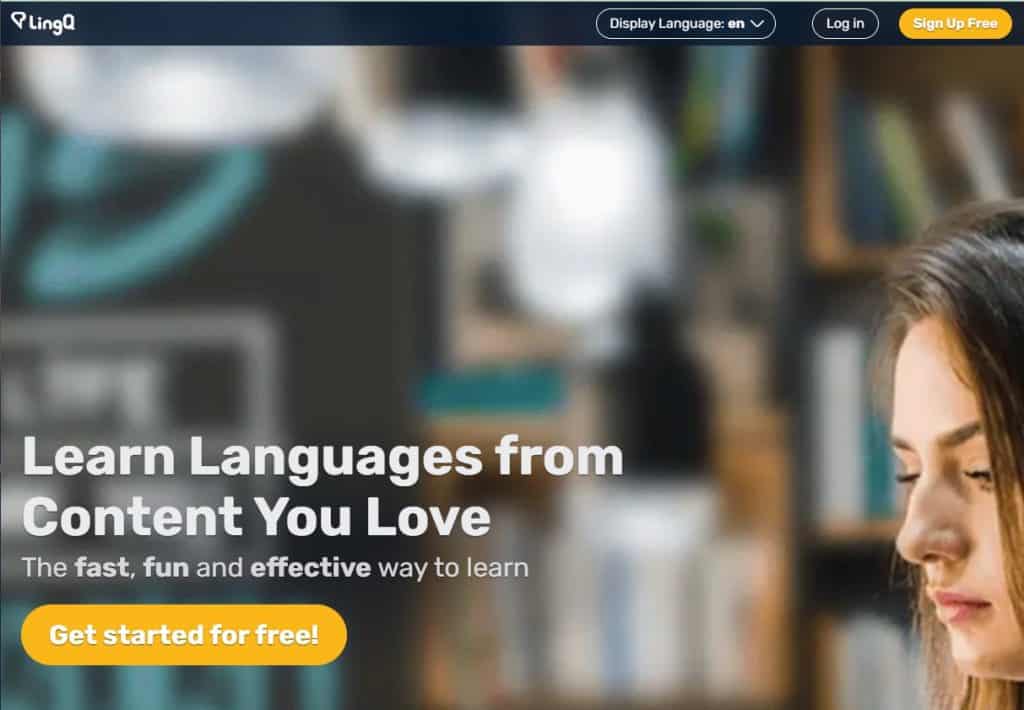 LingQ is based on full customization of your learning with plenty of video, audio, and textual materials. ChineseClass101 provides a more streamlined and audio-based curriculum, although it still adapts to your needs. If you are looking for a customizable experience, consider LingQ. Read full review of LingQ here.
ChineseClass101 vs FluentU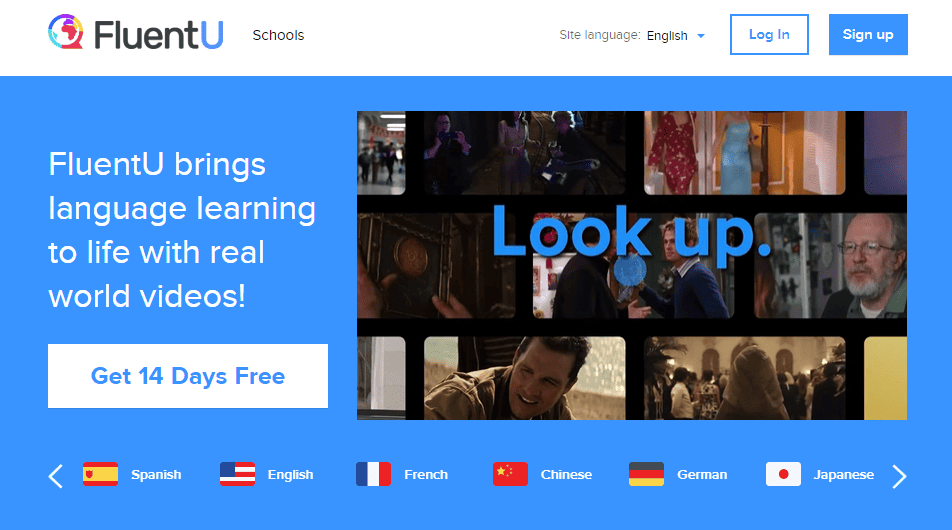 FluentU focuses on an immersive approach incorporating authentic video content from real-world sources. It provides interactive subtitles, vocabulary flashcards, quizzes, and more. It's a good alternative to ChineseClass101 if you think your learning style is more visual. You can read more about the program in our in-depth review of FluentU.
ChineseClass101 vs Drops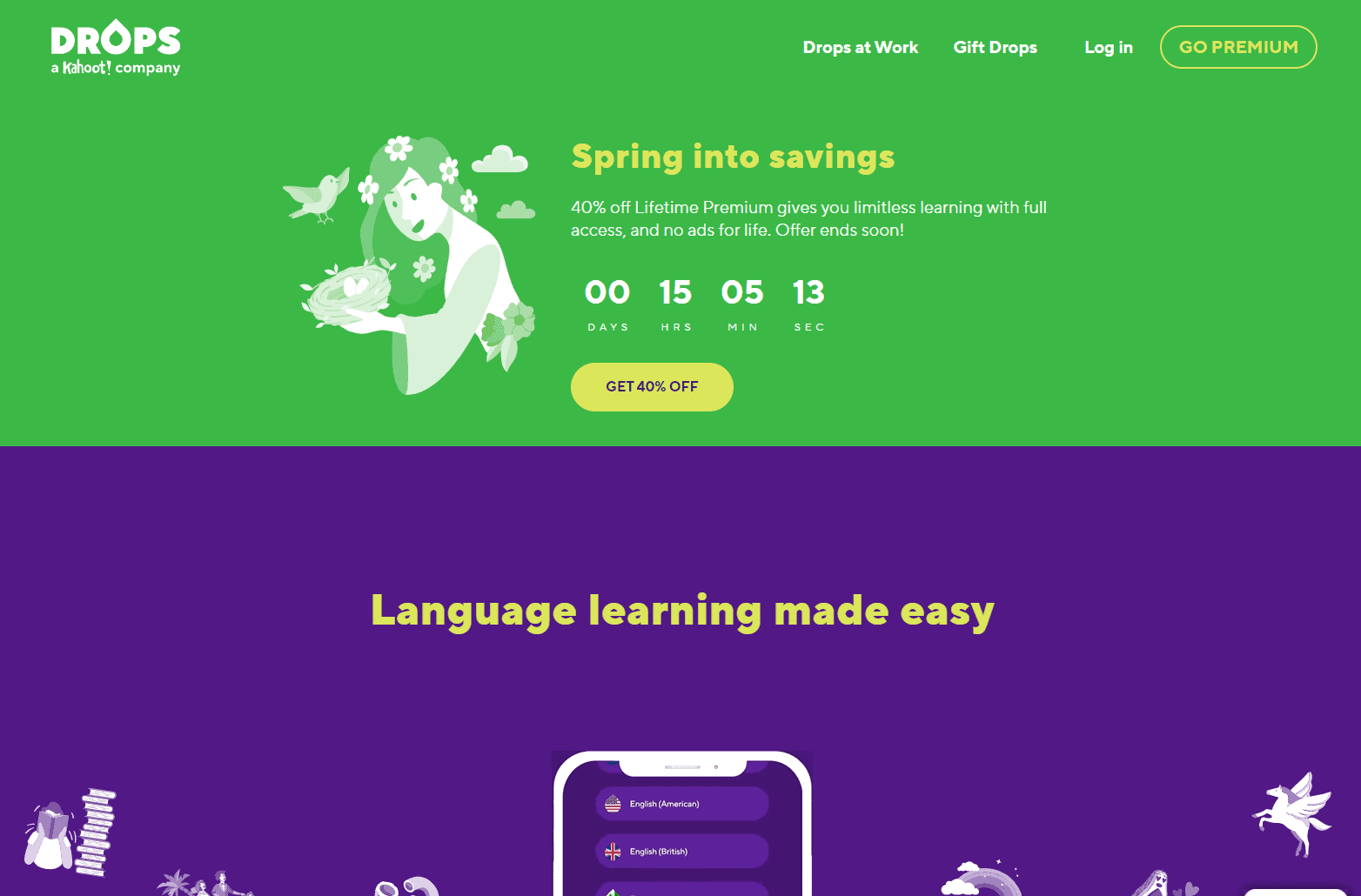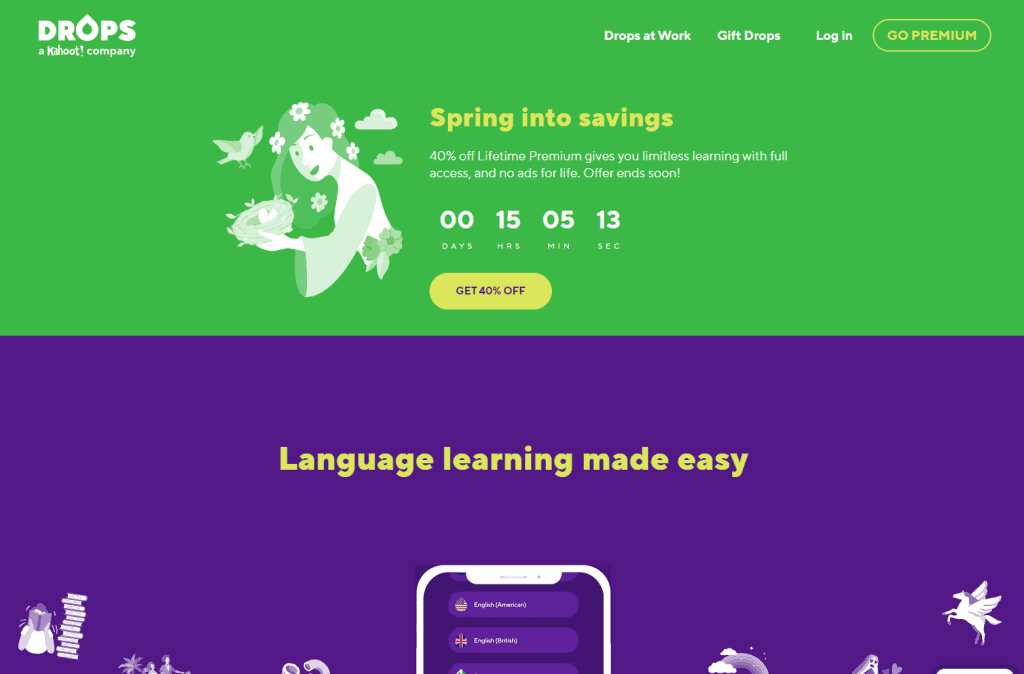 Drops is the best app to learn Chinese vocabulary. It has great memorization tools powered by AI and spaced repetition. While ChineseClass101 doesn't fall much behind in vocabulary acquisition, if learning new words is your main goal, consider Drops as an alternative. Learn more about it in our review of language Drops course.
What Could Be Improved?
ChineseClass101 should improve speaking practice instead of focusing only on possibilities to practice listening. Pronunciation is an important tool in language learning, especially when you learn Mandarin Chinese, as it is a tonal language. Incorporating a speech recognition technology would eliminate the system where you must rank yourself, rarely accurate. 
Another area to improve is on teaching Hanzi. The app has information on the Chinese writing system, but it's quite basic. It only talks about what Hanzi is and the two types available simple and traditional Chinese. 
Learners don't get to dwell deeply on learning Chinese characters, especially on how to write them. The only close way to have writing practice is by subscribing to the PremiumPlus package and interacting with a teacher one-on-one. It makes ChineseClass101 one of the most comprehensive study tools, but it's quite costly.
ChineseClass101 Pricing
Since ChineseClass101 only offers one language, pricing across all subscriptions is for one language. For a monthly subscription, you may pay between $4 for the basic subscription to $23 for the PremiumPLUS subscription. Yearly costs range from $48 for basic to $276 for PremiumPLUS. 
Unfortunately, there's no longer a payment plan other than the one-month subscription, which may inconvenience learners who wish to make long-term payments.
| | | |
| --- | --- | --- |
| Subscription | Price | Payment |
| Free | Free | Free |
| Basic | $4 | Charged Monthly |
| Premium | $10 | Charged Monthly |
| Premium Plus | $23 | Charged Monthly |
The Basic plan allows learners to access all lessons, not just the three provided with a free account. The Premium subscription gets you multiple choice assignments, line-by-line audio dialogue and spaced repetition flashcards.
The PremiumPlus gets learner features like one-on-one access to a teacher, hand-graded assignments and personalized assessment and guidance.
Free Trial
ChineseClass101 offers a grace period of 7 days, which you don't pay to use the app and the features of the Premium package. Other features you get with the free package include a survival phrases course, over 100 vocabulary list of the Chinese language, three lessons for free in every Pathway, and Chinese word of the day.
ChineseClass101 Coupons and Discounts
Innovative Language company may occasionally give subscription discounts running for months or weeks. The information is usually available in the app when there's a promotion. For example, there was a 40% discount on Premium and PremiumPLUS subscriptions when we wrote this ChineseClass101 review.
Refund Policy & Customer Support
The policy of  ChineseClass101 is 100% customer satisfaction or money back. It means that if you're not satisfied with the product for one reason or another, you're entitled to get a refund provided you request the money back within 60 days of making the subscription.
Before contacting support, the company requests users on the platform to review the FAQs section on their website to see if it answers any of their questions.  In our ChineseClass101 review, we found that it lacked in-depth information for most problems.
ChineseClass101 Pricing Compared to Competition
ChineseClass101 offers cheaper subscriptions than some competitors. For example, its basic subscription costs $4 monthly, while other competitors have higher prices. ChinesePod costs $14, Mosa Lingua costs $4.99, Memrise $14.99, Pimsleur costs $14.95, and Rocket Languages costs $99.95.
It's important to note that the price may be higher due to additional features in the apps, like speech recognition technology. It makes them a better value for money compared to ChineseClass101. Consider whether you really need such features before choosing one of the language learning apps. Even Duolingo Plus has a decent speech recognition system.
ChineseClass101 Ratings from Around the Web
Google Play Store – 4.6 (1M+ downloads)

Apple App Store – 4.7 (30.6k Ratings)
Conclusion
ChineseClass101 gives learners a large library of audio and video lessons that helps to grasp Chinese grammar, vocabulary and improve their listening comprehension. It is a good app for beginners and can take you to the upper intermediate level if you already know some Chinese characters.