Italian is one of the oldest languages and has over 85 million people speaking it. It's the language of culture, art, and fashion. Speaking Italian is definitely worthy and not even that hard for English speakers.
While hiring a language tutor is expensive, popular language-learning apps like Babbel Italian have simplified the entire learning process. Besides being affordable, it offers a flexible and immersive learning experience, allowing a beginner to learn a foreign language quickly.
The complete Babbel Italian course consists of interactive exercises, quizzes, and progressive lessons to ensure learners grasp all the foreign language basics. We will cover all that in this Babbel Italian review.
A Well-rounded Language-learning App for All Levels
Babbel Italian offers immersive lessons, real-life dialogues, and interactive exercises to suit learners of all levels. The all-inclusive language-learning app equips learners with essential grammar explanations, verb conjugation, and basic vocabulary to help them build Italian language skills. The personalized learning experience and a user-friendly interface create the possibility to learn at your own pace.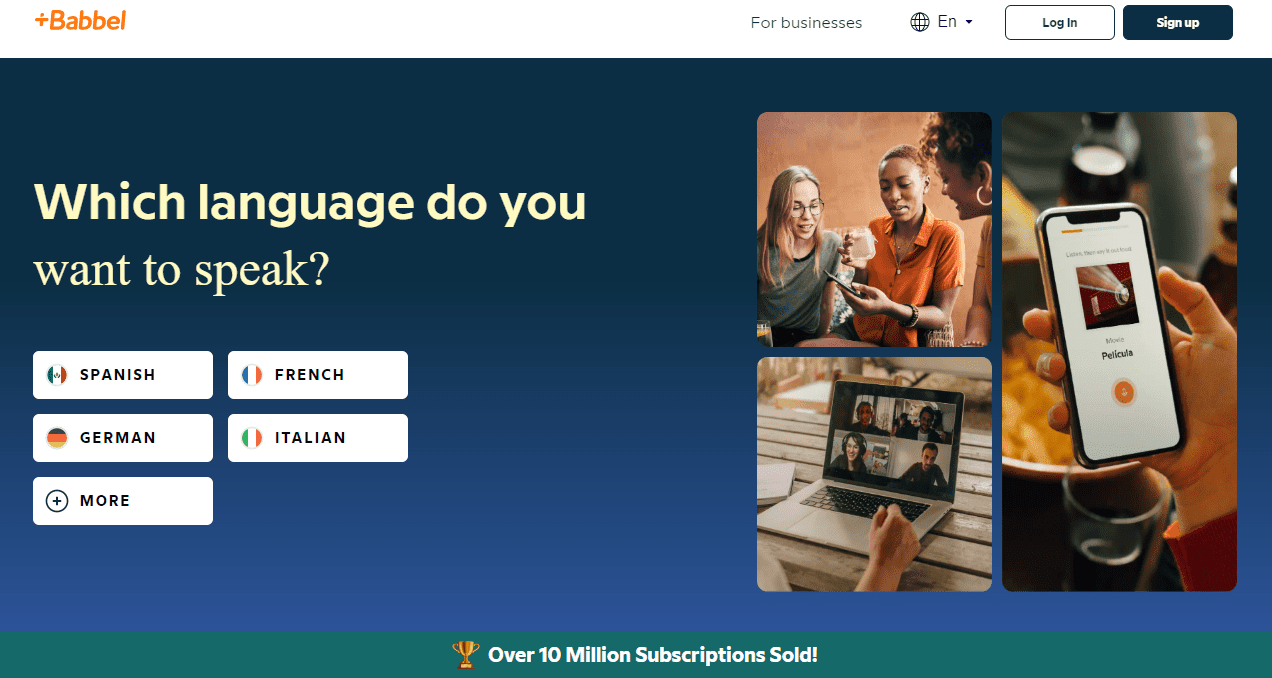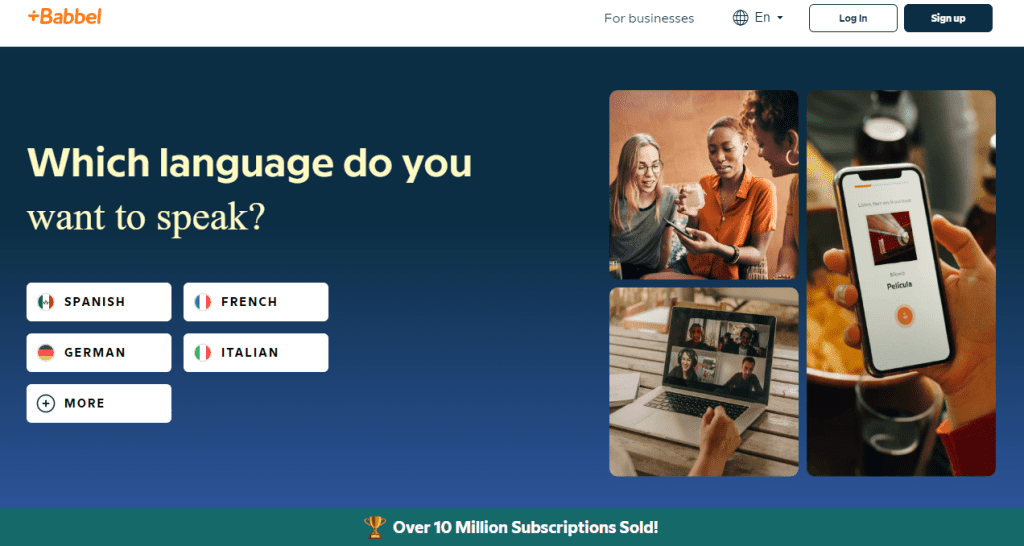 Babbel Italian Review Summary
⭐ Rating:
8.9

★★★★★

🥇 Available languages:
14 (see below)
📈 Suits best for:
Novices
🛒 Payment options:
3 Months/12 Months/Lifetime
💵 Price:
$14.95 – $349
⌚ Hours of lesson time:
260+
🔄 Refund policy:
20-day money-back guarantee
🎁 Free Trial:
✔️
Spanish, French, German, Italian, Portuguese, Russian, Turkish, Dutch, Swedish, Norwegian, Polish, Danish, Indonesian, and English.
Disclaimer: Lingomee is an independent review site that may benefit from affiliate programs. Buying through our links makes our efforts possible without additional costs to you. Learn more here.
About Babbel Italian
Babbel has provided foreign language-learning services since 2008 when it officially opened its doors to language-learning students. It's renowned for its immersive, in-depth, and well-rounded language-learning course, helping Italian learners quickly progress from beginners to advanced learners. 
The intuitive and user-friendly interface provides a seamless learning experience, helping Italian learners schedule their classes to fit into their daily routines. The smart notification program helps to remind students when it's time to learn Italian. The use of spaced repetition helps students master and memorize Italian vocabulary quickly. 
Babbel Italian has a language-level placement test to determine the learner's proficiency in the language. Doing so helps determine the suitable learning materials and the appropriate level to begin learning Italian. 
Babbel has invested in the user experience to keep the lessons engaging and lively. Users can even download the Babbel lessons for offline use, ensuring they keep studying even without an internet connection.
Babbel also focuses on improving speaking skills by providing audio recordings of native speakers, speech recognition technology, and facilitating the use of dialogues. Learners combine all of these to improve intonation and pronounce every Italian word correctly. We think this is the best app to learn Italian for beginners.
Babbel Italian: Key Features
Babbel offers game-changing features that enhance the learning experience. Besides easing the learning process, these features also improve lesson quality and speed up the learning process.
Personalized Learning Path
Babbel Italian tailors its content to fit users' proficiency levels, needs, and goals. Doing so ensures learners receive a curriculum that fits their abilities to learn Italian through self-selection or assessments.
Babbel's algorithm adjusts dynamically to difficulty, reinforcement, and pacing to provide a customized and engaging learning experience. The individualized approach helps you learn Italian rapidly and stay motivated.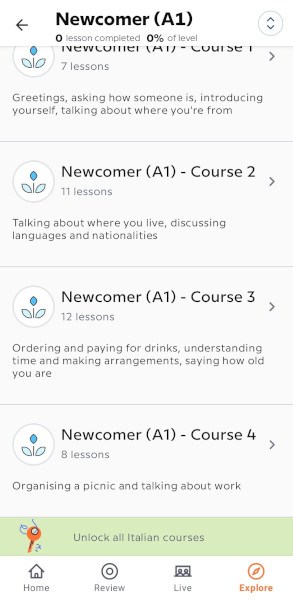 Speech Recognition Technology
Babbel's speech recognition technology helps learners improve their Italian pronunciation skills. The program compares the learners' pronunciation with native speakers and provides immediate feedback.
Speech recognition also encourages self-paced learning compared to when learning from a native language tutor, where a strict schedule has to be followed. Continuous pronunciation improvement also promotes learning confidence, with learners motivated to work.
Babbel Podcasts
Babbel Italian podcasts offer an in-depth learning experience than the regular lesson recordings that touch on vocabulary and pronunciation. The podcasts focus on dialogs and using Italian vocabulary to form sentences. 
Here students learn how to string Italian words to form meaningful sentences. The podcasts feature episodes with language-centered content to enhance the learning experience. There are also interactive transcripts that learners follow along to understand the content easily.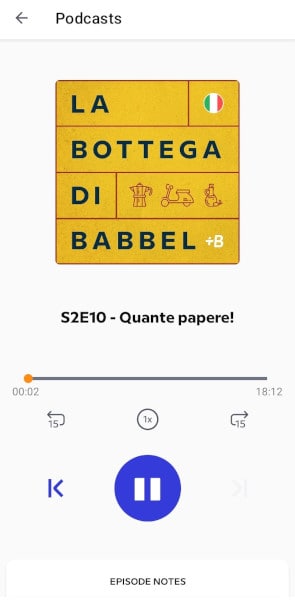 Babbel Live
Babbel offers this feature for learners who prefer learning from a native speaker. Babbel Live consists of hour-long classes in a group of six learners led by a certified instructor. During the classes, learners interact with the instructor and can ask questions and receive immediate feedback.
They can also practice speaking with fellow learners, improving their language skills. Although the first two Babbel Live classes are free, learners must pay extra to continue accessing the feature.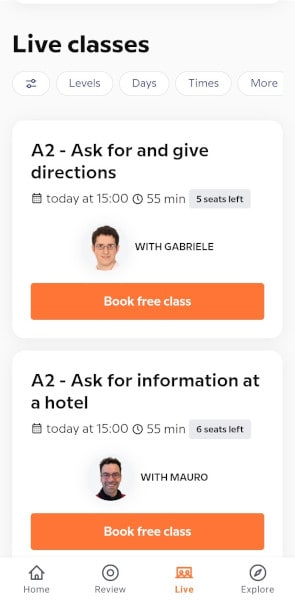 Quality of The Learning Material
Babbel Italian has high-quality learning materials, with comprehensive language lessons covering essential language skills. Babbel includes every necessary Italian grammar explanation, as well as practice tasks for pronunciation, vocabulary, and listening skills.
The clear instructions make the learning materials accessible to all new language learners regardless of their proficiency levels. However, some learners have found the language courses missing in-depth explanations and advanced-level content to take them to the next step. 
The bite-sized language lessons are 10-15 minutes long, allowing convenient studying, which comes in handy during lunch breaks or on your way home. Babbel Italian course duration depends on the learner's commitment and pace, but many learners have completed the Italian course in a little over 350 hours. 
Grammar Instruction
Babbel Italian has a practical teaching approach to improving grammar and vocabulary. The Babbel app introduces grammar concepts through concise explanations, where learners use interactive exercises to apply these concepts and reinforce understanding. The lessons incorporate real-life situations and contextual examples to help them understand how to use grammar in practical scenarios. 
Verbal Practice
Babbel incorporates several learning styles to improve verbal practice. Speech recognition helps improve intonation and pronunciation skills with immediate feedback. The dialogues and interactive exercises that simulate real-life conversations help new language learners develop Italian language fluency. Babbel also focuses on practical phrases and vocabulary in daily conversations, helping learners build confidence and a solid foundation in speaking Italian. 
Reading
The language course has impressive articles, short stories, and dialogues to develop reading comprehension skills. The reading exercises help with vocabulary acquisition, interpretation, and comprehension, to help improve Italian reading skills.
Learners can also save any Italian word they don't understand and check its meaning in the built-in Italian dictionary. The interactive exercises include vocabulary definitions and matching the words to consolidate vocabulary skills. Additionally, reading tasks include an audio course to help them improve their pronunciation skills.
Writing
Babbel provides comprehensive writing exercises and learning materials to improve Italian writing skills. The tasks include composing sentences, paragraphs, and short essays to assess grammar and vocabulary knowledge. The topics vary with fluency level but may touch on everyday things like dialogues and asking for directions.
Vocabulary
Babbel's approach to teaching vocabulary is highly effective. Besides many reading and writing materials, Babbel ItaliaN offers interactive exercises, like matching the words and fill-in-the-blanks, to help learners retain new words and their meanings.
Repetitiveness
Although repetitiveness is part of any language learning process, Babbel Italian ensures the lessons remain interactive and engaging throughout the Babbel Italian course. The app uses spaced repetition to help learners learn Italian vocabulary effectively.
Using multimedia in the interactive exercises helps with vocabulary retention and keeps the lessons entertaining. The mini-game function, like matching the words, helps to engage the learners more and make the games entertaining. 
Babbel Italian: Simplicity of Operation
Babbel Italian provides an intuitive design and user-friendly interface to help learners navigate the app. The progress tracking and overview of lessons allow users to track their lessons and preview what's included in future lessons. Doing so helps learners stay motivated and see how far they've progressed. 
The clear and descriptive labels are self-explanatory, helping learners use the app effortlessly. Babbel Italian has a moderate loading speed to provide a smooth learning process. The engaging visuals enhance the learning experience, and Babbel uses original visuals and doesn't source them from stock images.
Babbel Italian Competitors and Alternatives
Babbel Italian vs Rocket Italian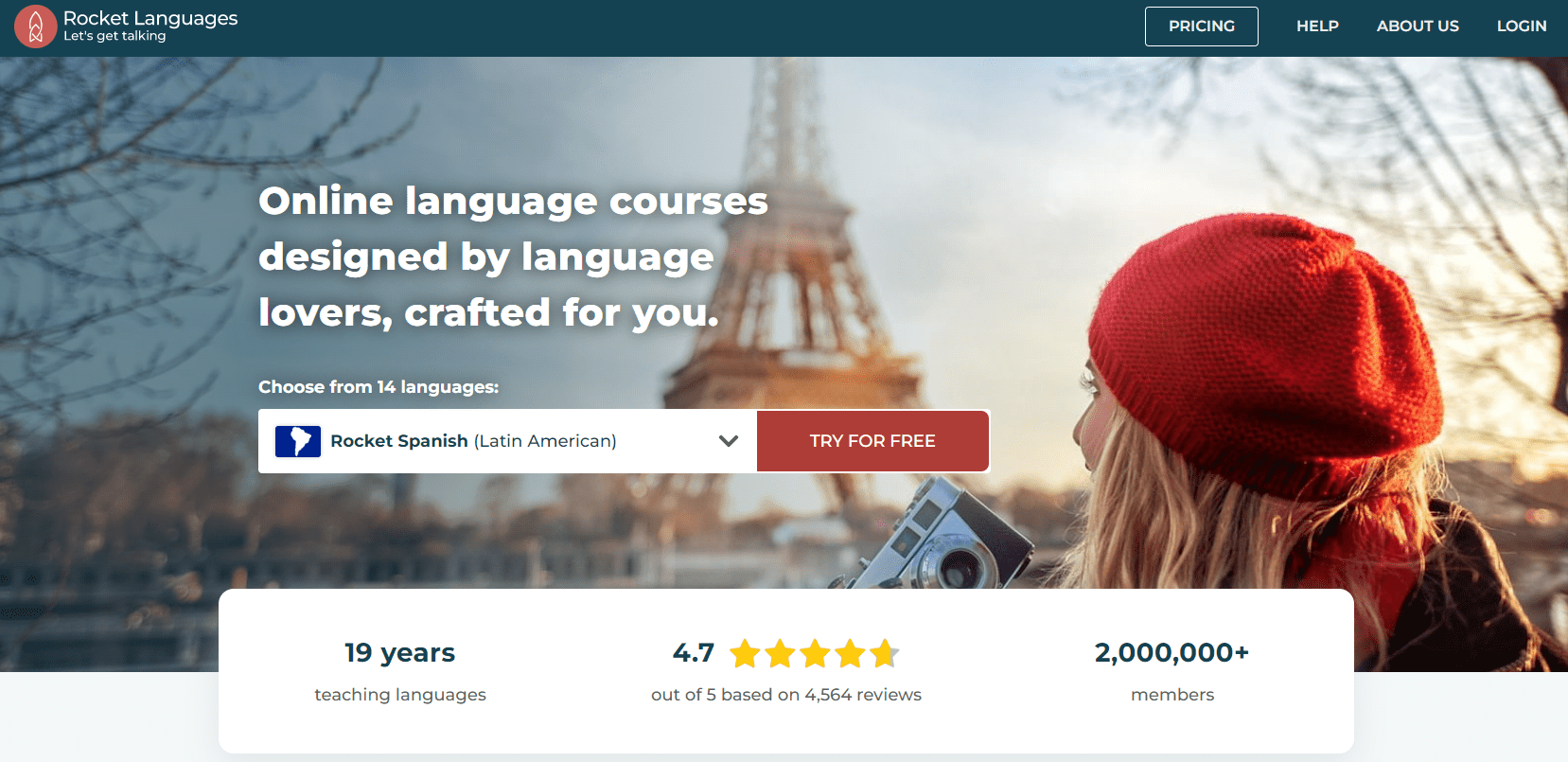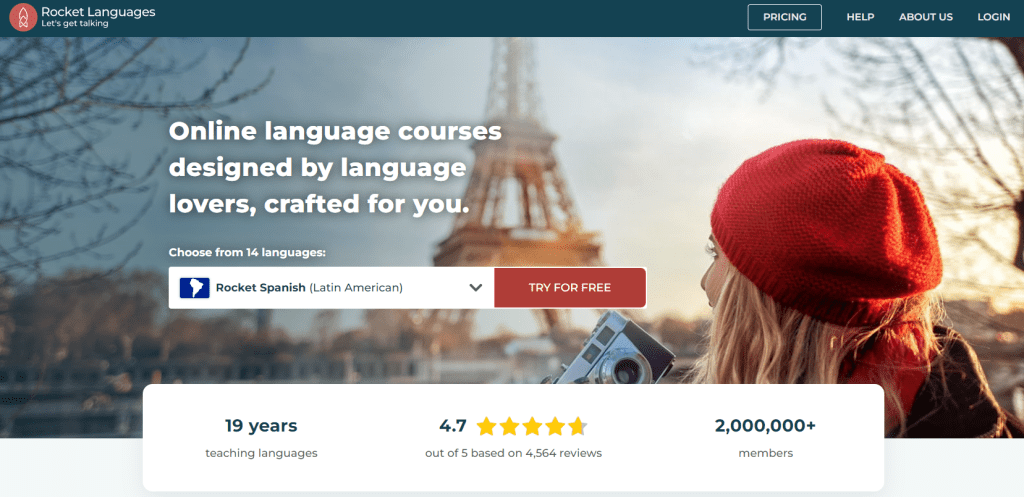 Rocket Italian focuses on interactive audio lessons with cultural insights and grammar resources. Babbel has slightly better grammar coverage and a textbook-like feel with podcasts and games. If you think the audio approach is for you, learn more about it in this Rocket Italian review.
Babbel Italian vs ItalianPod101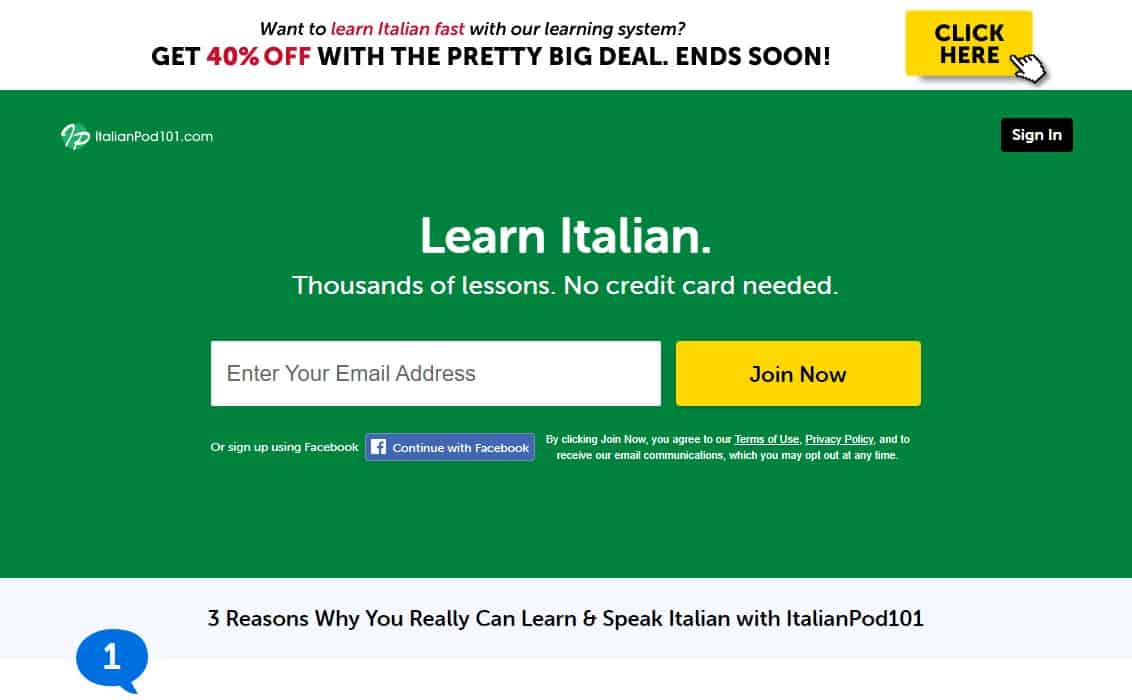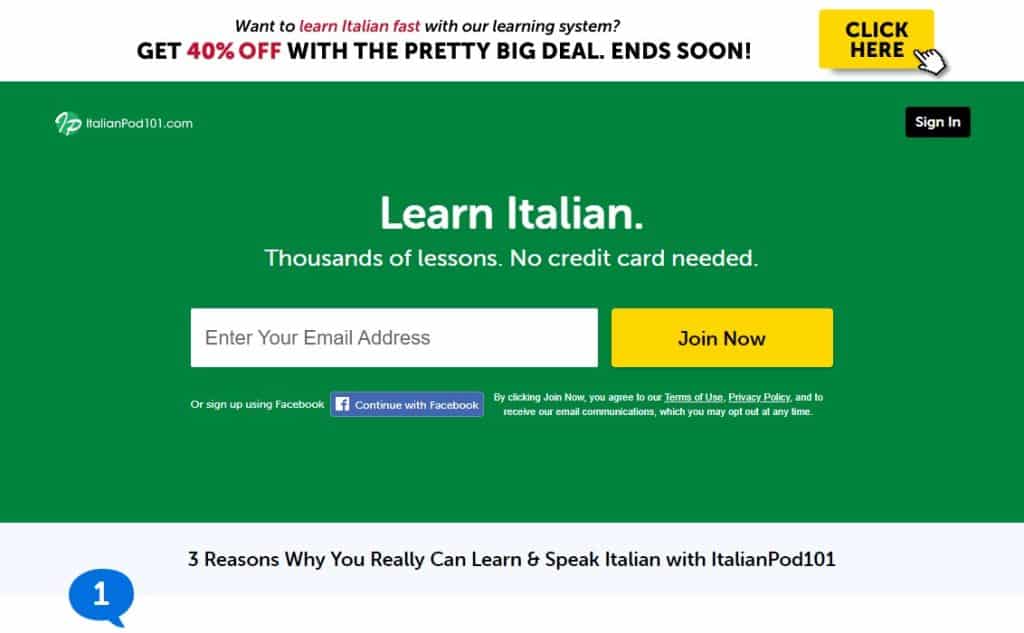 ItalianPod101 provides an extensive collection of podcast-like Italian lessons. It has a low price tag while still packing some considerable features. Babbel has a bit more premium feel, with better grammar instruction, voice recognition technology, and games. If you are hesitant about which one to choose, find more information in our ItalianPod101 review.
What Areas Could Be Improved?
Babbel might be an excellent language app, but improvements in loading speed could provide a seamless learning experience. Additionally, the general content focus might work for some people but not for those seeking personalized Italian grammar and vocabulary learning.
For instance, Babbel should introduce a niched-down Italian course to help learners looking for specific Italian language skills, like business, travel, or special occasions. While there are some options for this, we think they do not fulfill this function fully.
Additionally, Babbel Italian should improve on the personalized feedback aspect. It needs a personalized touch tailored to individual needs. For instance, Babbel should provide detailed personalized feedback showing concrete improvement areas. Other language apps, for example, Speakly, have such functionalities.
Babbel Italian Pricing
Babbel Italian uses a cost-per-language policy and has different subscription models. The options include monthly, 3-month, 6-month, 12-month, and lifetime plans. The lifetime option is ideal for learners interested in accessing online courses for multiple languages without incurring additional costs.
You can easily navigate through the entire course with Alexa. Instruct Alexa the way you generally do. Whether you want a high or low volume, changing Pimsleur lessons, or altering the settings. Alexa allows you to practice convenient lessons while doing chores or moving around the house.
| | | |
| --- | --- | --- |
| Subscription | Price | Payment |
| 1 Month | $14.95 | Charged monthly |
| 3 Months | $12.65 | One charge of $37.95 |
| 6 Months | $11.15 | One charge of $66.90 |
| 12 Months | $7.45 | One charge of $89.40 |
| Lifetime | $349 | One charge of $349 |
Free Trial
Babbel Italian offers a free trial window to new learners to help them decide if the app fits them. The freemium model allows you access to the first lessons in any language courses and to attend the first two Babbel Live sessions without paying.
Babbel Coupons and Discounts
Babbel offers countless discounts, including students, educators, healthcare workers, and military personnel. The app also offers discounts during holidays like New Year and Black Friday. Babbel also has a referral program where you earn money by inviting other people to join the platform. 
Refund Policy
Babbel has a 20-day money-back guarantee in case you don't like the application. However, you must write to customer support requesting a refund within the first 20 days to activate the refund policy. 
Babbel Pricing Compared to Competition
Although Babbel Italian cost is not as flexible, it offers excellent value for money by providing great language-learning features, support, and learning materials. Other language learning programs like Pimsleur and Rosetta Stone have a higher price point and focus on audio lessons.
Babbel is a perfect option for budget-conscious learners looking for a well-rounded Italian learning experience. Babbel offers more than these competitors in terms of personalized learning paths, interactive exercises, Babbel Live, Babbel Podcasts, and speech recognition, providing a comprehensive learning experience. 
Babbel Ratings from Other Users:
Google Play Store – 4.7 (50M+ downloads)
Apple App Store – 4.7 (438K ratings)
G2 – 4.2
Trustpilot – 3.9
What Sets it Apart?
Babbel is an excellent language tool that provides a comprehensive learning experience for beginners and intermediate learners. The high-quality learning materials and additional features like Babbel Live and Babbel Podcasts help improve the learning experience.