The Pimsleur app delivers an engaging course with audio-based lessons. The challenges in the Pimsleur Japanese course are fun and effective. Your Japanese pronunciation will skyrocket alongside your listening skills.
For strong memory retention, Pimsleur Japanese uses spaced repetition. Native Japanese speakers work on every conversational Japanese course. They break down words and phrases for complete beginners. You can study on the go whenever you're free. Let's dive deeper into this Pimsleur Japanese review for more information.
Strengthen Japanese Conversational Skills with Fun Audio Lessons
Pimsleur Japanese contains features promoting the Pimsleur method, which involves teaching a foreign language through conversational skills and repetition. The core audio lessons and exercises enhance an understanding of the Japanese language. Other features like a quick match, voice coach, Speak Easy, and progress tracker make it a seamless experience for learning Japanese.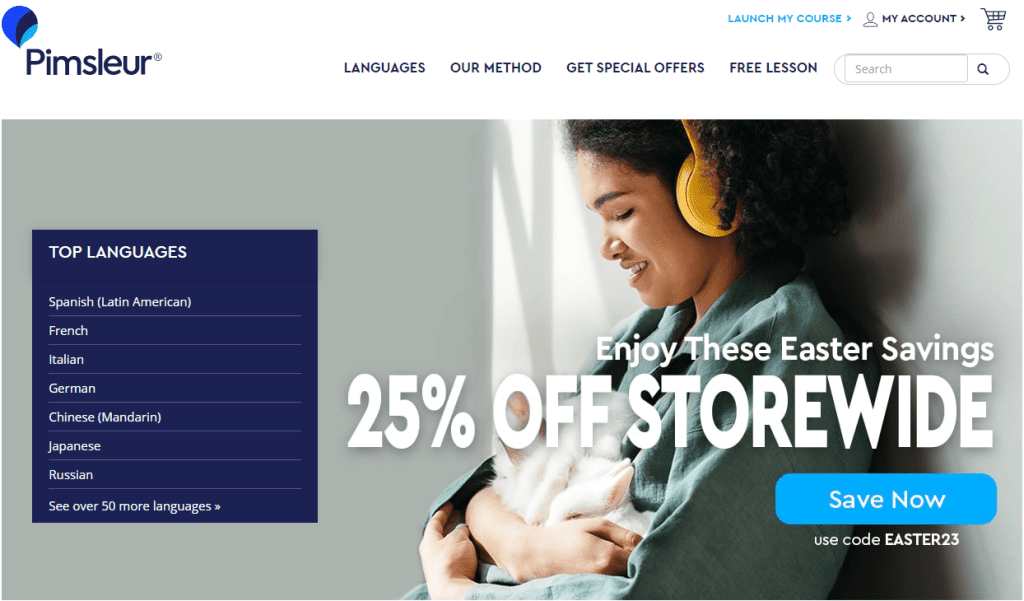 Pimsleur Japanese Review Summary
⭐ Rating:
9.0

★★★★★

🥇 Available languages:
51 (see below)
📈 Suits best for:
Beginners, Intermediate & Advanced Learners
🛒 Payment options:
Monthly and lifetime
💵 Price:
$14.95 – $575
⌚ Hours of lesson time:
300+ Hours
🔄 Refund policy:
30-day money-back guarantee
🎁 Free Trial:
✔️
Pimsleur includes more than fifty languages, here are some of them: Albanian, Arabic (Eastern, Egyptian, and Modern Standard), Armenian (Eastern and Western), Chinese (Cantonese and Mandarin), Croatian, Czech, Danish, Dutch, Finnish, French, German (German and Swiss), Greek, Haitian Creole, Hebrew, Hindi, Hungarian, Icelandic, Indonesian, Irish, Italian, Japanese, Korean, Lithuanian, Norwegian, Ojibwe, Pashto, Persian (Dari and Farsi), Polish, Portuguese (Brazilian and European), Punjabi, Romanian, Russian, Spanish (European and Latin American), Swahili, Swedish, Tagalog, Thai, Turkish, Twi, Ukrainian (currently free to learn until March 31), Urdu, Vietnamese.
Disclaimer: Lingomee is an independent review site that may benefit from affiliate programs. Buying through our links makes our efforts possible without additional costs to you. Learn more here.
A Brief Overview of Pimsleur Japanese
The Pimsleur Japanese app has been around since the 1980s. It follows the flawless technique by Dr. Paul Pimsleur to use conversational methods for teaching a new language. His ideas involve spaced repetition after some time to encourage memory retention. 
The app has many interactive exercises to ensure cognitive reinforcement. Its language programs are designed to help you recall words to use them daily. Pimsleur language courses are detailed. The lessons focus on everyday conversations like greetings, new words, and survival skills. We think this is the best app to learn Japanese with audio lessons.
Many recommend Pimsleur Japanese because it remains the same to this day. The company ditched CDs and cassettes to shift to mobile apps. The crux is still learning Japanese through conversational skills. You will achieve fluency and confidence while speaking Japanese. Reaching the intermediate level becomes easier for learners.
The app has developed a great deal since 2018. It has a seamless navigation pane. You can download lessons and listen to them offline like a podcast. Pimsleur Japanese consistently promotes active learning.
Pimsleur Japanese Review: Primary Features
The Pimsleur Japanese app offers many helpful features. Pimsleur courses are like audio podcasts. Native speakers work on these audios for accurate pronunciation and understanding. You have to repeat the words and phrases to speak Japanese. Let's carefully walk through these features that make Pimsleur lessons unique.
Audio lessons
There are around 30 Pimsleur lessons in every Pimsleur course. The audio lessons are short to keep you engaged and motivated. Most lessons spans 30 minutes and talks about a different topic. They are closely linked to every day Japanese life to enhance knowledge and work on correct pronunciation.
The Pimsleur Japanese course is structured widely around daily life. You will learn the correct usage and native speaker pronunciation. They boost your speaking and listening skills. Since the language courses do not cover writing and reading, you will not see yourself worrying about grammar.
Speak Easy
You can rely on the speakeasy challenge feature to practice the audio lessons to learn Japanese. It is an excellent way to practice the Pimsleur course. It is the perfect chance to practice all the lessons. The feature aims at graduated interval recall for memory retention.
Many learners struggle with new words in sentences in lessons. So in Pimsleur Japanese, you can adjust the speed of the conversation and focus on key words. It makes speaking Japanese easy since the focus is building conversational skills. It allows you to pick up on unfamiliar sounds and practice them.
Alexa
Pimsleur Japanese is now compatible with Alexa. You can play an audio lesson as it automatically syncs. You do not need any earphones. Enjoy full access to the comprehensive course with Alexa.
You can easily navigate through the entire course with Alexa. Instruct Alexa the way you generally do. Whether you want a high or low volume, changing Pimsleur lessons, or altering the settings. Alexa allows you to practice convenient lessons while doing chores or moving around the house.
Voice Coach
The app also has voice recognition features like the voice coach lessons. Japanese learning will not cause you to lose confidence anymore. You can practice key phrases with the voice coach and the software it uses is a game changer. It scrutinizes the words you speak in the new language.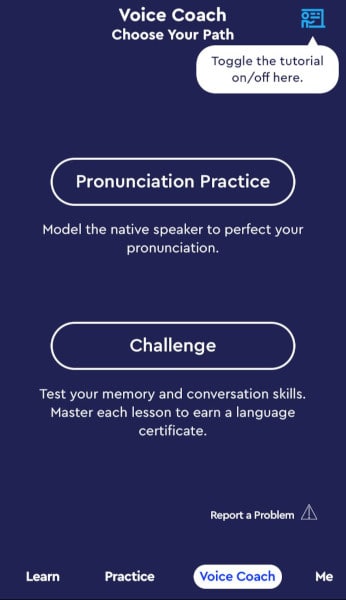 If you mispronounce anything, you receive quick feedback for improvement. It does a brilliant job of jogging your memory and testing your skills. It does so by bringing up words and sentences from previous audio-based lessons. By repeating these phrases you will also learn to form sentences.
The Excellence of The Learning Material
The Pimsleur Japanese course focuses on speaking and listening from the very beginning. There are 30 lessons in each level. It will take you 15 hours to review all audio lessons at each level. That means one lesson takes 30 minutes to complete. 
Another thing is that there are more levels for popular languages like Japanese and French. Languages like Egyptian only have one level. So, if you go for an uncommon language, you might not be able to reap as many benefits as you'd like while learning.
The learning model of Pimsleur will help you speak Japanese. Yet, you will struggle with reading and writing in the Japanese language. There is no reading or writing material for learners which seems a bit strange. Pimsleur's methodology considers conversational skills to top everything else and teach grammar in audio lessons. 
Grammar Instruction
Pimsleur does not have much material to teach grammar. The Japanese course covers audio learning. Native English speakers are expected to pick up grammar from these lessons. It is slightly unrealistic as verbal communication does not teach grammar concepts alike for every language.
Verbal Practice
There is no surprise that Pimsleur verbal practice tops the chart. You will start speaking Japanese from the very first lesson. Every feature of Pimsleur Japanese focuses on speech as suggested by the Pimsleur method. You repeat phrases and words in all lessons of the Pimsleur Japanese program.
Reading
Reading is not one of the strongest suits of Pimsleur. There are no reading lessons. You can read the words presented during speech exercises. There are written words even during practice. The Speed Run allows you to develop some reading and writing skills, but you will need to rely on other resources to read Japanese or start learning Kanji.
Writing
You cannot master the Japanese writing system with Pimsleur. There are no exercises or challenges to encourage written practice. It is wise to read everything that pops up on the screen. Yet, if your observational skills are lacking, you can't remember every alphabet for writing Japanese.
Vocabulary
Pimsleur presents limited vocabulary as its main focus is conversational skill set according to the Pimsleur method. It has a vast library of daily words. It tries to teach contextual words like Rosetta Stone and Rocket Japanese. It is a reliable app if you are aiming at common vocabulary as you learn Japanese.
Repetitiveness
Repetitiveness stands are the core of the Pimsleur method. Pimsleur repeats words and sentences throughout the audio lesson. It might seem boring in the first lesson but is beneficial in the long run. Repetition comes in the form of mini-games to keep you motivated.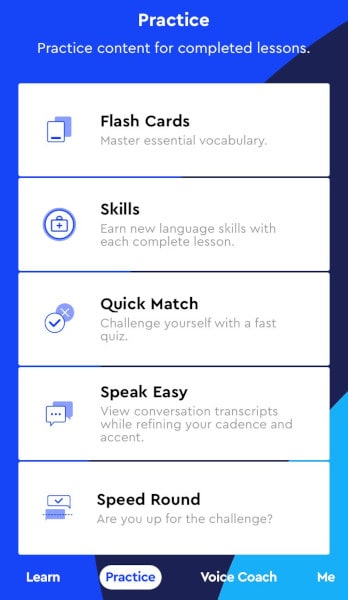 Pimsleur Japanese Review: Accessibility
Pimsleur has a good website and app. Both are accessible and easy to use if you want to learn Japanese. Instructions for Pimsleur lessons are available in your native language. You can easily subscribe to Pimsleur in simple steps. The app and website do not waste space and focus on seamless navigation.
Pimsleur Japanese Competitors and Alternatives
Pimsleur Japanese vs Rosetta Stone Japanese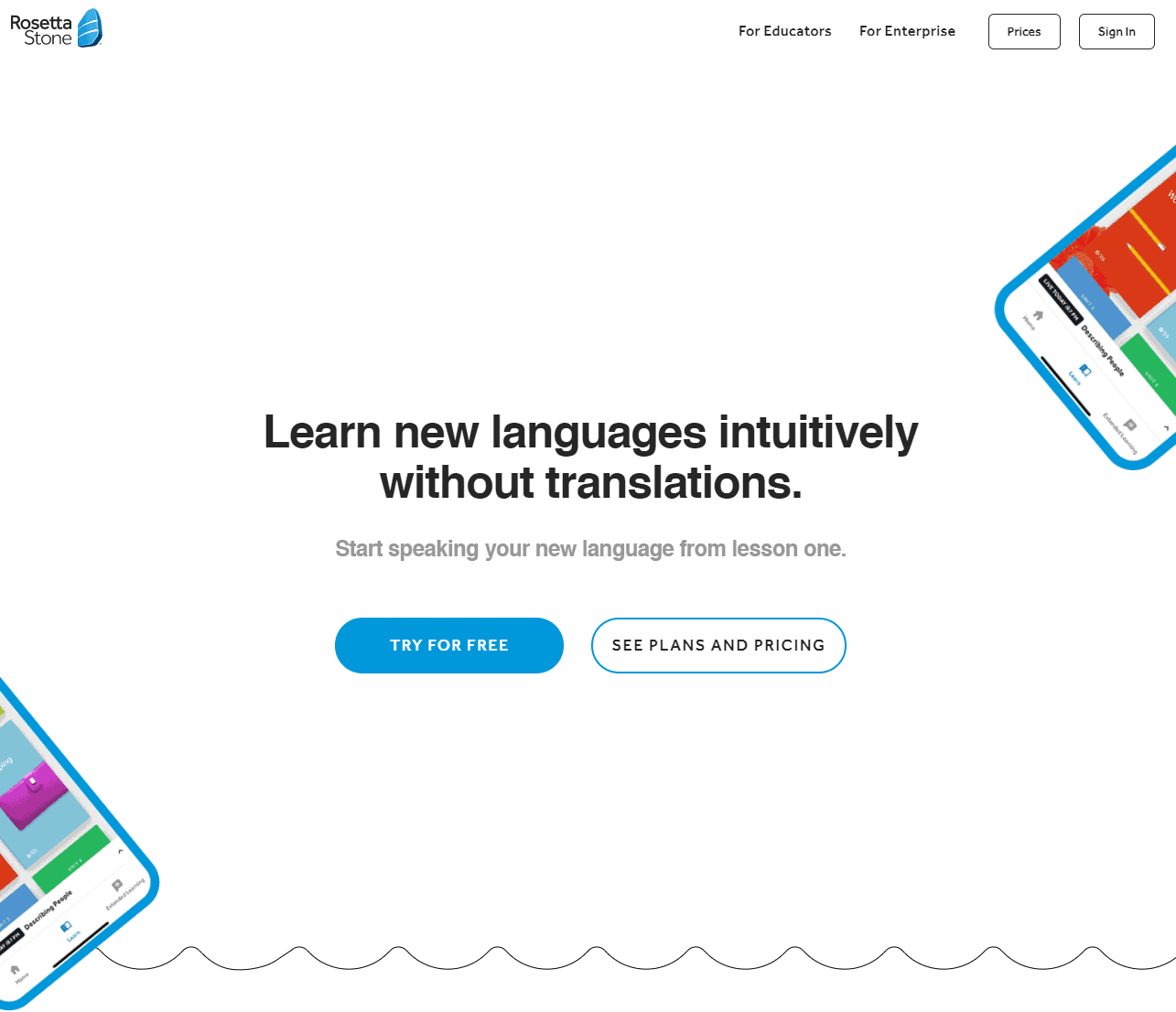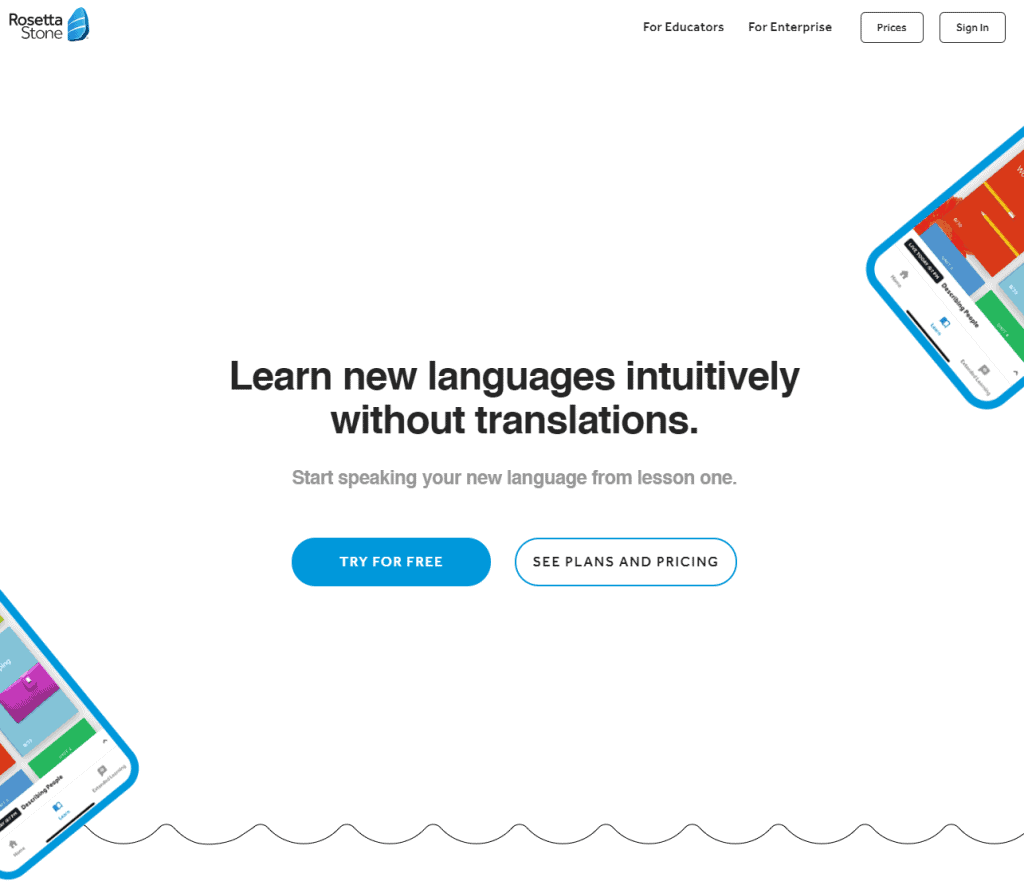 The two apps differ in how they immerse you in a foreign language. Rosetta Stone emphasizes language immersion through visual cues. Pimsleur takes a more audio-based approach. That's not to say that Rosetta Stone doesn't use native speaker audio, but the balance is different. Learn more about it in this Rosetta Stone Japanese review.
Pimsleur Japanese vs Rocket Japanese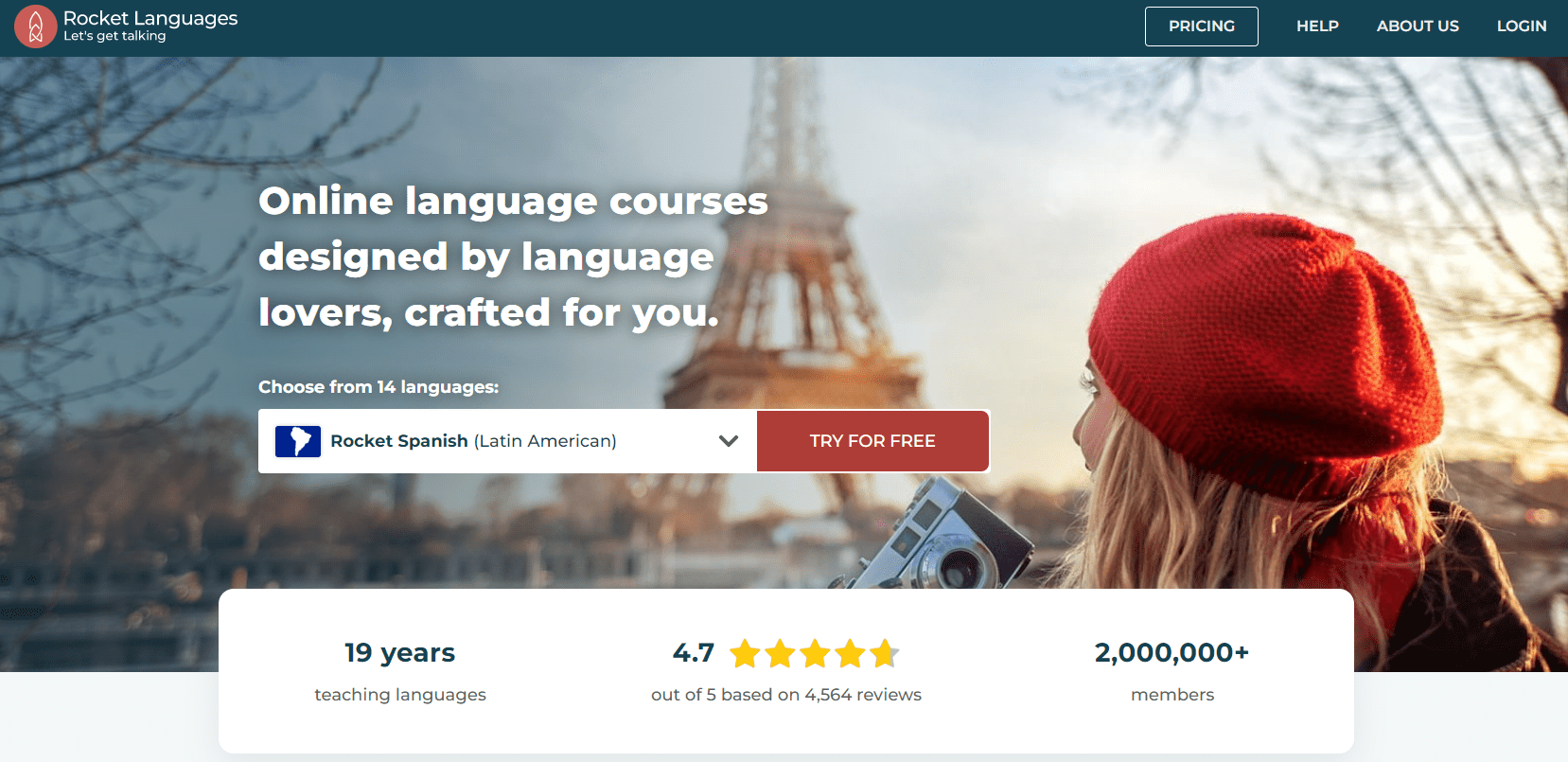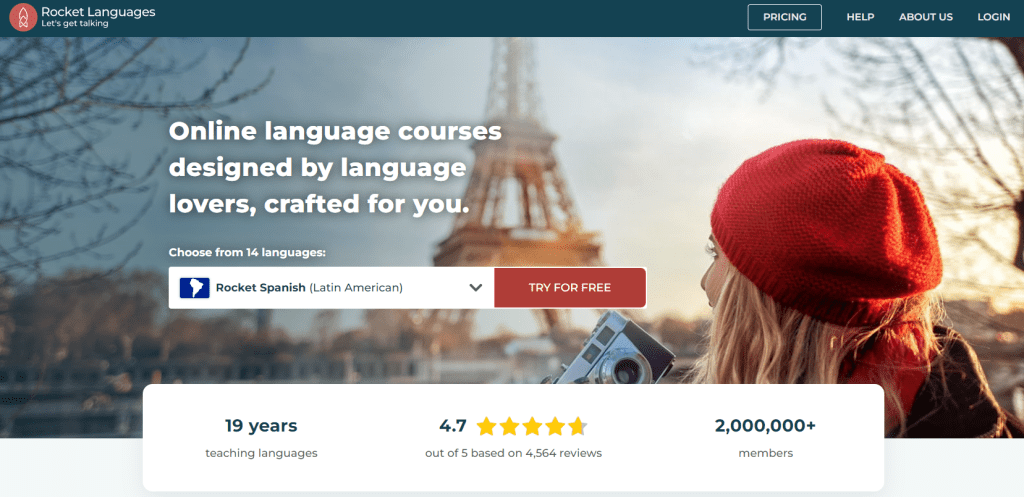 Rocket Japanese focuses on interactive audio lessons with cultural insights and grammar resources. Pimsleur tasks you with listening and repeating Japanese words and phrases. Both apps primarily rely on auditory learning. The differences lie in the selection of features and vocabulary coverage. Learn more about them in this Rocket Japanese review.
Pimsleur Japanese vs JapanesePod101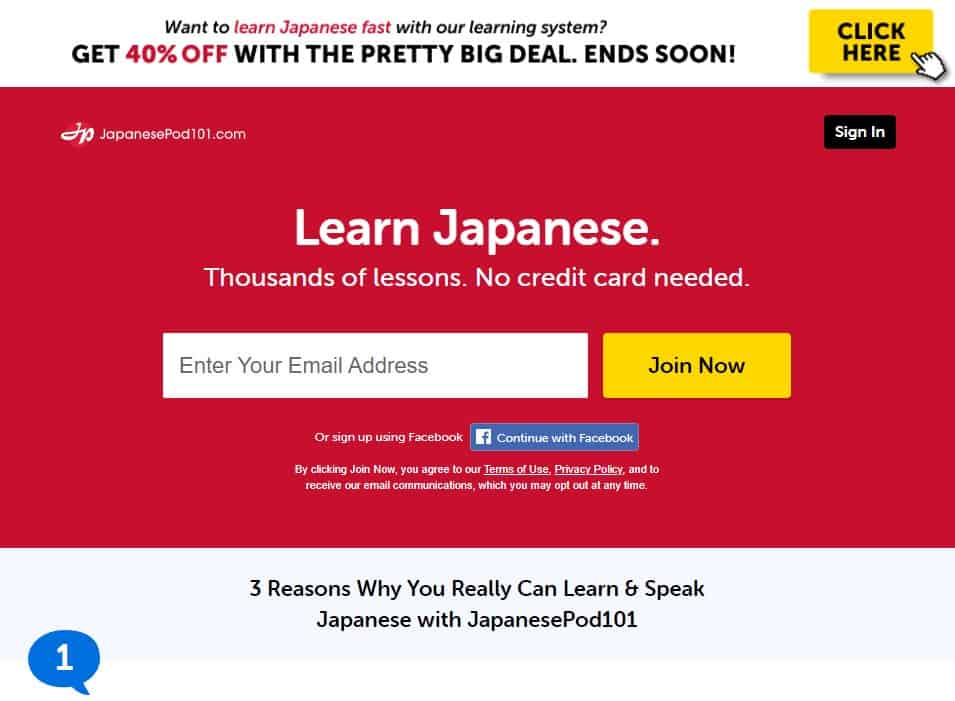 JapanesePod101 provides an extensive collection of podcast-like Japanese lessons. It has a low price tag while still packing some considerable features. Pimsleur also uses audio lessons, but its method is based more on repetition, games, and voice recognition technology. Both options work, so we suggest you learn more about them in our JapanesePod101 review.
What Areas Require Enhancement?
The Pimsleur Japanese course is amazing with any audio lesson. Yet, reading and writing are often neglected on the platform. Learners at the intermediate level cannot benefit from written resources on Pimsleur. 
Learners often feel confused about the difficulty level of language courses. Intermediate learners often find it too easy. One must also note that more levels are available for a popular language, while other languages have fewer levels.
Pimsleur Japanese Price
Pimsleur Japanese cost is $14.95 for audio lessons, but if you want activities and challenges, you have to pay an additional $6. Let's have a look at some Pimsleur premium packages.
| | | |
| --- | --- | --- |
| Subscription | Price | Payment |
| 1 Month (1 language) | $14.95 | Charged monthly |
| Premium Monthly | $19.95 | Charged monthly |
| 1 Month (All Access) | $20.95 | Charged monthly |
| Single course | $150 | One-time payment |
Free Trial
Pimsleur Japanese course is available for a free 7-day trial. You can test Pimsleur Japanese instead of getting a monthly subscription without understanding the app.
Pimsleur Japanese Review Coupons and Discounts
There are discounts for schools and students on Pimsleur to make the monthly subscription affordable. There are limited-time discounts on special days too. You also get discounts on purchasing complete Pimsleur courses.
Refund Policy
There is a 30-day refund policy. If you feel Pimsleur isn't helping you with new vocabulary or grammar, you can request a refund. Email the support team and wait for four to six weeks for the refund to process.
Pimsleur Japanese Review: Is it a Good Investment?
According to the Pimsleur Japanese review, the app is brilliant for conversational skills. Pimsleur employs every strategy to help you speak Japanese properly. It will take you from beginner to intermediate level within a few lessons. 
However, Pimsleur will not work well for you if your main aim is to write and read Japanese. In such cases, you should try Pimsleur Japanese alternatives like Rosetta Stone. This app is priced similarly but is focused on those students who prefer visual learning methods. Rosetta Stone is the main competitor for Pimsleur, so consider it as well.
Pimsleur Japanese Review: Ratings From Customers
Google Play Store – 4.6 (1M+ downloads) 

Apple App Store – 4.7 (10K+ ratings) 

G2 – 4.3 

Trustpilot – 2.7
Pimsleur Review: Customer Service
Pimsleur offers multiple communication channels to customers. You can call their customer service department. There is a chatbox to answer simple, common queries on the website. You can also check out the FAQ page. In case of a refund, you can drop an email and wait 48 hours for a response.
Pimsleur Japanese Review: What Makes it Unique?
Pimsleur Japanese is a great course to enhance Japanese communication. You will find yourself speaking the language fluently and with confidence. There are games, exercises, audio features, and progress trackers to help you learn Japanese quickly.