The Thai language, spoken by over 40 million people worldwide, is a tonal language with five different tones. As such, you should learn Thai from a native speaker who knows how to use the right tone to convey meaning.
Unfortunately, it's not easy to find a Thai native speaker, so the second best option is to look for a language-learning platform with online Thai lessons. Since the Thai language is tonal, it's preferable that the platform would focus on speaking Thai and improving listening abilities.
ThaiPod101 offers what you need for learning Thai language through listening comprehension. This comprehensive ThaiPod101 review covers everything you need to know about its features and methodology before you choose this Thai course.
Comprehensive language courses mastering the Thai language
ThaiPod101 is a Thai language learning resource taught through audio and video lessons. It also offers different learning materials, such as quizzes and spaced repetition flashcards, to help consolidate your language skills. ThaiPod101 customizes your learning plan with lesson Pathways that create a linear learning path based on your proficiency level and preferences.
ThaiPod101 Review Summary
⭐ Rating:
8.6

★★★★★

🥇 Available languages:
1
📈 Suits best for:
Intermediates
🛒 Payment options:
Monthly
💵 Price:
$4 – $552
⌚ Hours of lesson time:
345+
🔄 Refund policy:
60-day money back guarantee
🎁 Free Trial:
✔️
Besides Thai, languagePOD101 offers other languages, including Afrikaans, Arabic, Bulgarian, Cantonese, Chinese, Cezch, Danish, Dutch, English, Filipino, Finnish, French, German, Greek, Hebrew, Hindi, Hungarian, Indonesian, Italian, Japanese, Korean, Norwegian, Persian, Polish, Portuguese, Romanian, Russian, Spanish, Swahili, Swedish, Turkish, Urdu, Vietnamese.
Disclaimer: Lingomee is an independent review site that may benefit from affiliate programs. Buying through our links makes our efforts possible without additional costs to you. Learn more here.
A Quick Look at ThaiPod101
ThaiPod101 is a platform launched in 2005 by Innovative Language. It offers an immersive learning experience through interactive video and audio lessons. Through its immersive teaching methodology, ThaiPod101 encourages daily engagement with its fun and interactive resources.
The platform offers various features, including dialogues with native speakers, multi-choice quizzes, a dictionary, PDF lesson notes, review tracks, transcripts, and more. When you are starting, the platform offers a placement test that determines your Thai language proficiency level. This can be from the absolute beginner level to advanced learners.
Once your level has been determined, ThaiPod101 will create a customized learning path with Thai lessons that fit your listening skills and overall proficiency level. The lessons cover different subjects like greetings and making small talk. Most lessons will have a video or audio option, a dialogue, transcripts, lesson notes, and key vocabulary lists.
You can listen to the first audio lesson and then proceed to the dialogue, where you can follow through the conversation with the line-by-line audio in further lessons. After that, you can practice what you've learned through the Thai alphabet. You will not do this alone, as a Thai host will guide you through the each dialogue, video, and audio lesson. We should also mention that this is the best app to learn Thai fast!
ThaiPod101: Key Functions
ThaiPod101 offers a range of features that work seamlessly to provide an all-rounded learning experience. The lesson Pathways combine video and audio lessons, Dialogue, lesson notes, and vocabulary, allowing you to practice what you've learned and improve your new language acquisition. You can use the PDF notes of lessons, expansions, and transcripts for more in-depth coverage as you learn at your own pace.      
Pathways
ThaiPod101 Pathways feature contains audio and video lessons customized for your proficiency level. It also has  PDF lesson notes, dialogues, Thai vocabulary, transcripts, and expansions that provide more information on each lesson.
Each pathway in the Thai language course has different lessons to choose from. For example, if you choose the customized pathway for Thai Level 3 (Intermediate), you will have access to 50 Thai lessons and 40 assignments totaling up to 10 hours.
In this pathway, you will start the Thai course with a multiple-choice assessment of 25 must-answer questions. However, the hand-graded assessments are only accessible with a Premium Plus subscription. Nevertheless, you will take more multiple-choice assessments after a set of new lessons until you finish the Thai course. However, not all lessons are mandatory, as you can skip to your favorite lessons. 
Dialogue
Most lessons in ThaiPod101 have Dialogues which are Thai conversations between native speakers. The conversations allow you to learn the proper pronunciation of Thai words by listening to native speakers pronounce them.
Once done with the dialogue, you can record yourself as you speak Thai and compare it to the Thai native speakers. The dialogue also offers additional resources, such as line-by-line audio with English explanations and translations of Thai words.
Vocabulary Lists and Flashcard Decks
ThaiPod101 has tons of Thai vocabulary and flashcard decks covering car parts, numbers, common words and phrases, and more. The vocabulary list is presented as an audio/video or a slideshow with different words. For example, if you choose the car parts vocabulary list, the slideshow contains 25 words presented in Thai or Romanization and played as an English audio/video.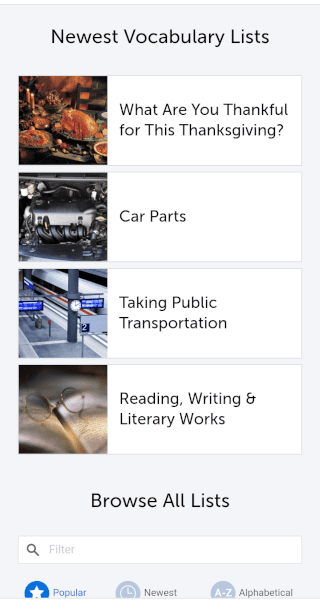 The Flashcard Decks, which contain over 100 cards, work with the space repetition system, which repeats Thai words at intervals for improving listening comprehension of key vocabulary. These decks present different ways to say common adjectives, such as beautiful and easy.
The spaced repetition flashcards also provide translations, audio clips, and an example sentence on how each adjective can be used. It also contains a recording feature to compare pronunciation to a native speaker. The feature is great for an intermediate-level learner, but an absolute beginner might need voice recognition too.
Lesson Notes
Recalling everything you've learned in the video and audio lessons is almost impossible. This is why the ThaiPod101 review offers lesson notes and an in-depth explanation of your learning.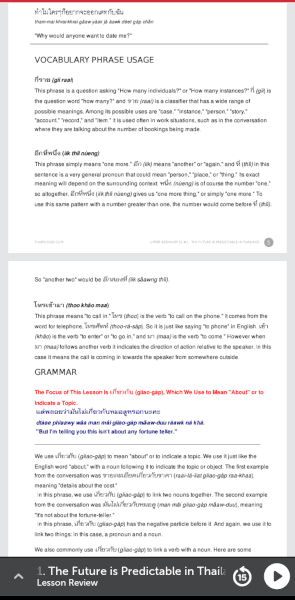 These notes cover grammar explanations, cultural insights, sentence structure, tips, and reading comprehension. You can access the learning Thai notes from the 'Innovative Language' mobile app or the ThaiPod101 web version. You can also download the notes for later use.
These notes are concise yet comprehensive and resemble something you would get from a language school. They ensure you easily understand the nuances of the language and ont only learn to speak Thai.
Distinction in the Quality of Lessons
The audio and video lessons are short, ranging from 10 to 15 minutes, while most dialogues are less than a minute long. The Thai lessons are not mandatory, as you can simply skip the lessons that don't interest you. It helps to keep you motivated and engaged in what matters to you.
Since the platform is ideal for intermediates, it offers more content to absolute beginner and intermediate learner than advanced learners. It is evident in the length of the lessons, as those for intermediates last up to 30 hours while advanced ones only take 7 hours. For advanced learners, this is a huge disadvantage. 
Despite this, the lesson materials are presented in different formats to reduce the monotony of listening. You can switch from an audio to video lesson to flashcards, key vocabulary, cultural insights, and interactive quizzes while learning from native speakers. It lets you practice writing, listening, speaking, and reading in Thai.
Grammar Instruction
ThaiPod101 review provides clear grammar instructions for learners of all levels. These are accompanied by grammar explanations that dive deeper into any concept to ensure you have a better and more comprehensive understanding of target language.
The innovative language-learning platform breaks down the lessons into bite-sized pieces that are easier to process. Complex grammar points are presented through the grammar bank, lesson notes, and audio and video lessons for better understanding.
Verbal Practice
ThaiPod101 review provides verbal practice opportunities and listening material. For example, with the line-by-line audio sentence part one, you can listen to Thai native speakers' native dialogue, record yourself, and compare it to the natives. You can do this with all the language courses on the platform.
The only limitation is that the ThaiPod101 lacks a voice recognition feature, which is better for an oral quiz. Due to this, you may not know whether you are using the right tone and pronunciation of the Thai words. The other alternative would be to work with a Thai teacher and get personalized feedback on your pronunciation, but this is only available for Premium PLUS subscribers.
Reading
ThaiPod101 offers up to 20 reading materials. There are news articles, short stories, and comprehensive notes. The pdf lesson notes, which reference the audio and video favorite lessons, give your a more in-depth explanation of the grammar concepts and vocabulary.
However, the reading material is insufficient and advanced learners may have to rely on external reading lessons. In addition, some of the reading material may be outdated and not contextually relevant to your target language.
Writing
As you learn Thai, there will be about 40 weekly assignments in the lesson pathways. These assignments include multiple-choice assessments and hand-graded assessments. For the latter, they allow you to practice writing in Thai and get feedback from a Thai teacher. Unfortunately, you can only use these features with a Premium PLUS subscription.
These writing practices are short and take 10-15 minutes to finish. There are sentence-building lessons where you can structure a sentence in Thai from a set of words and phrases. You can also use the community forum to get feedback from your new language peers.
Vocabulary
Since the ThaiPod101 review focuses on listening comprehension, it offers multiple listening materials. These include video and audio files, flashcard decks, vocabulary lists, dialogues, and a grammar bank. All these learning resources are intended to help you memorize vocabulary words, retain what you've learned, and improve your conversational Thai skills.
Repetitiveness
ThaiPod101 is highly repetitive for a language-learning platform and can be boring with time. Switching through the short lessons also doesn't help, as you'll mainly cover the same things. The best solution would be more interactive learning and gamification, which are unavailable in ThaiPod101.
The other option, then, would be to try different Thai studies that are less repetitive. Nevertheless, this repetitiveness can benefit some learners, especially beginners who can't jump straight into speaking Thai. In addition, this repetitiveness is necessary to ensure you master the five different notes of the Thai language.
ThaiPod101: User Friendliness
ThaiPod101 is highly accessible through the mobile app and web version. The Innovative Language mobile app can be found on Google Play Store or Apple App Store. The web version is called ThaiPod101. 
The dashboard provides access to most features, including the lessons, my teacher, and the word bank. You can also customize the dashboard by adding what you need from the lesson library.
The lesson library houses all the lessons for all the learning categories. However, you can filter it to fit your level, e.g. for intermediate level and lesson media types such as video or audio files. 
The app and browser versions have good contrast with bright colors, which makes it easy to read the text without straining your eyes. In addition, the user interface is highly responsive, and most features in lessons load instantly. 
What Should Be Upgraded?
Overall, ThaiPod101 is a good language-learning platform. However, it could use some improvements.
For one, there is a need for more verbal and writing practice for all learners. It offers verbal and writing practices on the Premium PLUS plan, which can disadvantage other users. This can also be rectified with a voice recognition feature to help learners work on their pronunciation.
The platform also needs gamification and more interactive exercises to keep users engaged. This will help reduce the monotony of learning induced by the repetitiveness of the short lessons.
Lastly, ThaiPod101 needs to simplify its lesson library. The vast lesson library contains all the lessons, media, reading material, and other interesting cultural information. Simplifying the app through proper categorization can make it easier for the user to find what they need quickly.
ThaiPod101 Costs
There's a free lifetime account that has free resources you can use without paying for anything. However, the lessons and materials will be limited, but it's still a good option if you just want the basics. To unlock more content, you must upgrade to one of the following paid subscription plans.
| | | |
| --- | --- | --- |
| Subscription | Price | Payment |
| Basic 1-Month | $8 | Charged Monthly |
| Basic 12-Month | $62 | Charged Yearly |
| Premium 1-Month | $26 | Charged Monthly |
| Premium 12-Month | $230 | Charged Yearly |
| Premium PLUS 1-Month | $49 | Charged Monthly |
| Premium PLUS 12-Month | $390 | Charged Yearly |
| Basic Lifetime | $260 | One-time Charge |
You can access all the full video lessons and audio, notes, and transcripts with a basic subscription. However, access to the entire Thai course, including Thai alphabet and voice recordings, will be locked.
The premium subscription plan offers access to all the basic plan features plus a grammar bank, line-by-line dialogue breakdown, vocabulary list, and multiple-choice assessments. The Premium PLUS plan offers access to all the Premium subscription features, plus 1-on-1 access to a teacher, hand-graded assessments, and personalized guidance and feedback.
Free Trial
With a simple sign-up with your working email address and a password, you can access the 7-day free trial for learning Thai (better than Duolingo). There's no need to enter your credit card details to learn Thai in this step.
This tree trail provides access to most features allowing you to test the platform. Once the trial ends, you can upgrade to a paid subscription plan or use the free account.
ThaiPod101 Coupons and Discounts
ThaiPod101 review occasionally offers discounts and coupons ranging from 10%-50% off the regular price. These discounts are often available for most subscription levels, and currently, there is a 40% discount on all yearly paid subscription plans.
ThaiPod101 Refund Policy & Customer Support
There is a 60-day money-back guarantee on the Thai course, and you can request a refund for any reason. Simply email the support team and request a refund, but within 60 days from the days of purchase of a paid subscription.
ThaiPod101 offers limited customer support for a language learning platform, as you can only contact the support team via email. It lacks a live chat and on-call support vital for such language courses.
However, as with most products of innovative language, the response time takes only 24-48 hours, which is relatively short. In addition, the Thai course offers a FAQ section, a blog, and a community forum, which can offer additional support.
ThaiPod101 Pricing Compared to Competition
ThaiPod101 is more expensive than most online Thai course providers, such as Pimsleur and Mondly and fall in a similar price range with apps like Glossika. However, most offer free accounts, monthly and yearly plans, lifetime subscriptions, and occasional discounts.
italki is different as it connects the learner to a tutor for one on one lessons learning. Hence, its pricing is based on the individual qualification of the tutor. If you are looking for online Thai lessons only, then italki is a better option.
ThaiPod101 Evaluations from Other Customers
Google Play Store -4.7 (1M+ downloads)

Apple App Store – 4.7(30.6K ratings)
Final Words
ThaiPod101 might be the best online Thai course today. It offers extensive learning materials with detailed lesson notes, vocabulary lists, and assessments to help you improve your listening comprehension, reading, writing, and speaking Thai skills. Thaipod101 is one of the best investments you can make to achieve your Thai language learning goals.