Cantonese has over 80 million native speakers and is one of the most popular Mandarin dialects today, spoken mainly in Hong Kong. Students interested in learning Cantonese can do so using a language-learning app or hiring a tutor. However, choosing between the two isn't easy since different language apps are available, and hiring a personal tutor is expensive.
CantoneseClass101 solves this problem with an online Cantonese course with audio from native speakers. It has all the learning resources, including vocabulary lists, pronunciation tools, lesson notes, audio lessons, and community support to help you learn Cantonese quickly.
The structured Cantonese lessons offer learning flexibility and aid anyone from beginner to advanced levels. But is CantoneseClass101 one of the study tools for your learning style? Our CantoneseClass101 review examines the app and why it stands.
A Cantonese Learning Experience Focused on Listening Comprehension
Undergo an immersive online Cantonese learning experience focusing on improving your listening comprehension skills. CantoneseClass101 creates a pathway based on your proficiency level and complements the online Cantonese lessons with high-quality learning materials for a well-rounded platform to learn Cantonese. It's the best place to learn Cantonese for anyone visiting Hong Kong.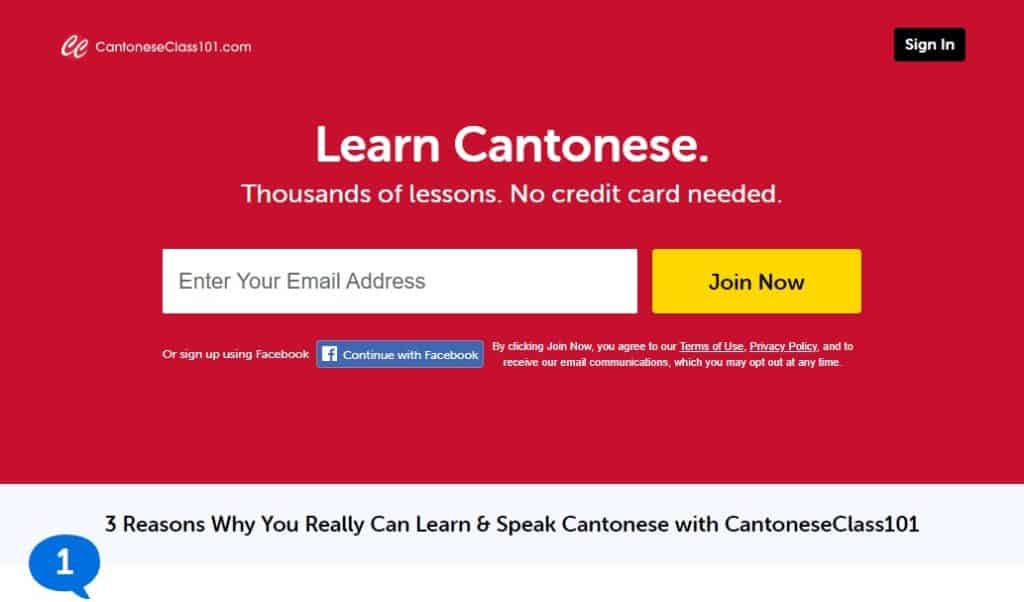 CantoneseClass101 Review Summary
⭐ Rating:
8.7

★★★★★

🥇 Available languages:
1
📈 Suits best for:
Intermediates
🛒 Payment options:
Monthly
💵 Price:
$8 – $552
⌚ Hours of lesson time:
345+
🔄 Refund policy:
60-day money back guarantee
🎁 Free Trial:
✔️
Besides Cantonese, Language POD 101 includes: Afrikaans, Arabic, Bulgarian, Cantonese, Chinese, Cezch, Danish, Dutch, English, Filipino, Finnish, French, German, Greek, Hebrew, Hindi, Hungarian, Indonesian, Italian, Japanese, Korean, Norwegian, Persian, Polish, Portuguese, Romanian, Russian, Spanish, Swahili, Swedish, Thai, Turkish, Urdu, Vietnamese.
Disclaimer: Lingomee is an independent review site that may benefit from affiliate programs. Buying through our links makes our efforts possible without additional costs to you. Learn more here.
A Quick Look at CantoneseClass101
Innovative Languages has offered comprehensive language learning apps for years. Each target language is equally good, whether you are learning Japanese or German. But they also have what might be the best online Cantonese course. CantoneseClass101 provides audio and video lessons, focusing on dialogues to enhance speaking and listening skills. 
The structured curriculum is supplemented by other learning materials like grammar explanations, vocabulary lists, and cultural insights to provide a well-rounded Cantonese learning experience. Learners have gone from absolute beginners to advanced learners by using CantoneseClass101. The premium plan has additional learning resources like in-depth grammar explanations and vocabulary lists. 
CantoneseClass101 has an intuitive and user-friendly interface where learners can access the platform through mobile apps or web browsers. The mobile-optimized platform provides a seamless learning experience, allowing Cantonese language learners to access all the lessons on the go. Cantonese language learners can also download the content for offline use. The approach makes learning languages easy for any student. 
CantoneseClass101 has a placement test to determine your proficiency level in the Cantonese language. The app then structures the lessons based on your performance in this test by identifying areas that require improvement, therefore we can call this program as the best app to learn Cantonese fast.
CantoneseClass101 allows you to learn Cantonese at your own pace and focus on specific language aspects, like speaking Cantonese, as you prepare for your next trip to Hong Kong.
CantoneseClass101: Key Functions
CantoneseClass101 has an impressive list of main features that enable learners to achieve their language goals quickly. The features also simplify the learning process while motivating learners to complete the Cantonese course and start speaking. Below we cover some of the main features of CantoneseClass101 in detail. 
Learning Pathways
Every learner is different and requires a personalized approach to grasp the language basics. CantoneseClass101 relies on Pathways to create customized and personalized lessons for different learners based on their interests. Each learning pathway focuses on a particular language topic or skill, like vocabulary, grammar, pronunciation, or daily conversations. 
Pathways provide a clear direction and progression during the learning process to ensure a systemic and comprehensive approach to language learning. The step-by-step lessons, quizzes, and exercises provide an immersive learning experience targeting a specific language aspect. Pathways help simplify Cantonese learning, ensuring learners focus on what they want to improve.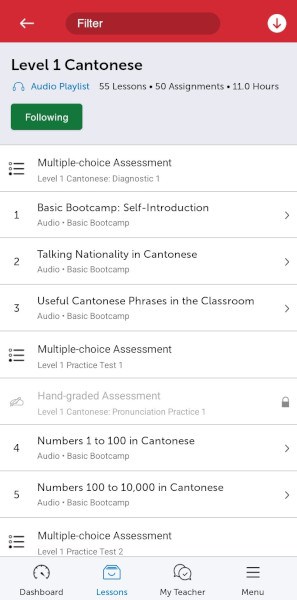 Dialogues
Each CantoneseClass101 has lesson dialogue recordings from native speakers that learners can follow and repeat themselves. The audio recordings contain conversations between two people, covering different topics in real-life situations. The accompanying transcripts allow learners to follow along with the conversation in the lesson and see how to use the vocabulary in a conversation.
Natural conversations help learners improve their pronunciation, intonation, and vocabulary usage while learning Cantonese. The translation and explanation allow learners to understand the meaning and context of each lesson dialogue immediately from the first lesson. If you want real-life conversations with native speakers, than Tandem app is great choice to test yourself.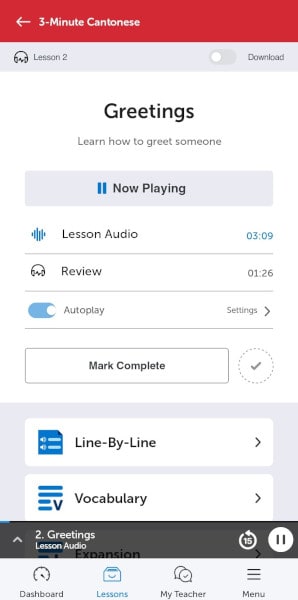 Vocabulary lists
CantoneseClass101 help learners expand their Cantonese word knowledge through an impressive vocabulary feature. The vocabulary lists on CantoneseClass101 contain words and phrases touching on different subjects like work, travel, hobbies, and daily life. Each lesson takes from where the previous one left, providing a progressive learning environment. 
CantoneseClass101 vocabulary has audio recordings from native speakers to help improve Cantonese pronunciation and correct intonation. Each Cantonese word has an explanation and a usage example, ensuring learners understand how to use every word . Spaced repetition and flashcards ensure learners acquire and retain Cantonese vocabulary easily.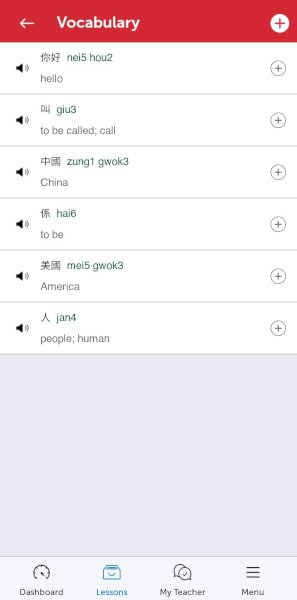 Lesson Notes
CantoneseClass101's lesson notes summarize the audio lessons, helping learners review and reinforce lesson contents. They also serve as a reference point, especially when a learner wants clarification or a quick review. 
Lesson notes are a breakdown of the lesson content, allowing learners to grasp and retain new information quickly. They focus on critical language aspects, like grammar points, vocabulary, and cultural insights.
Learners can download and access lesson notes offline, making it easy to study on the go. They also offer additional explanations for concepts that might be confusing, providing a well-rounded Cantonese learning experience. The downloadable and printable learning materials enable one to study on the go without an internet connection.
The Distinction In The Quality of Lessons
CantoneseClass101 has high-quality materials for learning Cantonese. The structured Cantonese lessons cover language aspects like grammar, speaking, vocabulary, and listening skills. The lessons are engaging and accessible to learners of different levels but favor beginner and intermediate learners more. 
CantoneseClass101 has clear and easy-to-follow instructions, ensuring learners understand what each lesson entails. The native-speaking instructors have authentic pronunciation and provide helpful explanations and examples. 
The language app offers different Cantonese lessons, including vocabulary lists, audio and video lessons, dialogues, and cultural insights. Overall, the lessons are short, ranging from 3 to 15 minutes long.
The language app has room for improvement, like incorporating more practice exercises and interactive activities. Updating the content regularly to include advanced learning materials would benefit advanced learners. Learners should expect to complete the Cantonese course within a year or two. This way, they'll be fluent in all language aspects, including grammar, vocabulary, and pronunciation. 
Grammar Instructions
CantoneseClass101 offers grammar instructions and explanations to help learners understand and apply each Cantonese grammar concept. The grammar instructions cover language aspects like verb conjugation, sentence structure, word order, and particle usage. 
The detailed instructions help learners build a solid foundation in the language and improve their grammar understanding. Learners can create a grammar bank storing interesting grammar points and rules for reference. 
Verbal Practice
The use of audio recordings by native Cantonese speakers provides correct intonation and pronunciation. The real-life conversational audio lessons touch on everyday tasks, like greetings, ordering food, and asking for directions. Listening to a native speaker equips you with enough confidence to speak Cantonese, even if you're an absolute beginner.
Additionally, CantoneseClass101 allows learners to record their dialogue, acting like a conversation practice, and compare it with that of a native speaker to spot the difference. The free resources help learners learn to speak Cantonese in a controlled environment. 
Reading
Although CantoneseClass101 focuses on the dialogues, the language app has reading materials to supplement the lessons and reinforce language aspects like vocabulary and grammar. The transcripts help learners follow along with the audio lessons, exposing them to common Cantonese words used in sentences.
Most of the short-form reading is done with spaced repetition flashcards on CantoneseClass101. Lesson notes are a source of long-form reading content, helping learners understand the lesson basics and get the Cantonese course outline. 
Writing
The CantoneseClass101 Premium Plus subscription plan connects learners to private Cantonese tutors for a 1-on-1 class session. Here, learners receive personalized training, including writing lessons and exercises to help them improve their overall Cantonese skills. The writing instructions are clear and touch on vocabulary and sentence structure. 
Learners are required to complete assignments after classes to reinforce what they learned. The native speaker also assigns Cantonese quizzes, like fill-in-the-blank, to help learners master key vocabulary and Cantonese phrases. 
Vocabulary
CantoneseClass101 has an impressive vocabulary teaching approach, with features like flashcards, vocabulary lists, and audio recordings by native speakers to help learners improve their Cantonese vocabulary mastery. The vocabulary slideshow consists of audio and video lessons introducing new words and their pronunciation.
The Cantonese lessons teach learners core words and phrases used in daily interactions to build confidence in the language. The Cantonese dictionary helps learners identify and understand key vocabulary within an example sentence. The language app also allows learners to build a Word Bank to include their favorite Chinese characters and phrases. 
Repetitiveness
CantoneseClass101 lessons are fun and interactive to engage learners throughout. The audio lessons include fun and engaging dialogues, with most of them requiring role-playing. The video tutorials are short and precise, with relevant information focused on learning certain language aspects. 
Although some language aspects, like vocabulary, might appear repetitive, they're designed like that to reinforce mastering common words and phrases. The interactive exercises and quizzes outweigh most of the repetitiveness by keeping learners engaged and challenged. 
CantoneseClass101 Review: User Friendliness
CantoneseClass101 has an intuitive and user-friendly interface where learners can access all the learning materials and monitor their progress. The app's design incorporates relevant graphics and visuals as supplementary resources to the original content. It uses contrasting colors and labels to ease readability and navigation. 
The language app uses original visuals to add authenticity rather than stock images. The Cantonese lessons have clear instructions and guidelines to help first-time users navigate the app. The lesson interface is user-friendly allowing an absolute beginner to access learning pathways. Progress tracking ensures learners can keep up with their lessons and track how far they've come. 
The app has a reasonable loading speed, ensuring learners progress through the lessons uninterrupted. The feedback mechanism, like corrections by native speakers, motivates learners to progress in their language-learning journey. There's an award system where learners receive badges after completing certain tasks or levels. 
What Should Be Upgraded?
Although CantoneseClass101 has an intuitive and user-friendly interface, some areas, like the loading speed, require upgrading. The moderate loading speed isn't enough for a practical language-learning experience. 
The language-learning app should also use more original content to add authenticity and make it unique. 
CantoneseClass101 should also include study tools like speech recognition in a lesson to help learners improve pronunciation. 
CantoneseClass101 should improve the first-time user experience by incorporating onboarding processes like welcome tours and interactive tutorials to help learners get the best out of the app. 
Although the free account offers lifetime access, they should include more study tools and printable worksheets to enhance the learning experience.
CantoneseClass101 Costs
CantoneseClass101 offers subscription-based plans, with the cost-per-language approach preferred. The plans include the following: 
Free – Accessing limited language learning resources, including a free lesson in every pathway. The free lifetime account also grants you 7-day free trial access to premium services (better than Duolingo). 

Basic – You get access to all lessons and in-depth lesson plans. 

Premium Plan– You can access everything in Basic, plus multiple-choice assessment, line-by-line audio dialogue, personal word bank, grammar bank, Flashcards, and learning tools like spaced repetition. 

Premium Plus -You get everything in Premium and 1-on-1 live classes, personalized and hand-graded assessments.
| | | |
| --- | --- | --- |
| Subscription | Price | Payment |
| Free | Free | Free |
| Basic 1-month | $8 | Charged monthly |
| Basic 3-months | $21 | Charged quarterly |
| Basic 6-months | $36 | Semi-annually |
| Basic 12-months | $60 | Annually |
| Basic 24-months | $84 | One-time |
| Premium 1-month | $25 | Charged monthly |
| Premium 3-months | $66 | Charged quarterly |
| Premium 6-months | $120 | Semi-annually |
| Premium 12-months | $180 | Annually |
| Premium 24-months | $209 | One-time |
| Premium PLUS 1-month | $47 | Charged monthly |
| Premium PLUS 3-months | $125 | Charged quarterly |
| Premium PLUS 6-months | $220 | Semi-annually |
| Premium PLUS 12-months | $316 | Annually |
| Premium PLUS 24-months | $399 | One-time |
Free Trial
CantoneseClass101 has a 7-day free trial, allowing learners access to all Premium level learning materials. Learners access all lessons, 100+ vocabulary lists, in-depth lesson notes, HD video lessons, dialogues and audio lessons, and a personal word bank to save words that interest them. Cantonese learners also access learning tools like spaced repetition and flashcards, multiple-choice assessments, pronunciation practice tools, and premium lesson tracks. 
The free account allows you lifetime access to all audio and video lessons to help learn Cantonese quickly.
CantoneseClass101 Coupons and Discounts
CantoneseClass101 offers occasional coupons for their premium plan for special events like Halloween, Christmas, and Black Friday. However, the coupon details differ depending on the occasion, but the coupons help reduce the overall cost. 
CantoneseClass101 also offers up to 56% discount on quarterly, semi-annually, annually, and a 24-months subscription. 
Refund Policy
CantoneseClass101 has a 60-day money-back guarantee, where learners receive a full refund if they're not happy with the Cantonese course. Additionally, a learner shouldn't have completed the course during this period for the refund policy to work. 
CantoneseClass101 Pricing Compared to Competition
CantoneseClass101 offers excellent value for money to those planning to learn Cantonese quickly. The audio lessons help improve intonation and Cantonese pronunciation through daily conversations. The app follows a subscription-based model, where every plan has a different price and accesses different learning materials. 
Compared to other language learning apps Pimsleur, CantoneseClass101 offers a more structured Cantonese course, with additional learning materials to cover grammar, pronunciation, vocabulary, and cultural insights. CantoneseClass101 offers interactive lessons and quizzes to challenge learners, whereas Pimsleur uses audio lessons to teach Cantonese. The short lessons are easy to follow and have clear English instructions for beginners. 
Learners interested in speaking practice should subscribe to the Premium Plus plan, where they'll be assigned a personal tutor to help them with speaking practice. On this level, we can compare CantoneseClass101 to italki and Preply, where learners receive personalized 1-on-1 learning experiences. However, CantoneseClass101 still stands out due to its structured curriculum, allowing students to learn Cantonese aspects like grammar and vocabulary basics quickly. 
Lessons from native speakers ensure learners get correct intonation and pronunciation, helping them build confidence when speaking Cantonese. 
CantoneseClass101 Evaluation from Other Customers
Google Play Store – 4.7 (1M+ downloads)

Apple App Store – 3.4 (1K ratings)

G2 – 4.2

Trustpilot – 4.1
Our Verdict
As we have seen in this CantoneseClass101 review, the app has a structured learning approach for immersive learning. The focus on audio lessons helps improve the learners' pronunciation and intonation. Interactive exercises and quizzes keep the lessons engaging. Downloading the learning materials provide a flexible learning experience for busy students.