Many language-learning apps and programs promise to make you fluent in your target language, but few actually deliver. Ouino is an exception to this trend, as it lives up to its promises.
Ouino provides all the necessary tools to help you understand the nuances of the language. You won't just memorize vocabulary and grammar rules. You'll actually comprehend the language in its entirety. Ouino also allows you to customize your learning path to suit your learning style.
In this Ouino review, we'll take a closer look at its features and explain why it's a game-changer in the world of language learning.
A complete language-learning solution
The Ouino program is a comprehensive language-learning platform covering all aspects of language acquisition – grammar, vocabulary, pronunciation practice, conversation skills, and more. It is designed to take you from a complete beginner to an intermediate level with all the tools needed to communicate confidently in your target language.
⭐ Rating:
8.8

★★★★★

🥇 Available languages:
5
📈 Suits best for:
Novice and Intermediates
🛒 Payment options:
3 Months/6 Months/12 Months/Lifetime
💵 Price:
$38.97 – $95.76
⌚ Hours of lesson time:

 

300+

🔄 Refund policy:
60-day money back guarantee
🎁 Free Trial:
✔️
Disclaimer: Lingomee is an independent review site that may benefit from affiliate programs. Buying through our links makes our efforts possible without additional costs to you. Learn more here.
A Brief Overview of Ouino
Ouino is a comprehensive language course designed for individuals committed to gaining fluency in a new language. Unlike most other language apps, Ouino comes in the form of software that has to be downloaded and installed after purchase.
Drawing from over a decade of experience, Ouino operates on the principle that language learning should focus primarily on understanding the underlying structure of the target language. 
This approach sets Ouino apart from other language-learning programs that rely heavily on the memorization of vocabulary lists and grammar rules. Instead, Ouino teaches learners how to think in other languages, empowering them to form their own sentences and communicate naturally.
Moreover, the program offers extensive opportunities to practice all four essential skills: reading, listening, writing, and speaking. 
Ouino Review: Primary Features
Ouino offers a well-rounded language learning experience, with five distinct sections catering to different aspects of language acquisition. From grammar and verbs to conversation and pronunciation, and an extensive vocabulary library, Ouino provides learners with a comprehensive toolkit for learning a language.
Building Blocks
The Building Blocks module is Ouino's version of a grammar section. 
As its name suggests, Building Blocks teaches you the underlying structure of the target language. You get to learn articles, connecting words, pronouns, adjectives, and tenses. In short, you get to learn the words that tie a language together.
Verbs and Conjugation
You'd expect this section to be under Building Blocks since verb conjugation is a critical aspect of grammar. However, it's precisely due to its important nature that Ouino decided to dedicate an entire module to this particular aspect.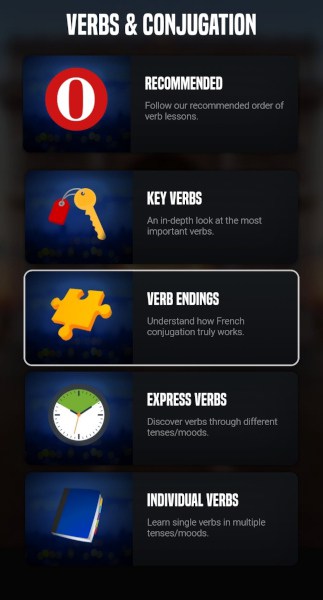 Vocabulary
Ouino claims it can teach you more vocabulary, and in a much simpler way, than any other language learning app on the market today.
This claim does appear to have some validity to it as Ouino's Vocabulary section is massive. It has over two dozen sections, covering everything from basic topics such as greetings and numbers to nuanced topics such as fantasy characters.
Conversations
The Conversations module helps learners practice everyday conversations in their target language.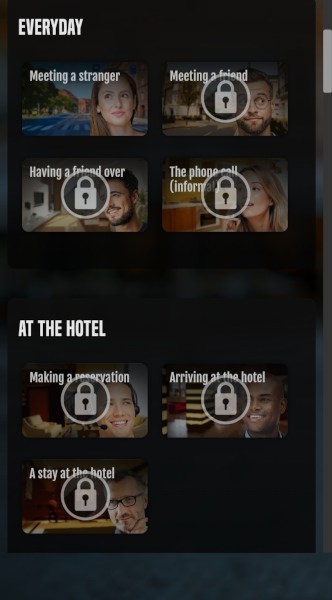 The module provides 40 common everyday speech templates, such as talking to strangers, making a reservation, asking for directions, business talk, and more. They use vocabulary, grammar, expressions, and idioms from other modules.
In addition, Conversations has exercises to help learners train their listening skills and the ability to respond quickly in everyday dialogue. The Translation Snap exercise involves identifying the English equivalent of a reply from a conversation, while the Quick Response exercise requires learners to choose the most appropriate response in the target language. 
There's also an audio course to enable a hands-free experience. There is also Pimsleur app that does extremely well job in audio lessons.
Pronunciation
The pronunciation section aims to foster good pronunciation habits from the get-go. It does so by providing you with a pronunciation chart that shows you how to pronounce each and every letter and sound correctly.
Extra Language Practice
This section, as its name suggests, is not part of the core curriculum. Rather, it is a resource to help you hone your reading, writing, speaking, and listening comprehension. 
It is remarkably comprehensive, containing thousands of practice exercises to help you hone those skills.  
The Excellence of The Learning Material
Ouino excels at teaching languages from scratch, offering a non-linear approach that lets you customize your own learning path. Beginners should consider following the recommended path first as it is designed to make their learning journey as smooth as possible.
The platform is quite comprehensive, with each language Ouino course containing over 450 lessons and 1300 exercises.
Despite its comprehensiveness, Ouino has done a great job of organizing its material into distinct modules. This allows you to focus on practicing a particular language skill extensively if you wish.
The platform also comes with a range of other features to enhance your language-learning journey. These include a progress and achievements tracker and a calendar to help you track your learning progress. We particularly liked the self-rating stars, which let you grade your understanding, and track the lessons you need to review.
Grammar Instruction
Ouino is excellent at teaching grammar. Its language courses cover all the fundamental grammar rules, from basic to advanced concepts, with clear explanations and numerous examples. The program uses a non-linear approach, which means that you can focus on the specific grammar rules that you need to improve your language skills.
Verbal Practice
Ouino provides learners with a myriad of tools to help with pronunciation practice. The Pronunciation module helps you learn pronunciation by teaching you proper mouth positioning while Extra Language Practice provides you with thousands of exercises to help you polish those skills.
The Conversations module forces you to take part in scripted conversations so that you can get used to "talking" in the target language.
Reading and Writing
Ouino understands that the buck doesn't stop at speaking fluency. You also need to be adept at reading and writing in your acquired language for effective communication. 
Each Ouino Languages course comes with 60 stories to improve your reading comprehension. The stories are customized for language learning. They start off simple, growing in complexity as you advance. Each story has an English translation to help you out when you get stuck.
Ouino has an extensive database of writing exercises to help you become confident writing in the target language. Each of the language skills – reading, speaking, and listening – usually has some form of writing exercise involved. You are asked to write what you read, speak, or hear to ensure you can switch between the different communication modes easily.
Vocabulary
Ouino's word bank is one of the most comprehensive ones on the market. It contains thousands of important words and phrases about anything and everything, ranging from food vocabulary to romantic words.
The program also employs a host of tools to help reinforce the vocabulary section. These include using the words in context, flashcards, and exercises.
Ouino Languages
Ouino French Review
French is known for its complex grammar rules, including verb conjugation and the use of articles, pronouns, and prepositions. Ouino's French program breaks down these grammar concepts into manageable units. Clear explanations and examples, and a variety of interactive exercises help learners practice the French language in context. Also check other alternatives in our list of the best apps to learn French.
Ouino Spanish Review
The Spanish language boasts of a distinct sound system, complete with its signature rolled R's and distinctive vowel sounds, which can pose a challenge for non-native speakers attempting to speak Spanish. The Ouino Spanish course offers a comprehensive phonetics component, including audio recordings and visual guides, to help learners develop accurate pronunciation. 
The Ouino Spanish course also provides authentic slowed-down versions of native-speaker recordings instead of the generic computer-slowed versions some platforms use. While making this Ouino Spanish review we noticed that the recordings provide the native language at a slow speed, helping with you learn how to roll your Rs and other aspects of Spanish pronunciation. For more in-depth programs, you could take a list of our preferred apps to learn Spanish.
Ouino Italian Review
Italian is renowned for its double consonants, which make it difficult to master the accent. Ouino's Italian course includes a variety of pronunciation exercises for speaking practice.
Moreover, Ouino allows users to compare their voice recordings with those of native speakers, allowing them to identify and rectify any flaws in their pronunciation with ease. Also check other alternatives in our list of the best apps to learn Italian.
Ouino German Review
German has a complex grammar system, including the use of cases and word order, that can be challenging for learners to master. Ouino's German courses offer structured and progressive grammar instruction, with clear explanations and examples, to help learners understand and use these concepts effectively. You should also take a look at our list of the best apps to learn German.
Ouino Portuguese Review
Ouino's Portuguese course offers a comprehensive approach to mastering the language's unique phonetic system. The course provides extensive audio exercises allowing learners to practice distinguishing between nasal and non-nasal vowels and pronouncing them correctly. Check more alternatives in in-depth analysis of the best apps to learn Portuguese.
What Areas Require Enhancement?
The Ouino app lacks speech-recognition software, meaning that it is unable to recognize and evaluate your pronunciation as you speak. Instead, you must rely on your own judgment to assess how closely you sound like a native speaker.
Ouino asserts that this is by design, citing the tendency of speech-recognition software to produce inaccurate results. However, it cannot be denied that such software offers a clear advantage for users, making them practice their pronunciation more frequently. 
Another issue with Ouino is the limited number of languages it offers. Although the app provides lessons for several popular languages, it may not have the language you are specifically interested in learning. Given the comprehensiveness of their courses, one would expect their approach to be beneficial for learners seeking to study less commonly taught languages.
Ouino Price
Ouino offers language learning courses for a flat fee. Users can choose from several plans: lifetime access, 3-month, 6-month, or 12-month subscription. All plans include access to 400+ lessons, 1,300+ exercises, and the option to add up to three users and five devices to each account.
The lifetime access option is the most expensive, costing $95.76. It offers personal language mentoring and free upgrades, as well as a longer satisfaction guarantee period of 60 days.
The monthly plans offer everything except language mentoring and upgrades, and the satisfaction guarantee period is shorter at 30 days.
| | | |
| --- | --- | --- |
| Subscription | Price | Payment |
| 3 Months | $12.99 per month | One Charge of 38.58 |
| 6 Months | $9.99 per month | One Charge of 59.94 |
| 12 Months | $6.99 per month | One Charge of 83.88 |
| Lifetime | – | One Charge 95.76 |
Free Trial
Ouino offers a free trial that includes access to a limited number of lessons and exercises. It is more of a demo version, meaning you don't need to sign up to access the available lessons.
Refund Policy
Ouino languages has a 30-day satisfaction guarantee for the monthly plans and a 60-day satisfaction guarantee for the lifetime plan. If users are not satisfied with the product, they can request a refund within the guarantee period. The refund process can take up to 7-14 business days to complete.
Ouino: Is it a Good Investment?
Ouino offers a good bang for your buck considering the comprehensiveness of its courses. This is especially true for the lifetime access package. For less than $100, you get to have complete language-learning software for life.
Rocket Languages and Rosetta Stone are the other comprehensive apps offering similar pricing plans. However, Ouino's most expensive package is still cheaper than Rocket Languages' cheapest plan.
Compared to Rosetta Stone, it's almost a case of apples and oranges. Rosetta Stone allows you full access to all its languages for about $200. While that sounds enticing, not everyone might be interested in learning multiple languages, making Rosetta Stone's upfront cost significantly costlier than Ouino's. 
Recognitions:
Ouino Ratings From Customers
Google Play Store – 4.5 (5K+ downloads)
Apple App Store – 4.6 (17 ratings)
Trustpilot – 4.9
Conclusion: What Makes it Unique?
Ouino stands out for its exceptional attention to detail. The app deconstructs the target language to its fundamental elements, facilitating a deep understanding that enables you to think in the new language. This makes Ouino the perfect fit for people who prefer an academic approach to learning a language.